What Equipment Do You Need to Play Pickleball? This article is all about pickleball equipment.
As a fun, easy, and healthy game, Pickleball has gathered a lot of attention from people of all ages. Essentially, it's not as sophisticated as some other sports like tennis, badminton, and table tennis. So, you can easily catch its playthrough and practice regularly with whatever skills you have.
However, you will also need to know about the equipment used in the game to properly practice pickleball. So, let's get to know what equipment do you need to play Pickleball?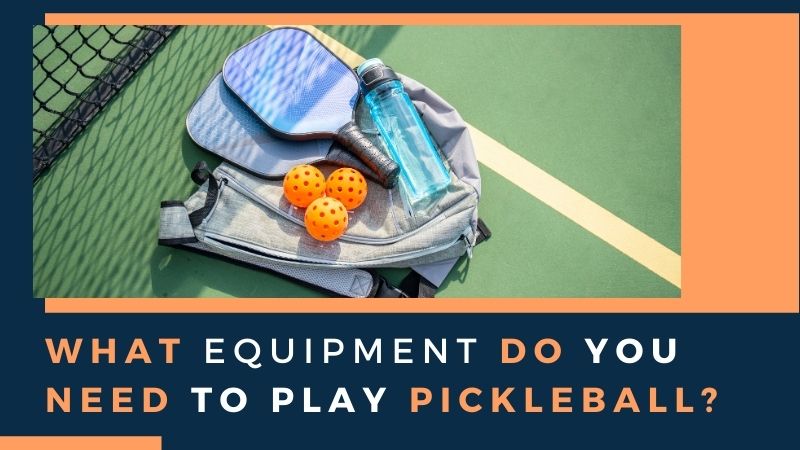 The Equipment You Need to Play Pickleball
The essential elements of Pickleball are Pickleball paddle, pickleball, Pickleball net. Besides these, using some gears and accessories such as Pickleball clothing, shoes, bags, paddle covers, gloves, etc. will give you an even better experience.
Let's take a look over an in-depth description of this equipment and accessories below.
Pickleball Paddle
I hope you can guess the first most essential element for playing Pickleball. Yes, it's the paddle (also familiar as a bat) that you use to hit the ball. Generally, it's like a table-tennis paddle but larger.
Let's have a look over the background of Pickleball paddles.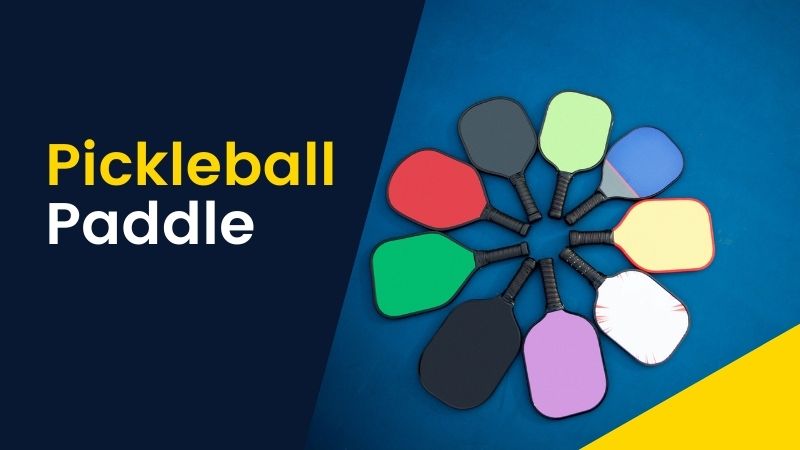 At the very beginning, all the players used wooden paddles to hit in their game. Those paddles used to be very strong and heavyweight as well as lasted a long period. However, they have taken modified forms over the years. Now, you can get paddles made of lightweight composite materials. Besides, they offer many advanced features.
Read More "Pickleball paddle under $50"
However, the availability of countless brands in the market may confuse you while buying. This is why we are going to explore some areas that should be checked out before making a purchase decision.
Shape:
There are a variety of shapes in Pickleball paddles. Some paddles are wide whereas some others are narrowly designed. Again, you can get teardrop-shaped, diamond-shaped, rounded, or square-like paddles whichever suits you more.
Weight:
Likewise shape, the weight of the Pickleball paddles also differs a lot. Just as you will find very lightweight paddles, there are quite heavy paddles too. So, you have a great opportunity to find the most suitable one. As a beginner, lightweight paddles will be the best option for you.
Materials:
Nowadays, paddles are not only made of woods but also aluminium, graphite, or other composite materials. These materials have a great influence on the weight and durability of the paddles. So, you should check into the materials of the paddles before you make a purchase decision.
Grip:
Not every paddle offers a perfect grip whereas you can't hit your ball skilfully without a comfortable grip. So, always pick a paddle that allows you to grip comfortably.
Cost:
Cost always remains a big concern while purchasing a Pickleball paddle. So, be prudent while choosing your one. However, don't get a poor bat only to save some dollars. Rather, put a balance between your budget and the quality of the paddles.
Apart from these, you can also consider the warranty, color, and edge protection of your product. Thus, you can easily get a high-end Pickleball paddle at an attractive price.
Pickleball balls
Pickleball balls are one of the major contributors to introducing the Pickleball as a different game. These balls are almost identical to the waffle balls as they are lightweight, round, and have holes of the same size all over the body. Almost everything is like a waffle ball!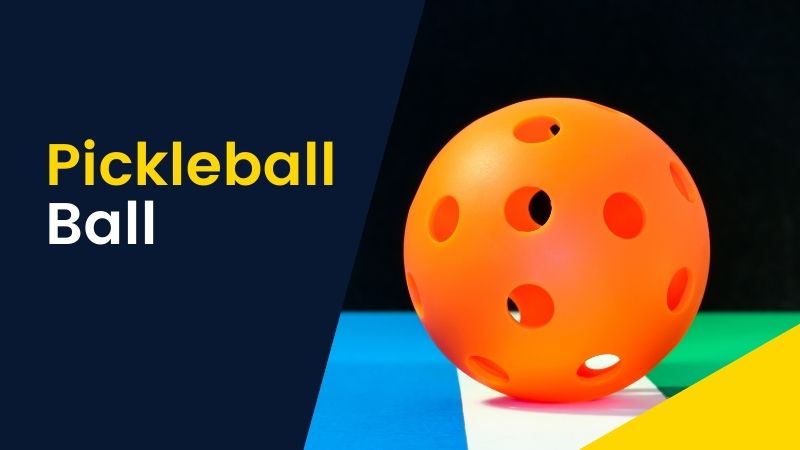 But their holes are always round-shaped which poses a difference of theirs from the waffle balls.
To categorize Pickleball balls, they are basically two types such as indoors and outdoors. Let's take a look at the features of both types.
Indoor Pickleball Balls:
Indoor Pickleball balls are comparatively lighter and softer than outdoors. Consequently, they can easily adapt to the softer surface of indoor courts. Besides, their larger but fewer holes are pretty much supporting to control the speed.
Outdoor Pickleball Balls:
Outdoor Pickleball balls are made of a harder plastic. So, they seem much stronger and harder than indoors. Again, their smaller holes help them run faster than indoor balls by efficiently confronting the windy atmosphere. Furthermore, you have the flexibility to choose from a variety of colors like pink, green, white, etc.
So, when you go to buy a Pickleball ball, you should first select whether you are going to play indoors or outdoors.
However, if you want to have one for tournaments, make sure it has the approval of the USAPA. Up to the present day, more than 40 balls have gotten USAPA certification.
Which color of Pickleball balls should I get for my game?
The color of Pickleballs is influenced by a lot of factors such as the game's type, court's surface, background wall, color, and so on. However, it's recommended to get bright color balls for improved visibility.
Pickleball Nets
Pickleball Net is another required element for Pickleball sport. It somehow resembles a tennis net but quite smaller in size (⅓ of a tennis net).
Technically, three nets are necessary to set a court for Pickleball. Two nets (width: height= 20ft: 36in) are used at both ends of the court whereas the remaining one is used to split the court along the center.
However, you won't need to manage nets if you join the club or community of Pickleball players. In case you have no such clubs or community around you, you have to arrange your own.
Now, have a look at some features of quality Pickleball nets.
Fulfills the requirements of height and width (as mentioned earlier).
Made of sturdy and light-weight materials.
Easy to fold, store and carry.
Withstand the pressure of the wind.
Lasts for a long period.
Support the velcro tension system.
Make sure your Pickleball nets offer the above features before put them into the cart.
Pickleball Clothing
Although Pickleball is growing its popularity among people of all ages, there is no standard dress code for this game. However, you should wear a standard sports suit to get a better gaming experience also to get a professional look.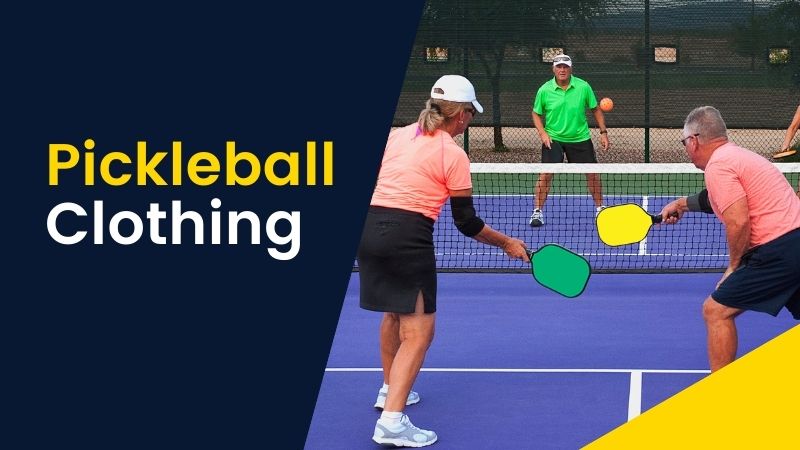 But what type of clothes can raise your professionalism?
| | |
| --- | --- |
| Women | Long sleeve, short sleeve, or sleeveless shirts. Skirts, Skorts & Shorts. |
| Men | Long sleeve, short sleeve, or tank tops. Shorts. |
All these gears can help you to make your gaming even more comfortable and enjoyable. But when you purchase these clothing, make sure they are lightweight and ensure comfortability and easy movement. Besides, your breathing process doesn't interrupt in any way. Additionally, your bodysuits must have the sweat absorption property.
Usually, polyester and cotton-made apparels work best for athletes.
Shoes
Shoes are another important gear for Pickleball players. They can protect your ankles and feet from sorts of injuries and ensure easy, comfortable movement during the game. However, to get all these benefits, your shoes should fit your feet properly and offer perfect grips.
When you enter into the market for shoes, make sure the shoes you are choosing have good sole traction, soft and durable cushioning, and lateral stability.
Pickleball Bags
In the above write-up, you got introduced to some equipment and accessories required to play Pickleball.
Just think a moment! You are a single person but have a lot of things to carry. You will get so worked up from carrying all the stuff that you might lose the energy to play the game.
In this situation, a Pickleball bag can be of great help. You can put all of your accessories into a bag and freely carry them anywhere you want. However, you must be careful of purchasing a quality bag. Considering everything, get a bag that is made of sturdy materials, lightweight, durable, and easy to carry.
Pickleball Paddle Covers
Pickleball paddle covers keep your paddles covered when they are not in use.
They can protect your paddle, especially the aluminum paddle, from dust and moisture and reduce the risk of wear and tear. This is how a paddle cover prolongs the life-span of paddles.
Pickleball Gloves
Pickleball gloves help the players to get a good grip of the paddles. Besides, they can protect your hands from blisters.
If you don't wear hand gloves during the play, you may find your paddles slipping out of your hand again and again due to sweat. So, wear quality hand gloves to improve your gaming experience.
Pickleball Caps and Visors
You may not want to be distracted by sunlight when you are spiritually trying to focus on the game. A well-fitting cap or visor can remove that concern for you quite easily. Besides, it will keep you cool during the hot days by absorbing sweat and keeping the sunlight away from your face. So, get a well-fitting, comfortable cap or visor within your budget to knock out your game.
Final Thoughts
You just got a brief idea of what equipment do you need to play Pickleball. All the equipment or accessories we mentioned above are quite enough if you are about to play this occasionally. However, if you are going to make it an integral part of your everyday life, you should not stick to only these. Rather, try to arrange a full package of Pickleball accessories including paddle grips, court tape, rebounder net, ball collector, etc.