Decided to become a professional player of a pickleball game? Or, just interested in this sport and want to take part in some tournaments. But did you know that your pickleball paddle can be illegal if you don't follow the USA Pickleball governing body's instructions and rules?
In general, the paddle you use needs to meet certain standards according to the USAPA- otherwise, it will be termed as an illegal pickleball paddle.
Moreover, the paddle length must be less than 17 inches. There is no restriction for weight by USAPA
Do you think you can use illegal pickleball paddles in various tournaments or randomly playing with friends? The answer is, it depends.
When people play pickleball for entertainment purposes, they just don't care about the rules. But for a tournament or any professional league, tournament directors may set specific rules and regulations for pickleball paddle, which every player needs to follow properly.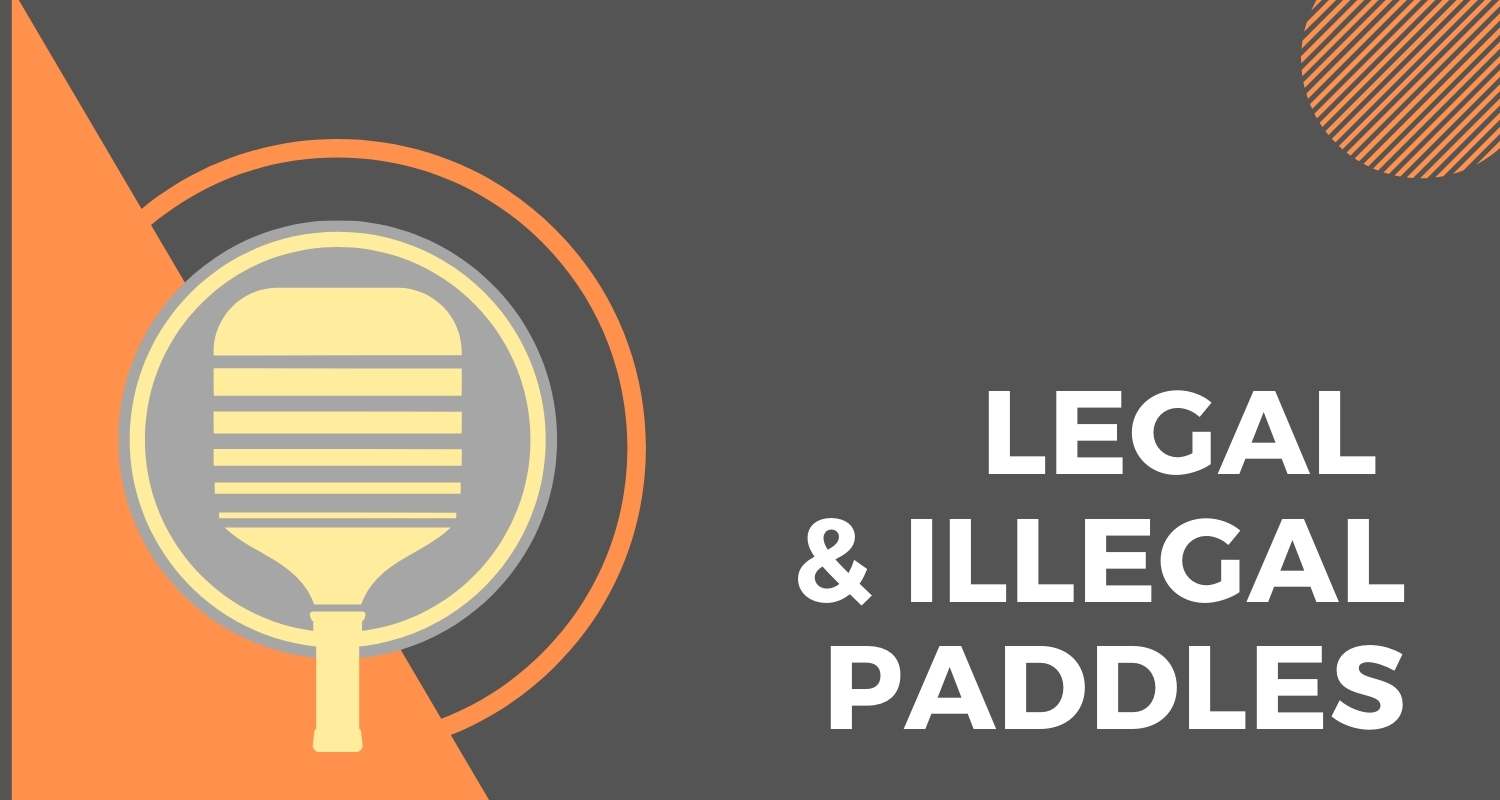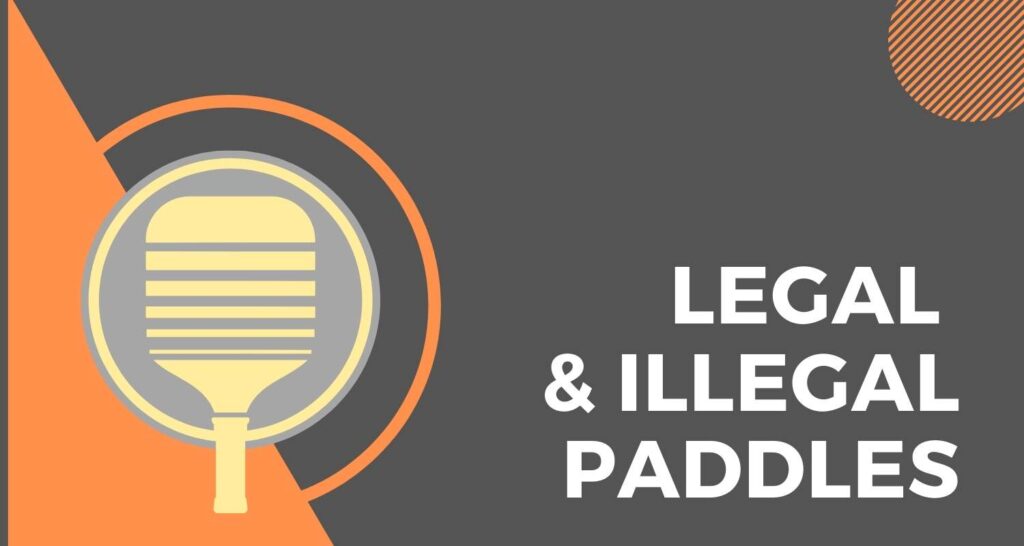 You can get the approved and rejected pickleball paddles list here: USAPA Approved Paddles
What Makes a Pickleball Paddle Illegal?
There are many attributes related to pickleball paddles to make it illegal. A random pickle paddle may not be suitable for a professional competition because you want to make sure that the paddle size, materials, built-in quality, grip lengths, etc. —everything meets a certain standard set by the governing body of USA Pickleball.
Paddle material
Pickleball paddles should be made from sturdy, non-elastic material to ensure high protection for players. Also, it must pass a deflection test to ensure that it is free from the trampoline effect like bouncing back of the pickleball.
Initially, pickleball paddles like foam core paddles may meet certain standards. But after a specific time, its quality may deteriorate, and it will be no longer suitable for the approval of the USAPA Pickleball paddle.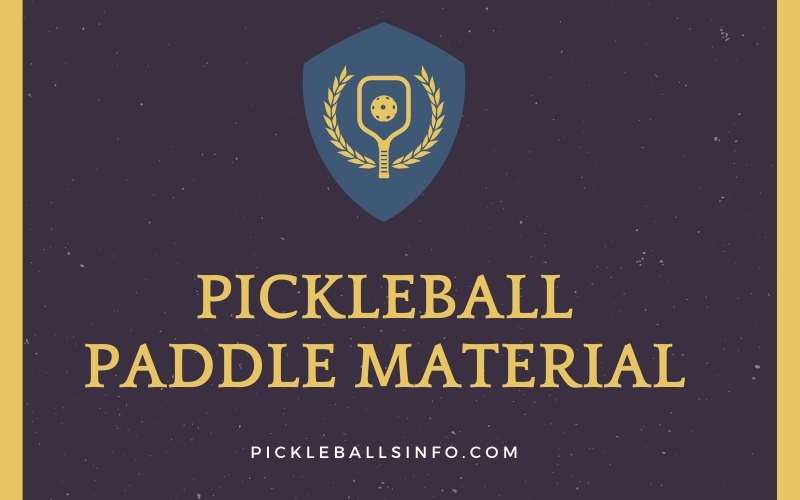 Though the USAPA doesn't set out any specific material to use for pickleball paddles, the core material of the pickleball paddle should always be made from two materials: one is honeycomb aramid, and the other one is honeycomb polymer.
Honeycomb Aramid has excellent flammability properties, which are crafted from Meta-Aramid paper and expensive too. Honeycomb polymer is another smart material, which has high stiffness and well-developed energy.
Both of these materials are lightweight, shock & compression-resistant, and ultra-strong.
Surface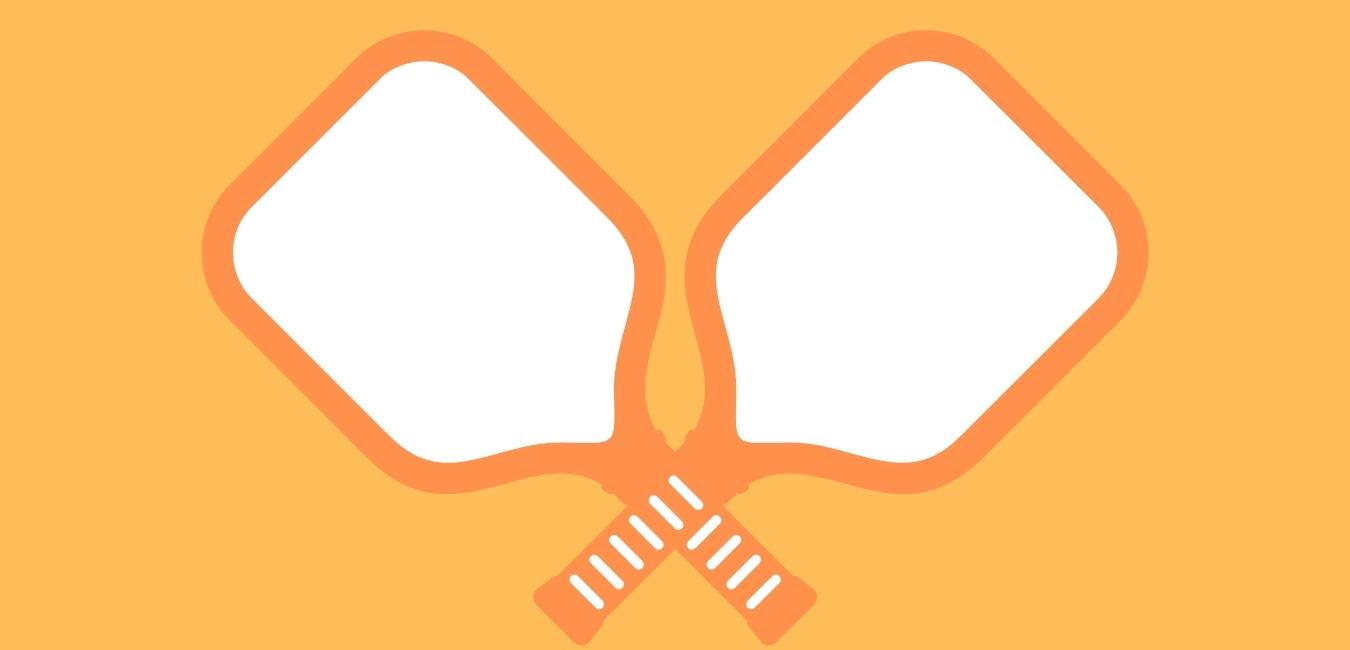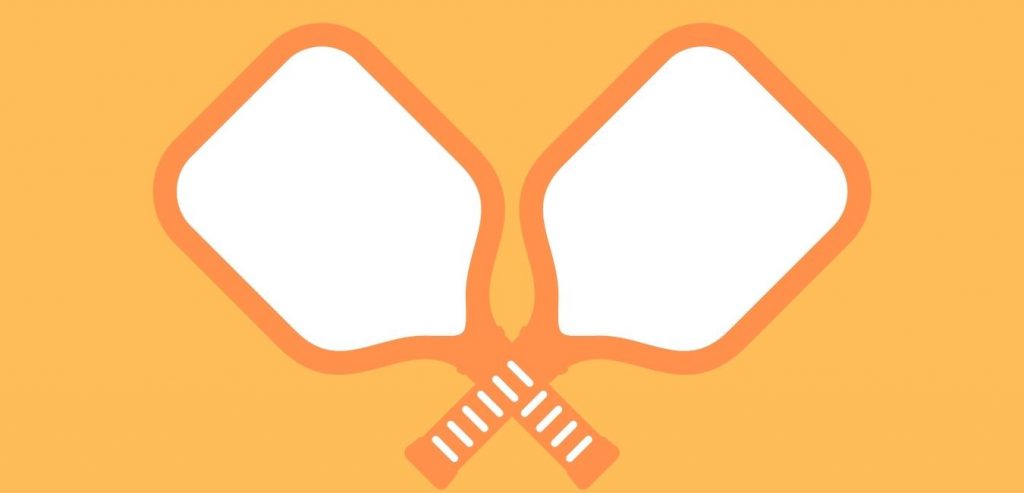 The surface of the pickleball paddle is not less important than paddle materials. A smooth surface is a must for a paddle because it will prevent over-spinning while hitting the ball.
However, there are some approved pickleball paddles in the market, which will allow you to maximize spin without having any unfair advantage.
Handwritten & hand-drawn marketing are allowed if those do not impact the surface of the paddle. But aftermarket graphics are not allowed on commercially made paddles.
Surface Reflection
If the paddle surface is adversely reflective which obstructs the opponent's vision, then the paddle will be rejected.
USAPA Roughness Test
The USAPA will conduct a roughness test to inspect the paddle surface. Aside from carrying out a roughness test, the USAPA will do a reflection test to ensure your paddle doesn't obstruct the opponents' vision.
Design
The shape and paint of your pickleball paddle should also meet the standard of USAPA. Both of these features should be reasonably compatible with the paddle's design, which will not provide you any unfair advantage, unlike competitors.
Paddle Size
According to pickleball paddle size rules by USAPA, the size of the total surface area for any pickleball paddle can't be more than 24 inches long. The total surface area includes both the edge guard and the butt cap, along with paddle length and width.
The paddle's length should not be more than 17 inches long, whether you are playing with elongated paddles or standard paddles.
Weight & Thickness
Speaking of paddle weight, there is no restriction for paddle thickness and any particular weight on the rulebook.
Modification & Alternation
You can't modify or alter your favorite paddle unconditionally — there are some limitations for alteration and modification before it turns into an Illegal Pickleball Paddle.
If you are a newcomer in this field, make sure you know all the pickleball paddle rules and regulations; reading the USAPA rulebook for pickleball games can help you a lot in this case.
Many players use edge guard to protect the paddle and use lead tape to produce more power and enhance head speed. When you add leap tape to the paddle's top edge, it will help you find an optimal place for actions of the paddle with additional pop.
Excessively altering the paddle is not allowed, but you can wrap the grip size to fit your personal preference for more excellent stability.
For example, it is illegal to use excessive thick decals & pen markings to receive unfair benefits, and it may not be suitable to pass the roughness test.
However, you can use decals on the paddle surface as long as it is smooth and has the ability to pass the roughness test. You can check off your own by running your finger over the surface lightly —if you feel no rough feeling, it is likely to pass pickleball paddle regulations.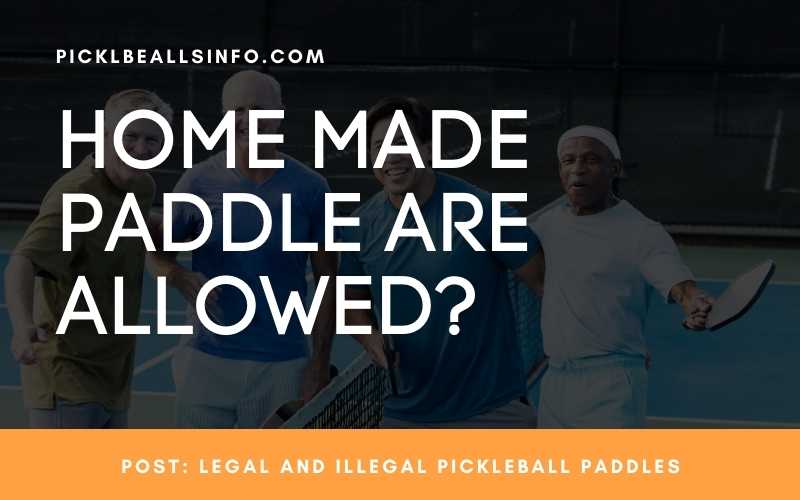 Homemade Paddles Are Legal?
For personal purposes, homemade paddles are okay to use.
However, it is not a wise decision to use homemade paddles for professional purposes because they lack direct monitoring. Also, they might fail to meet the specific parameters set up by the USAPA.
Additional Surface and Mechanical Elements
According to USAPA, using texture particles, anti-skid paint, and rubber substances is against the pickleball game's law.
The USA Pickleball Association works to control paddle modifications excessively, which prevents players from gaining unreasonable advantages.
Aside from that, you should avoid including any regular rubber, synthetic rubber, or sandpapers in paddles.
Moreover, make sure not to use any detachable parts beyond lead tapes. If you use any unauthorized removable parts, you will likely be banned from the game or tournaments.
Is Your Paddle USAPA Approved?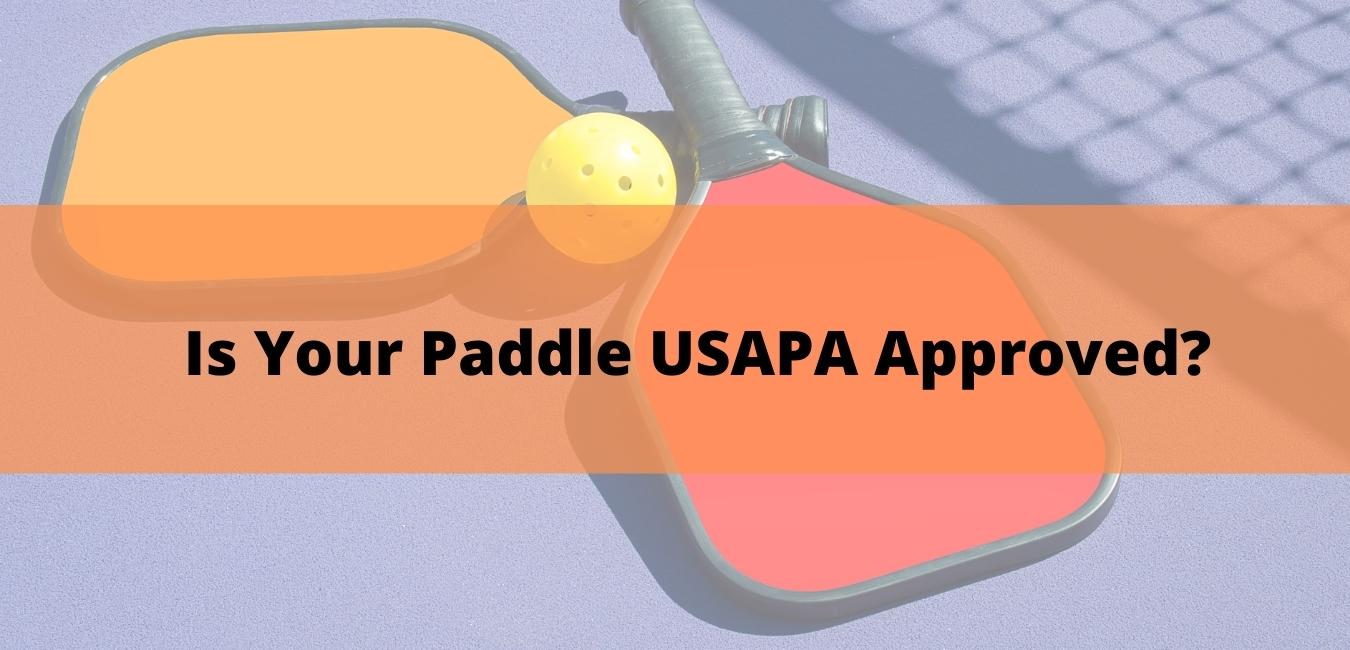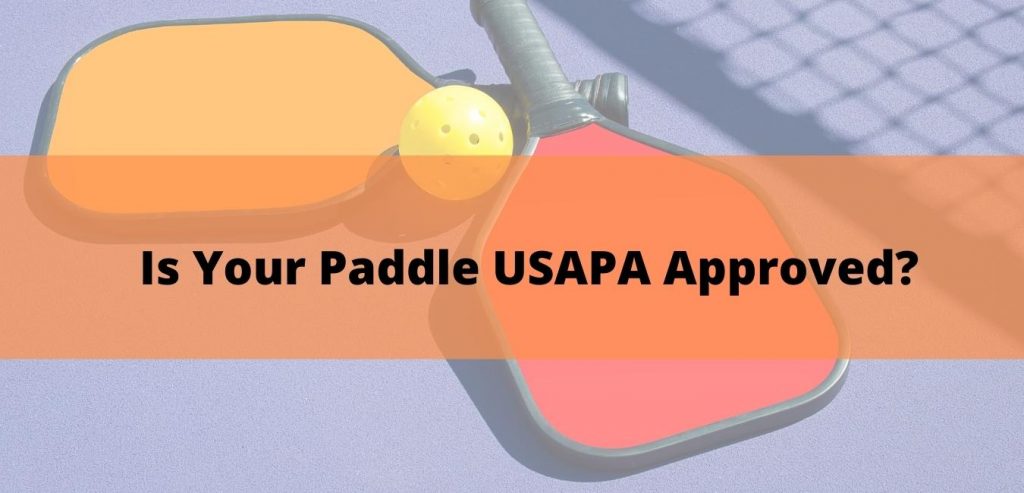 If you are a newbie, you may dive into confusion to find USAPA approved pickleball paddles. Different brands manufacture their pickleball paddle differently, but they follow some standards to make it according to USAPA rules and regulations.
The quality of a paddle reflects the brand image. They may be unique in size, materials, design, surface, and even grip pattern. Each pickleball paddle has a distinct name and model number —you can use this information on an authentic website to verify your paddle approval.
If you get the latest paddle, check through several genuine websites from the list of approved paddles. If you don't find your paddle in the Approved Paddle List, it may not meet the specifications outlined in IFP Rule 2.E or for some other reasons.
Steps that USAPA takes to curb illegal pickleball paddles
The USAPA always follows a guideline to inspect pickleball paddle quality, and they have a committee named Equipment Evaluation Committee (EEC).
The committee gives all the essential instructions to USAPA, and they are bound to follow them. Two or more people will review newly made pickleball paddles. There is a rule book for pickleball games, and they always strictly follow them to meet the benchmarks.
Once the paddles get approval, the manufacturing company can start to sell them in the market. However, if the paddle doesn't meet a certain requirement, the manufacturer needs to change the design or materials according to USAPA instructions.
If any company introduced any paddles without the permission of USAPA, it would lead to a penalty. Even after getting the certification of USAPA for a certain paddle, they need to maintain the standard rigorously.
The 'Fail-Rated' Paddles
Let's have a look at a few pickleball paddles, which are not approved by USAPA. Also, we will share why they didn't get the certification.
Amazing Aces Classic Wood
This model is one of the best-selling pickleball paddles from Amazon retail store, and the reason behind getting such popularity is its attractive price.
Unfortunately, the unit is made from plywood material; that's why USAPA disapproved this paddle for professional tournaments.
Amazing Aces Classic Graphite
Even though this paddle is crafted from top-notch quality material and features cutting-edge technology, the USAPA didn't approve due to its short handle and narrow body.
Diller Pickleball Paddle
Diller is similar to the Amazing Aces brand, and they mainly produce affordable quality paddles. But they are not the best quality product.
The Diller Pickleball Paddle is made from ply altering grain hardwood, which is an excellent material, but it failed to get an approving nod from USAPA.
Sports Adventure's Graphite Paddle
This graphite paddle features a sturdy & responsive surface, and it is made from a softer polymer honeycomb core. However, this product didn't get the approval of USAPA, and the manufacturing company is still working on getting it.
Upstreet Wood Paddle
The Upstreet Wood Paddle is made from premium quality materials to provide more power and precise control. But this high-end premium model didn't mark itself as legal in the market.
There are thousands of paddles in the market, known as "illegal" or "not approved." These low-prices paddles are made from wood materials, and most of them are suitable for children and beginners for recreational purposes.
Where to Buy USAPA Approved Paddles
The best suitable platform to find USAPA Approved Paddles is Amazon. Interestingly, you will also discover the most "fail-rated" paddles in Amazon. If you are a beginner, you may face difficulty finding approved paddles from limitless options.
Illegal paddles mostly don't get positive feedback from USAPA or are not submitted to USAPA. To make your job easier, we are mentioning some legal pickleball paddles, which are approved by USAPA — you can pick any of them based on your requirement.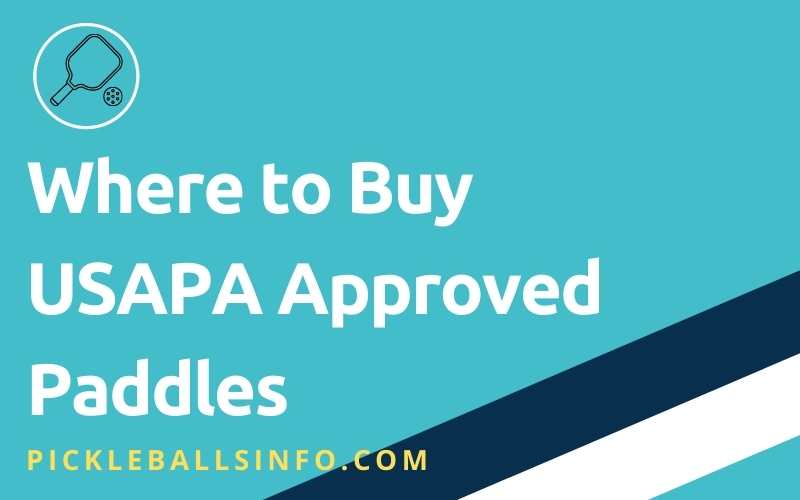 Some Legal Pickleball Paddles
There are a bunch of legal paddles available, and most of them are perfect for tournaments and professional purposes.
Amazin' Aces Signature Paddle
Whether you are a beginner or expert, this model is a good option to consider. It is made from superior quality materials with a comfortable grip to show reliable performance. Since USAPA verifies it, you can use this paddle for any tournament.
This unit is another strong paddle, which fits any competitive game. Its surface is made from polycarbonate, and the core is crafted from polymer. The paddle did get the approval of USAPA to use for professional purposes.
XS XSPAK Graphite Paddle
Balance and power are the best two things for most paddles, and experts never compromise these two attributes. That's why the XS XSPAK Graphite Paddle is one of the finest options in the market to give a tough competition with top-notch quality paddles.
Hence, it is not surprising for this beast to get positive consent from USAPA.
Selkirk Composite Pickleball Paddle
Are you wondering how to implement all your powers and tactics on a pickleball paddle? Then, you may want to try the Selkirk Composite Pickleball Paddle. This long-lasting paddle is the right choice for long-term investment, and it can help you improve your gaming power.
It is made from high-end polymer core graphite to ensure the most extended lifespan and incredible comfort. Above all, it got a thumb up from USAPA.
Onix Z5 Graphite Pickleball Paddle
Do you want to control the pickleball ball like a breeze with superpowers? Yes! You can do it when you have the Onix Z5 Graphite Pickleball Paddle.
It is made from high-grade materials to control your game like 'never before,' and you can do hitting winning shots to beat your opponents. Though it comes at an affordable option, it is a USAPA approved pickleball paddle.
Engage Encore 6.0 Composite Pickleball Paddle
Are you looking for a pickleball paddle that is used by many top pro players?
Then, this model is an excellent option to provide tremendous balance along with a strong mix of power. Controlling your pickleball paddle-like pro-level is easy-going for this beast.
This well-made paddle is super comfortable to play with, and it gets approval from USAPA on the first attempt.
FAQ
Are wooden pickleball paddles legal?
Yes, wooden pickleball paddles are legal to use. But for professionals players, wooden pickleball paddles are not a good choice.
What is the paddle weight limit in pickleball?
USA Pickleball Association (USAPA) doesn't have any weight limit for pickleball paddles.
Conclusion
If you are a professional or plan to become an expert in the future, make sure to avoid illegal pickleball paddles. Choosing a lucrative pickleball paddle may be fun to play, but it will not give the results you want.
Hence, be cautious before picking any pickleball paddle mistakenly and read our article attentively to understand what makes a pickleball paddle illegal. Hopefully, you now know all the essential things for illegal pickleball paddles.
Source: USAPA Rulebook