Are you looking for a lightweight pickleball paddle? If yes, you have come to the right place to find the best lightweight pickleball paddles .
Pickleball paddles come in different sizes, different weights, different designs. Our needs differ from one another, so what suits one person may not suit another. Along with all these factors, our grip size also varies. Some people need big-sized grips while others need small-sized grips.
A lot of factors need to consider before choosing a pickleball paddle. When you are a beginner or want to focus more on your paddling skills, it is essential to pick a lightweight yet reliable paddle to play the game smoothly.
Here we come up with the top 7 best lightweight pickleball paddles. Each of them has outstanding quality. Let's dive in!
Image
Title
Surface
Core
Grip Size
Weight
Buy

Top

Rally Tyro 2 Paddle (Best value for money)
Fiberglass composite
Polymer honeycomb
3 7/8″
7.0 ounce
View on Amazon

Top

Top

Top

Top

ONIX Stryker 4 Composite Paddle
Fiberglass
Polymer honeycomb
4.25"
7.1 ounces
View on Amazon

Top

Top

Top

Top

Paddletek Bantam TS-5 Pickleball Paddle
Fiberglass
Polymer honeycomb
4.25"
7.3 ounces
View on Amazon
Prince Response Pro Pickleball Paddle
UV coated fiberglass
Polymer honeycomb
4.125"
7.2 ounces
View on Amazon

Top

Top

Top

Top

Onix Evoke Tear Drop Pickleball Paddle
Graphite
Polymer honeycomb
4.5"
7.2 ounces
View on Amazon
Gamma Dart Pickleball Paddle
Textured composite
Poly Core
4 1/8"
7.3 oz
View on Amazon
Best Lightweight Pickleball Paddles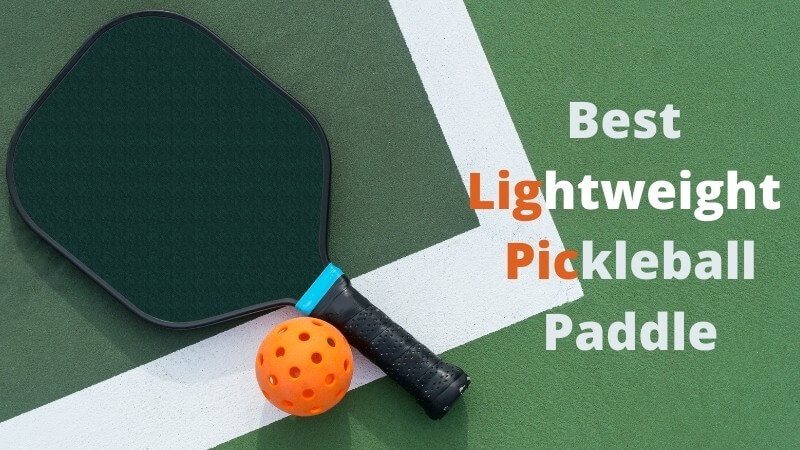 Rally Tyro 2 Pickleball Paddle (Best Value For Money)
Specifications:
Weight: 7 oz
Handle Length:

5″

Grip size: 3 7/8″
Paddle Length:15 5/8″
Paddle Width: 7 3/4″
USAPA Approved
Not every pickleball paddles can take your pickleball game to the next level, especially if you are a beginner or intermediate player.
But when we talk about the Pickleball Central Rally Tyro 2 Paddle, it undoubtedly stands out from others. Your tasks will be easy to accomplish with this portable, lightweight pickleball paddles.
The fiberglass face of this pickleball paddle is complemented by‌ ‌polypropylene‌ honeycomb‌ ‌core. As a result, you can defend hard shots with a hard-to-touch paddle but packed with density.
Its polymer core helps give the best ball drive, ahead of the competition. While providing an excellent paddle to control even the most challenging shots, you have a greater reach around the net.
Among its other outstanding features is its generous ‌sweet‌ ‌spot. In addition, the ball's improved sweet spot will better allow players to control ‌the‌ ‌ball. In testing the Rally Tyro 2 , the sweet spot of the paddle impressed us greatly.
With a 5″ grip length and a less than 4.0″ grip circumference, the paddle feature a universal small grip pickleball paddle. Quick wrist action is rendered with ease without causing ‌much‌ ‌fatigue. A thin, absorbent grip fits almost all hands and makes maneuvering and reactions quick and easy. This paddle feature a smooth, flared end cap to reduce slippage.
Having a weight between 7.0 and 7.5 ounces makes the paddle more agile and helps with ball control. You are less likely to suffer from arm or shoulder pain due to its lightweight design. With this paddle, you'll quickly notice how different the weight is compared to others. It gives you a lot more power‌ ‌on‌ ‌each‌ ‌swing.
This paddle is more affordable than any of those on this list. It is, therefore, an excellent choice for pickleball paddle at a inexpensive price. According to many top players, the paddle also plays like one that costs between $80 and $100.
This paddle is made from an ergonomic design. With this paddle, you not only have a more comfortable grip but can hit your shots with greater precision, thanks to its increased control over your shots.
Players can also swing faster and with less effort with its improved handle design. Consequently, you can fire shots of greater power ‌without‌ ‌sacrificing ‌your‌ form.
It's easy to control and quite comfortable to hold because of the oversized handle. A high-quality design ensures that the paddles will last for years to come. Your top game will remain intact because of its durability.
Pros
Incredibly light
Suitable for outdoor and indoor game
Feels good in the hand
Price-to-performance ratio
Durable edge guard
Solid design
Cons
The handle tape could be better
Onix Stryker 4 Pickleball Paddle
Specifications:
Weight: 7.1 – 7.7 oz
Handle Length:

5"

Paddle Length: 15 1/2"
Paddle Width: 7 5/8"
Approved by USAPA
Designed for players who want paddles that are lightweight and easy to move around the court, Onix's Stryker 4 Pickleball Paddle is a perfect choice. This‌ ‌paddle‌ ‌is, therefore, appropriate for beginners as well as intermediate pickleball players.
This pickleball paddle has a graphite face, which is ‌a‌ ‌lightweight‌ ‌material. Graphite material is lightweight and allows the paddle to move rapidly and easily. Thanks to the paddle's graphite face, you'll receive outstanding balance, power, and touch. Hitting and performing like a pro will certainly be more manageable with it.
This paddle features a large sweet spot due to the widebody design. Your chances of hitting winning shots are enhanced as a result of this. Its wider hitting surface and oversized design ensure a good deflection angle, as well as an increased‌ ‌sweet‌ ‌spot. With this paddle, you can work on accuracy more efficiently.
It is protected against mishits, and hard court surfaces by the paddle's overlapping 14.5-inch edge guard. Polypropylene is used for the core of the paddle. There is an extra layer of thickness on this core material. By absorbing shock and generating power, it prevents the paddle from gaining weight.
You can play with great ease and efficiency with this composite Stryker paddle. Although the paddle is made of fiberglass, the Nomex core makes it relatively light. The structure of the paddle also accounts for the distinctive pop and the outstanding power.
Since you are looking for a pickleball paddle for your small hands, it is a perfect option to consider. However, for big hands, they will not as much support as small hands. In fact, many users complained about its handle size that it is too small for their hands.
As for the negative side, the handle doesn't have any sweat absorption properties. Therefore, when you play with it for a long time, your hands may become slippery. It could be better if the handle absorbs sweat, making it more comfortable while playing.
What's more, we found the paddle is not as quiet as other paddles in our review of the best lightweight pickleball paddle. When you hit powerful shots, especially while contacting the ball on the sweet spot, the paddle may make some sound. It may seem unpleasant initially. But when you get used to it, it will become normal.
Despite being not the best paddle, the USAPA has approved it for use in tournaments of any kind. The choice is clear for beginners.
Whether you're just starting in pickleball or you're an experienced player looking to level up, the Onix Stryker 4 is the ideal pick‌ ‌for‌ ‌you. Your gameplay becomes more maneuverable, controlled, and powerful with it.
Pros
Lightweight construction with more power
Ideally sized and long grips
The paddle pops and speeds up
Players can play fast and with good control
A large sweet spot
Cons
No sweat-absorbing property in the handle
A little bit noisy
Paddletek Bantam TS-5 Pickleball Paddle
Specifications:
Weight: 7.3 oz
Handle Length:

5″

Grip size: 4.25″
Paddle Length:15 1/2″
Paddle Width: 7 7/8″
Approved by USAPA
The prestige of Paddletek as the top supplier of pickleball paddles cannot be overstated. With Paddletek's Bantam TS-5 Pickleball Paddle, you can play with confidence. It is an excellent combination of power, control, and forgiveness.
As the weight-saving version of the popular EX-L, the Bantam TS-5 is a fantastic option. Bantam PolyCore interior and lower weight make this a powerful paddle that will supply‌ ‌all‌ ‌the‌ ‌power‌ ‌you‌ ‌expect‌ ‌from‌ ‌the‌ ‌Bantam‌ ‌series. Its polymer honeycomb cores give you increased power and speed.
Due to its lightweight design, it offers increased speed and excellent flexibility to play different types of shots. Ultimately, the result is a lightweight paddle that is unsurpassed in its ‌class.
The Paddletek Bantam TS-5 is equipped with a textured fiberglass epoxy hybrid that improves spin and lets you dominate‌ ‌your‌ ‌competitors. Pickleball racquets like this work well for gameplay and offer a comfortable handle. Your pickleball impact will be highly responsive with the Fiberglass paddle face.
With this paddle, it is easier to spin, so you'll be able to make an enormous impact. Additionally, it provides you with a greater sense of touch and cushioning ‌around‌ ‌the‌ ‌net.
The pickleball paddle features an ultra-cushioned high-track performance grip, which is durable and long-lasting. A two-handed backhand is easy to play using the paddle handle, which mimics a tennis handle. Those who are new to tennis or converted to it will find the TS-5 an excellent choice.
Moisture and sweat are effectively drawn off your hands due to the perforated grip. Pickleball matches can be tough to play when your grip gets affected. While playing with the Paddletek Bantam Ts-5, you do not have to worry about this since the Ultra Cushion High Tack Grip keeps your hands in place.
Like other paddletek paddles, this model also has more forgiveness without compromising performance.
An Edge Guard of 1/8 inch protects the edge of the paddle. By distributing shock evenly along with the paddle, shots will be smoother due to the edge guard. In addition, the edge guard ensures prolonged protection.
Playing powerful hitting shots from the back of the is easy-going with a pickleball paddle. Though the pickleball paddle is lightweight, it is still incredibly powerful and responsive.
The Bantam TS-5 gives you a delightful sense of control, plus a delicate touch when it comes to spinning and swerving. Using the back of the court or overhead doesn't affect the power of the pickleball.
Paddletech's Bantam TS-5 Pickleball Paddle will make you a better player, no matter if you are a newbie or professional.
Pros
Excellent playability
Perfect for small hands
Lightweight design
Ultra-cushion grip
Easy to play
Cons
More dead zones over time
Prince Response Pro Pickleball Paddle
Specifications:
Weight: 7.2-7.7 ounces
Handle Length:

5.5″

Grip size: 4.125″
Paddle Length: 15 3/4″
Paddle Width: 8 1/4″
Approved by USAPA
Prince is a relative newcomer to pickleball but has extensive experience in the racquet sports industry. But you will be amazed to see the quality of the Prince Response Pro Pickleball Paddle. Its highly rounded design offers a new dimension to pickleball with its innovative shape.
Its soft touch creates a massive sweet spot, allowing you to hold onto it firmly and confidently. It is rare to find a paddle that will help you improve your paddling skills; however,‌ ‌this‌ ‌one‌ ‌does!
With its thick polymer core, pickleball can be easily controlled in terms of speed and direction due to its high amount of power. In fact, many professional players used this paddle due to its exceptional quality.
This paddle offers a massive amount of usable space because of its 8-1/4′′ width and slim edge guard. Our testing showed that this paddle has arguably one of the largest sweet spots of any paddle we've ever tested.
It‌ ‌performs well from top to tip and across the face of the paddle. Its‌ ‌handle‌ ‌is‌ ‌five-and-a-half inches long, which provides a comfortable grip and ample space for players of all sizes. Two-handed backhand users will find it helpful.
Its wide mouth, combined with its pop, control, and speed, allows players to take any shot with ease and produce a high-quality return.
You will get a higher level of precision and accuracy with the Response Pro. It offers a higher degree of accuracy than a standard point-and-shoot. Hence, you achieve more than what you desire. More consistency!
It also catches your eye on your return of serves because of how dynamic its design is. Speed and power are key factors in winning points early on, and this paddle delivers both!
Likewise, you'll be able to achieve a good amount of control with the Prince Response Pro. You will play like a pro with accuracy and consistency without feeling out of control.
As for dinkibility, this paddle also does well. The lightweight design of the dink shot allows you to play with the perfect balance. At the net, you'll experience lots of smoothness and ease.
You will like the way the Prince Response Pro Pickleball Paddle feels and how comfortable it is. Whether you're a newcomer or an expert, this paddle is sure to resonate with you.
Pros
Spinning opportunities abound
Outmatched accuracy
A better balance and feel
A large sweet spot
Excellent touch at the net
Onix Evoke Tear Drop Pickleball Paddle
Specifications:
Weight: 7.2oz
Handle Length:

5.5″

Grip size: 4.5″
Paddle Length: 15 3/4″
Paddle Width: 8 1/8″
Approved by USAPA
This graphite Evoke Tear Drop pickleball paddle is another of Onix's top graphite paddles. It offers a great deal of feel and touch, providing at the pickleball court net.‌ ‌In response to the needs of avid game enthusiasts, these paddles are designed that way.
Besides having all of the features a suitable paddle needs, it comes in five different color options. Excellent pop and speed are ensured with this lightweight racquet's polypropylene core and graphite face.
In the polymer core, power and control are combined to excellent effect. Thanks to its polypropylene honeycomb core and precision cut, it has a large deflection angle and makes for a comfortable touch. Playing with this type of paddle in a residential community is a perfect choice because it has the quietest core.
Graphite paddle faces are famous among players because they provide quick action. It gives you a solid feeling and great touch while hitting the ball. As a result of the composite paddle face, shots have greater force and power.
The pickleball paddle comes with an impressive design, allowing you to concentrate hits at the head of the paddle. Power shots will be more accurate, and your touch will improve ‌in‌ ‌no-volley-zone‌ ‌play.
If you're used to using a square paddle, you may need a little practice using this one. The ball returns to the opposite side with little effort due to a large sweet spot in the center.
Having a wide body allows it to boast a large‌ ‌sweet‌ ‌spot. The pickleball paddle guarantees that the ball will not be out of reach. Paddles with these characteristics will give you the smoothest spin and best‌ ‌control.
Tennis players can enjoy the same feeling as playing the game with its tennis grip. Moreover, the paddle is light, making it easier to maneuver and grip. Paddles like this are also highly durable. The top-level racket will prevent you from getting tennis elbows or dud balls.
One can't deny this racket's quality for ball control and power, thanks to its great characteristics. On the whole, the Onix performs better than it needs to. Though this has a large grip but this paddle is supper lightweight.
Pros
A big-sized sweet spot
A perfect balance of power and control
Improved and advanced design
Large grip
Effortless to play
Increased pops and maneuverability
Gamma Dart Pickleball Paddles
Specifications:
Weight: 7.3 oz
Handle Length:

4 3/4″

Grip size: 4 1/8"
Paddle Length: 15 5/8 "
Paddle Width: 7 1/2″
Approved by USAPA
Let's start our review session of the top lightweight pickleball paddle with the Gamma dart pickleball paddles. Gamma needs no introduction for making high-quality pickleball paddles for a long time.
The Gamma dart composite paddle is no exception. In fact, it is one of the best pickleball paddles currently due to its incredible built-in quality and performance.
Amazing shots that never miss the target, thanks to the combination of tough materials and clever design. No shot will go unnoticed by the genuinely unique texture on the face.
Thanks to its poly core, which is lightweight but has a high strength to return powerful shots of opponents. You can implement your maximum possible paddling skills using this paddle.
The honeycomb core technology in your paddle enables you to play fast and smoothly. It can withstand various conditions due to its heat-resistant core. Additionally, it works as a shock absorber, making the punches more powerful by absorbing the shocks and excessive vibrations.
The materials used in this paddle are of the finest quality. You get great spin from your shots thanks to the premium composite facing and flush-fit bumper. It turns opponents' shots into whirlwinds.
The paddle frame come with a live edge to guarantee lasting durability. It is not hard to tackle your mind due to its fantastic quality. Uncertain drops and harsh strikes will be met with a resilient response.
Featuring a reinforced frame to eliminate dead paddle spots, the Dart looks and feels excellent —30% more sweet spot on the paddle as a result.
It has a slightly more textured paddle surface, and the ball should get a higher bite for spinning purposes. However, some users complained about the grip of the Gamma paddle.
Thankfully, the grip design and comfort have improved, making it perfect for playing for a prolonged time. GAMMA's honeycomb technology provides a non-slip grip during gameplay and helps reduce sweating on the palm. As a result, your small hands will feel relax and comfortable without showing any sign of tiredness.
Though we love everything about this pickleball paddle, its affordability we loved most. Premium quality paddles like this one offers the right balance between power and control.
The Gamma pickleball paddle is a perfect accessory for everyone who loves pickleball. This paddle's lightweight and durability translates into‌ ‌a‌ ‌fair‌ ‌game‌ ‌that‌ excels‌ ‌with‌ ‌every‌ ‌shot.
The Gamma Dart paddle serves as one of the brand's most popular paddles over the last few years, so it's hard not to consider it whenever you acquire a new‌ ‌pickleball‌ ‌paddle.
Pros
Remarkable construction
In-line edge guard
Comfortable grip
Reasonable price
Lightweight with additional balance
Makes clean shots
Cons
Some people complained dink sots are inconsistent
Pickleball Paddle Weight Category
| | |
| --- | --- |
| Light Weight Paddle | Under 7.2 ounces |
| Mid Weight Paddle | 7.3 to 8.4 ounces |
| Heavy Weight Paddle | Over 8.5 ounces |
Why Should You Get a Lightweight Paddle?
Choosing a paddle based on its weight is an important factor. Pickleball‌ ‌paddles‌‌ ‌can‌ ‌weigh anywhere between 6 ounces and‌‌ ‌14‌ ‌ounces.
The weight of the pickleball paddle mainly depends on the materials. Depending on the materials is used on the paddle, it becomes a lightweight, medium, or heavier paddle.
Paddles with heavier weights are usually more challenging to handle, especially for newcomers.
A lighter paddle, such as one made of composite materials, can be more easily handled by people who have been injured in the past.
Also, light paddles may be better for people who are not in perfect shape. When you prefer more control in your pickleball game, a more lightweight paddle is a better option.
However, you can't get as much power from a lightweight paddle as you do from a heavier paddle. So, first of all, you need to ensure yourself whether you want more control or more power or both at a certain level.
Thankfully, some pickleball paddles are available in the market, which is lighter but have considerable power.
Are Lightweight Paddles Durable?
Whether a lightweight paddle will be durable or not depends on several factors. Different materials are used for other parts of a pickleball paddle.
When you use more heavy-duty materials on a paddle, it becomes more powerful, sturdy but heavy too. While lightweight paddles give you more flexibility to control the game, they might be less durable than heavier models.
We suggest you picking relatively higher-priced lightweight paddles as their built-in quality is more durable and reliable than less-priced paddles.
What is the best weight for a pickleball paddle?
A pickleball paddle weight can directly or indirectly affect your game playability. Ranging from 6 to 14 ounces, a pickleball paddle varies due to different factors.
Beginners prefer to choose to pick lighter paddles, while professionals prefer to pick heavier paddles as they want to dominate their opponents by playing powerful shots.
As a result, the best weight for a pickleball paddle varies because of our paddling requirements.
So, what is the ideal weight of a pickleball paddle? Well, it depends on your skill level and your ability to handle weight.
If you haven't purchased any paddles earlier, you should try your friends' or families' paddles to see how you feel playing with their paddles. You can also go to nearby local shops to test the weight difference.
Should You Get A Lightweight Or Midweight Pickleball Paddle?
Picking the right paddle depends mainly on its weight. In terms of feeling, paddles are judged upon their weight when picked up and swinged.
You should choose the paddle weight that fits your fitness level and comfort if you do not have any prior injuries.
However, a heavy paddle can also put a strain on your elbow and cause arm fatigue.
Both lightweight and midweight pickleball paddles are the best in their own way. You can move faster with a lighter paddle, giving you high maneuverability.
On the other hand, you will have more power with a midweight pickleball paddle than lightweight pickleball paddles.
Playing with a lightweight paddle will be more preferable when you play doubles. But, to drive the ball effectively, you'll require more help.
On the contrary, when you play singles, midweight paddles will be the best option as you need more power to handle the opponents and dominate against them.
In the beginning, when you are starting out, you may want to use a lighter paddle. A midweight paddle will be a better option if you want more power and moderate-level control.
But one thing you should remember is that you will not as much flexibility in a midweight paddle as you would get in a lightweight paddle.
Conclusion
So, which one you think is the best lightweight pickleball paddles from our list? What is you choice? Let me know in the comment.
When choosing lightweight pickleball paddles for your small hands, you need to consider several points. You want to ensure that you get the best value of the money with all the required features you need for your gameplay.
Hopefully, you have found the right paddle based on your pickleball skills and game needs. Now all you need to tap on the link which you preferred the most and play hard! Thanks for reading!