Pickleball paddles usually come in two thickness options: 13mm and 16mm. So, what is the difference between a 13mm and 16mm pickleball paddle? Both types of pickleball paddles affect your playability.
A 16mm pickleball paddle is a thicker paddle that can provide a softer feeling with better stability and control. In contrast, a 13mm pickleball paddle is powerful. But you will have a harder feeling and less stability.
A Quick Comparison between 13mm And 16mm Pickleball Paddle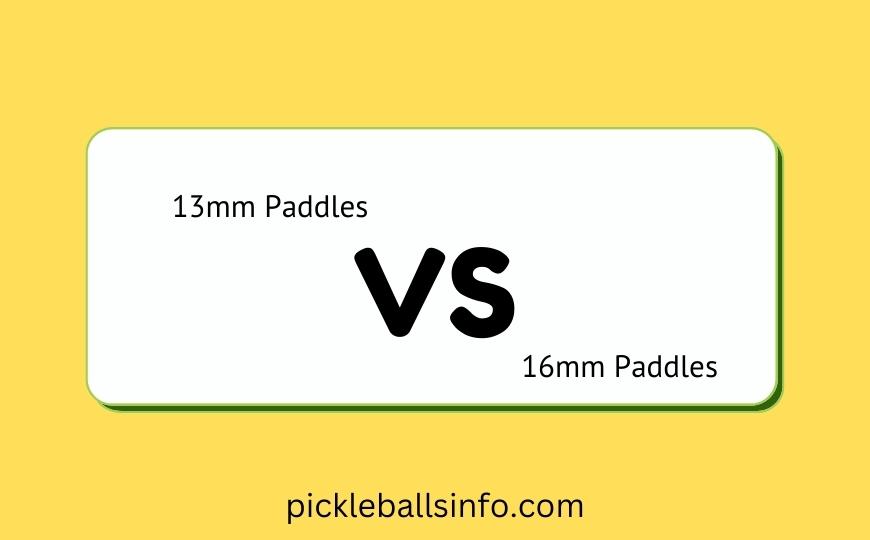 Wondering how 13mm pickleball paddles differ from 16mm pickleball paddles? Here is a small table to give you a quick idea regarding both types of pickleball racquets.
| | | |
| --- | --- | --- |
| Specifications | 13mm Pickleball Paddle | 16mm Pickleball Paddle |
| Paddle type | Thinner paddle | Thicker paddle |
| Feeling | Harder feeling | Softer feeling |
| Sweetspot | Good | Better |
| Power | More power | Slightly reduced power |
| Vibration | More vibration feeling | Minimal vibration feeling |
| Spinning | Slightly less spinning | More spinning |
| Stability | Good | Highly stable |
| Forgiveness | Less forgiving | More forgiving |
| Players suitability | higher level players | Any level of player |
Key Differences Between 13mm And 16mm Pickleball Paddle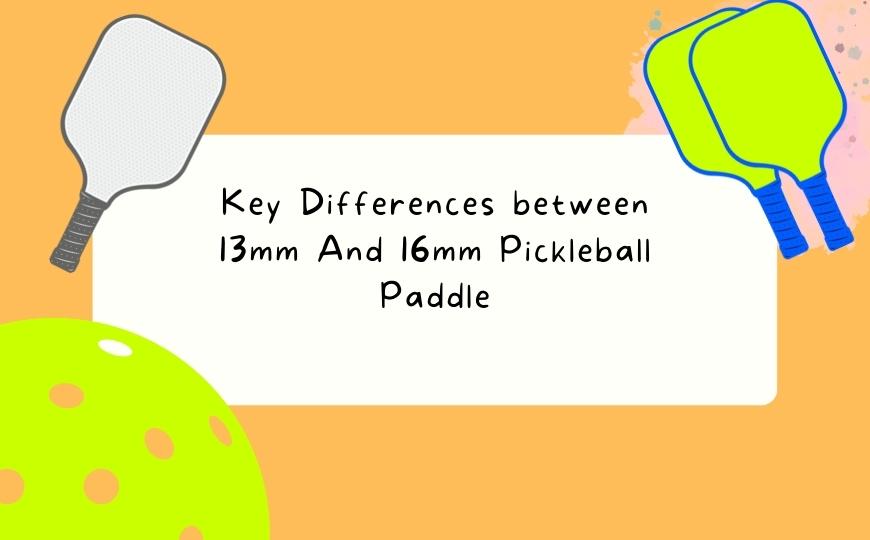 Most pickleball players invest in a pickleball paddle for around 1 year. Hence, you can't choose a random paddle. Knowing all essential features and the value they will provide is crucial. That's why we will go for a head-to-head comparison to help you pick the best option.
Playability
The core thickness of your pickleball paddle will affect your gameplay. Usually, some pickleball players prefer thicker paddles, and some prefer thinner paddles.
People who always enjoy playing aggressive shots will love playing with 13mm pickleball paddles. For players who want more control than power, 16mm paddles appear better.
Aggressive players try to drive the ball hard every time and attempt to overpower their opponent. That's why they need more controlling support from their pickleball racquet.
But if you rarely show aggressiveness in your gameplay and like to play low-risk shots as a defensive player, 16mm paddles are the best choice.
Performance
16mm paddles can provide more spin than 13mm paddles. You will get more dip in your driveway shots and drop shots. This will boost your confidence to drive the ball more frequently.
Though 13mm paddles have a decent level of spinning ability, it is not as much as 16mm paddles. But the face of 13mm pickleball racquets can jump off the ball more quickly.
More frequent jumping means more power. You will have to implement less force to get enough power. Its denser construction gives you a solid feeling.
Forgiveness
Compared to 13mm paddles, 16mm paddles are more forgiving. Pickleball racquets with higher forgiveness have a larger sweet spot and better shots even from the off-center.
Playing with 16mm paddles means you will not have less control and power over your paddle, even if you miss the sweet spot. The pickleball racquet will be maneuverable enough to get the ball back.
As a result, the ball will react favorably when the ball hits outside the sweet spot. This will give you more confidence to play your natural game.
However, 13mm pickleball paddles are not that bad at all. If your 16mm pickleball paddles have 85% forgiveness, 13mm paddles will have at least 70% forgiveness.
Attacking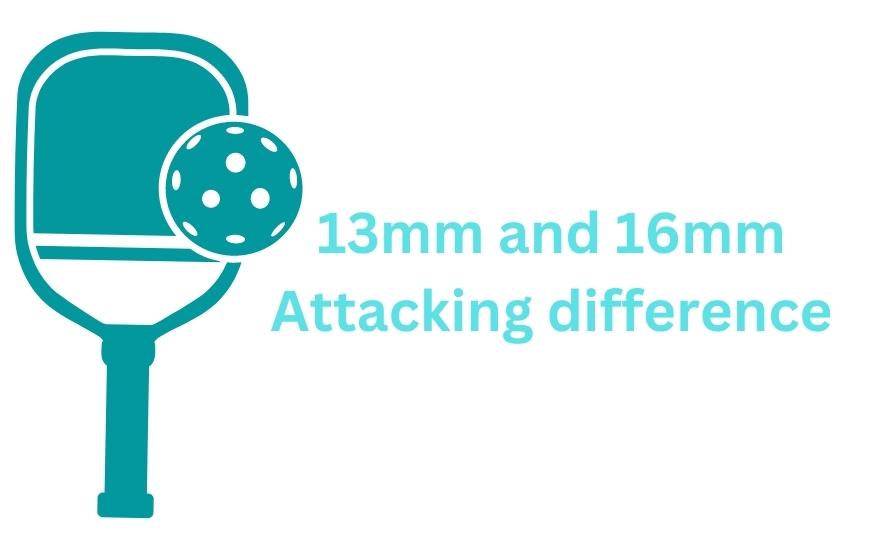 You will feel lighter while playing with 16 mm paddles. This allows you a fast, smooth movement to either side. Catching the ball is simple. You can quickly exchange volley shots.
Though 16 mm paddles have less power, it offers better control to handle the ball precisely. Its extra spinning ability gives you more domination in the game.
Your opponent will face difficulty in returning and counter-attack the ball. You can apply sidespin and topspin to deceive your rival player.
On the contrary, 13mm paddles are an excellent choice for short and giant swings. It may slow down your paddle movement slightly. But it is not significant if you used to play with mid-range paddles.
Soft Game and Defense
16mm paddles are more effective for soft games. Their thicker core can absorb more vibration than 13mm paddles. It adds a light and solid touch to make you comfortable while playing.
You can play dinking shots more comfortably. This type of pickleball paddle offers excellent stability. You can block or counter-drive shots effortlessly without moving the paddle.
Compared to 16mm paddles, 13mm paddles have a reduced sweet spot. This makes it less forgiving and stable. It has a lower control rating and some dead spots.
But if you can consistently hit the ball on the sweet spot, controlling hit the ball will not be a concerning point. You can easily predict the ball's direction.
Which Paddle Is The Best Choice?
Choosing a particular pickleball paddle depends on your play style and preference. If you want more pop on your pickleball surface, 13mm paddles are better. It offers more power.
On the contrary, 16mm paddles can provide great control. They absorb a significant amount of the ball's energy and are not prone to twist in your hand.
Apart from that, 16mm paddles have excellent vibration dampening properties to give you nice stability. If you are new to pickleball games, 16mm paddles are a better choice.
Thicker paddles have a large sweet spot, making the racquet more forgiving. Hence, you can comfortably play your shot in the right direction.
But top players can play with 13mm paddles since these racquets offer ample power. It comes in handy to play hard-hitting shots. But you need to be more careful while playing the shot.
Closing Thoughts
The debate between thinner and thicker core paddles is never-ending. After all, our preferences and playstyle vary. Before choosing a pickleball paddle, consider your playing skills.
A 13mm pickleball paddle appears if you prefer more power over control. Plus, you will need to compromise the spinning ability. But you will surely get more pop on the paddle surface.
On the other hand, if you need a higher level of control, spin, and forgiveness, a 16mm pickleball paddle is the best choice. It gives you more maneuverability and quick hand speeds.