If you are new to pickleball and looking for an affordable entry-level paddle that offers comfort, durability, and style, the new Niupipo pickleball paddle is the perfect option for you.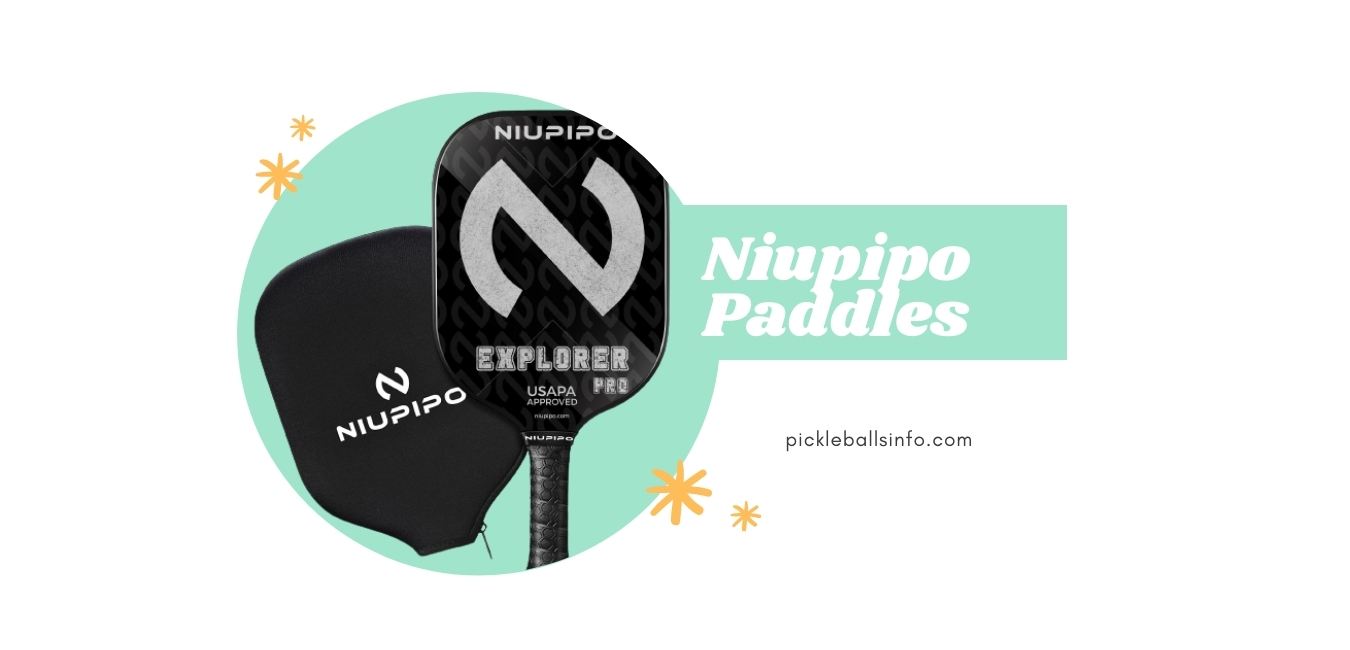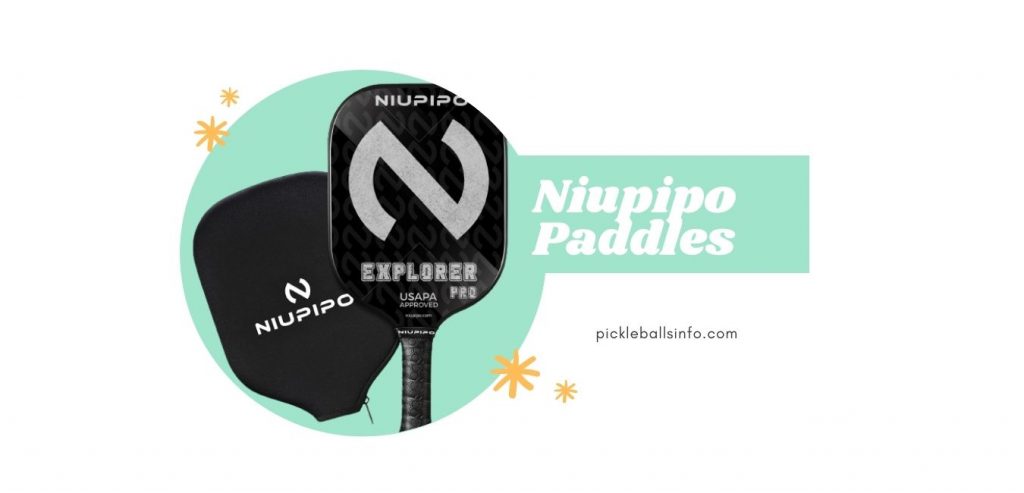 Niupipo: A Leading Brand In The Pickleball Industry!
Since 2012, Niupipo has been involved in the pickleball industry. A popular pickleball brand in the market, it has earned a great amount of popularity.
They are dedicated to assisting newcomers by manufacturing premium quality as well as cheap paddles and other gears. Is this your first time hearing about this brand? Or, at least seen someone on the court with this brand paddle?
They aim to provide exceptional pickleball sports products to more and more people. High performance and great quality at a competitive price!
They strive to provide premium quality pickleball paddles for all generations, all levels of players, and different backgrounds.
Image
Model
Surface
Core
Grip Size
Weight
Price

Top

Top

Top

Niupipo Graphite Pickleball Paddle: MX-01
Graphite carbon fiber
Honeycomb composite polymer
4.5 inch
8 ounces
View on Amazon

Top

Top

Niupipo Carbon Fiber Pickleball Paddle: MX-02
Graphite carbon fiber
Graphite Honeycomb
4.5 inch
8 ounces
View on Amazon

Top

Top

Niupipo USAPA Pro Graphite Pickleball Paddle: MX-06
Graphite carbon fiber
Polypropylene Honeycomb
4.5 inch
8 ounces
View on Amazon

Top

Top

Niupipo Composite Racket: MX-08
Graphite Fiberglass
Polypropylene Honeycomb
4.5 inch
8.1 ounces
View on Amazon

Top

Top

Niupipo Fiberglass Pickleball Paddle: MX-19
Graphite Fiberglass
Polypropylene Honeycomb
4-1/2''inch
Weighs 7.3 – 8.4 ounces
View on Amazon

Top

Top

Niupipo Fiberglass Pickleball Paddle – MX-07
Graphite Fiberglass
Polypropylene Honeycomb
4.5 inch
8.2 Ounces
View on Amazon

Top

Top

Niupipo Wood Pickleball Paddles: MX-101 & MX-102
7-ply basswood construction
-
4.5 inch
9.5 – 10.5 ounces
View on Amazon

Top

Top

Niupipo Wood Pickleball Paddles: MX-104
7-ply basswood construction
-
-
Approximate 13.2 ounces
View on Amazon

Top

Top

Niupipo Graphite Pickleball Racket with Carbon Fiber Face: MX-22
Carbon fiber
Nomex Honeycomb
4.25" circumference
7.6-7.8 ounces
View on Amazon

Top

Top

Niupipo Explorer Pickleball Paddle
Fiberglass
Polypropylene Honeycomb
4.4'' circumference
7.8-8.1 Ounces
View on Amazon

Top

Niupipo MX-24 Pickleball Paddle
Fiberglass
Honeycomb
4.25''
7.3 - 8.4 Ounces
View on Amazon
Why Are Niupipo Paddles Special?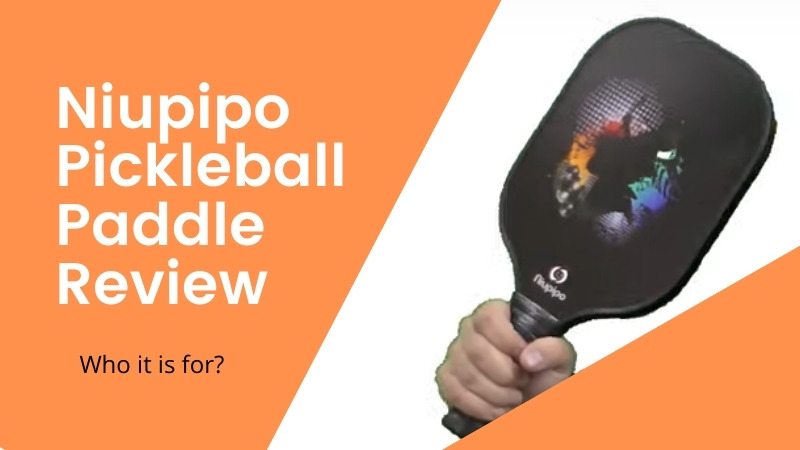 Special things are always eye-catchy. Highly demandable! Paddles from Niupipo have been highly praised and used by fresher and mediocre players.
They have become a leading brand in the entry-level market by providing comparatively cheaper paddles without compromising the quality. In addition, performance paddles are the next step in their design process.
Niupipo Pickleball Paddle Series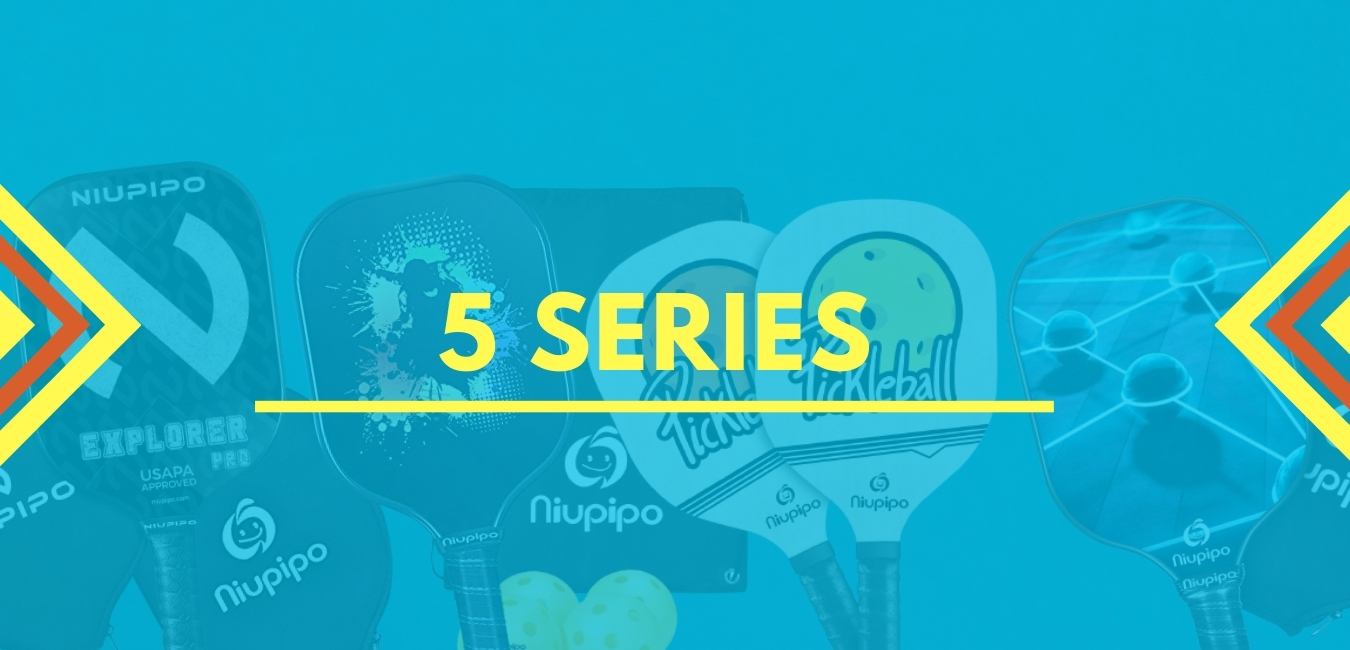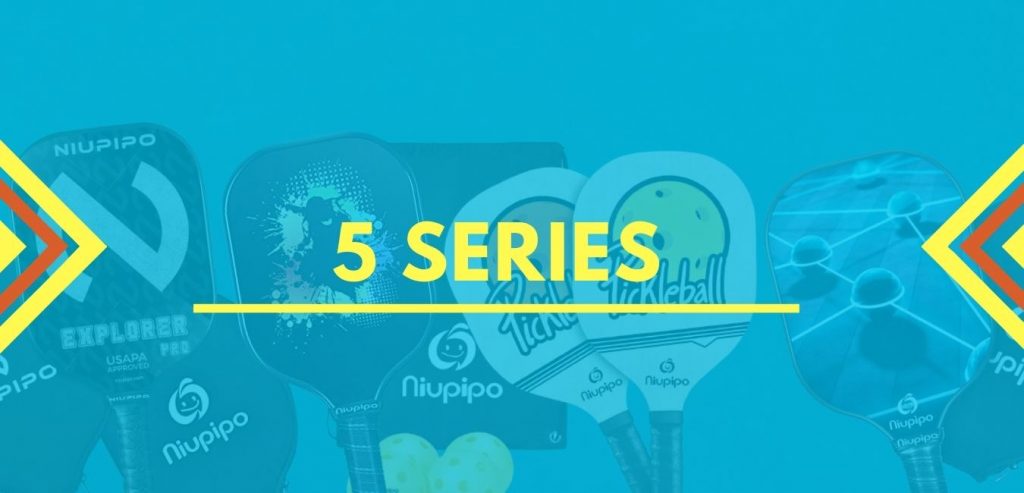 Niupipo Pickleball Paddles come in several series, such as —
Classic Series
New Tech Series
Original Series
Pro Series
Pioneer series
The Classic Series paddles have mainly graphite carbon fiber face and honeycomb composite core. Plus, they feature a generous sweet spot and high-quality, comfortable grip.
You can play any tournament with these paddles since they are USAPA Approved. Apart from that, each paddle from these series has an edge guard, and one Neoprene protective Cover is included for each model.
On the other hand, the NewTech Series paddles have mainly Fiberglass faces and Polypropylene Honeycomb Core. Otherwise, everything is similar to the Classic Series paddles. In addition, the Pioneer Series paddles are also similar construction like NewTech Series.
As for the Pro Series, these paddles are new, specially made for professional players. They are made with Carbon Fiber Surface and Nomex Honeycomb Core. Another notable thing about this series is its lightweight structure. Pro players can play a long time.
Another popular series is the Original Series. The affordability of these products is what makes them so popular. Two paddles and four balls are included as a package. These paddles mainly have 7-ply Basswood Construction, unlike other series, and a huge sweet spot for exceptional playability.
Niupipo Pickleball Paddles Reviews
Here we added paddles reviews of all the Niupipo pickleball paddle series. We added
3 Classic Series Paddles
1. Niupipo Graphite Pickleball Paddle: MX-01
The Niupipo Graphite Pickleball Paddle can improve your pickleball skills. Its superior construction has everything a professional player wants.
Not just advanced players, fresher and mid-level players will also feel comfortable and confident to play with this handy paddle.
The unit features a graphite carbon fiber face, which makes the whole paddle thin and lightweight. As a result, players can hit the ball more powerfully with the perfect hitting surface. This lightweight paddle weighs around 8 ounces only.
So, what more benefits will you get for playing with this graphite carbon fiber face? In terms of stiffness and rigidness, graphite surfaces excel.
The stiff paddle permits the paddle to pop when needed. Furthermore, its lightweight makes it less tiring for your arms. So, a graphite surface is really valuable due to its thinness.
In addition, the unit is made of Honeycomb composite polymer core, which is a popular choice for pickleball paddles. This progressive plastic blend enhances the overall construction of the paddle. Control and power are excellently balanced.
Other than this, it is quiet core. Residential communities enjoy playing with this core because of its quietness.
Each shot you play with this paddle will offer an exceptional bounce. It lowers ball deflection, so you can further improve your playability. Plus, you'll be able to strike harder with it
Playing with this paddle is easy-going for a prolonged time due to its premium grip. Your hand will feel stress-free as the grip has sweat-absorbent and cushioning properties.
The low-profile edge guard ensures protection and high durability for the product. So, while playing groundstroke shots, nothing will happen to the paddle. Additionally, it comes with a zippered neoprene cover to keep it safe when not playing.
Pros
Lightweight paddle
Nice handle
Great around feel
Easy play
Reasonable price
2. Niupipo Carbon Fiber Pickleball Paddle: MX-02
Like the previous model, this unit also comes with a Graphite carbon fiber surface. The manufacturing company uses the latest technology to craft this beautiful paddle. No matter what gender, age, or skill level, everyone can use the graphite pickleball paddle.
Its thin layer of lightweight graphite on each side provides players with a satisfying sense of feel and touch. Due to its stiffness, it gives more support to control the ball easily. You can strike the ball effectively and feel the ball hit well with it.
This USAPA approved pickleball paddle is perfect for any tournament. Court challenges are not likely to derail it. Pickleball players with high-quality graphite paddles can drastically improve their game!
Moreover, spinning the ball effectively with the ball is super-easy with this lightweight paddle. Its carbon fiber surface can easily absorb the ball impact. In addition, you can control the ball directly, preferably the way you want.
With its honeycomb composite polymer core, you will get a perfect combination of power and control. The overall construction and design of the paddle are impressive that anyone will praise.
Your wrists and shoulders will remain in stress-free conditions while playing with this paddle. There's no reason to feel uneasy about staying on the court longer!
The pickleball features a perforated and sweat-absorbing cushioned grip of 4.25 inches, and the handle provides a significant level of comfort. Changing the wrist actions or hand flexibility is possible.
Pros
Easy to play
Suitable for all level players
Improves performance
Decent construction
Solid feelings to play
Cons
Handle could be a little bit long
3. Niupipo USAPA Pro Graphite Pickleball Paddle: MX-06
Are you looking for a lightweight and responsive pickleball paddle? This high-quality pickleball paddle comes with a complete package. It includes two paddles and four balls. Hence, you have no reason to buy anything separately.
Let's get into Niupipo MX-06 review!
Like other models of these series, the niupipo pickleball paddle mx-06 also has a graphite carbon fiber surface and honeycomb composite polymer core. It has high rigidity and well construction to play powerful strokes conveniently.
Players can play more accurate shots with exceptional control. Whether you are playing too hard shots or a typical dink shot, accuracy is always ensured.
In addition, it can withstand powerful strokes conveniently because it is made from super sturdy materials. This graphite pickleball paddle has an ergonomic design that makes it more convenient to use.
You will face no issue on your elbows and shoulders with its right weight distribution. You don't feel heavy on a particular area.
The light construction gives high maneuverability. The handle is made with special materials to ensure effectiveness for sweaty hands.
Though the grip is perfect, you can tighten the handle if your hands are tiny. Therefore, you will have a solid feel while playing with the paddle.
The paddle has a smooth surface that is not textured. Though it has decent control ability, its spinning ability is not as better as premium quality paddles.
Both paddles and balls come in a handy bag, so you can easily carry them wherever you go. This set of paddles is a great choice for entry-level players. They will surely improve their pickleball skills playing with these paddles.
Pros:
Larger grip
A handy carry bag
A special package
Easy to maneuver
Smooth surface
Cons
Tiny hands need to thicken the grip
Comparison Between Those 3 Classic Series Paddles
The main difference among these three paddles from the Classic Series is its unique core. Though they have a similar surface, they are made of different cores.
In addition, the first model is 0.5 inches thick, while the other two units are 0.59 inches thick. However, each of them has the same dimension and black color.
The Niupipo Graphite Pickleball Paddle only comes with a single paddle, while the Niupipo Carbon Fiber Pickleball Paddle has two sets of paddles. On the other hand, the Niupipo USAPA Pro Graphite Pickleball Paddle comes with two paddles and four balls.
Apart from that, they don't have a similar weight too. Though each paddle is black, they have a unique print on the surface.
New Tech Series
1. Niupipo Composite Racket: MX-08
Are you planning to explore an outdoor game like pickleball with a reliable racket? Then you must check out the Niupipo Composite Racket.
From well-construction to affordable price to durability, this beginner-friendly paddle has everything you wish for. They are making these paddles from advanced technologies though the price is reasonable.
The overall weight of this paddle is around 8.1 ounces, and it is comfortable to hold. It has a fiberglass surface and polypropylene honeycomb core, providing unbelievable actions, pops, and control.
When you hit the ball with this responsive paddle, you will feel solid and hype of confidence. This can't be beaten at this price, especially with its top-notch construction.
Another thing we love about this paddle is its cushioned grip. Also, it suits well in hands. No uneasiness! When you compare this paddle grip with a premium quality paddle, they are almost similar in grip pattern. Who won't love to own such a paddle!
What's more, a distinctive and attractive graphic adorns the paddle face. You will appreciate its beautifully designed color too. There is just enough texture to give the fiberglass surface a bit of spin.
Though paddle is not as light as some carbon fiber paddles, it is still handy to control the ball. If you have not tried a composite paddle yet, we bet you will surely love this paddle.
Further, the unit features an edge guard to prevent it from wear and tear easily. So, the protective edging will keep your paddle safe while playing groundstroke shots.
Pros:
Super supportive grip
Beginner-friendly
High-quality
No stress to hand or wrist
Balanced paddle
Cons
Not best for advanced players
2. Niupipo Fiberglass Pickleball Paddle: MX-19
Like the first model, this unit is also made from fiberglass surface and polypropylene honeycomb core. So, what benefits will you get from playing with a fiberglass paddle?
It is strong and stiff while having surprisingly lightweight. You have more power in this paddle than graphite paddles because each hit will be cushioned more effectively.
In addition, the polypropylene honeycomb core has a large cellular structure while being extra soft. Softer means quieter! This type of material works effectively to hold the ball and improve your performance within a short time.
Just because the surface is soft, don't think it is not a powerful paddle. In fact, it is!
The unit comes with a whole package: two paddles, four balls, and protective covers. Apart from coming such a competitive price (all products), it saves your time and efforts too. You don't need to buy balls separately.
Both balls and paddles are USAPA approved. So you can use them to play any professional anywhere in the world.
If you are an ex-tennis player or have a past tennis elbow issue, this paddle can help you without any problem. Its lightweight nature makes your gameplay handier.
In addition, the nice cushioned handle doesn't become sticky or slippery when your hands become sweaty.
Plus, the unit has an edge guard to keep it damage-free or at least minimal damage. Continual use of the paddle can result in chipped and dings on the paddle without an edge guard.
Pros
Nicely padded handle
A complete package
Maneuverable
Solid grips
mpressive spin ability
Cons
Balls are only suitable for indoor play
3. Niupipo Fiberglass Pickleball Paddle – MX-07
Are you looking for a sturdy yet lightweight paddle? If yes, you may want to check out the Niupipo Fiberglass Pickleball Paddle.
The first thing you will love about this paddle is its balanced weight and impressive size. It feels solid to hold the handle. The handle will fit firmly in the palm of your hand. Also, it comes with wrapped-up materials around the grip to provide a better feeling to hold it.
You won't mind playing great shots with this powerful paddle. We think this one is the best Niupipo pickleball paddle due to its generous sweet spot.
What's more, the pickleball paddle has an improved design to match most players' playability. All players can enjoy this because it is perfect for both lefties and righties.
As for the grip, it is neither sticky nor loose. You will feel just right and at ease while holding the handle. Quality grip!
This paddle has helped many players to improve their accuracy more than ten times. Any beginner or intermediate player will surely love this beast.
If your hands are a little bit tiny, we suggest you thicken the grip. The grip is generally perfect for any normal hand. That's not a concern!
If you are going to buy a pickleball paddle for the first time, it is a great option to consider. Stop investing in cheap paddles! Try out this paddle if you want to have great value for the money.
Pros
Comfortable grip
Lightweight and sturdy paddle
Large sweet spot
Perfect for starting up
Well-made
Comparison between new tech serise
All these paddles from the New Tech Series are made from the same surface and core. However, their overall construction slightly varies. For example, the first and third model has 8.1 ounces weight. However, the second model's weight ranges from 7.3 – 8.4 ounces.
The first and second models are only available in two colors, while the second model has two color options. Another difference among these three paddles is their thickness. The second unit is the thickest, while the last one is the thinnest.
What's more, the second paddle comes with a complete package: two paddles and four balls. However, the other two units have only a single paddle. That's the difference between them!
Original Series
1. Niupipo Wood Pickleball Paddles: MX-101 & MX-102
Is an extra-wide paddle what you're looking for? Featuring an 8″ by 10″ face size, this pickleball paddle offers both durability and precision. So, its sweet spot is huge compared to many pickleball paddles. As a result, entry-level players will not miss a great number of shots while playing with it.
7-ply basswood is used to make this pickleball paddle for both surface and core. It is more suitable for rough use as it doesn't prone to break easily like other materials-based paddles.
However, you don't want to expect the same level of playability as other lightweight-based paddles. Beginners will take some time to get used to this paddle as it doesn't have as flexibility as other paddles.
But one thing is pretty sure; it has the most competitive price and you can handover to your younger ones without any worry. It can take a lot of mess. Compared to other paddles, this one is slightly heavier—this usually increases the paddle's power.
Like other Niupipo paddles, it has a supportive handle. The internal part of the grip is made from woods, and then an elastic band wraps around it. Since it is comfortable to hold, you can play several matches without feeling uneasy.
What's more, the pickleball paddle comes with a complete set of two paddles and four balls. You can also choose four paddles and six balls if you prefer. Since they are incredibly affordable, you don't need to spend much.
Pros:
Decent grip
Long-lasting durability
Great set
Economical pricing option
Perfect for children
2. Niupipo Wood Pickleball Paddles: MX-104
If you always love to play with heavy paddles, it might be your big boy. It comes with four sets of paddles, six yellow balls, and a bag to keep things safe. This complete package is a perfect option if you want to equip with a large number of new players.
Like the previous paddle, this wood paddle is also made from 7 ply-wood Bass hardwoods. However, it is more on the heavier side, weighs around 13.2 ounces.
So, what benefit will you get by playing with heavy paddles? Compared to pickleball paddle power, the heavier paddle will help you play to more powerful shots than the lightweight paddle. More heaviness, more power!
However, a lot of lightweight paddles are available in the market. Due to the inclusion of advanced technology, you can play groundbreaking and powerful shots with them. But they are on the expensive side.
So, what are the limitations of playing with these heavy paddles? A little weight feels on the head while holding the paddle. Your maneuverability is slightly compromised, but you will feel natural to play with it after a certain time. You can go for a quick swinging after getting used to it and will feel more balanced.
The wood paddle includes an edge guard, making it sturdier and of better quality. Additionally, all their paddles cover a limited warranty. If anything happens during the warranty period, they will replace the paddle.
Pros
Powerful shots
Attractive price
Easy to grip
A safety strap and an edge guard
Limited warranty
Comparison
One of the visible differences between the two models is their weight. The first model is slightly lighter than the other option.
Apart from that, the second option seems to have an attractive print on the surface while the other one has a plain surface.
Another notable difference between these two paddles is that the second model has an edge guard. But it is absent on the first option.
Pro Series
1. Niupipo Graphite Pickleball Racket with Carbon Fiber Face: MX-22
Are you waiting for a premium paddle to play professional games? Your wait is over! Pickleball players will love the superior quality of this paddle review.
Nomex honeycomb cores are used in this Niupipo mx-22 model. This type of core has outstanding density and hardness. It ensures a longer lifespan without decreasing the quality so easily.
Additionally, Nomex cores are heat resistant. So playing at a high temperature doesn't cause any problem for the paddle. They are super strong due to their efficient hexagonal configuration.
Further, it has a carbon fiber surface, making it more durable than other material-based paddles. You can play more accurate shots in your desired direction.
Another impressive thing about this professional paddle is its wide-body shape. Y Because of its large sweet spot, the ball can be hit harder and missed less frequently. Finesse is achieved through the paddle while power is retained.
Like other Niupipo paddles, this unit also has a premium grip to support you playing for a prolonged time. You won't feel stress on your arm or hands after playing even several matches.
Your control ability will be improved due to its slight texture on the surface. Though it has decent power, some power is compromised due to the lightweight construction. However, you will surely have a strong, vibration-free feel and rapid maneuverability.
Pros
Premium quality
Weightless construction
Enhanced control
Upgraded Material
Rapid maneuverability
Pioneer Series
1. Niupipo Explorer Pickleball Paddle
If you are looking for a pro paddle at an inexpensive price, the Niupipo Explorer Pickleball Paddle is a perfect choice. This one is also one of the best Niupipo pickleball paddle.
This high-end model has a harder fiberglass surface to make your gameplay more entertaining. When you think about its price, the value of this paddle is unbeatable.
The paddle is crafted with exquisite workmanship — the dimension of this paddle feels exactly right. The thicker honeycomb pattern improves your sense of touch and gives you a better feeling at the net. It's what all the best paddles do!
The overall design of the paddle looks good with exquisite graphics. Even a little hole has been made in the foam for the paddle picker to stick his finger in to get the paddle out. Exceptional quality!
There are two words to describe the Niupipo paddle: quality and affordability. Although it is a bit heavier than top-of-the-line paddles, it is still a great paddle.
The positive impact of this slight weight difference is that you will have deeper, stronger kicks with your serves. Using this paddle, you can significantly increase your power.
Are you a fan of playing double-handed backhand? If yes, you love this extra-long perfect handle. Adding overgrip will provide a solid feel if you feel the grip is thin for you.
The fiberglass surface gives you more convenient playability, especially for services. Any knowledgeable pickleball player will surely love the solid and stable build of this paddle. Best bang for your buck. Hope this Niupipo Explorer review was helpful for you!
Pros
Super quality
Excellent pop
Perfect shape and design
Long handle
More spin
Cons
Slightly hard to control
heavy paddle
Niupipo MX-24 Pickleball Paddle
Are you looking for a lightweight, solid, and approved pickleball paddle? Then, you may want to try this one newly introduced pickleball paddle from the Niupipo brand. This model is not included in a particular series yet.
The paddle features a honeycomb core to ensure great stability and increased strength. Plus, we love its fiberglass surface, which can decrease the noise when you hit the ball.
We love its easy-to-hold grip, allowing you to play longer time with this cushiony handle.
The unit is USAPA approved, allowing you to play any professional game. Additionally, it weighs only 7.8oz, keeping your hands and arms stress-free.
Another thing you will appreciate about this pickleball paddle is its absorbing capability while hitting hard shots. Hence, you will feel less vibration on your hands.
The unit comes with a full package, including two paddles, four balls, and one protective cover.
Carrying everything inside the bag is easy as it has enough space. The balls are also made from high-quality materials to stand up well. No cheap whiffle ball feel.
Pros
Lightweight
Easy to play
High strength and stability
Beginner-friendly
Is It Worth Buying A Niupipo Paddle?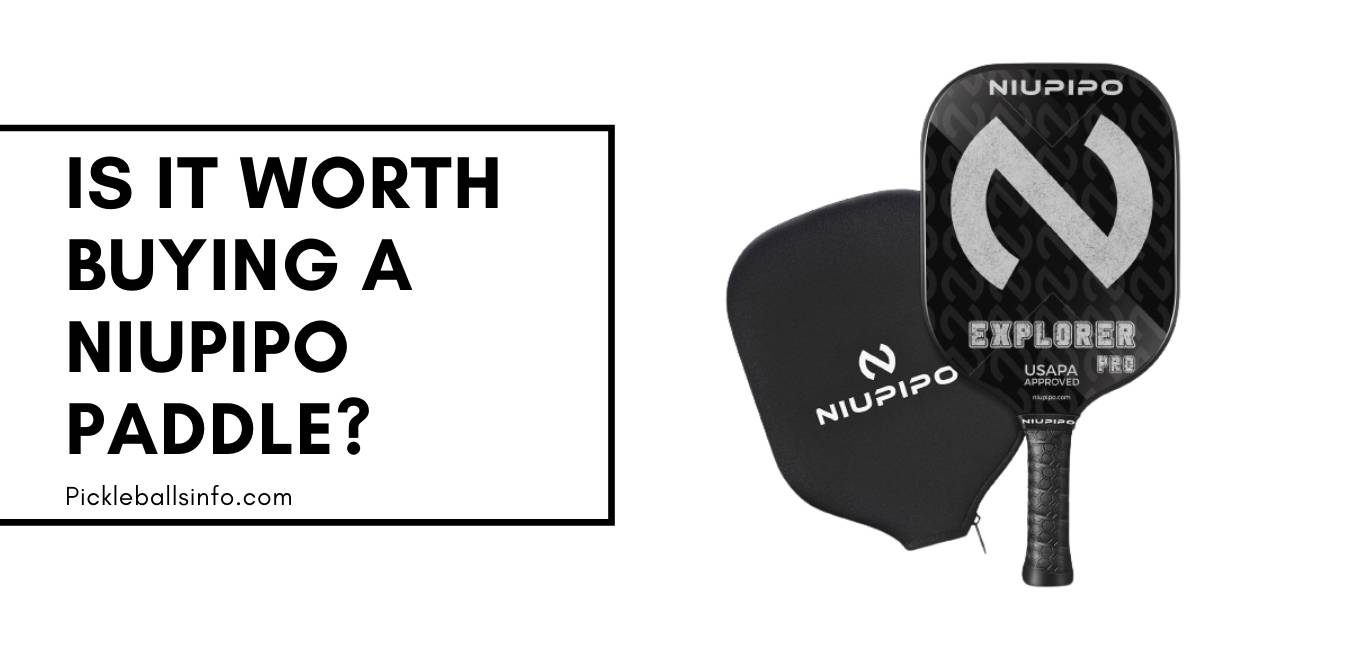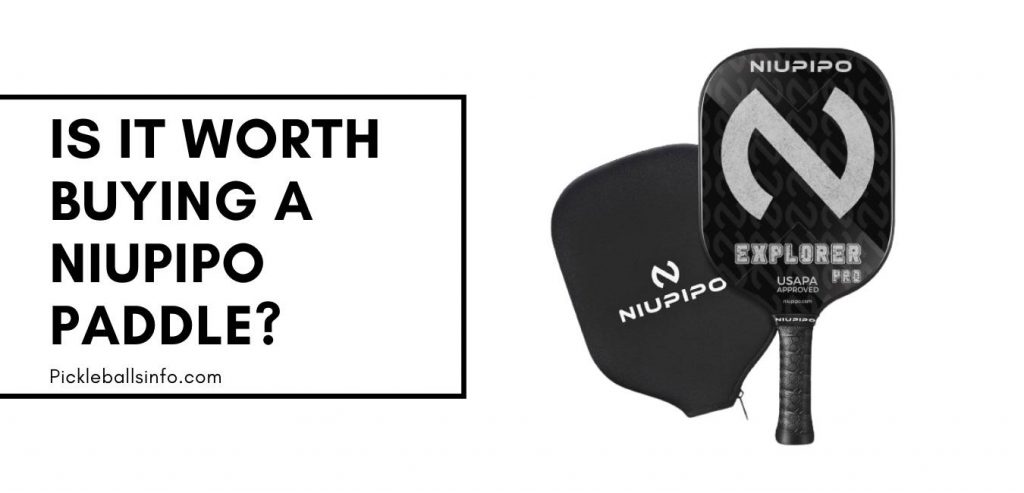 Since each Niupipo paddle is tested and approved by USAPA, you can use them for professional purposes. But are their quality dedicated enough to play any match with them? Surely does! As they meet USAPA standards, why not for us?
Any Niupipo paddle will catch your eye right away because of its attractive appearance. But are their paddles just for style or, are they functional too? Apart from the vibrant design, there are many more things you will love about their paddles.
The best thing about their paddles is affordability. Price-wise, you won't find a better deal! Though all pickleball tournaments have allowed Niupipo paddles, these products are best for new players.
Even after being an expert from Newbies, you can still use this paddle to play most pickleball games. Ex-tennis players will love these paddles as they have an ergonomic grip. It means they can hold the paddles for a prolonged time without feeling weird.
Most of the Niupipo paddles come with a secured case to ensure safety for them. Hence, it is not prone to any kind of damage easily. Above all, well-made paddles like them are easily recognizable. Definitely worth your money!
What About Niupipo Pickleball Balls?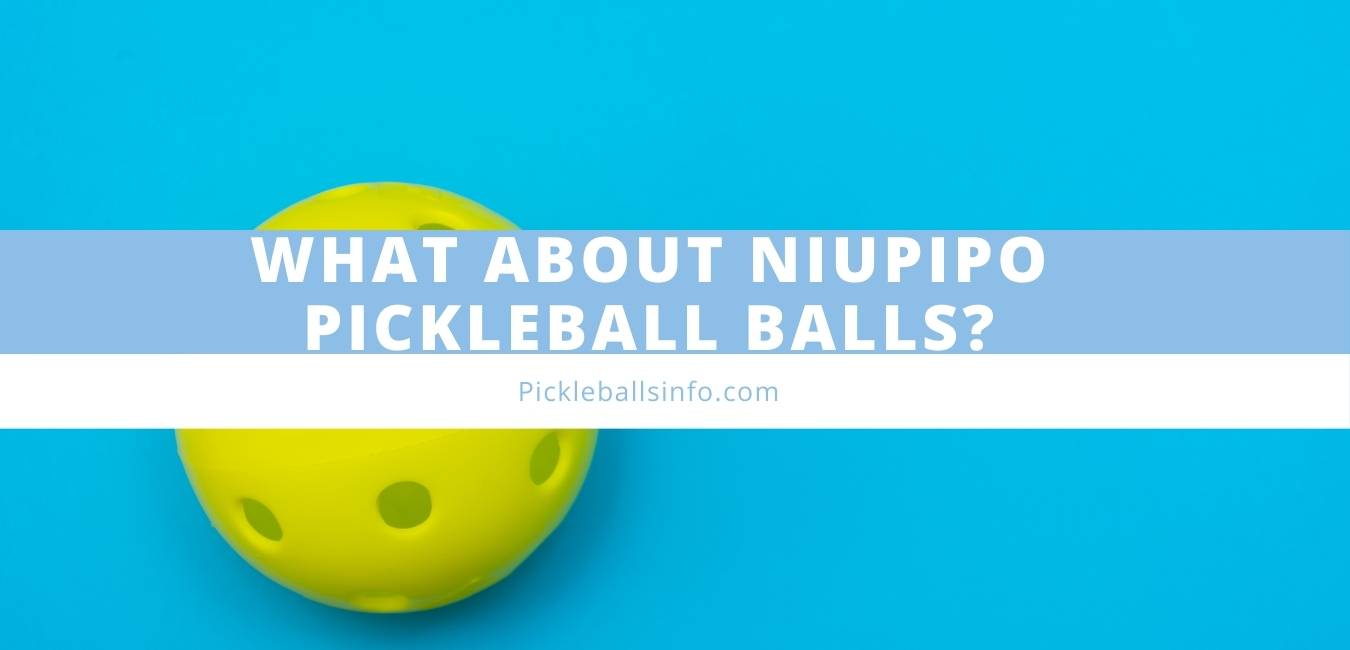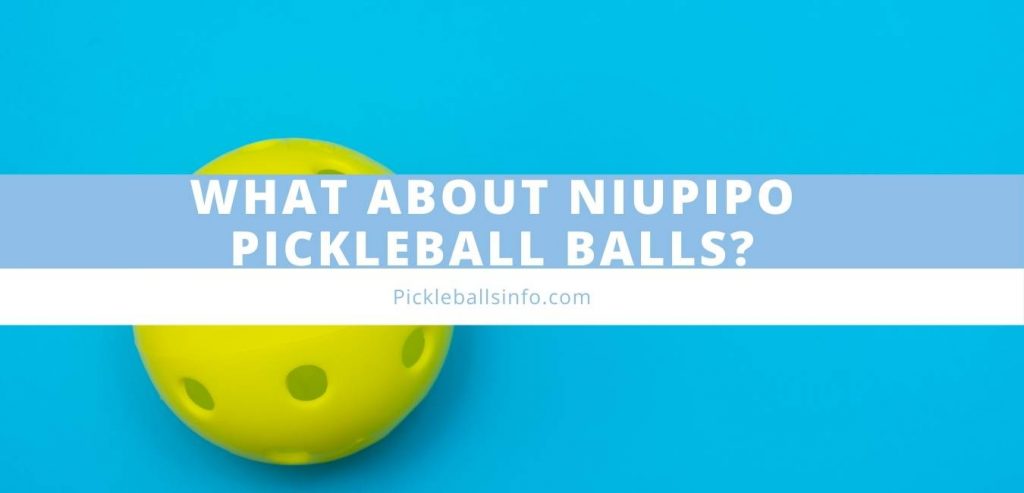 Apart from manufacturing pickleball paddles, they are also experts in pickleball balls. They sell these balls under their name.
Both indoor and outdoor pickleball balls are available from this brand. More often, they sell several balls along with a pickleball paddle in a complete package. Cost-efficient! Also, you don't need to take the hassle of buying balls separately.
Most importantly, they are suitable for professional uses as they are USAPA approved. USAPA standards are met on bounce, design, stiffness, weight, and structure.
Though they sell a few types off products, their products have come close to perfection. Generally, quality over quantity is their guiding philosophy.
Wrapping Up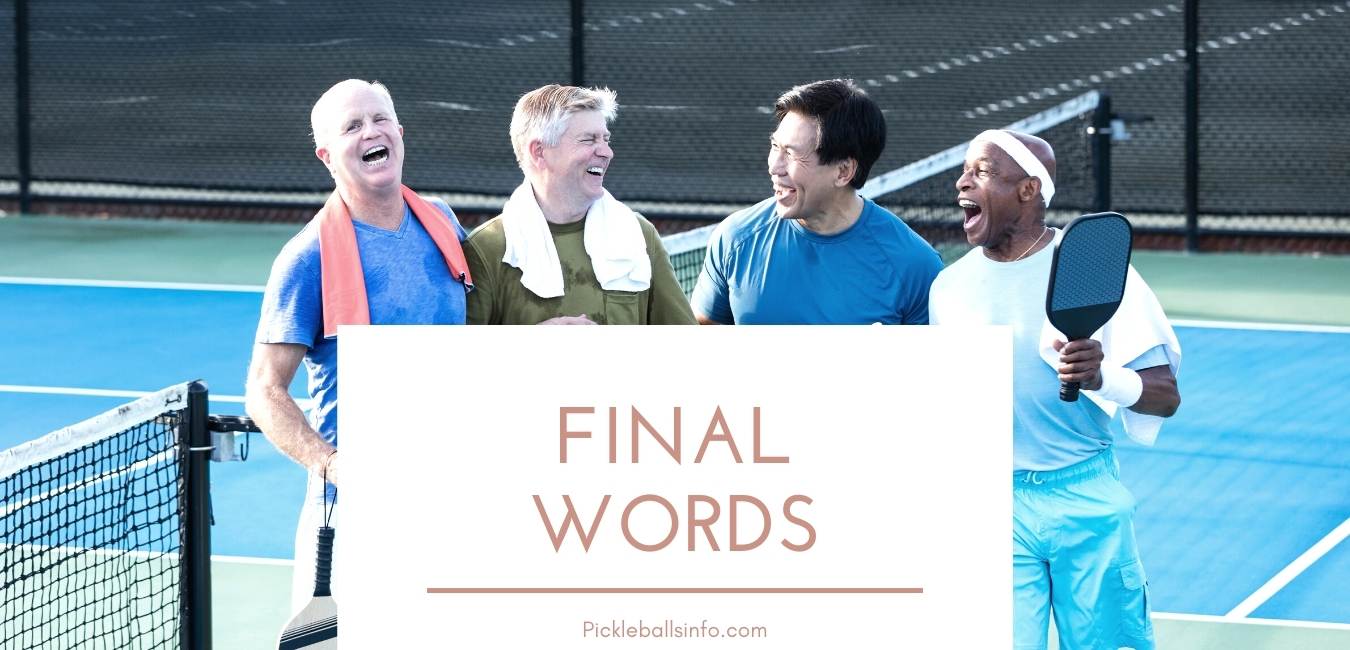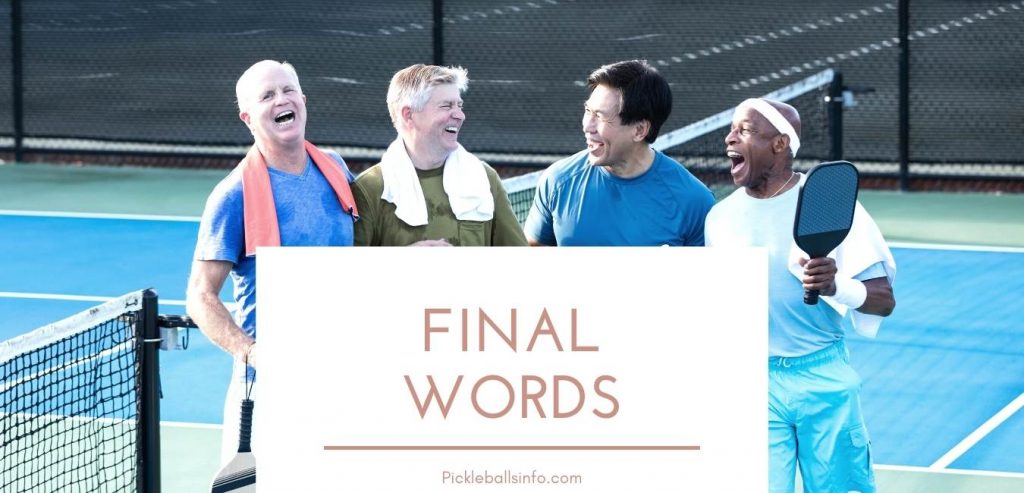 What are thoughts popping around your head after reading those best Niupipo pickleball paddles review? Does it suit your requirement to own it or not?
The Niupipo graphite pickleball paddles and fiberglass Paddles are undoubtedly big shot if you consider its price and excellent playability.
We hope that you will never fail to make the correct decision to play a pickleball game with the right equipment. Let's jump in, grab the paddle, and enjoy the game!