Do you think you can play a two handed backhand shot easily with any paddle? Maybe not! The most important thing you should check out is a longer paddle handle to find the best pickleball paddle for two handed backhand.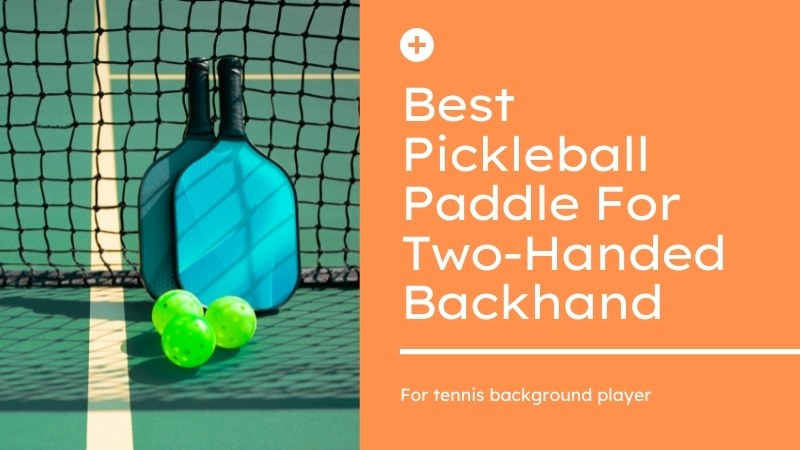 It is because you need enough room to keep both your hands on the grips. You need to consider some other things based on your game requirements.
A lot of play styles we follow in pickleball paddle and the two handed backhand is one of the most common ones, especially for people who recently shifted from tennis.
Though earlier it was mostly seen among female players, many professional males now also using this playstyle.
Here, we come up with the 5 best pickleball paddles for two handed backhand. But among those recommendation, our top pick is Selkirk Amped Pickleball Paddle.
Let's move forward to discover them.
| Image | Title | Surface | Core | Grip Size | Grip Length | Weight | Buy |
| --- | --- | --- | --- | --- | --- | --- | --- |
| Top | Prince Response Pro Pickleball Paddle | Fiberglass | Polymer | 4 1/8" or 4 3/8" | 5.5" | 7.6-8.1 ounces | View on Amazon |
| Top | Engage Encore MX 6.0 Pickleball Paddle | FiberTEK Fiberglass | Polymer | Standard Grip 4 3/8″ | 6″ | 7.8 – 8.3 ounces | View on Amazon |
| Top | Engage Elite Pro Maverick Pickleball Paddle | ChemTEK Fiberglass | ControlPro II Polymer | 4 1/4 inches | 6 inches | Standard 7.9 – 8.3 ounces | View on Amazon |
| Top | Selkirk Amped Epic x5 Pickleball Paddle | Fiberglass | X5 Honeycomb Thick | 4 1/4 inches | 5 1/4″ | 7.8 – 8.4 ounces | View on Amazon |
| Top | Prince Quantum Pro Pickleball Paddle | UV Coating Fiberglass | Polymer Honeycomb | 4 1/8″ or 4 3/8″ | 6" | 7.4 – 8.0 ounces | View on Amazon |
5 Best Pickleball Paddles For Two Handed Backhand
1. Prince Response Pro Pickleball Paddle
Many Prince Pickleball Paddles have already grabbed attention among pickleball enthusiasts. As we already mentioned, the first thing you will consider in a pickleball paddle for two handed backhands is its long handle.
Thankfully, the Prince Response Pro Pickleball Paddle comes with an attractive design and a long handle to fit both hands properly. On top of that, you have options to choose between two grip size options: 4 1/8-inch or a 4 3/8-inch.
One of the unique features of this pickleball paddle is its Paddletek polymer core. The manufacturing company used composite fiberglass material instead of graphite materials.
This gives more texture for the paddle, offering players better control and spin. In addition, it improves your gameplay by having more accuracy on different shots.
If you are used to playing tennis rackets, you will feel comfortable using this paddle due to its long grip and head. You will have the similar feel that you would receive from tennis rackets.
If you are always picky choosing a particular paddle design, you will love this model. Because you have options to select your preferred one from 10 color options.
As the pickleball paddle features a long head and a vast surface, you will have a huge sweet spot. As a result, you hit the ball more strongly, and it produces less noise.
Like tennis rackets, the pickleball paddle comes with an oval shape design, having more space on the paddle face. The accuracy of your shots is assured because of this. Plus, the oval-shaped sweet spot gives players better control and power with fewer mishandles.
The Prince Response Pro Pickleball Paddle is available in two weight alternatives: lightweight and standard. The lightweight option gives you "quick hands" to react quickly for serving back the ball.
However, the standard option will be better if you want more power and generate more depth while hitting different shots.
One fascinating thing about this paddle is that a majority of the weights are on the paddle handle. As the paddle is lightweight, stability and flexibility are guaranteed.
Pros
Large sweet spot
Long handle
Double grip and weight options
USAPA authorized
Perfect for ex-tennis players
Cons
Doesn't come with any protective cover
Not the best choice for beginners
2. Engage Encore MX 6.0 Pickleball Paddle
Here comes another long-handle paddle from Engage brand. As for durability, it is one of the finest paddle from Engage brand. Since it is made from high-quality materials, pickleball players will feel solid playing with this paddle.
Grabbing the ball with its textured skin is really impressive. You can produce more spin using this pickleball paddle. Your return of serve will be as powerful as possible without overemphasizing your swing. Therefore, you can focus more on power and placement.
Playing with this paddle for the first time will make you notice the ball that comes off the face is soft. You will have a good feeling while hitting the ball, especially when the ball contacts the middle of the paddle surface.
As for the design, the paddle has a professional outlook and is available in multiple colors. Playing with the Engage Encore MX 6.0 Pickleball Paddle doesn't make you uneasy as it makes pleasant sounds while contacting with balls. It makes a soft sound without showing any sign of clumsy.
The elongated-shaped paddle has the approval of USAPA, allowing you to play most tournaments. Due to its user-friendly design, any level players are welcomed to play with it.
The paddle features a comfortable and decent grip tape, allowing users to hold the handle for a prolonged time. Several colors are available for this model, so you can choose a particular one to match with other accessories.
Engage manufacturer uses a ControlPro polymer core for its construction, which will not easily break down. This line of paddles core material is highly thick, but you will not feel an additional weight. Even if you keep it on a hot summer day or expose it to the heat of your car, it has less chance of getting affected.
Playing with this paddle will surely improve your pickleball paddle. It allows controlling the ball more precisely and gives a solid feeling when the paddle contacts the ball.
When you consider all these essential benefits from a paddle, it truly deserves in the list of best pickleball paddle for two handed backhand.
Pros
Cool design
Impressive power, spin, and control
Extra-long handle
Thin grip
Reasonable price
3. Engage Elite Pro Maverick Pickleball Paddle
When you take a look at this paddle, the first thing you will notice its long handle. This long paddle handle not only allows you to play two-handed backhand shots but also gives a nice reach. Hence, you will get a lot of steam on their particular shot.
Also, the long handle makes it more flexible and brings the ball down faster. You get a lot of topspin and pull the ball down, so you will find yourself able to swing out more and hit crazy groundstrokes.
Playing with this paddle will help you doubles on certain shots when attacking or playing some offensive shots. Especially, the long handle is really good for aggressiveness.
When you give it a nice swing, you can have a solid feel from this paddle. Additionally, it delivers a little additional pop without really having to do more exact.
The solidity of this pickleball paddle impressed us the most. Solidity means you want the sweet spot to be as large as possible and the cutting edge of being as small as possible. Thankfully, the unit has a high solidity rate
Engage uses the Control Pro polymer core for this pickleball paddle like their previous model. It gives you optimized control for the paddle and the ball.
Besides, it features release flex technology, giving you the highest amount of forgiveness. Whether you want to play soft or hard strokes, you can play them all.
It is a super solid paddle, making it suitable even for an aggressive free swinging type of player. It just enables you to attack more often, so you will have a natural aggressive feeling due to that.
Furthermore, the solidity of this paddle works better for defense too. So, if you are a more defensive player, you should not have any fear playing with this paddle. Because it is really easy to block hard hit with it.
Apart from that, the effortless power and extra torque you get on an excellent big swing are really impressive. So, ex-tennis players will love this paddle. The other thing that stands out about this paddle is its flexibility to play groundstroke shots. The ball will dip a lot faster.
On top of that, its noise reduction features will lessen noise in most games, making gaming much more enjoyable.
Pros
Professional quality paddle
Cutting-edge design
Super durable
Perfect for aggressive players
Flexible
4. Selkirk Amped Pickleball Paddle (Most recommended)
If you are looking for a pickleball paddle with unbeatable control and impressive spit, you can't go wrong with the Selkirk Amped Pickleball Paddle.
The size of the sweet spot you get from this paddle makes you more confident to play different hits. You won't miss the touch you get on the ball. Every shot you are hitting is in the perfect spot.
The thicker core on a per square inch basis really increased the kind of density. Therefore, the sweet spot relative to the size of the paddle feels it feels much bigger.
You will like the added inertia that comes from the thicker core. Many people who are having wrist issues will love this unit as it can solve this issue. Once you start playing with this paddle, it will absorb a lot of vibration and prevent wrist issues due to the thicker core.
Another improvement of this pickleball is its thicker and heavier edge guard. The kind of spin and control that the paddle provides is excellent. But it depends on the position of your court and how much maximum swing speed you want to employ.
After getting to a certain point in the game, most players start to see more opportunities and more ways. They can use more power, especially on serves, making the game more aggressive.
You can use the paddle for singles and doubles as the power and balance you get are enough from it. You will have similar feelings while switching back and forth on the court for singles and doubles.
According to experts, shorter players will get more benefit from this paddle as they don't have a lot of reaches. Thus, this paddle would be perfect for people who prefer a little more reach.
This longer paddler is perfect for ex-tennis players when you are used to playing forehand or two handed backhands. The paddle works better if your game is such where you're not giving up a lot of balls that need to be blocked.
If you find yourself popping the ball up a lot and want to play a defensive game, this wide paddle can be a great option to consider. Perfect addition for defensive play!
Pros
Improved accuracy and stability
Perfect for short people
5x thicker core
Generous sweet spot
A lot of power and control
5. Prince Quantum Pro Pickleball Paddle
Playing powerful hit requires powerful paddle. The Prince Quantum Pro Pickleball Paddle has a decent built-in quality to play two handed backhands.
The natural spin you will get from this pickleball paddle will surely tackle your mind. You will feel more confident while defensive shots and block shots the way you want.
Unlike other paddles from Prince, this unit is longer and thinner, making it suitable for people who want more reach. The longer has ample room to provide comfort for most users. Also, playing or controlling trick shots with enhanced reach is possible.
In addition, it is a little bit narrow and round in shape. Getting more momentum on your swing is possible with this design, especially for ex-tennis players.
Though you have options to choose between multiple grip sizes, the unit is only available in one weight option. The paddle weighs only 7.6oz, making it super lightweight for quick hand response and easy gameplay.
You can hold the grip comfortably even in humidity conditions, ensuring reliability and improving playability. Playing dinking games with this paddle gives you a lot of satisfaction with a soft touch and ample power.
Though the paddle is longer and thicker, it still has a lightweight design, giving users more comfort without pressuring their hands. In addition, players can improve their accuracy since the paddle features excellent 'low pitched' pop and a relatively larger sweet spot.
Whether you want to play soft shots and groundstroke shots, you have options for all. The more you play with paddle, the more confidence and solid feeling you will have.
In fact, many professional players rated the Prince Quantum Pro Pickleball Paddle one of the best paddles from this brand. This versatile and practical paddle assists you in playing a wide array of hits as per your gaming requirements.
Pros
Excellent control and accuracy
Nice touch
Long grip
Ample of power
Lightweight
Cons
Sweet spot could be larger
Can You Use A Two-Handed Backhand In Pickleball?
It is common and natural to use the two-handed backhand play style among people who played tennis past. Playing this shot in a pickleball game is also not something uncommon for them.
However, they may feel confused about whether they should use this play style in pickleball games or not. Does it have the same effect as the tennis game?
While hitting a two-handed backhand shot, both hands perform a unique job separately. With your dominant hand, you try to hit the ball in your preferred direction. On the other hand, with your non-dominant hand, you try to drive the ball.
Playing two-handed backhand shots will result in restricted reach and range. Additionally, the hips and core need to be rotated more extensively to play this shot. You will struggle to keep both hands comfortably because of the small grip as you have large hands.
Can You Switch Hands In Pickleball?
People who play with both hands switch one hand to another often. But like other players, they also have dominant hands. It can be right-handed or left-handed.
For example, a left-handed player may hit a ball with his right hand just after switching the paddle from left hand to right hand. The same goes for right-handed players too. Here you should remember that they just occasionally play with the other hand. Most times, they play with their dominant hands.
Whether a player should switch his hand or not, depending on his/her playing conditions. However, changing hands is not that much effective for beginners or players who need a lot of improvement.
But if you have already played softball for several years, you can do it without detrimentally affecting your game. There is nothing wrong with switching hands while playing a pickleball game.
Two Handed Backhand Benefits /Advantages
1. Reliable shots
Though one-handed backhands are more destructive than two handed backhand shots, two handed backhand shots are dependable.
2. A Good Unit Turn Setting
Playing two handed backhand shots allows players to rotate their hips through the shot, making them more balanced while playing.
3. More Power & Stability
Commonly, everyone knows playing with two hands gives you more power than one hand. As a result, you will have more strength to hit the ball vigorously than with one hand.
4. Effective Against Poorly Timed Shots
Even a poorly timed shot can be avoided with a two-handed backhand, and recovering is easy with this playstyle too.
5. May Late With Two Handed Backhand
Playing with a one-handed backhand means players are supposed to hit the ball immediately. Not timing! On the other hand, you can sometimes late while playing with two handed backhands.
Final Words
So, which one you think is the best pickleball paddle for two handed backhand from these 5 options? As all pickleball paddles we pick have long handles, you will not face any issue for playing two handed backhand.
However, other factors are worth considering, which we have already discussed for each product. You should figure out your individual gaming requirement and choose a particular one based on it.
So, pick your preferred option and enjoy playing pickleball right away!