Spin, power, and control are the three main things you should check before picking a pickleball paddle. Rogue 2 and Head Extreme Pro got extreme popularity in the market in recent days, due to the reliable performance shown by each of these pickleball paddles. If you feel confused about choosing a paddle between Rogue 2 and Head Extreme Pro, you have landed in the right place.
In this article, we will sum up both the Rogue 2 pickleball paddle review and Head Extreme Pro pickleball paddle review separately. We will also share Rogue 2 and Head Extreme Pro pickleball paddle comparisons to help you find the best one for you. Let's move on!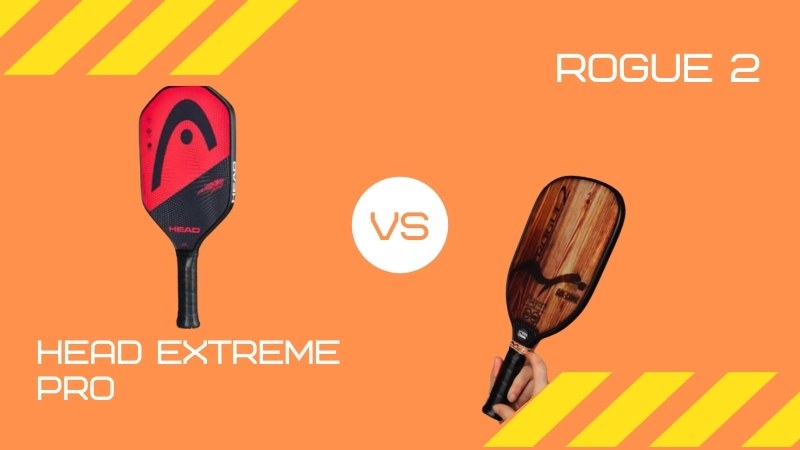 Read More: How to take care of your new paddles
Rogue 2 Pickleball Paddle Review
If your current paddle is not from the rogue brand and you are looking for a handy one, you may want to try the Rogue 2 pickleball paddle. The unit features a fiberglass surface, which is a premium quality material for excellent stability and durability.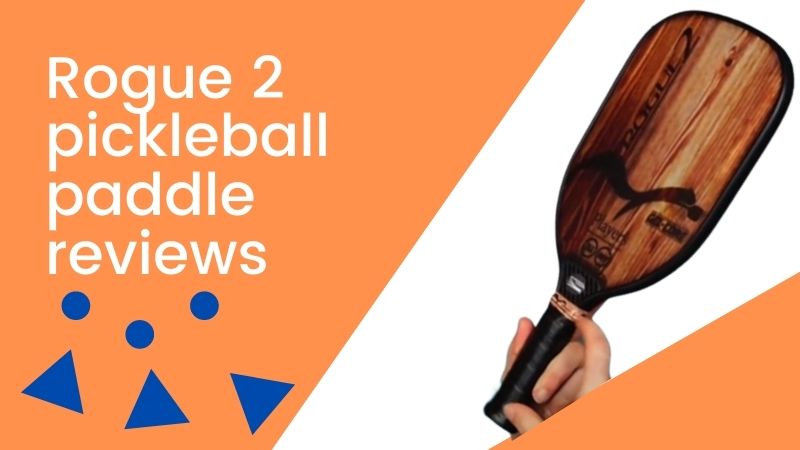 The paddle is made with Proprietary technology to ensure maximum safety for all level players. Also, it is certified by USAPA to pass all the requirements for playing any tournaments and professional games.
Additionally, its carbon fiber vibration damping throughout reinforcements does several useful things. Most importantly, the critical junction between the paddle face and the handle makes it pretty stronger.
There are a total of eight layers for this paddle and four on each side; it makes the paddle stiff, responsive, and of course, durable. The inclusion of carbon fiber materials does an exceptional job of transferring energy from one point to another.
As a result, any sort of vibration or oscillation will be transferred along with the material from one end to another.
The unit comes with a more modern hybrid shape, and it is a little bit narrower than traditional pickleball paddles. Aside from that, it features second-generation gel core technology.
As for the paddle core and the honeycomb, the manufacturing company added an elastomeric gel material, which does a fantastic job of absorbing impact.
Also, it spreads the mass out to the outer edge of the paddle itself to stabilize the sweet spots of the paddle and give you more predictable play.
Head Extreme Pro Pickleball Paddle Review
Prices pulled from the Amazon Product Advertising API on:
Product prices and availability are accurate as of the date/time indicated and are subject to change. Any price and availability information displayed on [relevant Amazon Site(s), as applicable] at the time of purchase will apply to the purchase of this product.
Head needs no introduction for making exceptional quality pickleball paddles, using the same craftsmanship and quality as they do for making high-quality tennis rackets. If you are looking for a paddle that has more paddle weight to access more accessible power, this model is the right option you can consider.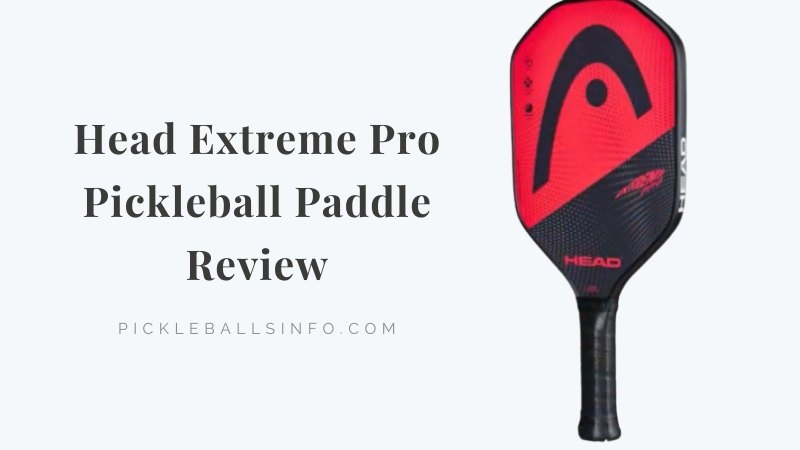 The thinner the paddle is, the more you feel the ball hitting the paddle. You will feel solid while hitting the ball from the back of the court.
This model has an identical design to the Extreme Tour. However, it features a fiberglass paddle surface, which adds a little extra pop on impact, and the surface of the extreme pro is composite instead of graphite.
This unit's length is a little bit different, which is an extra half-inch longer than most paddles (15 and a half inches). It is also slightly narrower, but the difference is minor, which makes it merely noticeable.
The paddle comes with molded one-piece handle to offer a firm and solid feeling. Besides, rubber is included at the top of the handle to prevent the grip from slipping and unraveling.
If you are using a Head pickleball paddle for the first time, you will take some time to get used to it. Most players take 2 to 3 weeks to familiarize themselves with its functions, which is normal for any pickleball paddle you name.
One impressive point of this unit we liked is its sound. It neither makes any weird/tinny sound nor fully quiet. The pleasing sound it makes will alter your perception of how solid the paddle feels.
The unit is slightly heavier than the Tour version at 7.8 ounces. It comes with several premium features, including the untraditional diamond control shape as well as the optimized tubular core, which provides exceptional touch and responsiveness.
Not only this, it includes the extreme spin textured surface, which really grabs the ball for added accuracy and spin. Moreover, it comes with a comfortable grip system to create a more cushion feel and absorb vibration.
If you are looking for a paddle with controllable power than a bright, dynamic feel, you will definitely check out this model.
Rogue 2 and Head Extreme Pro Pickleball Paddle Comparison
You will notice some commonalities and variance between the Rogue 2 and Head Extreme Pro pickleball paddle. We are going to share some key differences and similarities among them. Let's move on!
Color Options
The Rogue 2 comes in six color options, while there is only three color available for the Head Extreme Pro pickleball paddle.
Verdict: The Rogue 2 is the winner as it gives alternatives for picky customers.
Hitting Surface
Both models include fiberglass hitting surface graphite hitting surface to ensure a precise balance of power and control.
Read More: Difference between graphite and composite pickleball paddles
Verdict: It is a tie situation since both are made from the same materials regarding the hitting surface.
Weight
Both pickleball paddles have a weight of 7.8 oz, and it is mainly a mid-level weight that is necessary when you want a perfect combination of power and control.
Verdict: Here is another tie situation as they have similar weight.
Grip Length
The grip length of Rogue 2 is 5 inches, while the Head Extreme Pro pickleball paddle has a 4 1/4 inches grip. The ideal grip length for a pickleball paddle ranges between 4 inches and 5 inches. Different people feel comfortable in different grip sizes. What seems comfortable to me might be uncomfortable to you.
A grip size should be neither too big nor too small based on your hand size. If you think your hands are bulky, you can choose the 5 inches grip.
Verdict: For bulky hands, the Rogue 2 is an ideal option, while for normal hands, the Head Extreme Pro is perfect. However, you can pick any of them if you feel comfortable and confident while using them.
Materials
The core of the Head Extreme Pro and Rogue 2 pickleball paddle is made from polypropylene materials, which is heavier and relatively long-lasting than other materials. They merely make sounds while hitting the ball, and also, they are softer than other materials.
Verdict: It is a tie situation as both are made from the same quality materials for pickleball paddle core.
Price
The price of the Rogue 2 is almost $125, while the Head Extreme Pro has a cost of around $89.
If you looking for a budget paddle then you can check "Best Pickleball Paddle Under $50"
Verdict: If you compare the price of both models, the Head Extreme Pro is the winner. However, the Rogue 2 is available in several bold colors, and it is made with improved design and modern technology, which makes a big impact if you are a professional player.
Safety Standard
Since the USAPA approves both models, they retain the safety standard equally, and you can use both of them for playing any professional games.
Verdict: Here is another tie situation as they both have the approval of USAPA.
Paddle Length
The ideal length of a pickleball paddle is 15.5 inches 17 inches. The Head Extreme Pro has a 16 inches long, while the Rogue 2 also has a 16 inches length. Both models come with a standard size to ensure optimum comfort and precise balance.
Verdict: Neither of them is the winner or loser as both have the same paddle length.
Paddle Thickness
The Head Extreme Pro thickness level is 0.4375″ while the Rogue 2 has a thickness of Rogue 2 0.375″. The latest models of pickleball paddles come with thicker cores, up to .625 inches.
The thicker the paddle is, the better and consistent energy it can deliver. However, due to the restriction of the USAPA, manufacturing companies can only raise the thickness up to a certain level.
Verdict: The Head Extreme Pro is a better option as it has a thicker core than the Rogue 2.
Innovative Technology
The Rogue 2 features vibration-damping carbon fiber throat reinforcement, which you will not see in any other paddles. Its intelligent design and high-quality materials can handle ball impacts precisely though it is lightweight and has a compact size to accommodate your hands.
Additionally, unique rubber-like materials, along with carbon fiber reinforcement, are used to improve controlling power and absorb the ball's impact competently.
As for the Head Extreme Pro, no such technology is used, but it is an excellent upgrade from other standard paddles. It will give you a ton of solid feel while playing with it. Plus, it has impressive power and ease of mobility to move quickly from one spot to another.
Verdict: If you are looking for a more advanced option, the Rogue 2 is the ultimate option for you. However, you have to spend a few bucks more, sacrificing the alternative.
Wrapping UP
Hopefully, after going through both the Rogue 2 pickleball paddle review and the Head extreme pro pickleball paddle review, you got a clear idea about them. Also, we believe you found your preferred option since we have also discussed a deep Rogue 2 and head extreme pro pickleball paddle comparison. Thanks for reading!