Are you looking for a user-friendly pickleball paddle? Choosing a pickleball paddle requires a lot of points to consider. You can't just grab a pickleball paddle randomly. What skill level are you in beginner, intermediate, or expert!
Here we are going to talk about a decent quality pickleball paddle. The Panel Sound Pickleball Paddle is excellent for a wide range of players. Its user-friendliness, well construction, and perfect design make it one of the best pickleball paddles from the Panel Sound brand.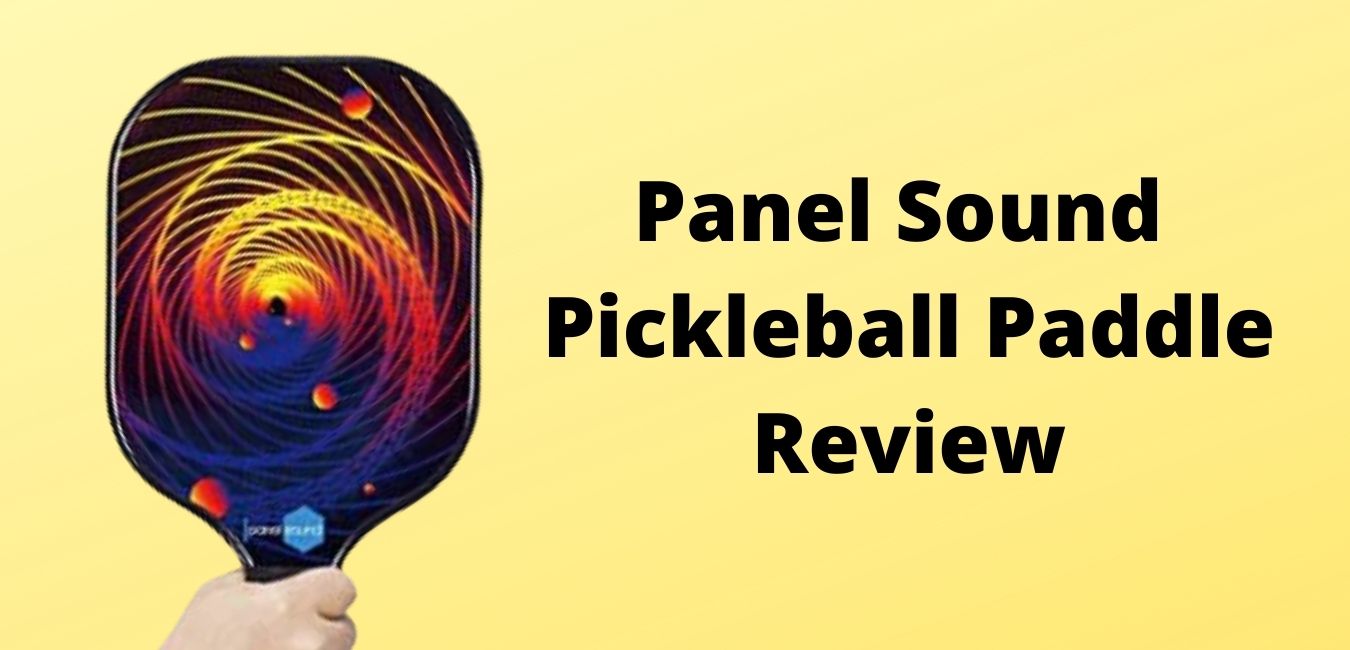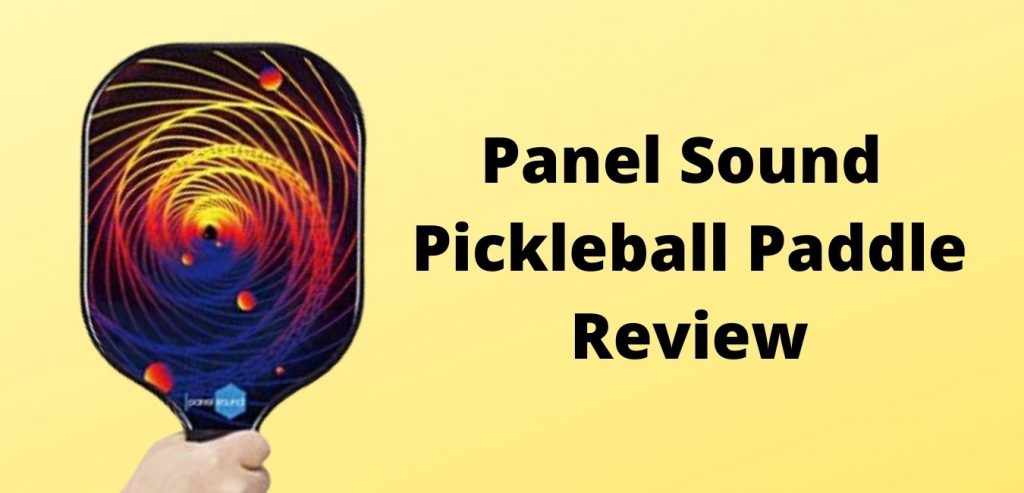 In this post, we are going for an in-depth review of this paddle. We will focus on the benefits and drawbacks of the pickleball paddle. Let's dive in!
Overview of Panel Sound Pickleball Paddle
While choosing a pickleball paddle, a lot of features we want to have. The more features a pickleball paddle has, the more easily it can improve our pickleball game.
If you are going to purchase a pickleball paddle, you have a lot of expectations from a paddle. Here are few important features we outlined to help you for wise buying.
Strong Fiberglass Face
The pickleball paddle features a strong fiberglass face. You will get impressive power to hit the ball while using this paddle. Hence, playing vigorous shots is easy.
Since the paddle is made from superior quality materials, it can withstand any hard shots easily. You will like the way it serves back the ball!
Any hard hitters will surely love this pickleball paddle as it generates more pops while hitting balls.
Because of this paddle face, the price of the paddle was also reduced. You can compare it with other materials-based paddles.
Polypropylene Honeycomb Core
We love its polypropylene honeycomb core, which is compression, corrosion, and shock-resistant. Hence, even after heavy play for a long time, you will see less damage on this paddle.
Another advantage of this polypropylene honeycomb core is that it makes the pickleball paddle lightweight.
Whether you play in excessively hot weather or cold weather, the paddle ensures a stable temperature to give you ultimate comfort. High-quality construction!
Most importantly, you can recycle this type of material when the paddle is not using for playing anymore.
Premium Grip
The grip is one of the essential factors of a pickleball racket. After all, you hold the racket on the handle.
If the grip is not comfy to hold, you can't hit shots in your desired way. You may also lose accuracy because of it.
The feel customers got from this paddle grip is worth mentioning. You will feel soft yet solid while holding the grip.
In fact, many users commented that they hadn't seen this type of high-quality grip, even on $150-$200 pickleball paddles.
The grip is pretty firm and simple to hold. We like its perforated and high ripple design, improving structural strength. Aside from that, you will feel light on the handle as it has a high strength-to-weight ratio.
The length of the grip is 4.9 inches, so it will fit most hands since it is not excessively small or large. Playing double hand backhand is also possible but limitedly. If you want a paddle solely for this purpose, choose a paddle with a longer handle.
Holding the handle for several hours seems pressure-free. It doesn't make your hands sweat even after several hours of playing. Since it is thin, you will feel more comfortable holding it.
USAPA Approved
The Panel Sound Pickleball Paddle has USAPA approval. So, you have no reason to play in any professional tournament. It got permission from USAPA recently; you can check it out on the USAPA official web.
However, there is no USAPA mark on the paddle. You may face it while playing with it in professional tournaments unless the authority is aware of this new paddle.
Perfect For All Level Players
Not all pickleball paddles are perfect for all-level players. Some are specially designed for beginners and some others for professionals.
But this paddle is different. It is suitable for a wide range of players. The feel you will get from this paddle is completely different.
Moreover, it is perfect for ex-tennis players too. You can dink aggressively and repeatedly. Players are unlikely to mess up to spin the ball.
Perfect Weight
The Panel Sound Pickleball Paddle weighs only 8 ounces. Since it is neither too heavy nor too lightweight, you are less likely to face wrist or tennis elbow issues while playing.
Pickleball Paddle For Tennis Elbow
Whether you want to play singles or doubles, you can do it all. Plus, if you prefer quick hands while playing, it is possible to do it at a certain level.
The midweight paddle ensures a great combination of power and control. However, we like to keep it more on the power side than the control side.
However, if you need a heavier paddle, you can increase the weight by using lead tape. But make sure the weight distribution is perfect. Otherwise, you will feel weightier in a certain area of the paddle.
Just because it has medium-weight doesn't mean it compromises power. Earlier, people would believe that more weight means more power. But time has changed, so does the technology and construction quality.
Like many manufacturer companies, Panel Sound uses innovative technologies to make its paddle powerful and sturdy. In fact, each paddle passes several tests to ensure perfect durability.
A Complete Package!
What do you need to play a pickleball game? Pickleball paddles, balls, anything more? Thankfully the unit comes with a complete package.
It includes two high-quality pickleball paddles, four balls, two towels, and a bag to store all these items. If you are searching for a whole package for your family, it is a great option to consider. You don't need to buy anything separately. So many things at such an affordable price! Who will miss it!
The balls come in yellow color. It would be great if they come in various colors for a great combination. Also, the balls are only suitable for indoor play. Hence, you need to buy extra if you want to play outside courts.
Lifetime Warranty!
Who gives a lifetime warranty for a fairly-priced paddle? Not many, surely! But Panel Sound does.
If you broke the paddle while playing, you could send it to them. They will give you a brand new paddle (the unchanged version you have bought).
Pros
Reasonable price
A perfect package
Nice pops and spins
Suitable for various level players
USAPA approved
Easy to play
Midweight and mid-sized grip length
Beautiful design on the paddle surface
A protective bag to keep all gears
A great deal of power and control
Lifetime warranty
Cons
Not the best level of power and control
Balls are only suitable for indoor play
Could have more textures
Who should use this paddle?
What type of pickleball skills do you have? Are you just starting to play a pickleball game recently or playing it for a long time?
Since it is a midweight paddle, beginners will get both a great deal of power and control. On the other hand, expert players will benefit from this paddle as it can help them to various types of pickleball shots such as groundstroke, block shot, deep return serve, volley, dink, etc.
However, you should not expect the same level of solid from this paddle. It is because the construction quality is not as great as a premium-price paddle. After all, they spend super high-quality materials and technologies to make those paddles.
If you want to play with a basic (read more than basic) paddle, this paddle won't disappoint you at all.
Final Thought
A lot of pickleball paddles are introduced every year. But few get impressions. Even if they get, most of them have a higher price. Most of the time, it doesn't suit a new player. It is because they don't know whether it is worth investing in or not.
But for Panel Sound Pickleball Paddle, your user experience will be completely different. It comes with a whole package; all essential gears are included so you can play effortlessly. Above all, it has a reasonable price.
Not only this, if you don't like their paddle after playing with it, they will refund it. So expressive customer service!
When you consider all its excellent features, the Panel Sound Pickleball Paddle is not bad at all. Getting such a paddle package at such an attractive price is absolutely incredible. Hopefully, our Panel Sound Pickleball Paddle review helps you to learn everything about this product.