Numerous pickleball paddles are available which can help to reduce your tennis elbow, among them we have selected some of the best pickleball paddles for tennis elbow.
ProKennex pickleball paddles are the best for tennis elbow issues. They come with ProKennex Kinetic technology which immediately absorbs shock waves, torque, and vibration that are released into the paddle from the ball and protect the player's arm by eliminating vibration.
A study by the Massachusetts Institute of Technology (conducted by Dr. Rudrapatna V. Ramnath) found that ProKennex Kinetic System Technology reduces vibration by 43%, and reduces shock by 20%. (Source: The New York Times)
We have made a list of 5 paddles for pickleball elbow/tennis elbow. Among them, 4 paddles are from the ProKennex brand.
Read more "4 Common Pickleball Injuries"
Comparison Of 5 Best Pickleball Paddles For Tennis Elbow
| Model | Surface | Core | Grip Size | Weight | Vibration Reducing Technology |
| --- | --- | --- | --- | --- | --- |
| PROKENNEX Kinetic Ovation Speed II | Fiberglass | Polymer Honeycomb | 4″ | 7.7-8.0 ounces | ProKennex Kinetic technology |
| PROKENNEX Pro Speed II Paddle | Fiberglass hybrid w/Spin-Grab | Polypropylene honeycomb | 4″ | 7.7-8.0 ounces | ProKennex Kinetic technology |
| PROKENNEX Ovation Flight Paddle | Carbon with Diamond Frost surface | Cloud Cell Poly Honeycomb | 4″ | 7.3-7.6 ounces | ProKennex Kinetic technology |
| PROKENNEX Pro Flight Paddle | Carbon with Diamond Frost surface | Cloud Cell Poly Honeycomb | 4″ | 7.3-7.6 ounces | ProKennex Kinetic technology |
| Niupipo Composite Paddle | Composite | Polymer Honeycomb | 4.5″ | 8 ounces | – |
1. PROKENNEX Kinetic Ovation Speed II Pickleball Paddle
Here's the deal: The paddle comes with ProKennex Kinetic technology which virtually eliminates vibration to the arm. This technology helps the players with tennis elbow by absorbing shock, torque & vibration into kinetic chambers.
This pickleball paddle can exceed your expectation in many ways. It comes with a mid-weight design, meaning you will have decent control and power to play the game. It weighs around 7.7-8.0 ounces.
It is a well-balanced paddle that has minimal vibration.
The unit has a perfect shape too. If you had a habit of playing other racquet sports, you would easily adapt to it.
The grip is perfectly cushioned, meaning you will have a relaxed feeling to hold the handle.
Besides, it features a New PK Opti-Cell Core matrix —which doesn't only make the paddle quiet but also can absorb high force or shock without adverse effects.
In addition, the paddle has a 7-layer coating and complex composite for face the area, meaning it has an enormous sweet spot. Overall, it is an excellent paddle for anyone with a tennis elbow.
Pros
Perfect for tennis elbow issue
Nice shape and design
Minimal vibration
High hitting performance
Lightweight
2. PROKENNEX Pro Speed II Pickleball Paddle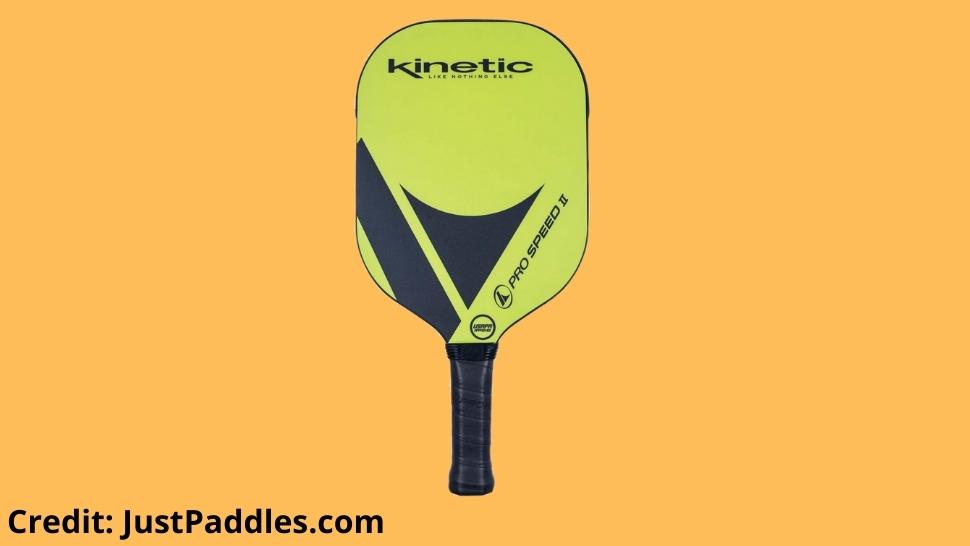 This one also comes with ProKennex Kinetic system built which is designed for tennis elbow.
If you are a beginner who has faced tennis elbow problems in the past, this model is a great option.
Want to play an improved stroke? Take it! In fact, beginners were impressed seeing their control ability using this paddle. They can hit the ball in their preferred direction precisely.
You feel solid playing with it. Having enormous power makes this paddle an ideal option to boost your arm strength/speed. It means you don't have to give extra force and end up having a tennis elbow.
You will appreciate its tapered grip that fits most standard hands easily. Playing smoothly soft and hard games is what everyone talked about it.
If you love to play powerful spinny dinks, this unit can be a great assistance. Plus, players commented they had gained an improved control for power and spin. They experienced a greater proportion of hitting falls from the baseline.
Besides, the unit features a replaceable bumper guard, making it intensely good and allowing you to redefine it.
If you want to improve your gameplay, this user-friendly and well-balanced paddle is a perfect choice for beginners.
Pros
Great paddle for tennis elbow
Impressive control
Perfect for various shots
Replaceable bumper guard
Handy tapered grip
Great power
3. PROKENNEX Ovation Flight Pickleball Paddle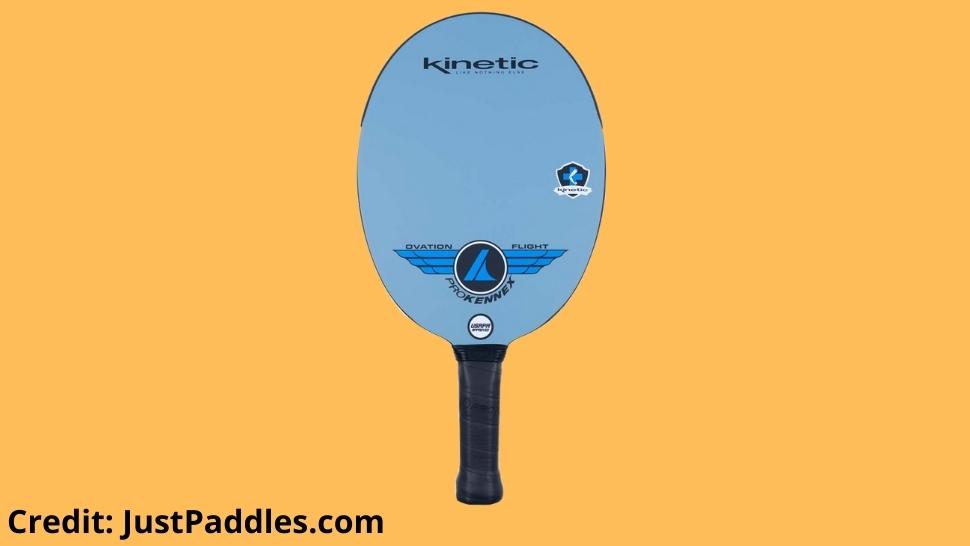 Looking for a premium paddle? Why don't you try this option? If you have already swollen and sore your elbow from playing with a heavy paddle, this mid-weight paddle might be the right option for you. You will have improved performance while feeling much better for your elbow.
PROKENNEX Ovation Flight paddle also comes with Kinetic technology for tennis elbow / pickleball elbow by eliminating harmful shock and vibration
Now: Some people with shoulder problems also got benefits from this paddle. In fact, their shoulder pain has gone entirely after several weeks. The mid-weight paddle allows you to play extremely fast, meaning you are less likely to miss shots. Though it is mid-weight, it provides impressive power to play wide ranges of shots.
This highly functional and super-fitted paddle can help you to play low severs efficiently. Your dinking shots will be impressively reactive too. Also, you can easily switch from fore to backhand using this supportive paddle. Fun to play with it!
Are you a professional player? No worries! It is approved for USAPA Sanctioned Tournament. Hence, you can play all professional games. Overall, it is a supportive paddle. Playing with a new paddle means you have no pain or at least reduced pain at the end of the day.
Pros
One of the best paddle for tennis elbow & shoulder issues
Mid-weight paddle
Unique design
High-quality materials

USAPA approved
4. PROKENNEX Pro Flight Pickleball Paddle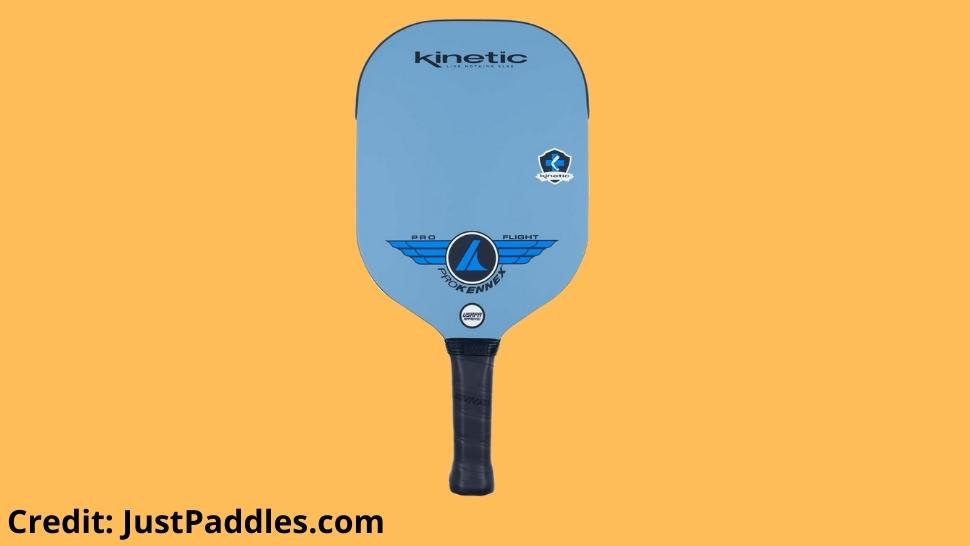 Have you tried many pickleball paddles but still didn't find a user-friendly paddle for your tennis elbow? Your wait is over. Grab this option. Try this paddle for the first time, and you will notice a significant reduction of pain for the tennis elbow. After playing few games, you will merely notice any pain.
PROKENNEX Pro Flight Pickleball Paddle also comes with ProKennex Kinetic technology for reducing tennis elbow issue.
It is one of the mid-weight paddle from the PROKENNEX brand, weighing only 7.3 – 7.6 OZ. Hence, you play more quickly with more control. Playing with this paddle means you play precisely in your desired direction without being extremely conscious.
The unit comes in a rectangular shape. Its hitting surfaces provide ample power to play various types of shots. You will like its windproof edgeless structure, meaning it is efficient to pass over the air at a breathtaking pace.
Fear about playing crafty kitchen? You will have increased touch and solid feeling shots. Boosting your confidence level! Worry about wearing out the paddle head? You can easily replace the Air-O-Guard edge guard when you think it is time to do it. As a whole, mid-level players will surely love this model.
Pros
Reduce tennis elbow
Perfect for intermediates
Responsive
Premium quality materials
Easy to play
5. Niupipo Composite Racket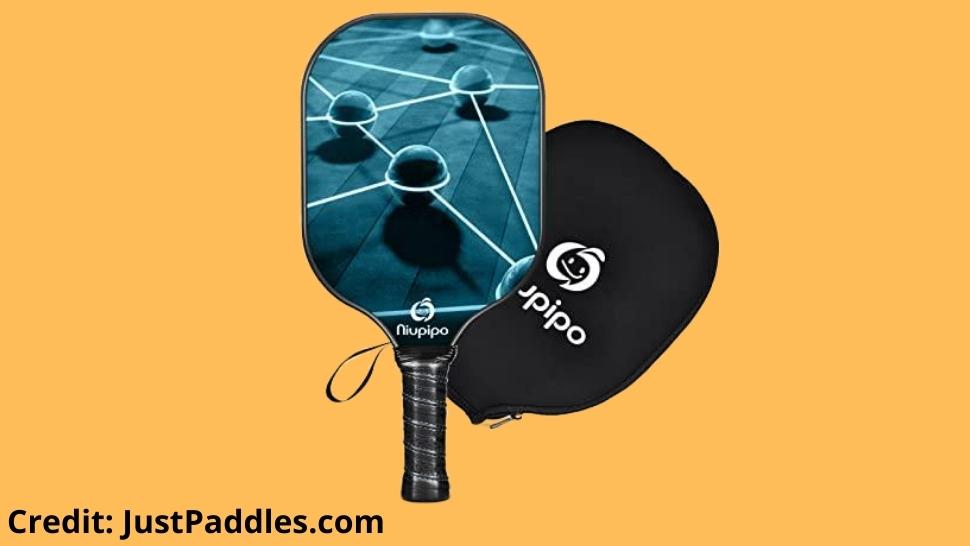 Looking for an affordable option? Try this unit from the Niupipo brand. It is equipped with authentic pickleball technology, meaning you will have full support playing with the paddle. The unit comes with a mid-weight design. So, you receive a great deal of control, power, and pop while hitting the ball.
This 8.1-ounces paddle is perfect for small hands — 4.5 inches handle size fits easily for small grips. Unlike many pickleball paddles, it comes with a paddle cover, saving you from extra spending while protecting the unit.
The paddle features a honeycomb core. Newcomers and ex-tennis players will appreciate its excessive quietness and strength. Fan of playing touch shots? The unit can support you for a convincing performance.
In addition, people with tennis elbow problems greatly benefitted from this unit. It decreases tennis elbow inflammation gradually. So, you play pain-free! Playing dinking and spinning shots is easy-going. It can help you to become a pro. All the valuable features make the Niupipo Composite Racket a great option.
Pros
Cushion grip
Ideal balanced construction
High maneuverability
Increased strength and quietness
Soft control for touch shots
Cons
Not perfect for excessive large hands
How Do I Choose Pickleball Paddle For Tennis Elbow?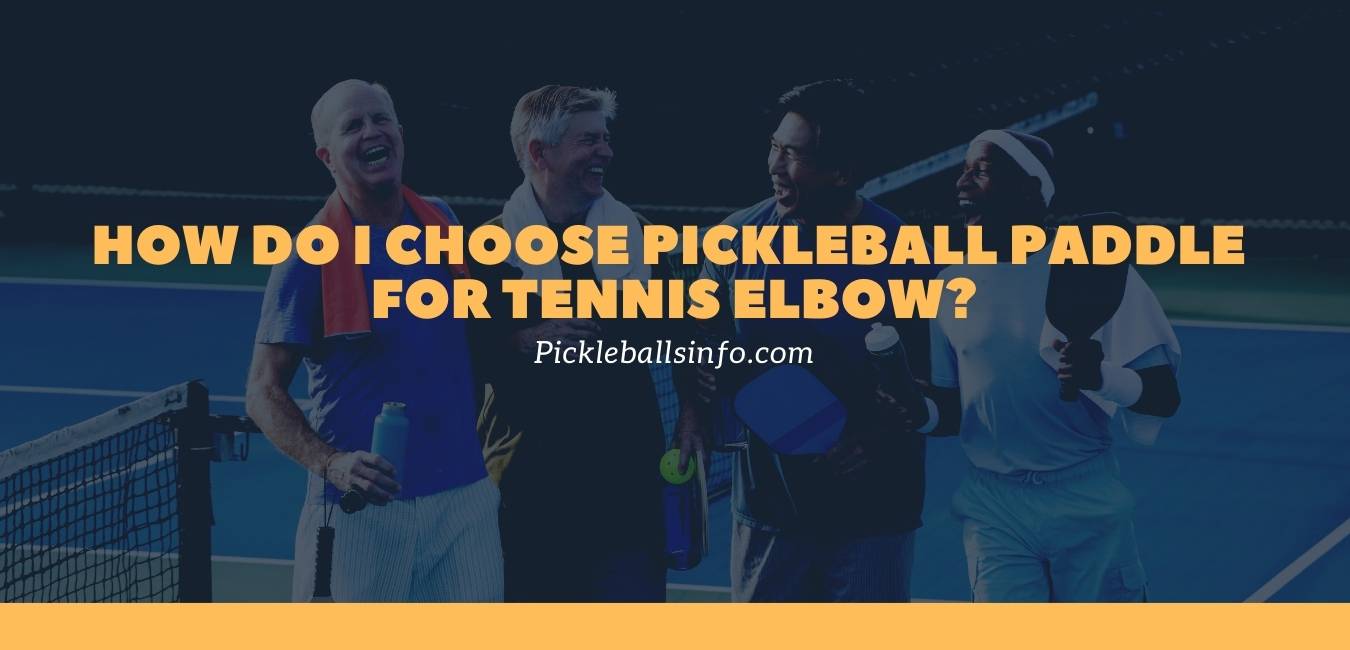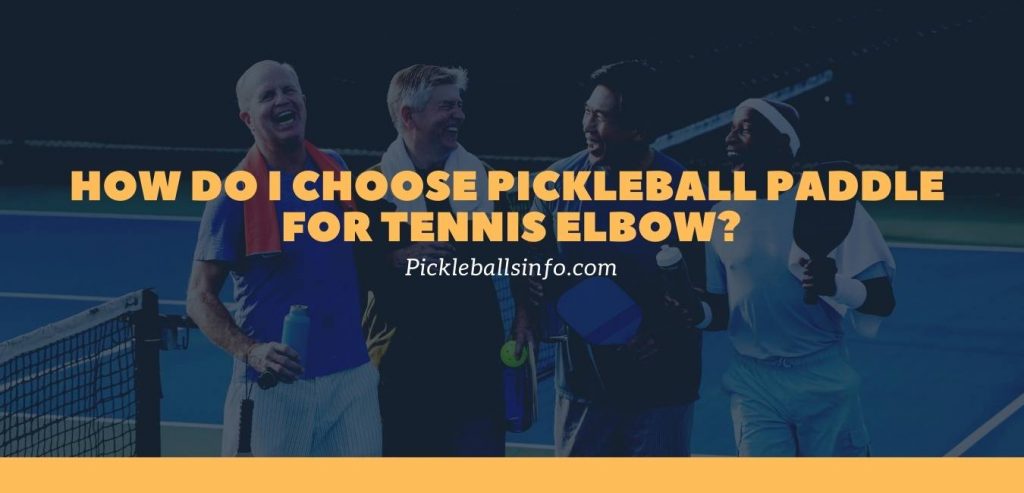 Minimal Vibration
When looking for the best pickleball paddle for tennis elbow, minimal vibration is essential.
The more vibration your pickleball paddle generates, the higher chance of having injuries. Excessive vibration causes tennis elbow injuries.
Read more "How to sleep with pickleball elbow"
Comfortable Grip
In order to hold your pickleball paddle correctly, a comfortable grip is necessary. It doesn't only help you to hit the ball accurately and efficiently but also prevents injuries.
When you feel comfy to hold the racket handle, it gives you high flexibility. After all, your wrist motion is critical to utilize various pickleball techniques.
Paddle Weight for Tennis Elbow: The Best Paddle Is the Medium Weight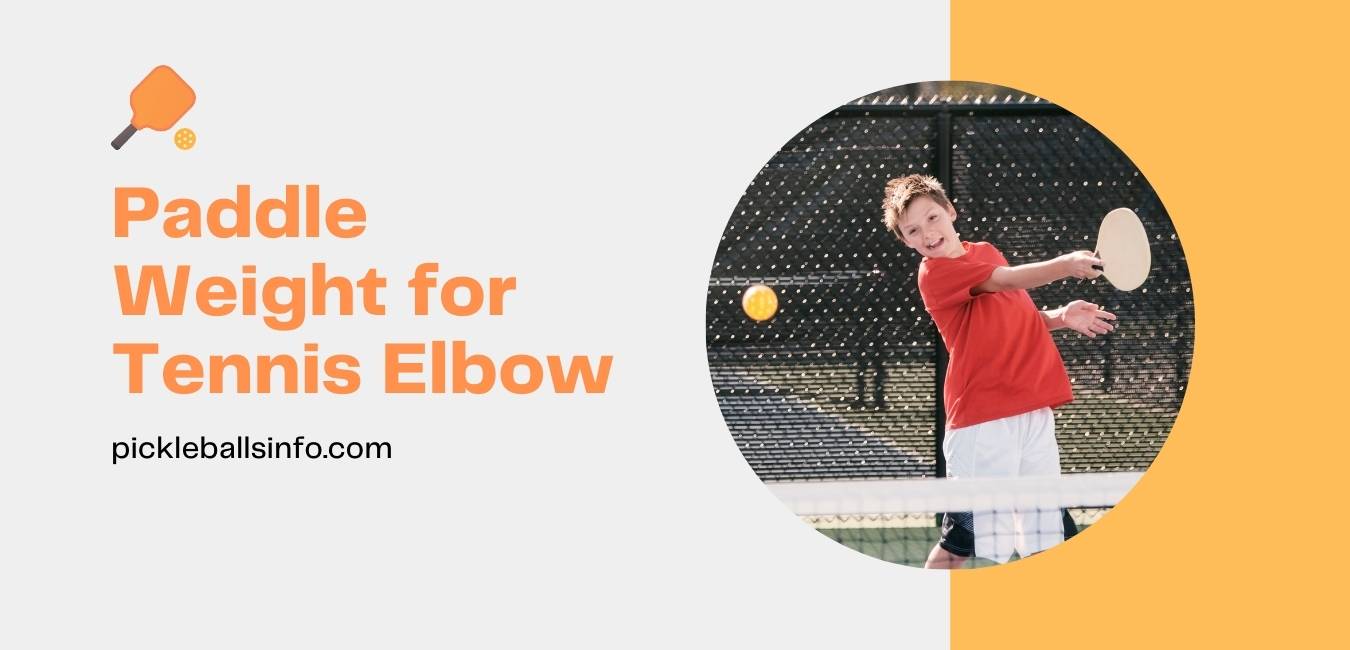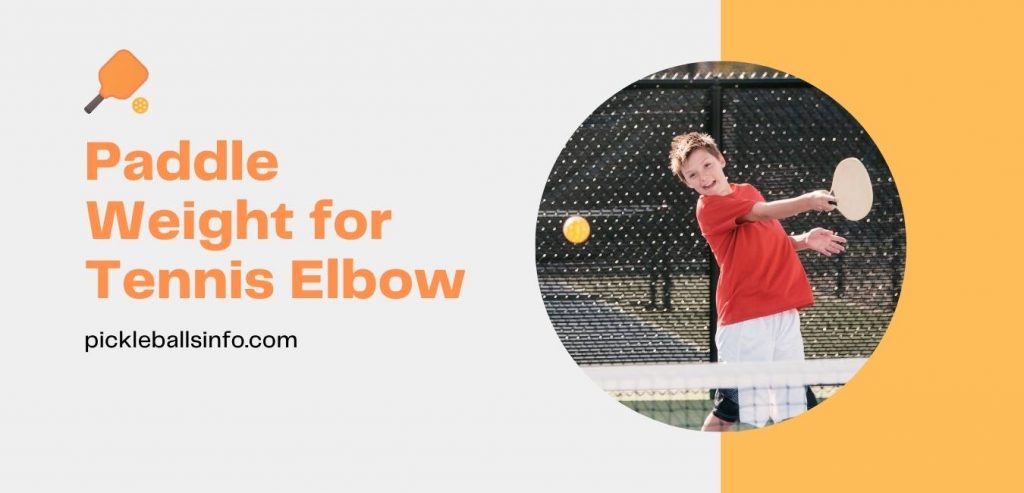 Weight is another crucial factor in preventing tennis elbow injuries. Higher weight pressures your whole arm as you continuously hold the racket. On the other hand, too-light paddles are not effective enough to play powerful shots.
That's why medium-weight pickleball paddles are the best option to ensure no extra pressure. And, you don't compromise power.
Having a medium-weight paddle means you neither compromise power nor control. According to most pros, a mid-weight paddle has approximately 7.3 to 8.3 ounces of weight.
Why should I choose mid-weight pickleball paddles for tennis elbow?
It offers a fast swing.
It provides a perfect blend of power and control.
It allows you to return the ball with good power.
It stands as one of the finest options for people who already experience tennis elbow.
It eliminates higher wrist actions.
It is perfect for ex-tennis players.
What Is The Correct Paddle Grip Size For Tennis Elbow?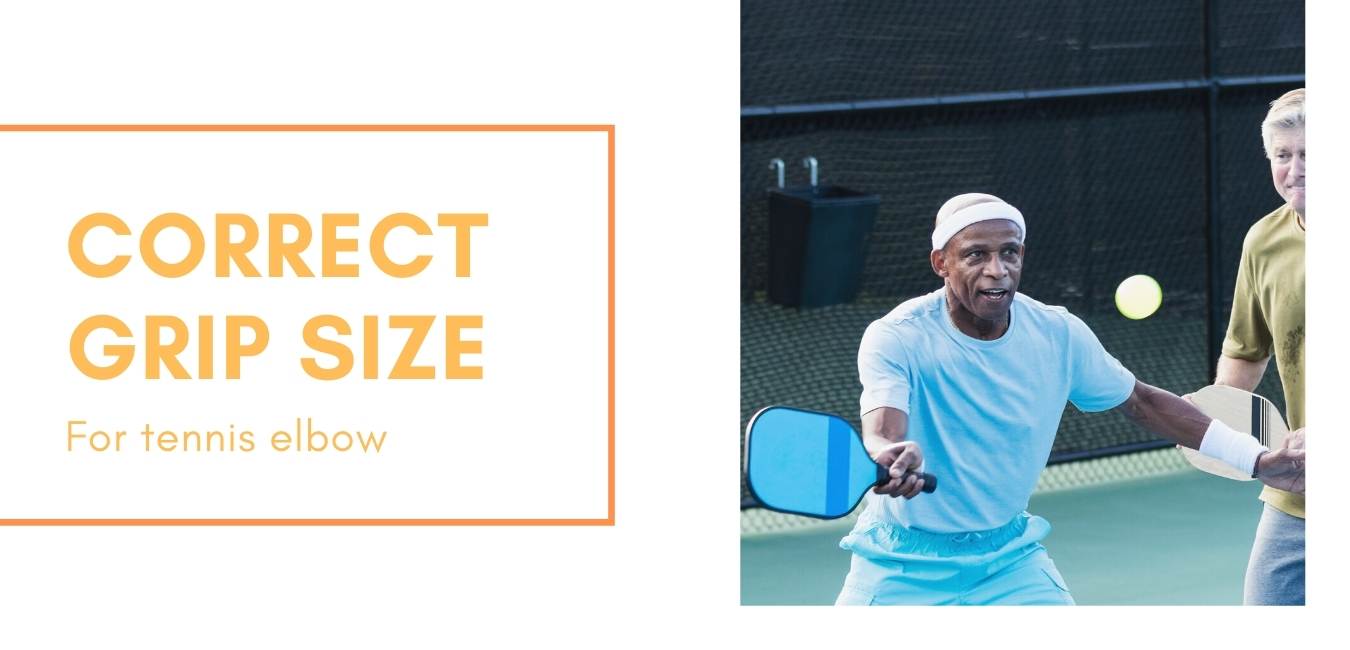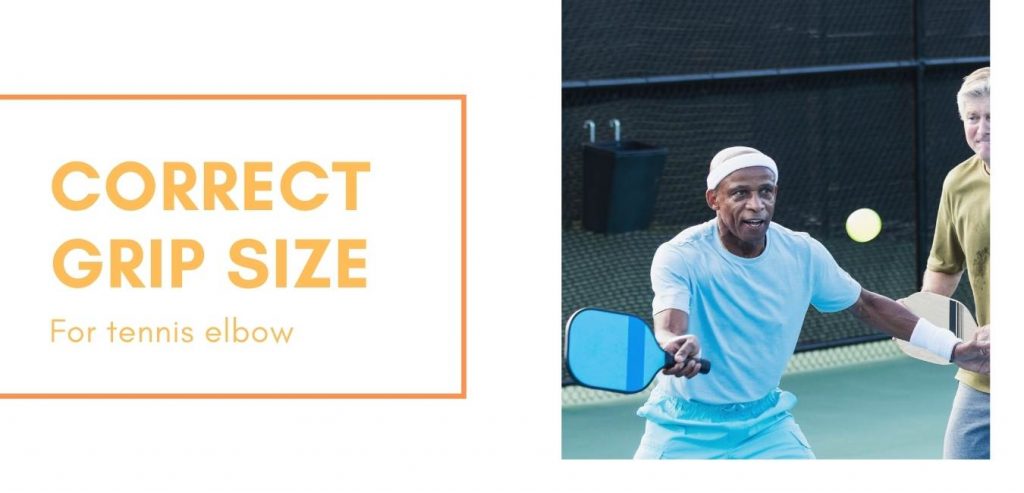 Grip size varies from player to player. However, all players grip size ranges between 4 inches and 5 inches. You can measure your grip size through a ruler test and index finger test. In either way, you can find the accurate grip size of your hands. Many experts recommend testing both ways to ensure more accuracy.
Generally, the taller you are, the larger grip size you will need. For example, a 6-feet man will need a 4.5″ grip on average. However, standard grip sizing techniques won't be the same if you have already experienced tennis elbow issues. You want to feel more comfortable and relaxed while holding the paddle.
However, all pickleball paddles won't be perfect for you. Most of them have a standard size to fit most players. They might be long or short for you as per your hand size. Before buying a pickleball paddle, you should test out how it feels holding it. If you feel comfortable and secure while holding it, it might be perfect for your hands.
You can overgrip a paddle handle if it appears small for you. Many brands manufacture overgrip products. However, it is pretty challenging to reduce grip if the grip is too large for you. Sometimes, you may fail to do it.
How Does Grip Size Affect Tennis Elbow?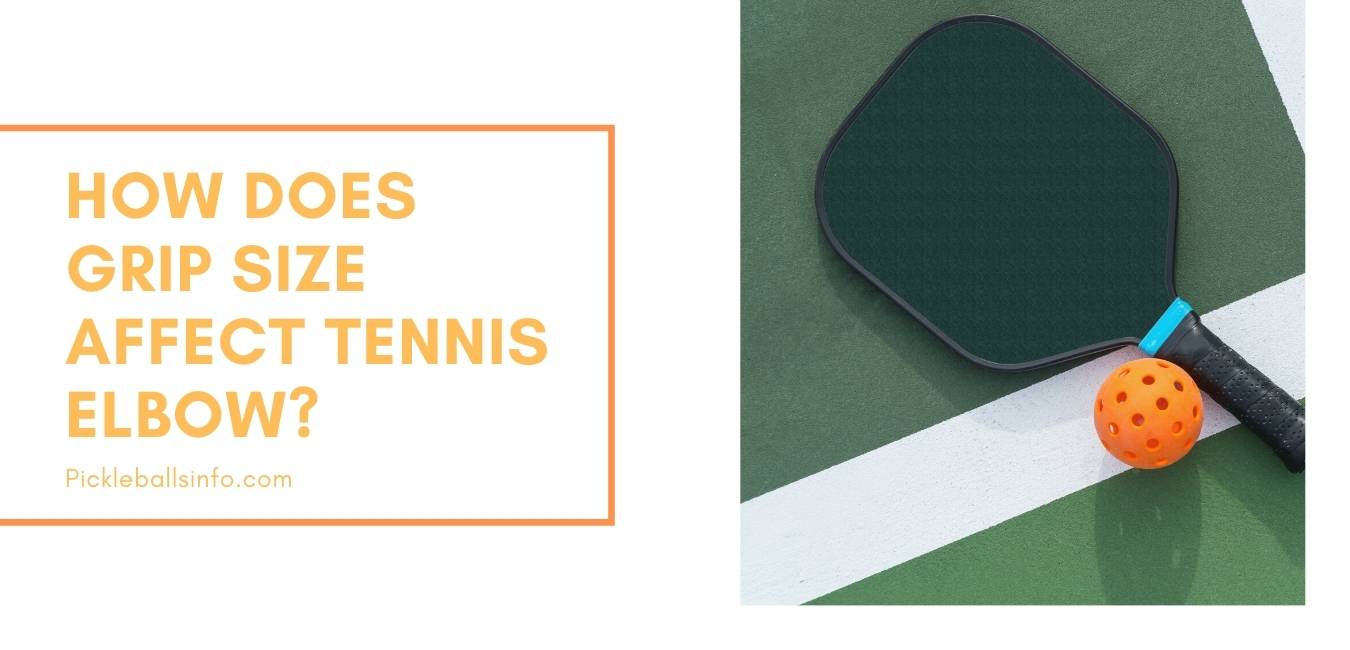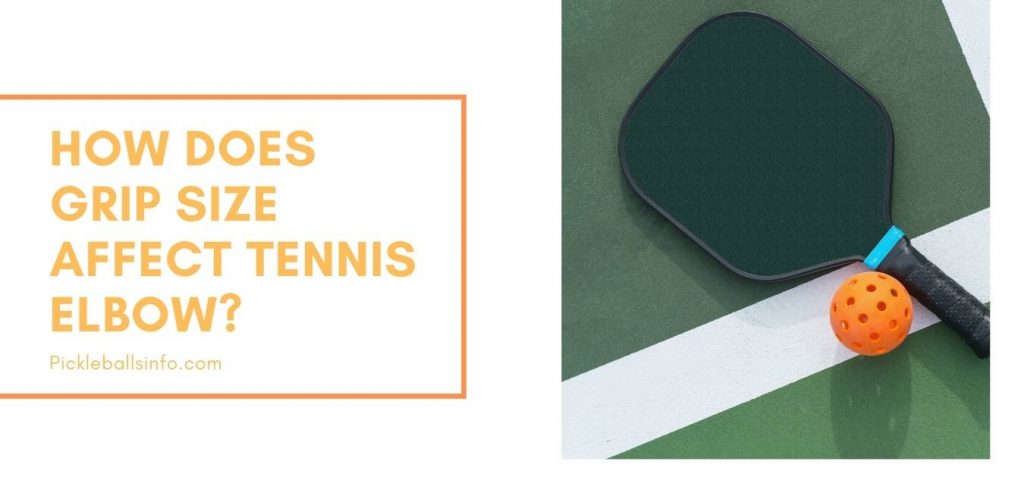 When choosing a pickleball paddle, make sure its grip size is compatible with your hand size. Otherwise, it may cause tennis elbow issues.
So, smaller grip or larger grip? Smaller grips provide greater discretion for wrist movements. No disruption to play shots! However, higher wrist actions may lead to excessive pressure on the elbow area.
On the other hand, larger grips often cause a lack of flexibility. Your wrist joints require more engagement. Thus, you will need decent power on the forearm muscle area to ensure a dedicated grip.
As a result, we can say that both larger grips and smaller grips are not suitable for any players. It needs to be standing in the middle based on your hand size and how comfortable you feel while holding it.
Final Thought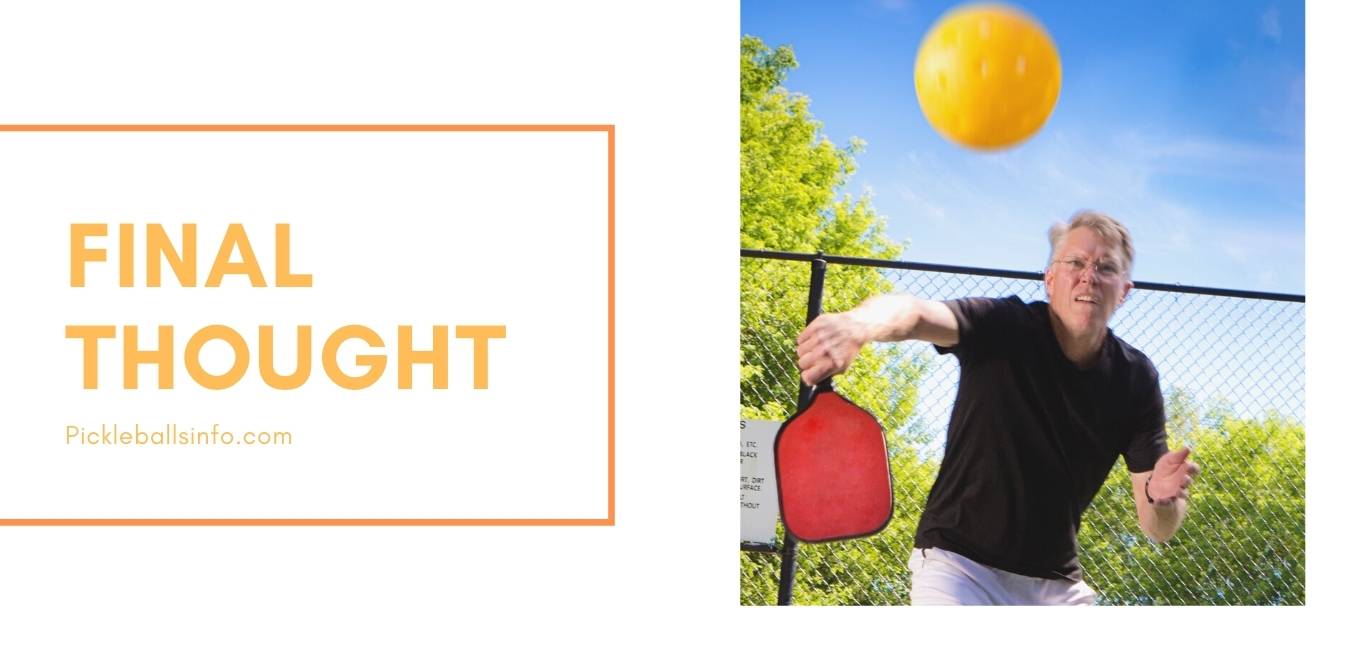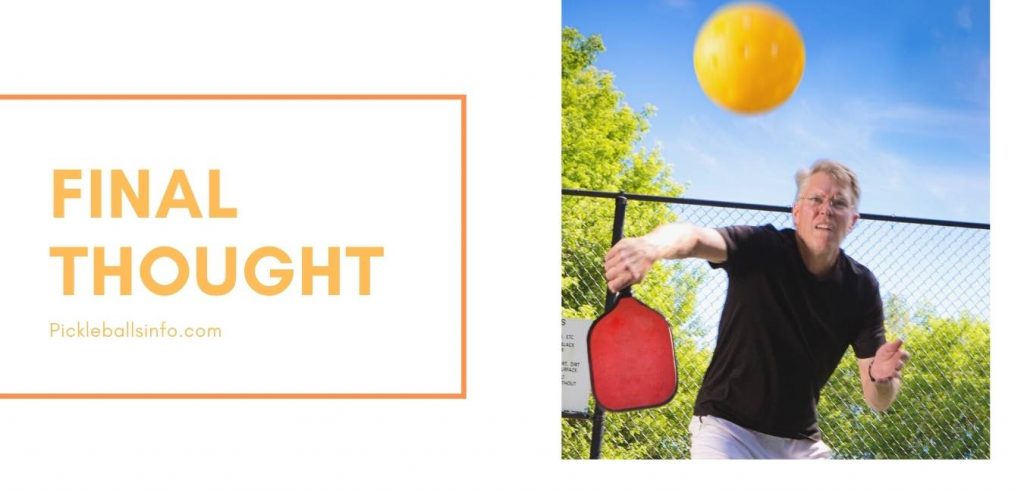 So, which one seems the best pickleball paddle for tennis elbow? Remember to consider three things for this purpose: minimal vibration, comfortable grip, and medium weight. We have already reviewed 5 top-quality paddles that can reduce your tennis elbow problem while improving your pickleball gameplay. Hopefully, you have found your ultimate option from our review session and other important details.