We have tried many pickleball paddles, but very pickleball paddles showed reliable performance like the Gamma Mirage Pickleball Paddle. Having such a beautiful, powerful, and well-made pickleball paddle will surely stand you out from the crowd.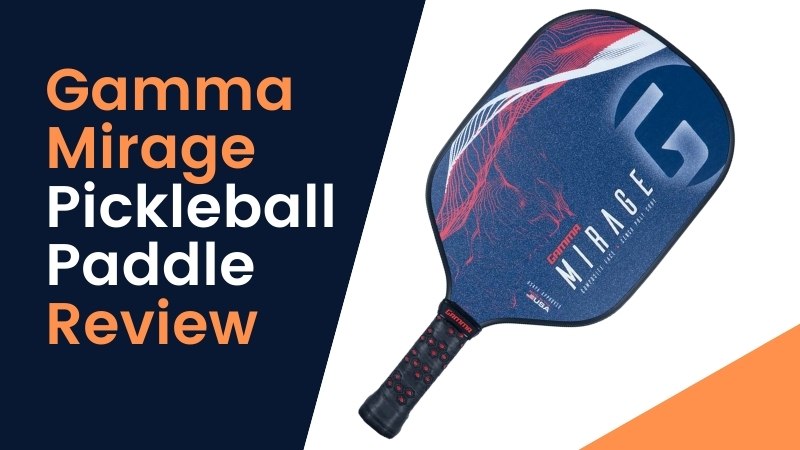 In fact, according to many top pickleball players, it is one of the finest composite pickleball paddles from this brand. Wondering why it is so special and unique from other pickleball paddles?
Believe us, playing with this paddle for once will surely give you some idea about the difference. In this write-up, we will discuss an in-depth Gamma Mirage Pickleball Paddle Review. We will also talk about various parts of the paddle and how it will benefit you in your game.
An Overview Of Gamma Mirage Pickleball Paddle
Key Features:
Composite paddle
Mediumweight paddle 7.6-8.0 oz
New Sensa Poly Core
Extra comfort cushion
Grip Size 4 1/8″
Paddle Length 16 5/8″
Paddle Width 7 1/8″
Paddle Thickness 1/2″
A Composite Paddle
Before learning all the other parts, let's know what is special about this paddle. This power paddle is a composite paddle, meaning it is made from multiple materials.
So, the Gamma Company doesn't use the same materials to make the whole paddle. For instance, the paddle face is made from two materials: fibers and plastics. But we call it 'fiberglass' as a short name.
But what is so special about composite paddles that people like? This type of paddle ensures that power and spin control are balanced in it. Unlike carbon fiber or graphite paddles, you will have more striking power with this composite paddle.
Unique Head Size
The first thing which impresses us the most about this paddle is its unique head size. The paddle has a vast and broader head compared to a typical paddle head.
As a result, you will have a huge and wide sweet spot to play the ball. It means the chances of missing most shots are low. Additionally, you can hit the more precisely as per your preferred direction.
However, it is essential to note that the unit is slightly heavier than the normal-shaped pickleball paddle. You have most probably already got a hint that an extra-long and wide head makes the paddle a little bit heavy. In order to have other benefits, you need to compromise this issue.
But we are not done yet — this paddle will allow you to play powerful shots. Contact of the ball with the paddle head will give you a sense of comfort and relaxation.
Special Core Technology
Special technology is used for the core of this paddle: "Sensa Poly Core." Though this type of core is a little bit hard, you will get an unmatched solid touch. In addition, playing dink shots like a pro is possible because of this core.
Most importantly, it is perfect for players who bother about noise. As per many reviews of this paddle, it is one of the quietest paddles they have ever tried. Furthermore, due to its vibration-absorbent properties, you will enjoy noise-free gameplay.
You will have reasonable control, but this paddle is definitely versatile and can be used on any part of the court. If you prefer to improve your finesse game, you may want to include this paddle in your collection list.
However, it is probably not the best option when you have the maximum control from a paddle. Its slightly heavy head makes it a little bit heavier.
Gamma Mirage Composite Pickleball Paddle
MIDDLEWEIGHT: ~8 oz weight provides perfect balance for optimum handling and powerful serves

SENSA POLY CORE: Our new Sensa Poly Core technology enhances touch for consistent control

COMFORT GRIP HANDLE: 4 inch Gamma Honeycomb Cushion Grip handle provides extra cushion and comfort

TEXTURED FACE: Textured composite face and low profile edge guard helps the ball pop off the paddle
Prices pulled from the Amazon Product Advertising API on:
Product prices and availability are accurate as of the date/time indicated and are subject to change. Any price and availability information displayed on [relevant Amazon Site(s), as applicable] at the time of purchase will apply to the purchase of this product.
USAPA Approved
The Gamma Mirage Pickleball Paddle is USAPA approved, meaning you are free to play any national or international tournaments. In fact, a lot of pro players are seen playing with the paddle. So, if you are looking for a USAPA approved paddle with an extreme versatility level, you can include this model in your choice list.
The Surface Area
The whole paddle is 16 inches long and 8 inches wide, which is a preferred dimension for most professional and seasonal pickleball players.
You can improve your spin techniques with its extra-wide surface. In addition, this versatile paddle will surely give you decent playability in different playing conditions.
The Weight
Though the paddle has a heavy head, it is still has a mid-level weight(7.6-8 oz). So, you have nothing to panic about excessively heavy paddles.
Playing with too-light paddles may make you feel a lack of power shots. On the other hand, playing too heavy will make you feel like your desired control. You also have the chance to face tennis elbow issues. That's why most players prefer to use medium-weight paddles.
So, what is the benefit of playing with mid-weight paddles? You will neither have to compromise power nor control. It means you will get a perfect combination of power and control.
You can play stroke shots with decent power while controlling the ball more comfortably. Hence, both the head and weight of the Gamma Mirage Pickleball Paddle are perfectly balanced to ensure optimal playability.
If you are used to playing heavy paddles, you can a little led tape to make it slightly heavier. As the weight is evenly distributed, you won't feel heavy in a particular area.
Comfortable Handle
Another impressive thing about this pickleball paddle is its comfortable grip. You will feel solid and comfortable holding the grip. Additionally, there is no slippage issue —you can firmly hold the handle for a prolonged time during the gameplay.
What amazed us the most about this paddle is that you will get extreme support to play intense shots consistently. When the ball gets in contacted with a sweet spot, it makes a satisfying 'pop' — the handle allows you to feel it.
The unit has 4 ⅛ inches grip circumference and a 4.25-inch overall grip. Therefore, it is neither too big nor too long. However, if you want, you can extend the grip size as per your preference.
Additionally, the grip includes a beautiful textured honeycomb pattern, which enhances the overall appearance of the grip.
Unfortunately, you can't play two-handed backhand shots with this paddle as the handle is not pretty long and a little bit heavy too. So if you are looking for a paddle, especially for two-handed backhand shots, we suggest you pick a paddle that has a longer handle than this model.
How Good Is Its Overall Performance?
Whenever we pick a pickleball paddle, we consider it as a whole. Though some special features give us extra benefits, we don't want to compromise our much-needed things.
As for the Gamma Mirage Pickleball Paddle, you will surely be a happy player by playing with this paddle. Here are few points you check out of this paddle:
1. It gives you a wide range of maneuverability with much-needed power.
2. It allows you to play anywhere on the court.
So which players can use this Gamma Mirage Pickleball Paddle? This paddle is mainly suitable for players who want to play power-punch ground shots and different pickleball shots.
Playing double games is more accessible and convenient with the paddle as it features a tall and wide head. As a result, you will dominate playing throughout the whole court while getting a great touch on the ball.
However, if you are only used to play with lightweight paddles, you may want to re-consider before purchasing this paddle.
On the contrary, if you are already used to play with mid-weight or heavy-weight paddles, you will never feel uneasy about playing with them.
Perfect For All-skill Levels
Whether you are a beginner, intermediate, or pro player, this handy paddle is a perfect option for all types of players. In fact, a lot of professional players are using this paddle while playing international tournaments.
Besides, ex-tennis players also love this paddle as it gives a solid feeling while playing various pickleball shots. Moreover, you can block powerful stroked shots easily with excellent stability.
The third shot of a pickleball serve is vital; this paddle can support you to deal with this shot efficiently without missing it.
Pros
Incredible comfortable grip
A paddle with excellent power
Composite materials for remarkable power and control
Wide and long head to ensure a massive sweet spot
Noise-resistant properties
Suitable for all levels of players
Minimal scratches on the face
Perfect weight range
Cons
Not the best control paddle
No long handle to play two-handed backhand shots
People who used to play only lightweight paddles may take some time to find the suitable condition
Wrapping Up
Playing with the Gamma Mirage Pickleball Paddle means you get immense power and reasonable control. Most players love this paddle as it gives the natural feel for the ball while it contacts the paddle surface.
Though you won't best support playing a finesse game initially, you can get used to it after playing with a few games — all you need is some practice.
If you are seeking a paddle with great power, decent grips, and generous sweet spots, you can't overlook this option. So, we have overviewed all the important details in this Gamma Mirage Pickleball Paddle Review to learn everything about the product.