"Prince" is a renowned brand in the tennis industry. But how about the pickleball paddle industry? Well, they have also earned impressive success by introducing high-quality pickleball paddles.
You will be greatly astonished to see their construction quality and the much-needed support they provide to improve playability. Playing with these paddles means you get excellent control, power, and accuracy to hit the ball.
In this post, we will share a complete Prince Spectrum Pro & Response Pro Pickleball Paddle review. We will also give an in-depth comparison of these two paddles. Let's jump on!
Image
Model
Surface
Core
Grip Size
Weight
Price

Top

Prince Response Pro Pickleball Paddle
Textured UV Coated Fiberglass
Polymer Honeycomb
2 Grip Circumference Options Avilable (4 1/8" or 4 3/8") (XL Grip Length 5.5")
Light Weight 7.1-7.7 ounces or Standard Weight 7.8-8.3 ounces
View on Amazon

Top

Top

Prince Spectrum Pro Pickleball Paddle
Textured UV Coated Fiberglass
Polymer Honeycomb
2 Grip Circumference Options Avilable (4 1/8" or 4 3/8") (XL Grip Length 5")
Light Model 7.2-7.6 ounces & Standard Model 7.7-8.3 ounces
View on Amazon
How Prince Paddles Are Different From Others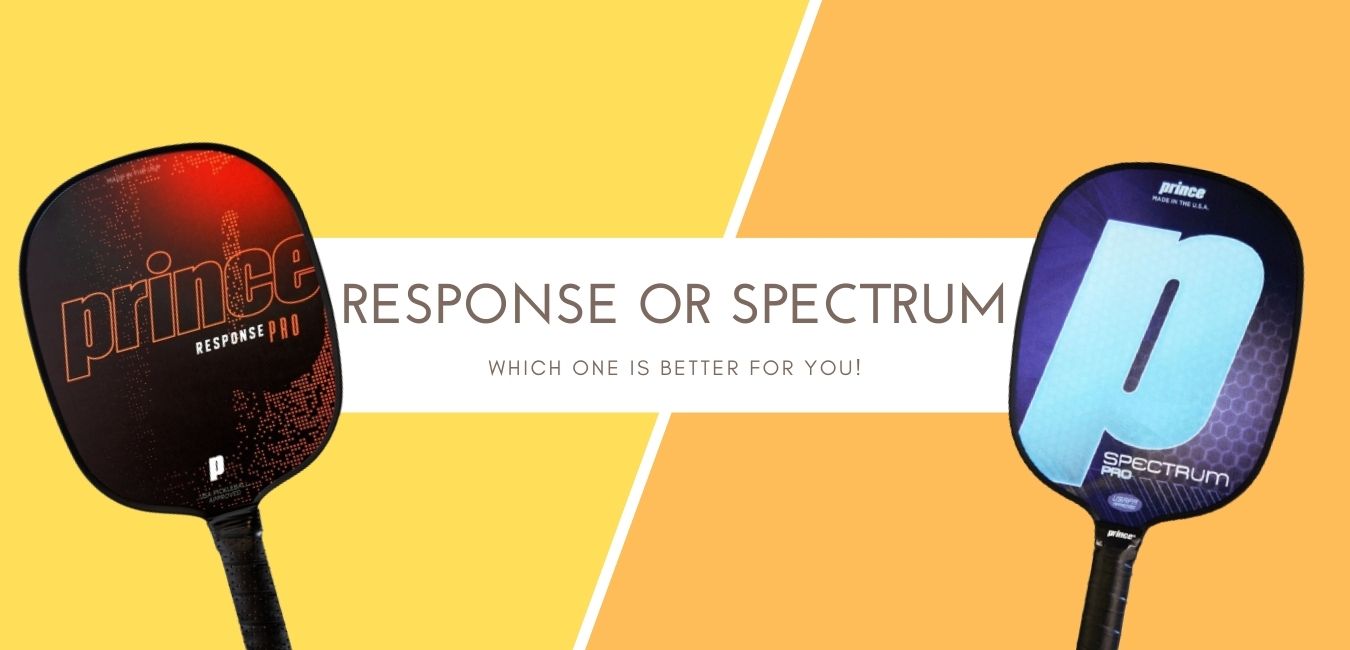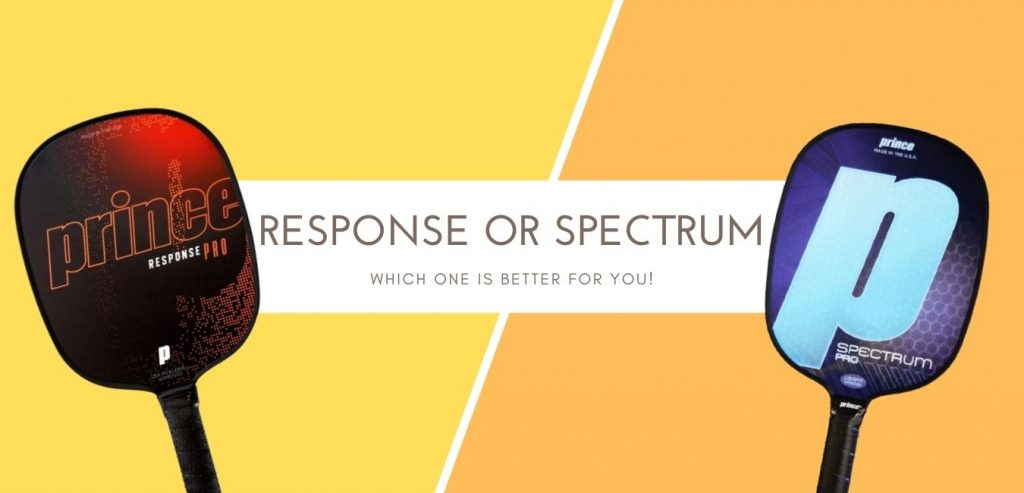 A new, unfamiliar paddle doesn't deserve to be included in your paddle collection unless they have something unique to offer. Prince paddles are well-made. These paddles have many remarkable features to stand out, like professional quality paddles.
The most convenient thing about these paddles is that they have almost similar design, shape, and size to tennis rackets. Hence, ex-tennis players will surely love them.
Like tennis rackets, they have a generous sweet spot, meaning less chance of missing shots with more accuracy. Plus, you get enhanced power and control as the magic spot is broad.
Swinging the ball conveniently and quickly is possible with these paddles due to the thick polymer core. Their paddles have responsive surfaces too. It means you can hit the ball in your desired strength without overpowering it.
Prince Pickleball Paddles: Who Manufactures Them?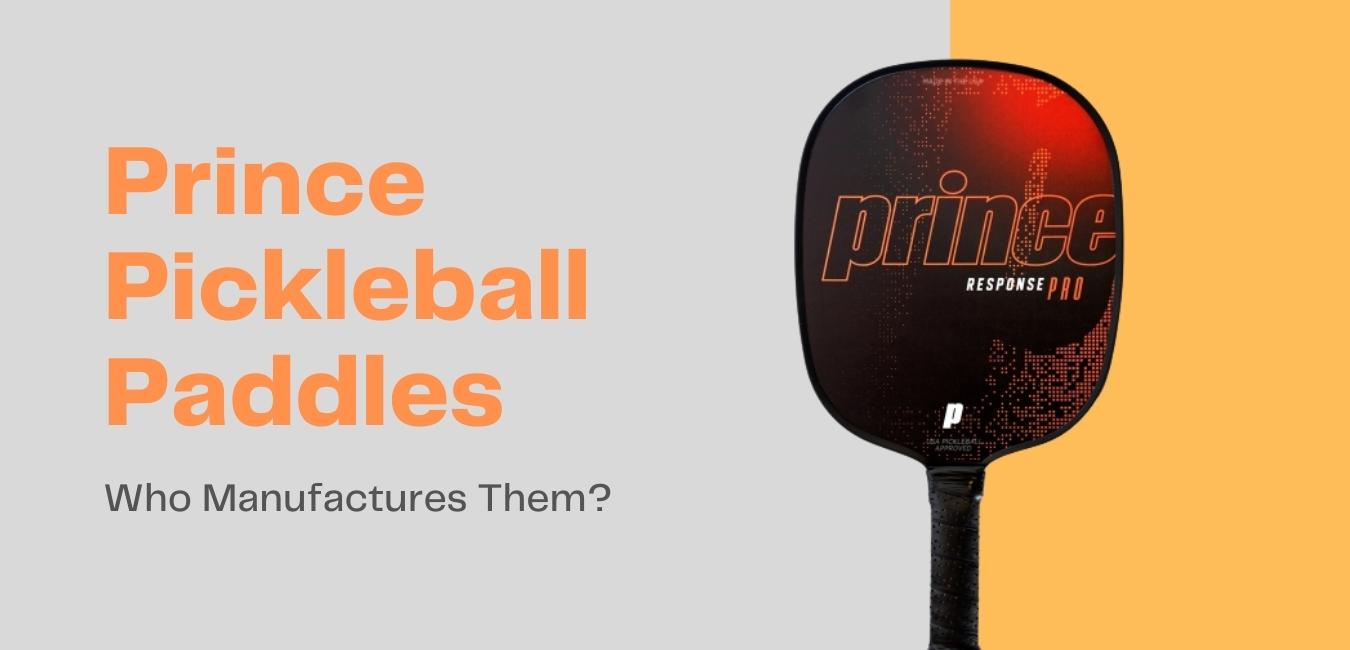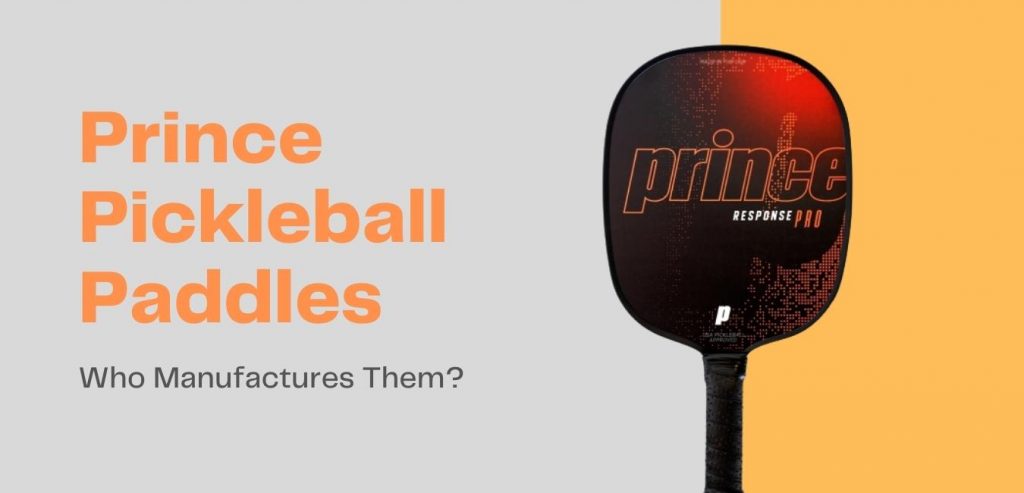 Prince products are likely to be familiar to tennis players as they are in the market for more than 50 years. From tennis balls to tennis rackets to other gears, they manufacture everything.
Pickleball paddles are comparatively new to their product line. Instead of manufacturing their own pickleball paddles, they made a partnership business with Paddletek.
Paddletek manufactures Prince Pickleball paddles, and Prince Brand sells these paddles in their own name. However, Paddletek follows a unique standard to make Prince Paddles.
So, you have no reason to think Paddletek and Prince Paddles are the same. They have their own product line.
Prince Paddles VS Tennis Racket: Similar Style
Prince only introduced two pickleball paddles until now: the Response Pro and the Spectrum Pro.
The first thing you can't overlook about these paddles is their unique shape. Tennis rackets are oval in form, as you already know. Like tennis rackets, they have also implemented a similar shape for these paddles.
The main benefit of rounded shape paddles is enlarged sweet spots. As a result, the ball more uniformly contacts on the surface. The paddles were generally referred to as the ones with the biggest sweet spots by professionals.
With a round sweet spot, the ball will fly consistently in the right direction. Most importantly, there is less rigidity in the sweet spot of these paddles. Instead, they have excellent flexibility as the paddle doesn't have any true corners.
High density Polymer Core
The only noticeable and unique thing Prince contributed from their background is the shape.
As for the core, Paddletek uses a high-density polymer core for Prince Paddles. Compared to Paddletek paddles, they are thicker.
The best thing about this thicker polymer core is its outstanding responsiveness. While swinging big, thicker polymer cores hold and transmit more power.
In fact, entry-level players think they have more power than they need. However, you can implement a soft swing playing style instead of a big swing if you need less power.
When you use a soft swing playing style, a low bounce will occur while contacting the ball. Simply put, it is a soft high-arching shot.
Hard To Beat Sweet Spot
Whenever it comes to sweet spots, these paddles are one of the best out there. It's fantastic, to be honest.
No doubt, a lot of pickleball paddles are available in the market with the large sweet spot. But these paddles will surely hit you on the point even after playing it for only a few minutes.
So, if you're wondering why its sweet spot is so special, here's what it is. The feeling you get from the sweet spot will definitely tackle your mind. Not only this, you will fall in love with its consistency and applicability.
Besides, its round shape makes it more forgiving, meaning you are less likely to miss an accurate shot. So, three words for this sweet spot: wider, larger, and more forgiveness.
Well Balanced Paddles
The Prince paddles are well-balanced because you can feel more weight on the handle while a lightweight feels for the whole paddle.
In fact, many users reviewed that their heavyweight paddles don't feel heavy like other heavy paddles. This weight gives you extra power without causing you to feel like you're holding something heavy.
Prince Paddles Are USAPA Approved
Though Prince Paddles come in just a few years earlier, they are renowned for exceptional quality paddles.
Most importantly, their paddles are USAPA approved, meaning you can play any professional game or tournament using these paddles.
That's why professional players like Simone Jardim used these paddles. She also gave feedbacks in an interview about why she likes this paddle.
Apart from that, so many users gave positive feedbacks using these paddles. You can check out YouTube and Amazon to know their feedbacks about these paddles.
2 Things To Consider Before Buying A Prince Paddle
Definitely, Prince Paddles have many impressive features to stand out from other paddles. There are some concerning things you should always check out before a Prince Pickleball Paddle.
Over Power
Prince Paddles have an extreme level of power. This is particularly useful for players who play big swings.
However, new players may find hard the ball too fast and intensely that they fail to control the ball. Experienced players shouldn't hit the ball too hard.
Takes To Get Used To
If you are a complete beginner to pickleball game and have not played a tennis game earlier, you will take time to get used to this paddle. A learning curve requires.
However, it is beginner-friendly for ex-tennis players as the shape and design are similar to tennis rackets.
Overview Of Prince Response Pro Pickleball Paddle
Prices pulled from the Amazon Product Advertising API on:
Product prices and availability are accurate as of the date/time indicated and are subject to change. Any price and availability information displayed on [relevant Amazon Site(s), as applicable] at the time of purchase will apply to the purchase of this product.
If you are looking for a pickleball paddle with more control and spin, the Prince Response Pro Pickleball Paddle can satisfy you on this point. You will begin to improve your fast shots.
A Longer Handle
The unit comes with a longer handle, which is perfect for people with bulky hands. Longer handles also give extra support to play a two-handed backhand shot. So, you can play keep your both hands comfortably without restriction as it has enough room.
Wider Grip
Not all pickleball paddles have a wider grip. This pickleball paddle features a wider grip, giving you more power to hit the ball. However, several hours of holding the grip are difficult. You want to give your hands some rest after hours of play.
Two Weight Options
The paddle is available in two weight options: lightweight and standard. The lightweight model weighs around 7.1 to 7.7 ounces, while the standard option has a weight of 7.8 to 8.3 ounces.
Two Grip Circumference Options
The Prince paddle gives you options to choose between two grip circumferences: one is 4 3/8 inches long while the other is 4 1/8 inches long.
Those of you who are seasonal players will feel little difference. However, if you are a regular player, you can feel the difference.
With the standard grip, you will have more overall strength to play the ball. On the other hand, if you prefer more flexibility, you want to go for the thin grip circumstance.
Multiple Color Options
The Prince Response Pro Pickleball Paddle comes in several color options: Simone Jardim Black, Seafoam, Simone Jardim purple, Simone Jardim Pink, and Red.
Regardless of the color you choose, it won't impact your gameplay. However, we found the orange color looks more professional.
Ultra Responsive Polymer Core
Paddletek uses a thick polymer core to make this paddle. Therefore, you can serve more powerful shots with this paddle. In addition, you can hit back your opponent shots more powerfully as the surface is super strong and ultra-responsive.
The paddle's polymer core increases its responsiveness. Whether you want to play volley, groundstroke, or cross-court dink, the unit is perfect for all.
You can apply a wide range of hitting techniques using this beast. Your opponent will be unable to imagine such powerful shots with this!
Fiberglass Face
This paddle has Fiberglass Composite Face. Even after choosing the standard version paddle, you will still feel lightweight while holding the paddle. The stiffness and texture of this paddle are relatively incredible than graphite-faced paddles.
Enhanced Control
Any player will have a great deal of control using the Prince Response Pro. In addition, you can play more accurate shots with this paddle.
With time, you will feel more comfortable using this paddle. Playing higher shots with this paddle is okay if your accuracy is perfect.
But don't hit the ball too high as it is a great power paddle. Profession players will love this paddle due to its effective control ability. You can move back and forth while running from one side to another side.
Exceptional Spin
As the unit is a composite paddle, you can expect excellent spin ability from this paddle. In fact, many players found it exceeded their expectations regarding spin ability.
Most players need extra spin for the ball during the serve to incorporate the ball in a flying direction and win over opponents. Many users reviewed its spin power is accurate, profound, and on-point.
Dinkability
Not all pickleball paddles can help you play dink shots like the way you want. If you are a beginner at pickleball games, the mess is more.
Professional players can use most paddles to play dink shots. The good is news that newbies take less time to get used to with this paddle for playing dinking shots.
As the paddle has an extra-large sweet spot with no visible corner, playing dink shots is easier than other paddles. The way the ball touches on the surface will make you short of words.
Power
If you want more power from this model, pick the standard version. However, the lightweight paddle is no less.
In addition, not everyone can implement the extra power unless you are professional. Hence, if you are a beginner and are in a stage of improving your skills, the lightweight version is perfect for you.
What's more, you can experience nice pop while serving the ball to opponents. You can also return deep serve easily. The combination of power and speed from this paddle is a bonus.
Durability
The Prince Response Pro Pickleball Paddle takes durability to the next level. No wear and tear! Even after playing for several years, you will notice minimal damage in it.
Plus, its surface is scratch-resistant, meaning playing hard shots does merely leaves any marks on the surface. However, you should still be careful and care about it.
Overall Impression
According to many users of this paddle, this paddle has a generous sweet spot. Definitely, this pickleball paddle is a perfect choice for all-level players.
Power, spin, control, and a nice touch! You get all of these things from this paddle. More importantly, it has an affordable price, costing around $130. The price you are paying to own this paddle will surely make you a winner.
Both professional and seasonal players will love this paddle as it is supportive enough for all gameplay types —all you need is just some time to get used to it. You will never be guilty of purchasing this all-include paddle.
Pros
Multiple grip sizes and weight options
Several color choices
Generous sweet spot
Nice pop and sound
Excellent spin
Great accuracy and balance
Cons
The lighter version is too light
No moisture-wicking technology for the handle
Overview Of Prince Spectrum Pro Pickleball Paddle
Prices pulled from the Amazon Product Advertising API on:
Product prices and availability are accurate as of the date/time indicated and are subject to change. Any price and availability information displayed on [relevant Amazon Site(s), as applicable] at the time of purchase will apply to the purchase of this product.
Like Response Pro, Paddletek also developed the Prince Spectrum Pro Pickleball Paddle. Its innovative design and shape make it well-known among professional and ex-tennis players.
Both Response Pro and Spectrum Pro have similar shapes, designs and are made from similar materials. You may consider them twin initially. The only difference between these two paddles is the grip length.
The grip length of the Spectrum Pro Pickleball paddle is 5 inches, which is half-inch shorter than Response Pro. So, if you have small hands, who don't need huge room, this type of handle is a better option.
The handle is also good for players who don't prefer to play two-hands backhand shots. Aside from the handle length, nothing is different. That's why we are not going for a complete review of this paddle because we have already discussed all the important features and benefits of these paddles.
Prince Spectrum Pro VS Response Pro Pickleball Paddle
We bet you have probably wondered what the difference is between Prince Spectrum Pro and Response Pro. Right?
As we said, the only difference between these two paddles is their handle length. The Response Pro comes with a 5.5 inches handle, while the Spectrum pro comes with a 5 inches handle.
Their physical difference only relies on the grip length. However, their playability experience will surely vary at least a little bit.
But we want to share a sophisticated dissimilarity. Keep both paddles one after another. You will notice the Spectrum Pro has a relatively larger paddle face compared to Response Pro — because it has a shorter handle. The benefit of this longer face is that you will get more forgiveness from this paddle.
In addition, the paddle will also function differently from each other. Wondering why? With a smaller handle, you will notice a greater feeling of the paddle weight; although there is no increase in weight,
Moreover, the Spectrum doesn't produce much pop or whipping like Response Pro. Punch volleys and smashes seem more powerful playing with Response Pro. It is because you feel less tensed while holding Response than Spectrum. The reason is that Response pro has a longer handle; it doesn't feel as heavy as the Spectrum handle.
Unless you play with both of them, you can't figure out the difference. But, it is sure you will never feel down on owning any of them. After all, they are high-quality, and more importantly, Paddletek manufactures them.
Which One Should You Pick?
No doubt, both pickleball paddles are incredible in quality. However, you will have to go on one side unless you decide to buy them both.
But, how do you know which matches are best for you based on your playability and skills? It is actually hard to explain as our preferences, and play styles vary.
But one this is obvious —the grip length. If you are ex-tennis players who are used to play with a two-handed grip, the Response Pro pickleball paddle is a better option for you.
On the contrary, if you prefer to play single-handed grip, nothing is better than the Spectrum Pro pickleball paddle.
It's Worth A Try!
Trying this paddle is a good idea if possible. No doubt, there are top-quality paddles out there, but these paddles are no less at an affordable price.
According to many reviewers, both paddles have improved their playability even after playing with them for one or two weeks.
You can guess where their skill level has gone after one year of play with this paddle. But obviously, your playing techniques matter.
We would love to hear what you think about it if you do try it out! Don't forget to drop a comment on how you feel after playing with this paddle. Thanks for reading!