Pickleball is known as a high-impact sport because it poses a lot of pressure on your weight-bearing joints such as the ankle, knee, hip, etc. Apart from wearing a pair of quality shoes, you can't overlook the importance of wearing a pair of supportive and comfortable socks.
So, why is wearing quality socks essential? It keeps your feet stress-free and saves you from repetitive trauma. A pair of quality shoes will be a great support for the toes and heel area too.
Looking for the best pickleball socks? After taking recommendations from several podiatrists and many pickleball players' real-life experiences, we have finally chosen the top 3 pickleball socks. Let's go for in-depth details to learn about them!
Read more "Pickleball Shoes For People Who Have Wide Feet"
3 Best Pickleball Socks
Product prices and availability are accurate as of the date/time indicated and are subject to change. Any price and availability information displayed on [relevant Amazon Site(s), as applicable] at the time of purchase will apply to the purchase of this product.
Prices pulled from the Amazon Product Advertising API on:
1. Thorlos Pbmu Thin Socks
Sports fanatics around the world know why Thorlos is among the most recognized brands. From players to athletics to ordinary people, all people use their high-quality socks.
Intelligent Design
Not all products are designed creatively to fulfill customers' high demand. The sock has thinner fabric instead of thicker to ensure sufficient airflow for the whole feet area.
Just because it is thin doesn't mean it doesn't have padding. In fact, the manufacturing company uses enhanced padding for the Achilles and toes area for extra protection and outstanding traction.
Well made
The socks contain 74% polyester, 25% nylon, 1% elastic to provide sufficient comfort. This type of material is non-absorbent, so your feet will remain dry for a prolonged time.
Further, it is highly durable, and longevity is guaranteed for the material. Most importantly, it retains the original color, so no chance of color fading quickly.
High Cushion Power
The unit is purposely made for pickleball games with the help of Thor-wick cool fibers. This type of fabric can wick moisture more efficiently than traditional socks. So, no doubt you will have great cushioning for your soles and excellent support in your heel areas.
Players feel supportive and cushioned while wearing the socks. Many international pickleball players have used them in professional games and appreciated their construction.
Easily Washable
Like other pickleball socks, they are easily washable in a washing machine. Make sure you use the correct option while washing them. Choose a mild detergent, which formula is not tough.
Enough Breathability
As we already mentioned, the sock has a thin layer where it is needed and thick where it is essential. The sock's side and bottom part feature thick padding for a better cushion, while the upper part is thin to provide maximum breathability.
Anti-Blister Socks
The socks are blister-resistant. It means they are equipped with dual-layer technology to prevent blisters from playing engaging games like pickleball. Hence, you are going to be less likely to encounter any friction or rubbing. No feet rub against shoes!
Moreover, they can efficiently absorb shocks on the floor to give a relaxed feeling while running around the pickleball court.
Verdict
After considering all its valuable features, it is not hard to see why professional players use them. From comfort to durability to support, it exceeds expectations in every way. All you have to do is pay some extra bucks compared to other affordable socks. But it is worth your investments surely.
Pros
Well construction
High-quality fabrics
Perfect cushion
Breathable
Easy to clean
2. Thorlos Vcmu Max Socks
It does not matter whether you are a man or a woman; these socks are unisex. The unit is available in four unique sizes, from small to extra large. Getting the perfect one seems easy. Since they come in perfect shape and size, you won't feel bulky while wearing them.
Multiple Materials
Instead of using 1 or 2 materials, thorlos uses four materials to make this high-quality sock: acrylic, nylon, elastic, and polyester. The inclusion of 60% acrylic ensures a snug fit for most feet and wicking away moisture quickly. It also increases comfort.
Since nylons are hard-wearing fiber and long-lasting, the manufacturer uses 30% Nylon for this sock. So, it makes a better combination with acrylic. Plus, it is perfectly elastic.
Nanoglide Technology
Another notable feature of this sock is the NanoGlide technology to decreases blisters and friction as much as possible. Additionally, from top to bottom to side to side, a mesh is included reasonably for all areas to ensure excellent comfort and 360 degrees of breathability.
Thorlo Legendary Padding
Everyone loves the core engineered padded technology of Thorlo, which provides great safety against blisters and pressure. It keeps you discomfort-free. Most importantly, it features moisture-wicking properties. Keeping your feet dry for several hours is what you will surely love. So, your feet remain healthy.
Compatible Anatomical Design
Both men and women have different types of feet. Since it is a unisex product, the flexible Anatomical Design of this sock makes it perfect for almost all feet. Thus, you don't have to stress yourself whether it will be perfectly fit for your feet. Just give effort in finding the correct size and enjoy its true size and snug fit.
Smooth, Flat Seam
We love its smooth, flat seam, mainly designed to ensure no rub or irritate feet. Hence, you won't feel any discomfort even after wearing it all day long.
Perfect Solution For Sweaty Feet
Do your feet sweat a lot? If yes, choosing this pair of shoes is one of the best decisions you will make in your life. The way it wicks away sweat so fast will surely make you amazed.
Verdict
How is the product different from others? This might be your question, right? This pair of socks is a better choice for people who prefer to buy unisex products. More importantly, it has some uncommon features, which you may not have in many socks in the market.
Pros
Easy movements
Comfortable to wear
Innovative design
Soft and comfy
Cons
Needs a carefulness for washing
3. Thorlos Tmm Max Socks
Here comes another unisex pair of socks. Though it is a unisex product, we found it more preferable for women. Why? The reason is that its unique shape and construction make it perfect for women with narrower heels and forefoot areas.
Blend of Materials
The sock is made of 3 materials: 82% acrylic, 17% nylon, 1% elastic. Several combined materials make the sock more comfortable, durable, and breathable. In addition, players feel relaxed and comfy while wearing them for a long time.
Thor-Lon fibers
Do you have faced any foot injuries in the past? By experiencing excessive pressure, shock, impact, or blisters makes our feet prone to injury. That's why we need a supportive sock that can guard several areas of feet.
The manufacturer utilizes Thor-Lon fibers for the heel area for better support and keeps your feet injury-free. Further, it increases arch support and comfort.
Reduced Foot Pain
Do you feel tired, achy, and sore on your feet after playing for a few minutes? According to many reviewers, they had played longer time than before. Also, the foot pain they would have after playing was not as much as they would have before wearing these socks.
Thicker Than Others
Though many people prefer to wear thin socks for increased breathability and reduced weight, players often need thicker socks. Why?
When you run on the pickleball court quickly for several hours, cushioning is essential. Lack of cushion means you stress your feet more. This could lead to severe injuries.
So, thicker socks keep your feet cushioned while preventing them from sliding around during running to and fro.
Enhanced Padding
Though the socks are the most expensive option on our list, many people still love to own them. They love its enhanced paddle on the toe and heel area, making it more comfortable to wear.
Extreme Durability
What is the use of buying cheap socks that won't last even 2-3 months? How about owning a pair of quality shoes that can last as much as 4-5 years? When you take care of these socks properly, they can be this durable. This one point attracts many new buyers and makes them loyal to the thorlos brand.
Verdict
Though our second and third options have many similarities, this option is exceptional for extended padding. But if you think you don't want a high level of paddling, the second option won't be a wrong choice at all.
Pros
Higher padding
Easy fit
Suitable for men and women
Several cushioned materials
Reduced foot pain
Buying Guide For Best Pickleball Socks
Do you wear the same socks to play all sports? Not only ordinary people, but even many professional players also make this mistake. It seems easy-going to choose a typical pair of socks for your pickleball game.
But when you want to ensure no discomfort while pickleball a game, choosing specially designed pickleball socks gives you added benefits. But the prime concern is, what are the certain factors everyone should consider before purchasing quality socks? Here are they:
Material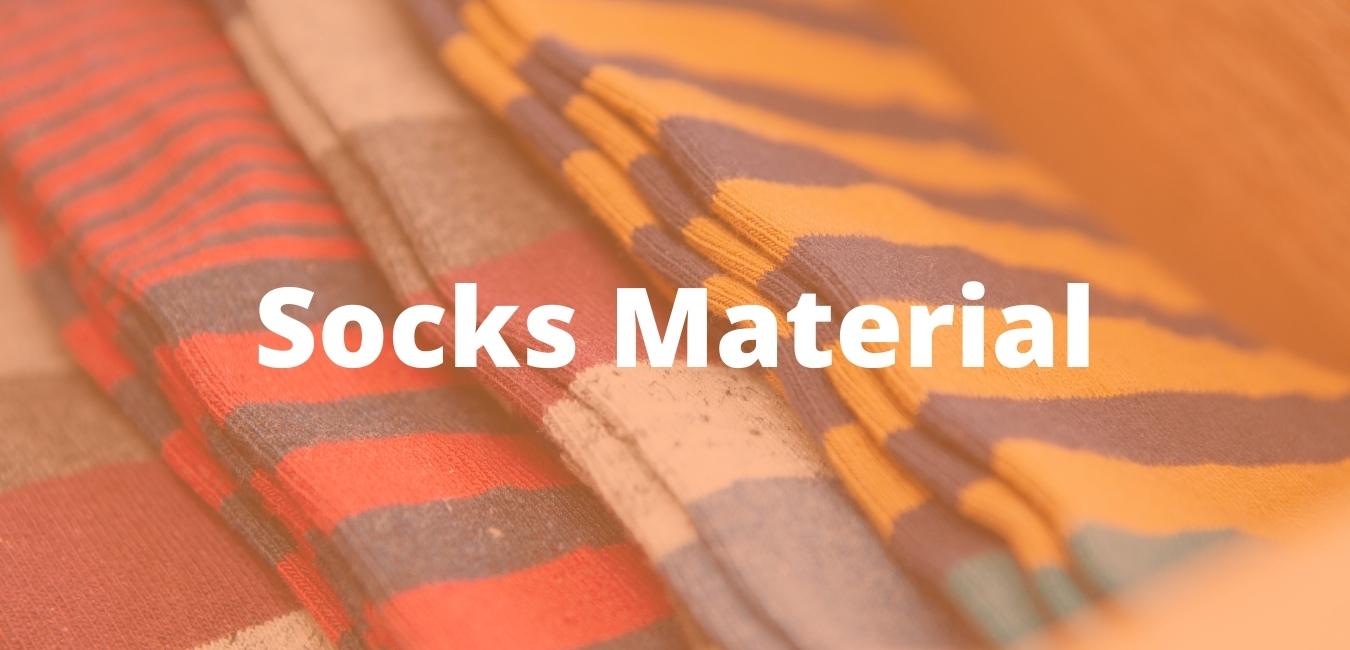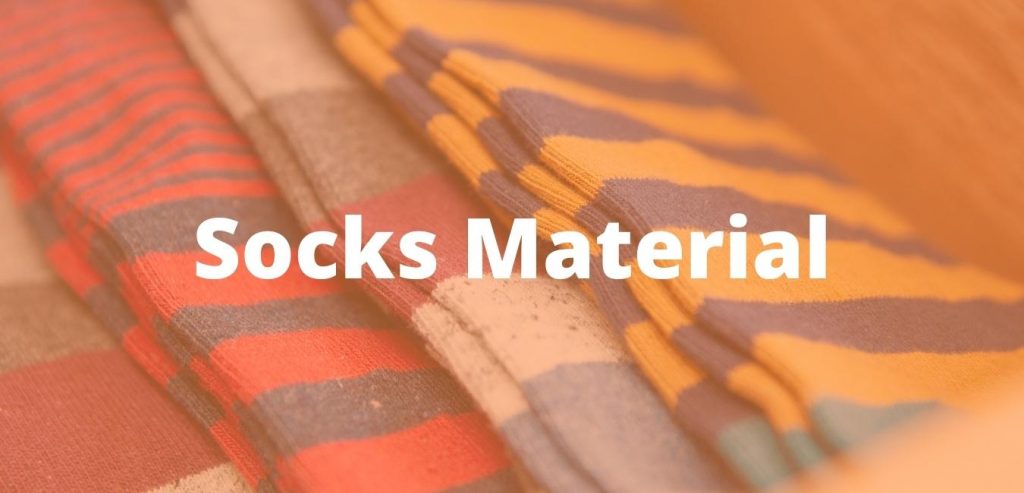 Materials and comfort are closely related. Softer, supporting, and high-quality materials make the sock more comfortable. That's why most manufacturers use combined materials such as polyester, spandex, elastic, cool fibers, acrylic, nylon, linen, etc.
However, many of us believe 100% cotton materials are more comfortable than blended materials. No doubt cotton fabric is comfortable to wear, but they absorb sweat heavily. Consequently, you may experience foot fungus. Additionally, sweat absorption inside the fabric leads to foot rubbing, which will cause irritation or even blister issues.
Many manufacturers experiment with several combined materials to ensure maximum comfort. After all, socks are not for show up but to make you feel comfortable and safe. Choosing the suitable blended materials to keep you comfy and save your feet from injuries.
Sock Types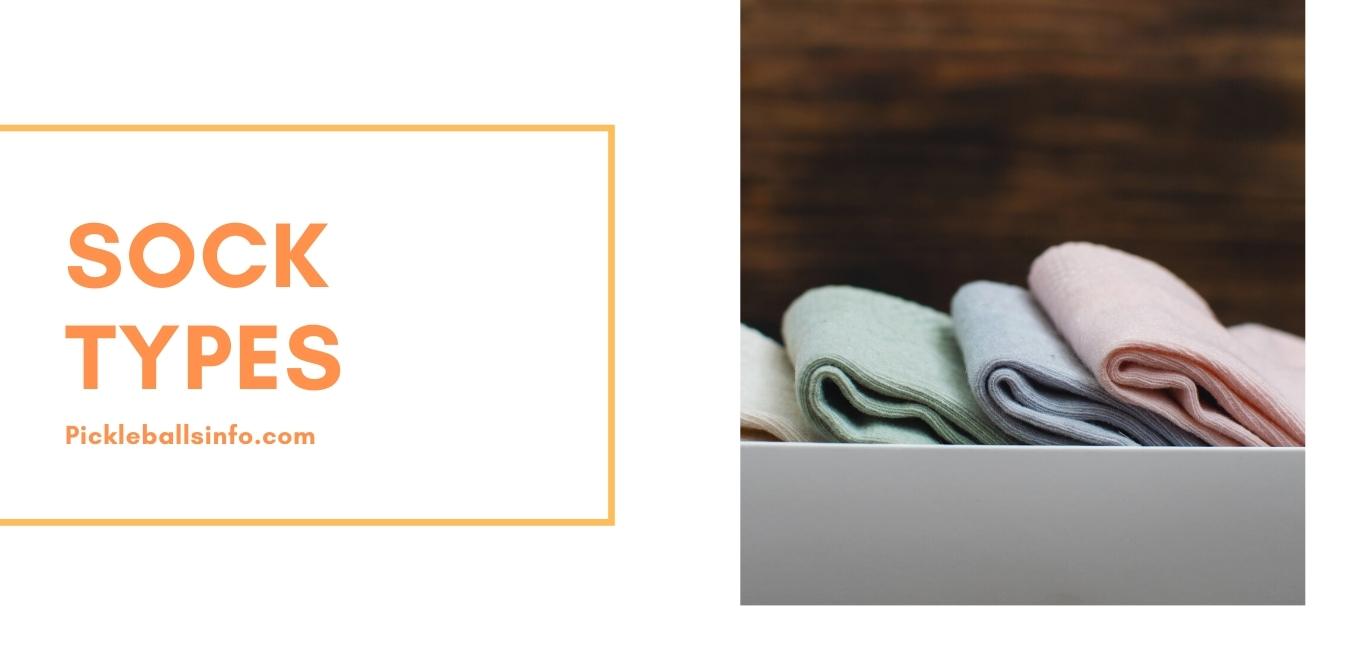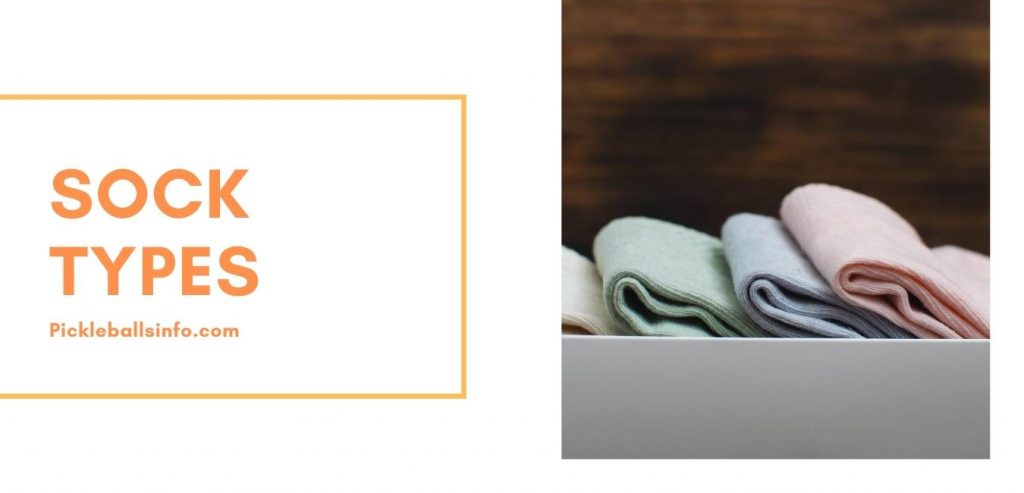 Socks are available in three types based on the layer: thin, medium and thick.
Thin Socks
Choosing thin socks means you receive extreme breathability on the foot area. Also, they are lightweight. Moreover, they dry quickly. If your feet sweat a lot, thin socks are a better option. But thin socks feature less cushioning. When you play in a high-temperature area, they are more suitable.
Medium Socks
This type of socks is neither too thick nor too thin. They have moderate weight and breathability. Also, they have adequate cushioning to comfort you for a prolonged period. Apart from that, many of them are insulated with an extra layer for moderate cushioning and protection from heavy impact.
Thick Socks
This type of socks is the heaviest but provides an extreme cushion. Wearing them gives you more comfort. They are more suitable for colder areas where you don't need higher breathability. They are equipped with enhanced insulation and can protect your feet from extreme impact.
Socks Height
Sports socks are available in several heights. How high or low should be the sock height depends on your personal preference and how much protection you want. Some people prefer to own knee-high socks, and some prefer to have no-show socks, and also many of them want low-cut socks.
Ideally, medium-sized socks are better to protect your entire feet area. Wearing socks 6-8 inches is a standard option for most pickleball players. However, if you think you need more or less than that. It relies on preference.
Durability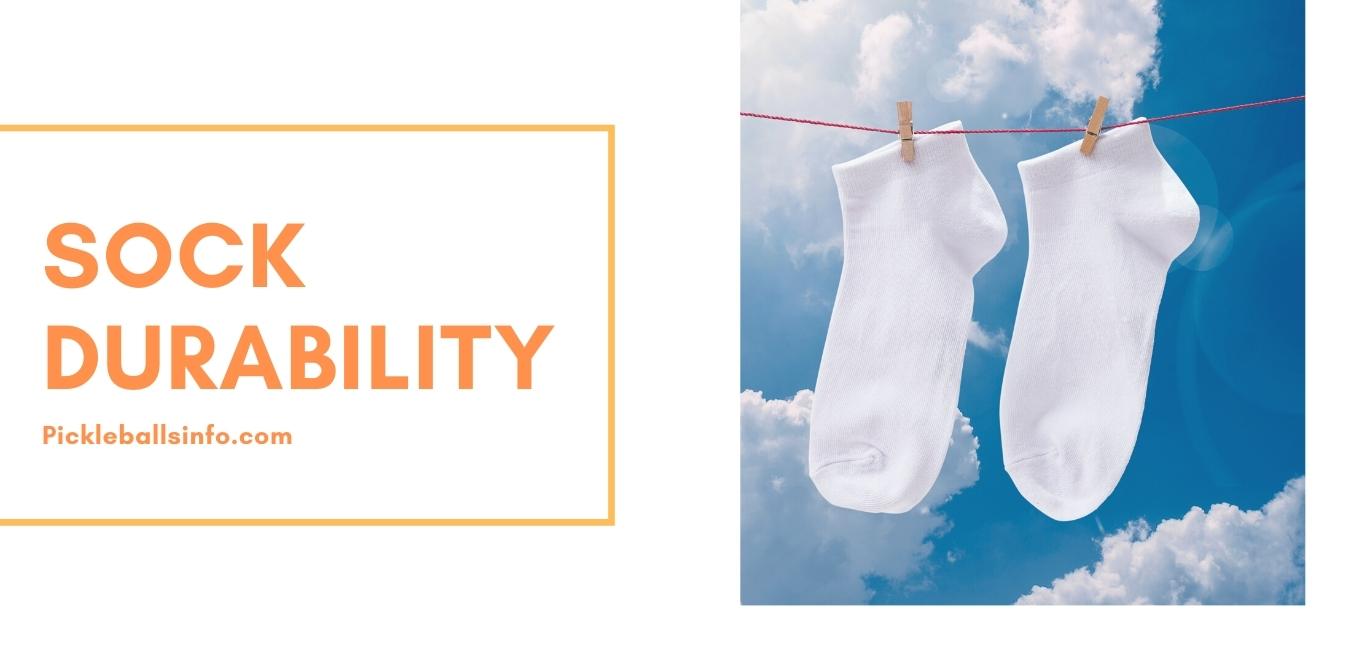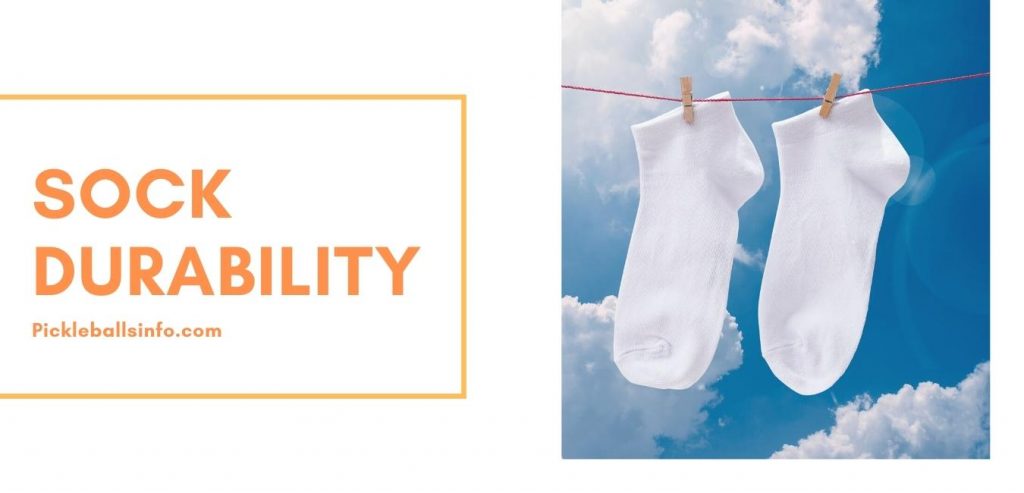 Durability is one of the crucial factors that every pickleball player should consider. Cheap socks neither provide you the comfort you need nor are they long-lasting. That's why investing in quality socks is essential to ensure good durability. As long as they are taken care of properly, you can expect their life to be as long as 4-5 years.
FAQ
Why should I use specific socks for pickleball?
Right gears are essential for any game you play. Choosing the right socks for a pickleball game is essential to support your gameplay and provide comfort continuously. Also, they keep your entire foot area protected from blisters and other kinds of foot injuries.
Since the pickleball game is more engaging and high-impact, your feet need optimal support, protection, and comfort. You want to make sure you choose the suitable materials, size, and height for your pickleball socks. Only then can you focus your gameplay.
What is the difference between pickleball socks and tennis socks?
There is no visible difference between pickleball socks and tennis socks. In fact, many ex-tennis players use the same socks for pickleball games. Manufacturers make similar types of socks for most racket sports. However, many brands sell special shoes only for pickleball game sports. The sock makers researched a lot of points for the gameplay of pickleball and made socks based on it.
How long should pickleball socks be?
The ideal length of pickleball socks may vary from person to person. However, as per many pickleball experts and manufacturer recommendations, it should be around 6-8 inches.
Can you run with pickleball socks?
Yes, you can run with pickleball socks since they are made with combined materials. Hence, the internal part won't become damp excessively. Also, they will dry fast.
Can you wear pickleball socks for the tennis game?
Yes, tennis socks and pickleball socks are almost similar. They are not supposed to cause any problems. But you are encouraged to buy socks separately for the particular game to enjoy both games in their own way.
Final Thought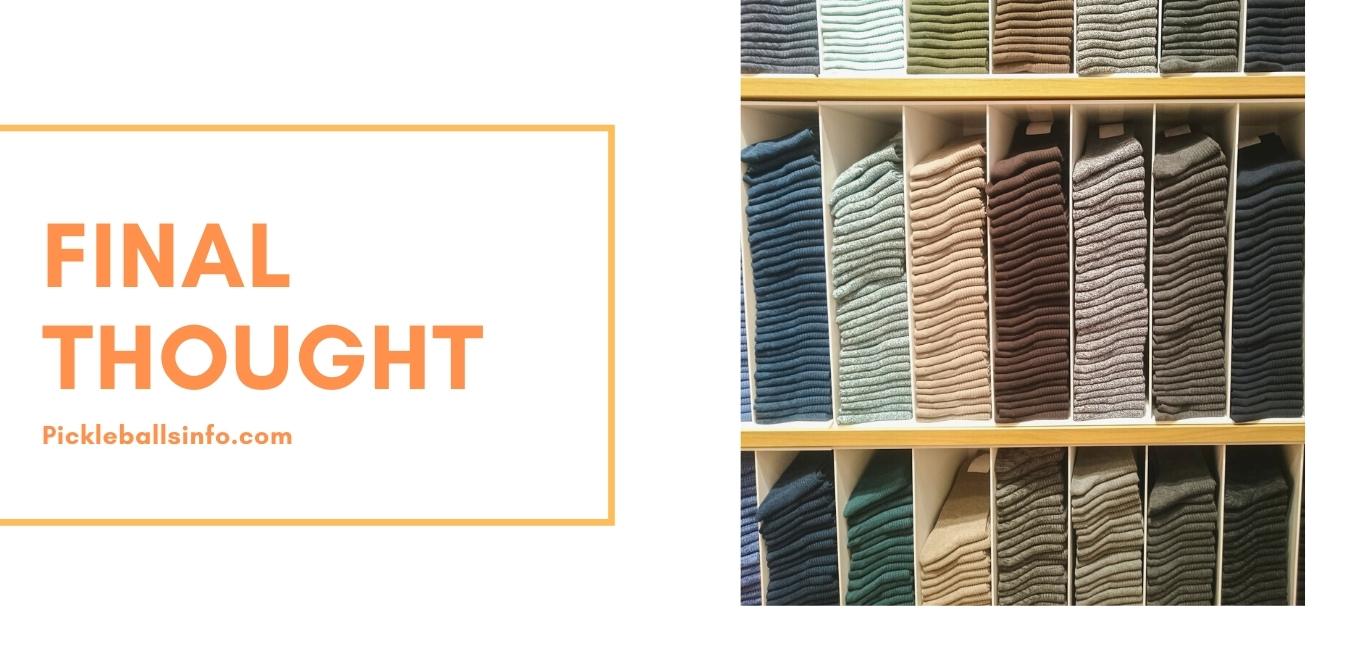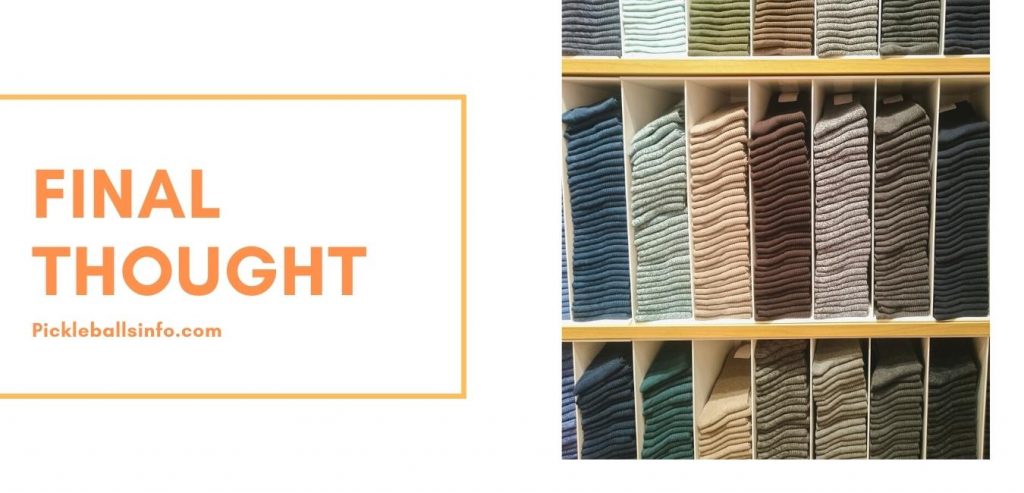 So, which option seems the most convenient one to you? It might be a little bit tricky to choose a perfect one since all of them are several brands. More importantly, no one is less than others.
However, we have outlined all the features and benefits for each pair of socks you will get for using them. Hopefully, you will choose the best pickleball socks according to your requirements. Enjoy the pickleball game!