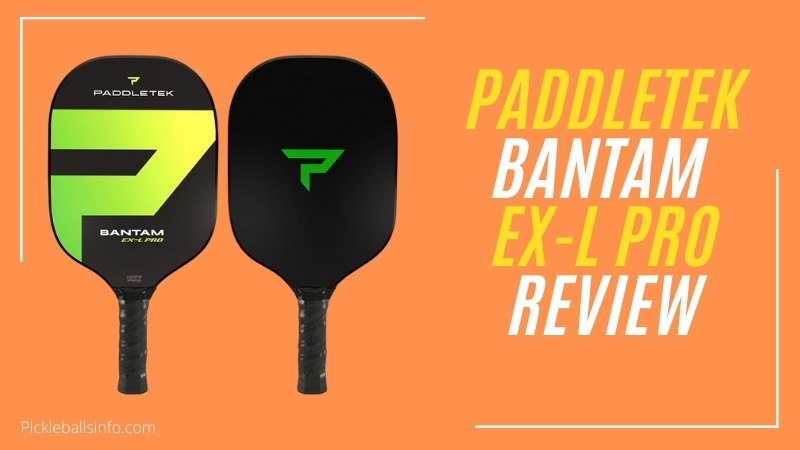 It's no accident so many championship courts use the Bantam EX L Pro. From 2012 to now, innovative paddles from Paddletek's Bantam series gained immense popularity among professionals and typical players. At Bantam EX-L Pro, it delivers this performance at its highest level.
Featuring a polymer interior that prevents tangles for a smoother grip, this heavyweight paddle comes in a full-sized design. In this article, we will share our Paddletek Bantam EX L Pro review. Let's dive in!
Paddletek Bantam EX L Pro Review
With the Paddletek Bantam EX-L Pro, Paddletek introduces a great new product to their lineup. Compared to the original Bantam EX-L, the Bantam EX-L features a polymer honeycomb core that is thicker and more durable. A new surface and enhanced power make this paddle even better.
Honeycomb Polymer Core
The Paddletek Bantam EX-L Pro features a core material polymer honeycomb. One of the most common types of core in the newest paddles is this type of core. Core made from polymers is more durable as well as more attractive.
While providing power performance, the honeycomb polymer core allows touch shots to be controlled softly. Due to this core material, the durability of this pickleball paddle is guaranteed.
Fiberglass Surface
The fiberglass surface offers good pop/power and is highly durable. You will get immense spin control and pop due to the textured fiberglass hitting surface (velvet textured). This paddle has a paddle width 7-7/8″.
Smart Response Technology
The Paddletek Bantam EX-L Pro features a smart responsive technology that makes it the perfect paddle for pickleball. Due to the smart responsive technology, your hit will be explosive but controlled at the same time. Polycarbonate surfaces with a velvety texture round out Bantam paddles.
Heavy weight Design
The Paddletek Bantam EX-L Pro's weight ranges between 8.3 to 8.7 ounces. Compared to other paddles you have used, this one may be heavier. But the power you receive in return is quite substantial.
Even though technology improves, a paddle with heavier weight will always generate more power in the hands of an expert.
Due to its heavyweight design, it can react quickly and inspire confidence in tight situations.
Grip Size
A new high-tack performance grip provides a superior grip on this durable paddle. The grip length and grip circumference are the same, measuring 4 ⅜." Grip size might vary 1/8″.
Initially, you may feel a little bit unusual to hold the grip. But the unusual feeling will vanish away quickly. In fact, you will feel more comfortable and secure to hold the grip than other grips you have tried.
Sweet Spot
Paddletek's Bantam EX-L Pro had a sweet spot well above average. In fact, its large sweet spot is one of their best features. Many of the shots you will make will be consistent, something you may not have enjoyed before.
Protective Edge Guard
Paddles that are rimless or edgeless frequently delaminate since the paddle face becomes separated from the core due to excessive use.
The Paddletek Bantam EX-L Pro comes with a ⅛" edged shock guard to protect it against delamination.
With‌ this protective ‌‌edge‌ ‌guard, you will not have to worry about scratching the edge of your paddle when diving for shots.
Additionally, this guard or cover for your paddle protects it from accidents that may occur during use or if it is accidentally dropped.
Vibration Dampening Technology
The Paddletek Bantam EX-L Pro features vibration dampening technology, which is mainly found in ProPolyCore2 materials. When playing with EX-L Pro, you will notice a significant noise reduction.
Who Should Use the Paddletek Bantam EX-L Pro?
Due to the heavyweight design, the Paddletek Bantam EX-L Pro is definitely not‌ ‌for‌ ‌a‌ ‌beginner. Instead, beginners should choose a lighter option as they initially need more control over power.
The paddle is suitable mainly for advanced and professional players. Due to its heavyweight design, they will have more power to hit the aggressively.
As for mid-level players, this pickleball paddle is also a great option if you are used to playing with slightly heavier paddles.
Bantam EX-L Pro pickleball Paddle Review Summary
Upon touching the Bantam EX-L Pro for the first time, you will notice how soft it is. The soft-touch provides a valuable advantage when catching a return.
Many people will benefit from using this pickleball paddle. However, some people may need some time to get used to it. It won't take long to adjust the paddle once you've practiced it a little.
Dinking with this paddle is a lot of fun because it is pretty responsive in feel and control. It will be pretty controllable and spinny when you serve.
With more power, a generous sweet spot, and optimum pop, you can hit the ball powerfully across the court.
Whether you want to hit the ball on the groundstroke, volley, or any area of the court, you can do it with maximum accuracy and enhanced control. It will offer you an advantage over your opponents.
Pros
8 color options
Incredible power
Responsive surface
Smart response technology
Long-lasting grip
Good touch and decent pop
Improves game ability
Cons
A little bit heavy
Need some times to get used to
A little more length would be helpful for the handle
Final Thought
The Bantam EX-L Pro would be a great addition to most professional players' collections. Additionally, this paddle was designed to play with less noise than many paddles, so it is the ideal choice for those who live in noisy neighborhoods.
Whether you want to play a single or double game, the pickleball paddle is suitable for all purposes. Bantam EX-L gains greater power and control thanks to its new, advanced core.
If you are looking for a top-notch paddle, the Paddletek Bantam Ex L Pro is obviously a great option to consider. Hopefully, you have learned all the precise details about this paddle from our Paddletek Bantam EX-L review. Thanks for reading!