We often use badminton courts or tennis courts as pickleball courts since the size of a pickleball court is smaller than others. As they're racquet sports, it's easy to switch from one to another.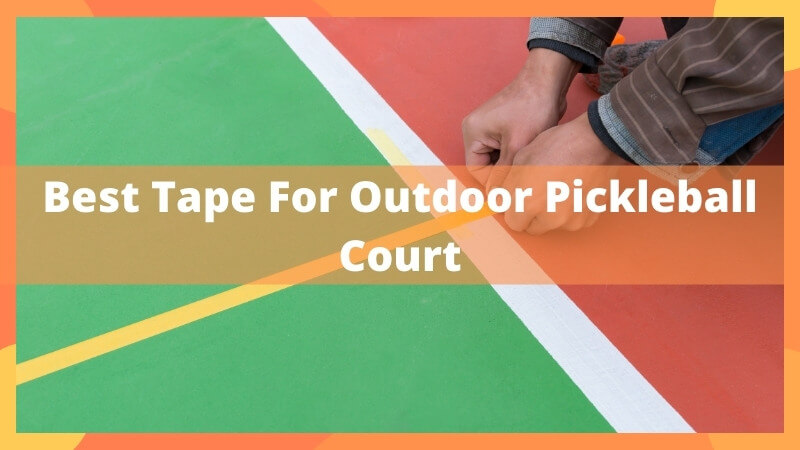 Instead of permanently transforming them into pickleball courts, you can use court tape to mark the area and make it a pickleball court. Players can again shift to their previous courts by removing the tape from the court.
So, what is the best tape for outdoor pickleball court? A wide range of options are available, but not all of them are perfect for marking pickleball court flawlessly.
After talking with some long-term users and considering many real buyers' reviews, we've finally pickled six pickleball court tapes for outdoor. Let's dive into the review session to find your ultimate option.
Best Tapes For Outdoor Pickleball
Product prices and availability are accurate as of the date/time indicated and are subject to change. Any price and availability information displayed on [relevant Amazon Site(s), as applicable] at the time of purchase will apply to the purchase of this product.
Prices pulled from the Amazon Product Advertising API on:
1. Ifloortape Outdoor Court Tape
If you've decided to transform your current tennis or other courts into a pickleball court semi-permanently or permanently, the Ifloortape is a decent option to consider. The unit is suitable to use for both outdoor and indoor purposes. It makes the job of drawing curved lines easier.
The pickleball court tape can be purchased in white and yellow colors. It has an excellent resilient power to withstand various weather conditions such as rains, snow, or too windy weather.
This highly durable tape is made from rubber adhesive material to ensure long-lasting durability in various adverse weather conditions.
Apart from that, oil spills or harmful chemicals can't significantly impact its adhesiveness. Thus, it remains on the court ground for an extended period without showing any peeling off issues.
Another notable thing is its highly visible color since it can reflect light even in night or dark conditions. This allows you to see the mark lines easily, even further, during low light and nighttime conditions.
Which type of court surface do you want to use for pickleball? Uneven or smooth? Regardless of its surface type, it can stay on the surface firmly.
Make sure to dry and clean the court properly before adding the tape. According to the manufacturer, the temperature should be at least 50°F (10°C).
Pros
Made from high-quality rubber adhesive material
Available in white and yellow colors
Reflective color to easily visible durable low-light conditions
Suitable to use in different court surfaces
Cons
A little bit pricey option
2. Franklin Sports Pickleball Court Marker Kit
Putting continuous straight lines is a tiresome and time-consuming task. Some people prefer a short-cut way to mark the pickleball court. This distinctive tape can be your ultimate choice to reduce this mess.
The unit comes with four L-style and eight T-style pieces, giving a lot of versatility to mark the court lines easily. Hence, it's a perfect choice when you want to a fast, trouble-free, and convenient option to put lines on the court.
You don't have to buy anything separately since everything comes in a complete package. Transforming the current court into a pickleball court will be easygoing with these right accessories.
The Franklin tape doesn't leave any residue where you use it. The cleaning task appears easy after removing it. A simple wipe is enough to clean all the things from the court.
Since the unit has great portability, you can carry it from one place to another. It's especially beneficial when you travel between games regularly.
Besides, the bright yellow color makes it highly visible on the court. So, you can detect where the ball is landing, especially in low-light conditions. This is particularly helpful during the training period.
Pros
Comes with L-style and T-style pieces
Easy to install within a short time
Easy to carry from one area to another
Highly bright and easily visible yellow color
Cons
Not highly durable to last for a long time
3. Eco Walker Court Line
If you want to transform your mini tennis court into a pickleball court temporarily, it's a decent option to consider.
The whole package includes 19 pieces of tape. Since they have perfectly precut, you don't need to take the hassle of cutting them again. You just put them on the correct spot based on their shape.
What's more, the high-quality tape comes with a bright yellow color, making them highly visible on the court. So, you don't have to see where the pickleball goes after hitting it.
Aside from using it for a pickleball court, this versatile tape is perfect for various sports and training exercises. You can apply it to create boundary lines.
It can show a reliable performance for sticking on the pickleball court since it has high-quality adhesiveness. Additionally, you won't experience any issues removing the tape from the ground. It appears trouble-free and straightforward.
Make sure you keep them in a flat box instead of a bag. Some customers reviewed that they get curled when you store it in a bag.
Since not all the pieces have come in a straight line, utilizing your creativity will give a better result in marking the court surface. If you're not doing the job, we suggest taking help from your friend or relative who has a past experience.
Pros
19 pieces of tapes to cover the entire court surface
Requires simple installation and removal
Bright color to make its lines easy on the eyes
Suitable to use in various training exercises and sports
Cons
Prone to get curled often when stored in bags
4. Cannon Sports Floor Marking Tape
Some pickleball players prefer high versatility in terms of colors and sizes. This might be your right pick if you're also someone like that.
This Cannon tape is available in 7 colors: yellow, white, blue, green, black, orange, and red. Picking any color as per your requirement is entirely okay.
But when playing a professional pickleball game, you're only allowed to use white and sometimes yellow. But for entertainment purposes, choosing any option will be okay.
Additionally, the unit comes in medium and large sizes. So, when you regularly use various courts for playing pickleball games temporarily, choosing the size two appears a more suitable option.
It can cover up to 60 yards with one roll, and both rolls can cover 120 yards of court size. The tape is made from 6 millimeter PVC vinyl material to maintain the court surface after attaching it properly firmly.
This type of material is highly durable and can last for an extended period with the correct care and maintenance. Plus, it's not going to get affected by rains and foggy weather because it's a waterproof adhesive to form a strong bond on the ground surface.
Pros
Seven color options for versatility
Two different sizes based on using frequency
Highly durable and thick 6 millimeter PVC vinyl material
Waterproof adhesive to form a firm bond
Cons
Not meant to be stretched
5. BSN Floor Tape
When hunting down a versatile and affordable option, the BSN Floor Tape is a perfect option to consider. The tape is available in four colors: yellow, green, black, and blue.
Each floor tape comes with a medium-size, covering up to 60 yards. After removing it from the pickleball court, the unit doesn't leave any residue. It stays firmly in the position after applying it.
You can use this tape on various surfaces of the pickleball court. Since it's easy to install, you're less likely to face any issues attaching it to your pickleball court surfaces.
Moreover, this floor tape is highly durable to stay on the court surface for an extended period without any peeling off issues. Lasting several years appears not hard for this high-quality product.
Even after running on the marking area, its firmness won't be damaged. Adverse weather conditions won't affect it much.
This type of tape is easily adjustable on various court surfaces, making it versatile. In addition, all four colors are highly noticeable, so you can easily see where the ball goes after it lands on the marking areas. Most importantly, it won't discolor gradually.
Removing the tape is also hassle-free and doesn't take much time. So, you're not required to spend several hours taking it off. Overall, it's an excellent product for marking pickleball court lines.
Pros
Available in four bright, noticeable colors
Medium size can cover up to 60 yards.
Can last several years easily without any peeling off issues
Requires simple installing and removing approach
Cons
Prone to attract a lot of dirt
6. Gaffer Power Tape
Gaffer needs no introduction for manufacturing high-quality tapes. The premium-version tape is made from natural rubber adhesive, a long-tasting sticking after applying it.
It creates a strong bond on the court surface. Regardless of the court surface, it can show a versatile performance.
But it won't leave any residue once you remove it from the court surface. Plus, dust and dirt won't accumulate on the tape.
The unit is available in 21 colors, so users can choose from a wide range of options. You can choose two different sizes, 25 yards or 30 yards, based on your requirements.
Though not all colors are bright, it can be easily visible on your court surface to notice the marking lines easily. It's a decent solution for temporary purposes since you can peel off them whenever you want.
Another notable thing is its stretching ability, giving you more flexibility to adjust its shape. But once you install it on the surface, the tape will turn back into its original shape.
Pros
21 different bright and vibrant colors
Doesn't prone to leave residue after pulling off
Excellent stretching ability to adjust the shape
Made from natural rubber adhesive to ensure long-lasting stickiness
Cons
Higher price than other brands
How To Tape A Pickleball Court
Here we're going to give you an example of how to add tape to a tennis court to transform it into a tennis court by marking the court using tape.
Though you can mark the line on your own, two sets of hands make it easier.
Start marking the line from the left side of the court, which should be a 44-feet straight line. Make sure you apply the tape inside the line.
Now, measure a tape line from the starting point to the right side, and its measurement should be 20 feet. Next, you want to mark a straight line, and its measurement should be 44 feet.
Finally, measure a tape line from the last point to the right, keeping it 20 feet long. It should touch the left side 44-feet baseline.
Now, you want to create a non-volley zone while keeping 15 feet distance from each side. The total measurement of a non-volley area should be 7 feet. So keep 7 feet distance along with 15 feet from each side.
After lining the non-volley zones, you will find a middle between the sides, which should be located at 22 feet. It's the spot where you'll set up the net. Instead of entirely marking the middle line, keep some gaps in the line to make it different from the other lines.
The last thing you want to do is draw the 20 feet serving zone into two parts. Thus, each box will have a 10 feet measurement. Do it on both sides. This is how you'll tape a pickleball court to mark the area.
Taping Pickleball Lines on A Tennis Court
Many of us often prefer to use tennis courts for playing pickleball temporarily. You can use tapes to mark the tennis court and temporarily convert it into a tennis court.
However, it's necessary to get the permission of the owner while taping pickleball lines on a tennis court. Otherwise, you may land into trouble.
The total dimension of a tennis court is 60 feet by 120 feet. You can create up to four pickleball courts from a single tennis c based on the court condition.
However, converting one pickleball court from one tennis court is easiest. Don't worry about digging too deep to measure the area. You just reduce the existing tennis court lines using tapes.
You'll follow the same approach, which we've already mentioned. Make sure you use a different-colored tape to avoid matching the current tennis court lines. This will help you to distinguish the current lines easily.
FAQ
What kind of tape do you use for outdoor pickleball courts?
Different types of tapes are used for pickleball courts, such as heavy-duty court tape, blue painter's tape, green frog tape.
Many people prefer to use green frog tape since it has a better adhesiveness quality to stay on the ground for a prolonged time. More importantly, it doesn't leave any residue when you remove it.
How much tape do you need for a pickleball court?
The minimum amount of tape you'll need for a pickleball court is 198 feet. Since you're more likely to waste a few feet, make sure the total size of the tape is at least 205-210 feet.
How much does it cost?
The pickleball court tape price varies from one to another based on its durability and adhesiveness. Typically, it may cost around $20. But if you want a top-notch quality tape, you may need to spend anywhere between $30 and $80.
Read more: Best pickleball paddle under $100
Since you're going to use tapes for outdoor pickleball courts, investing in a quality tape is better to play for a long time.
Buying a cheaply made tape won't be a suitable option, especially for intense outdoor conditions.
What features should it have to make sure that it doesn't move or slip during play?
The tape you want to use for your pickleball court should not be curled or ripped at the edge. If the tape rolls or folds up easily, it'll affect your gameplay.
It's better to choose a tape made from vinyl or rubber, which is incredibly tensile. Snow or rain won't cause it to move or slip as it's highly impact-resistance.
What color should pickleball lines be on a tennis court?
White and yellow is the officially approved color you can use for pickleball lines on a tennis court. But if you're only playing it for recreational purposes in your own court, you can use any color based on your preference.
Conclusion
When looking for the best tape for outdoor pickleball, we've to consider various points such as its stickiness, weather proofness, price, visibility, and so on.
Regardless of the option we choose, we want to ensure it marks the pickleball court perfectly so that we don't get confused about which lines are the actual line of the pickleball court.
We've reviewed six heavy-duty court tapes suitable to use for various surfaces. Some of them have a higher price than others due to their incredible durability than others.
But we've still mentioned some affordable options too as we know people's budgets vary from one to another.
Hopefully, you'll pick the right court tape based on your preference to create a pickleball court temporarily.