Maintenance of pickleball courts is something we do in a variety of ways. Regularly cleaning the pickleball court is one of them. But, How to clean pickleball court?
Different types of dirt and debris may accumulate on the pickleball court surfaces. This reduces playability. Also, it makes the surface risky for slippery issues.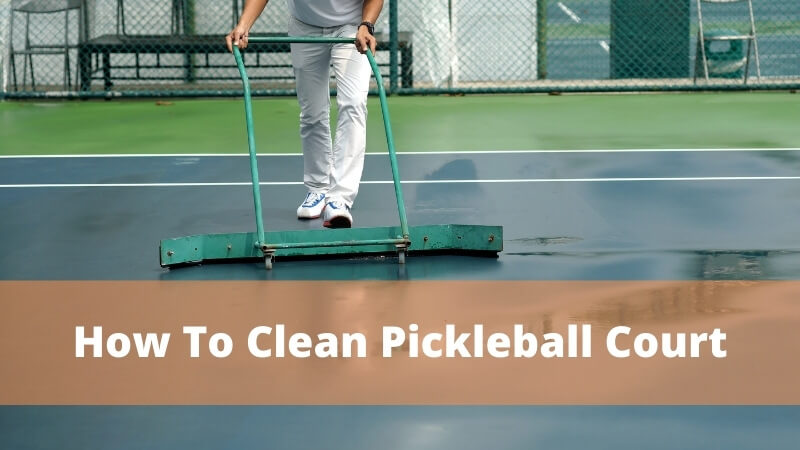 Do you know how to clean pickleball court? If not, nothing to worry about! Here we're sharing a simple and effective method to clean the pickleball court easily. Let's begin!
How To Clean Pickleball Court
When you want to clean your pickleball court in a professional way, these are the steps you need to follow.
Step 1 — Do a Patch Test
Before cleaning the entire court, do a patch test in one corner of the court to determine the ideal pressure for the particular surface.
Step 2 — Sweep and Clean
Over time, lichen, moss, and algae may have accumulated on the court surface when you've not used it for a long time.
Use special cleaner sweeps, which sit 48mm above the court's surface. This will remove all annoying things from the service by delivering a massive quantity of water.
Step 3 — Do a Pressure Wash
Pressure wash is necessary once you've done a deep cleaning or sweeping phase. This'll remove all the loose debris from the court surface easily. The court will be super clean and fresh.
Step 4 — Use a Fungicidal Treatment Product
The last step involves using a fungicidal treatment product, which will prevent mosses, fungi, and other various micro-organisms from growing on the court surface in the future.
If you've all the tools to clean your pickleball court, you don't need to hire any professional service. It's a lengthy task that will require substantial time to complete.
Regular Cleaning Of Pickleball Court
Regular cleaning a pickleball court shouldn't be a hassle task. You just need some handy tools to perform this task effortlessly.
Tools you'll need
A broom
A duster
A water-broom or water sweeper
Regularly sweeping the pickleball court is necessary since various dust and tree leaves may fall on the surface. You can use an excellent broom to clean them.
Another important tool is the water-broom. This comes in handy to remove the extra water after heavy rain. You can take it as the same gear, which is used on a tennis court.
Use the water-broom to sweep all the water from the court surface. Make sure to remove water from the edge area too. Plus, squeeze out water accumulated inside the broom properly and repeatedly before using it.
In order to clean the net poles, you want to use a duster or rag. Various substances can also be removed from the door handle using this tool. If you don't have any duster, using a damp cloth will be okay too.
These are handy and regular basis cleaning approaches. There's no hard and fast rule to clean your pickleball court regularly.
Practicing this cleaning approach will save your pickleball court from getting damaged heavily. Most importantly, it keeps your court fresh and clean as you're cleaning it regularly like your house.
How Often Do You Need To Clean A Pickleball Court?
It depends on where your pickleball court is located. Does the area is prone to have a lot of dust, dirt, or tree leaves? Do you play every day in your court? Do many players move in and out on the court every day?
As a basic cleaning to remove dust, grime, or leaves, you can do it once or twice a week. If your court is in a shaded area, a deep cleaning is necessary at least twice per year.
However, everything depends on how heavily players are using the court. When you do regular cleaning every day, it reduces the necessity of heavy cleaning.
How Much Does It Cost To Clean A Pickleball Court?
Not all people can clean a pickleball court professionally. Or, they may don't have the tools or time to clean it. In such cases, hiring a professional service for cleaning pickleball courts is better.
A professional service provider may charge from $150 to $300 to clean your pickleball court based on its conditions. However, you don't have to spend as much as you do on a tennis court as its size is huge.
If the court is not used for an extended period, the cost may increase. You may need to paint the line and resurface the pickleball court.
Conclusion
When you want to ensure a fresh and clean environment on your pickleball court, regularly cleaning it is necessary.
Routine-based cleaning will reduce the necessity of heavy cleaning. You'll save money, and more importantly, the court surface won't be damaged.
Hopefully, you got a clear overview of how to clean pickleball court. Make sure to take care of your pickleball court appropriately.