Many pickleball players use knee braces to prevent knee injuries or keep their knees pain-free. Different types of plastic, foam, metal, or other materials are used to make knee braces. Several colors, designs, and shape options are available for knee braces.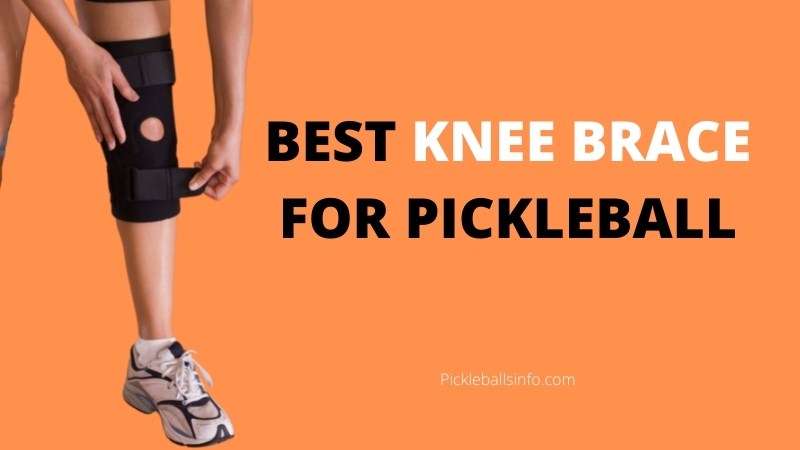 While looking for the best knee brace for pickleball, you should give more importance to its comfort and whether it can help prevent knee injuries. Because you don't prefer to compromise your playability. Having a perfect knee brace ensures you can give more focus on your pickleball game.
After checking out several knee braces and collecting customers feedbacks, we have finally picked the top 5 knee braces for pickleball. Let's dive in to find them!
5 Best Knee Braces For Pickleball
1. DOUFURT Knee Brace with Side Stabilizers
Have you tried many knee braces but still could not eliminate the knee pain issues? If yes, you can't go wrong with the DOUFURT Knee Brace with Side Stabilizers.
Playing pickleball games requires a lot of energy, especially when you run back and forth. That's why you need a well-made knee brace to support your knee pain during the gameplay.
This knee pad has an innovative design with its free opening, allowing users to snuggly fit it around the knee. You will get immediate comfort after wearing it.
Make sure to apply it correctly. Once you do it, it will stay in position all day long. Besides, you can wear the knee brace for even 24 hours continuously. However, we still suggest you take your physician's permission before doing it.
The unit is made from neoprene 63%, nylon 32%, and spandex 5%. Black color is only available for this unit so it will be unnoticed under your leggings.
An elastic pressure belt is equipped with this knee brace. Hence, you can adjust the tightness level for a better fit.
What's more, the inclusion of a medical gel loop ensures better knee coverage and protection. Plus, soft and elastomeric metal strips cover each side of the knee brace.
The manufacturing company uses neoprene material to ensure proper airflow while wearing it. As a result, you won't feel uneasy even during the summer season. On top of that, this material has moisture-absorbent properties to keep your knee area moist-free.
Four different size options are available for the DOUFURT Knee Brace. This unisex brace is suitable for all groups of ages. You will only find only a few knees stabilizing wraps like this one on the market.
Pros
Easy to wear
Several size options
Provides ample support and comfort
Absorbs sweat
Fits well
Cons
Quickly loses elasticity than other options
2. Mueller Hg80 Hinged Knee
Are you looking for a functional and supportive knee brace for your pickleball game? Mueller Hg80 Hinged Knees provide an unmatched level of functionality with their hinged design. In place of an open patella, a closed patella is used for this unit.
It is a simple pull-on knee brace. It is aluminum tri-axial so there are three pivot points on the hinge, which offer you really good support when bending and take away the pressure on your knee. So, you will have complete flexibility for your knee joint.
The unit has two steel spring stays on either side. It is designed with really light moisture-wicking material specifically for sport and for everyday use.
The Mueller Hg80 Hinged Knee fits left and right knee easily. As it is made from comfortable lightweight mesh material, it breathes pretty easily. Most users rated this knee brace user-friendly and pretty airy. Plus, there is no neoprene in the material, making it easily washable.
It is a really comfy and thin sports brace. On the back, the material is pretty thin. As a result, you can keep it fresh and clean by putting it in your washing machine or wash bag.
With the Upper strapping system, the brace will stay in position once you fit it perfectly. Therefore, you don't need to adjust it repeatedly as it won't slip.
However, make sure you know the right knee brace size for you. Ordering the wrong size may put you in trouble as you will feel discomfort. You will get a satisfactory level of knee support from this knee brace.
Pros
Comfortable to wear
Breathable
Machine washable
Three pivot points
1-year warranty
Cons
Need to be careful to choose the right size
3. Mcdavid Knee Brace
One of the most popular knee braces is the Mcdavid Knee Brace among pickleball players and others people who play different active games.
Whether you want to reduce your knee pain or better recover from sudden knee issues, this knee brace can provide support for all aspects.
This model is built to protect your knee with its elongated shape, surgical steel stabilizers, padded patella buttress, and contrived straps. What's more, it fits perfectly on both legs.
The unit offers a well-balanced combination of stability and comfort. Its open patella design makes this brace unique. So, compression is directed around the kneecap due to its design. Plus, the kneecap won't feel crowded or overheated while receiving targeted meniscus support.
You will get a perfect fit with no loose movement due to its adjustable cross straps. Additionally, while running around your pickleball court, the knee brace will deliver additional support for your upper and lower knee area.
The inclusion of geared side hinges for this knee brace provides enhanced support and stability. So you are limited to keep your knee in a particular movement.
Mcdavid uses a compressive neoprene material for this knee brace to provide a comfortable and warm feeling while wearing the brace.
It is also equipped with an airy back panel to absorb sweat while playing or working out. Therefore, you can focus more on gameplay as your knee will remain moist-free, cool, and comfy for a prolonged time.
This knee brace has probably everything a pickleball player needs. So, you will surely benefit from this unit if you are facing any knee issues.
Pros
No overheating issue
Flexible straps
Wicks away moisture
Perfect function
Heavy-duty construction
4. Mueller Omniforce Knee Support KS-700
Is your knee weak, sore, or bruised? If yes, you may want to try the Mueller Omniforce Knee Support KS-700.
The unit is made with a special method to aim at compression spots. You will get constant compression on your knee areas with decent stretching abilities.
Whenever you are playing a pickleball game or doing any workout activities, put it on your knee. It fits better without having to worry about slippage issues or too tight. So, while running around the court, you will have no uncomfortable feelings.
Furthermore, the knee brace features a gel buttress, delivering additional support to your kneecap. You will get added benefits for your sore or weak knees. Having support for your joint boosts your confidence level while playing your pickleball game or other activities.
The manufacturing company uses a unique material for this knee stabilizer, making it lightweight, breathable, and super comfortable. You will not have any awkward disruptions while playing your game.
During exercise, the knee support does not become itchy due to the fabric's breathability and sweat-wicking properties.
The Mueller Omniforce Knee can be chosen from three alternative sizes as per your knee measurement. But they offer only one color option.
Pros
Special fabric
Long-lasting comfort
Perfect for several types of knee injuries
Basic compression support
Remains in place
5. UFlex Athletics Knee Support(cheapest)
If you are looking for an affordable knee brace without compromising the quality, you can't overlook the UFlex Athletics Knee Support. It is one of the chart-topping knee braces on Amazon with more than 23 thousand reviews.
The knee support is available in 4 different colors and 4 different sizes. Ample options to choose from! People who have already experienced stiffness, soreness, or swelling issues in their knees, you will get more support from this knee brace.
It also works when you want to prevent knee injuries. You'll feel supported without having to slow down since it offers an ideal balance between stability and range of motion.
You won't have to worry about being heated as the fabric is enough breathable to keep your knee area cool and sweat-free.
In addition, it features non-slip silicone grips, providing you enormous support to prevent unwanted slippage while playing a pickleball game.
Apart from keeping your knee injury-free, the unit can relieve pain. You will have long-lasting comfort while wearing it all day long. It ensures constant blood flow in your knee areas.
It features a 4-way stretch capability, making it more flexible and a must-have option for super active players.
The manufacturer uses first-grade fabric to ensure its durability. To maintain its freshness, you can also wash it with your hands.
Pros
Breathable and waterproof fabric
Excellent compression
Gives pain relief
Perfect for heavy workout activities
Advanced design
Hand washable
Cons
Not machine washable
Size may too large for short people
How Do I Choose A Knee Brace?
It is best to consult with an orthopedist before choosing a knee brace because he will inspect your knee conditions and suggest you the best one based on them.
These are a few factors to think about when selecting a knee brace for pickleball.
Comfort
Whatever knee braces you pick, it must provide comfort throughout your pickleball game. You should not feel uneasy while wearing it.
Better Fit
Unless a knee brace perfectly fits on your knee, you will not get as much support as you want. Choosing the perfect size is important for a better fit.
Fully Adjustable Support
With an adjustable knee brace, you will have no issue moving back and forth in the court as it features steel springs for adaptivity.
Flexibility
While choosing a knee brace, make sure it is flexible to slide off or on easily.
Enhanced Protection
A decent knee brace will keep your under-knee protected while keeping the knee in good shape.
Practical Solution
Try to choose an intelligently designed knee brace that can provide a solution for on and off the court.
FAQ
What Is The Difference Between A Knee Brace And A Knee Support?
High-quality knee braces are designed to control and restrict the motion of the knee. Many people who have past knee injuries also wear them.
You won't find any dissimilarity between knee braces and knee supports but their built-in quality, design, and structure may vary based on brand. They are just synonyms to each other.
Is It Bad To Wear A Knee Brace All Day?
Your knee issues and physical condition will determine whether you can wear it all day long or not. You should take suggestions from your physician whether you should use knee braces all day long or not. If he/she allows, you can do it. But make sure you wear it properly to avoid knee damage.
Do You Wear A Knee Brace Over Or Under Leggings?
Over or under leggings, knee braces are suitable for use. When you wear a knee brace under leggings, try to wear baggy jeans or sweatpants to ensure comfort and perfect fit. On the other hand, if you want to wear knee braces over leggings, choose skinny, thinner, and yoga-type leggings for a secure fit without movement.
How Do I Know What Size Knee Brace I Need?
You should consider your calf and thigh length when deciding whether a knee brace is right for you. Having a perfect size knee brace means it snugly fits your knee area without feeling uncomfortable.
For information about measuring knee braces, you can check out this post.
Final Thought
So, which one is the best knee brace for pickleball you think? Several options have been discussed in detail, giving you more scope to choose from.
The reviews we provided should also have helped you narrow down your choices. Your careful assessment of each item is all that is required to find the best option.
Whatever option you pick, make sure it fulfills your requirement so that you can play your pickleball game freely without having any knee injuries. Thanks for reading!