Do you need a new pickleball paddle? After trying out PROKENNEX Kinetic pro speed 2 paddle, I fell in love with it! In this article, I will share this Kinetic pro speed pickleball paddle review.
The Kinetic Pro Speed 2 is a great choice if you are looking for a quick paced game because of its lightweight and stiff design which makes it easier to swing. It also has an aggressive grip that is easy on your hands while giving you control over the ball, making this paddle my favourite so far.
The Kinetic Pro Speed 2 comes with Prokennex Kinetic technology which makes it one of the best pickleball paddles for tennis elbow.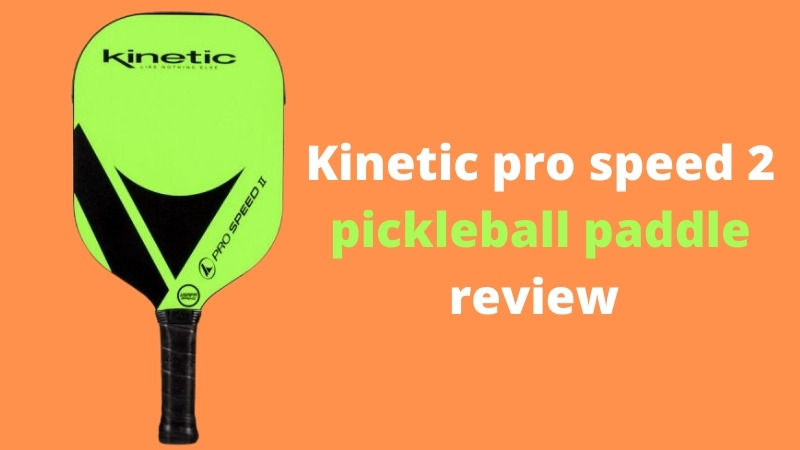 If you want to find more reviews on different pickleball paddles, then stick with us till the end of this post. Where we talk about all aspects of the paddle such as weight, material, control, spin and power.
Kinetic pro speed 2 pickleball paddle review
Key features
Paddle Face: fiberglass
Weight: 7.7 – 8.0 ounces
Paddle Length: 15.43″
Paddle Width: 7.6″
Grip radius: 4 ″
Grip Length: 4 7/8″
Replaceable Air-O-Guard Bumper System
The Basics
It's hard to find the paddle that allows you to play your best. That's why ProKennex designed this newest pro speed 2 pickleball paddle with every serious player in mind. So, if you're looking for a lightweight, well-balanced and extraordinarily controllable paddle then read on this review!
The Kinetic Pro Speed 2 Pickleball Paddle is the pro's choice. This pickleball paddle features Kinetic System Technology with Carbon Casing, which provides a large sweet spot for increased accuracy and power while on court.
Moreover, The Kinetic Pro Speed 2 Pickleball Paddle is perfect for the player who is looking for speed and maximum control. The air-o-guard bumper system takes care of all safety issues on the edge of the paddle, but also means more space for gripping.
The Materials
Kennex Kinetic Pro Speed 2 paddle is designed to provide maximum power, control, spin, and touch, as well as help players get around the court faster. The Kinetic Pro Speed 2 pickleball paddle is a composite paddle with a 7-layer coating.
The Kinetic Pro Speed 2 Pickleball Paddle is perfect for the player, who needs a paddle that maximizes their game.
This paddle was designed with a carbon sleeve, which provides the paddle with more stiffness and responsiveness. This paddle is great for all levels of play and is great for beginners too.
This lightweight and durable paddle also features an innovative design with patented 7-layer coating materials to allow players of all skill levels to play at top level performance. The minimalist appearance not only enhances user experience, but also improves it's comfortable too.
Prices pulled from the Amazon Product Advertising API on:
Product prices and availability are accurate as of the date/time indicated and are subject to change. Any price and availability information displayed on [relevant Amazon Site(s), as applicable] at the time of purchase will apply to the purchase of this product.
The Grip
If you're looking for a pickleball paddle that is comfortable and easy to grip then look no further! This Kinetic Pro Speed 2 Paddle has everything you could want in your next game.
Kinetic Pro Speed 2 Pickleball Paddle is designed for individuals who are looking to up their game with the ultimate paddle. The ultra-grip texture also ensures that any hand cramping or slipping due to sweat are eliminated, guaranteeing you an ideal grip no matter how hard the game gets!
The pickleball's circumference size of 4 inches gives players a tight hold when playing this intense sport. You'll be able to breeze through anything because Kinetic has made it possible by giving you a longer handle length of 4.87″.
The weight and Durability
The Kinetic Pro Speed 2 is a great paddle because it's sturdy and lightweight. It has not only the right amount of flex, but also enough pop to return balls with ease. It will be comfortable for all skill levels of the player to play with it!
This product expertly balances top-notch durability with mobility. The Kinetic Pro Speed 2 has 7.7 ounces per paddle weight which makes it easy on the hands for players at any level – from beginner to professional.
Moreover, the Kinetic Pro Speed 2 features a light-weight carbon fiber casing and Air-O-Guard bumper system to reduce vibration and ball deflection while maximizing ball control. The 4 7/8″ handle is constructed with a lightweight yet durable aluminum shaft that provides comfort for players of all levels.
Conclusion
The Kinetic Pro Speed paddle is perfect for players who want a little extra from their paddle. The Pro Speed sports a 7-layer coating with a patented complex composite that creates a softer feel but maintains good ball bounce and high level performance.
The Kinetic Pro Speed is a great paddle for players who want to move at a faster pace, but don't necessarily want to sacrifice all the spins and shots that can go along with it.
This paddle builds your game with the speed you need to approach each stroke with confidence. This paddle is a well-balanced pickleball paddle with excellent maneuverability, and offers an excellent connection and feel with the ball during serve, overhand, and slice shots.