Paddletek Tempest Wave Pro Pickleball Paddle is a popular and premium paddle. Whether you want to play casual or tournament games, this powerful paddle is perfect for all purposes. Quite possibly, this is one of the most complete paddles available in the market right now.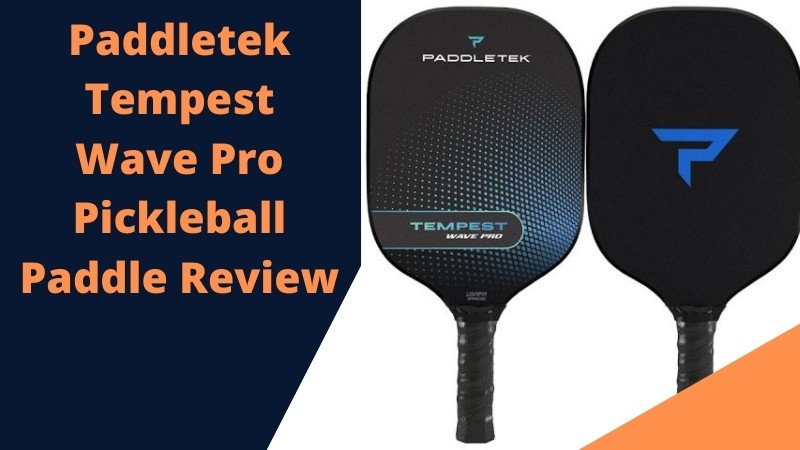 Let's take a look at this high-quality pickleball paddle in this post. After reading this Paddletek Tempest Wave Pro review, you will figure out whether you should purchase it or not.
Let's move on!
| Model |  Surface | Core | Grip Size | Weight | Price |
| --- | --- | --- | --- | --- | --- |
| Tempest Wave Pro | Textured Graphite | Polymer |  4 1/8″ | 7.6 – 8 ounces | View on Amazon |
Paddletek Tempest Wave Pro Pickleball Paddle Review
A true revolution was born with the Wave in the paddling‌ ‌industry. An innovation from Paddletek is Tempest Wave, a two-player game that's geared for pro players.
Many pros have used this masterwork with great success, and the reason for that is not at all mysterious. This paddle enables you to play your way in the "Kitchen" and lets you win the game.
Fast, maneuverable, and comfortable, it exceeds expectations. If‌ ‌maneuverability is more important to you than power, and then this paddle is for you.
Specifications
When purchasing a paddle, specifications are essential. It's impossible to determine if a paddle is suitable for you until you know its grip length, face width, overall length, and other important features.
The overall dimension of this paddle is 16 x 8 x 1 inch. Its weight ranges between 7.6 ounces to 8 ounces. The length of the handle is 5.5 inches, which is pretty longer than standard handles. Additionally, it has an 8-inches face too.
Due to these dimensions, anyone of any size and shape can comfortably hold the paddle while still allowing them to execute trick shots and rebound quickly.
Paddle Head
Pickleball has undergone such rapid technological advancement in a short amount of time that it is amazing. Wood and Nomex were the only materials used by most people for a long time for paddles. But time has changed. Polymer and carbon fiber are now used as head materials.
However, no one can deny that each material has its advantages and disadvantages. But, there aren't many paddles out there with one of these great touches. Its polymer core can give the experience of an incredible level of control to play games. Best of all, no power is sacrificed.
From any part of the court, you can hit a kill shot. You have no reason to worry about the net controlling your game. It's a fabulous paddle in every way. In pretty much every aspect of the game, it excels.
Paddles like this one tend to be used for more finesse games. Because you will become better at picking out your shots and have more control in your hands. Most importantly, it's a versatile paddle that's suitable for all styles of play.
Design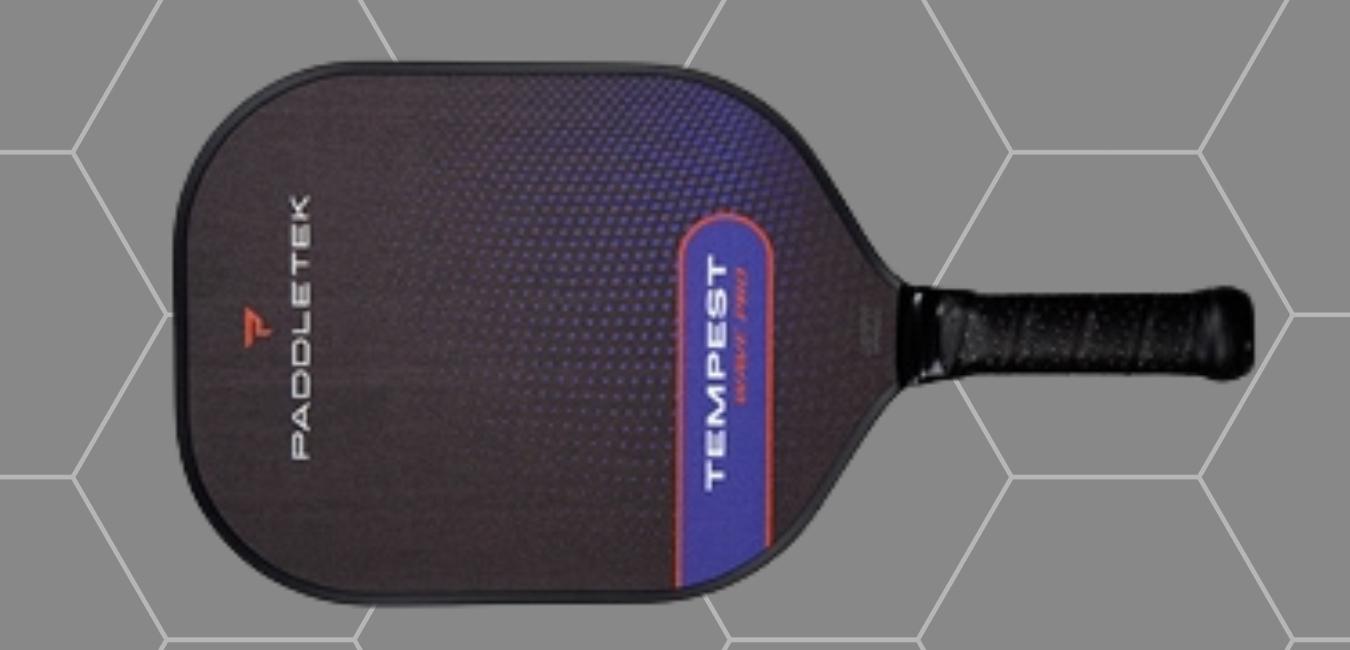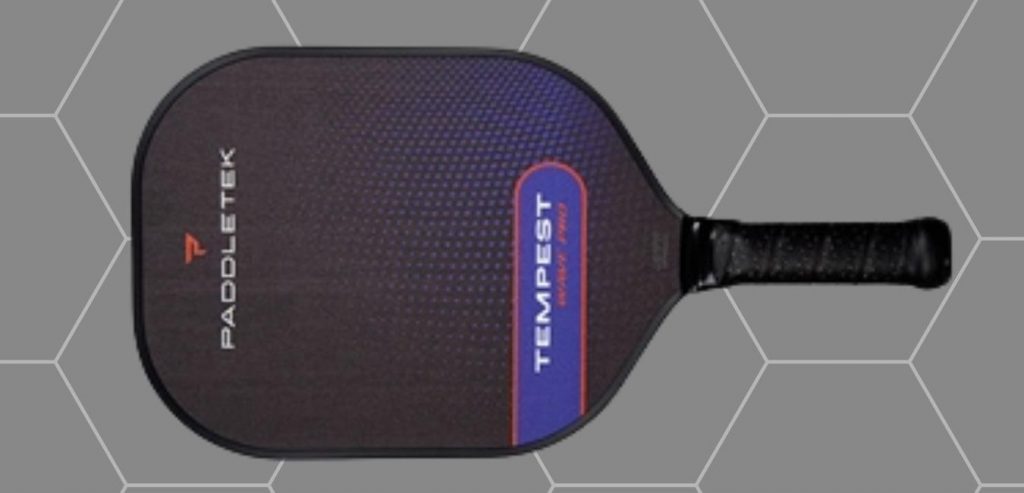 We have seen many paddles with professional-looking basic appearances, but the Paddletek Tempest Wave Pro is definitely one of the most impressive ones. Black background with a variety of accent colors is predominant, such as red, blue, and green. Graphite is used to provide a more durable, flexible, and maneuverable surface.
Graphite Face
The Tempest Wave pro has a graphite hit surface, which makes it extremely responsive. Reflection from the paddle face is enhanced due to this feature. On the face, the superior touch ensures powerful punches and a soft touch.
So why graphite face paddles give you advantages?
You will get additional pops while hitting shots.
It has a lightweight construction.
Your shots will be more powerful because of it.
The paddle makes it easier to handle‌ ‌the‌ ‌ball.
It gives your shot a distinctive attack style.
Generous Sweet Spot
You can expect superior and consistent performance from the huge surface, known as the sweet spot. It is traditionally shaped by 16 inches tall and 8‌ ‌inches wide. Regardless of your level of experience, everyone‌ ‌can‌ ‌enjoy‌ ‌it.
Handle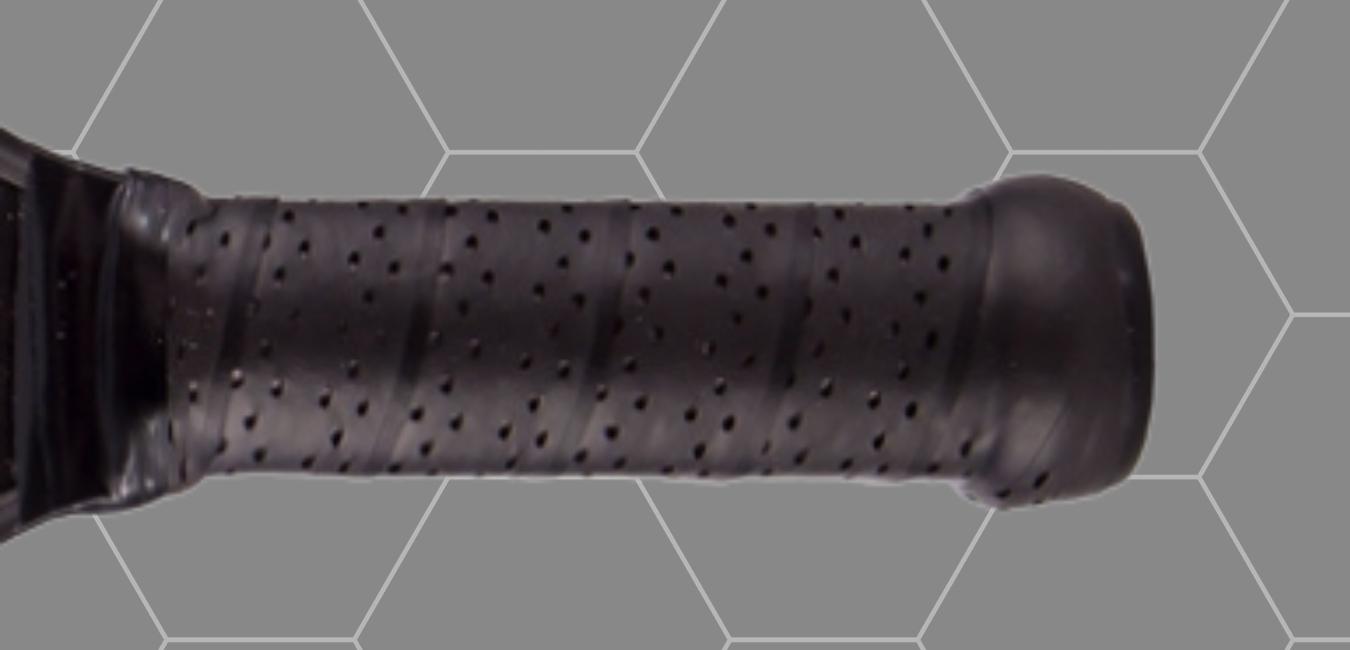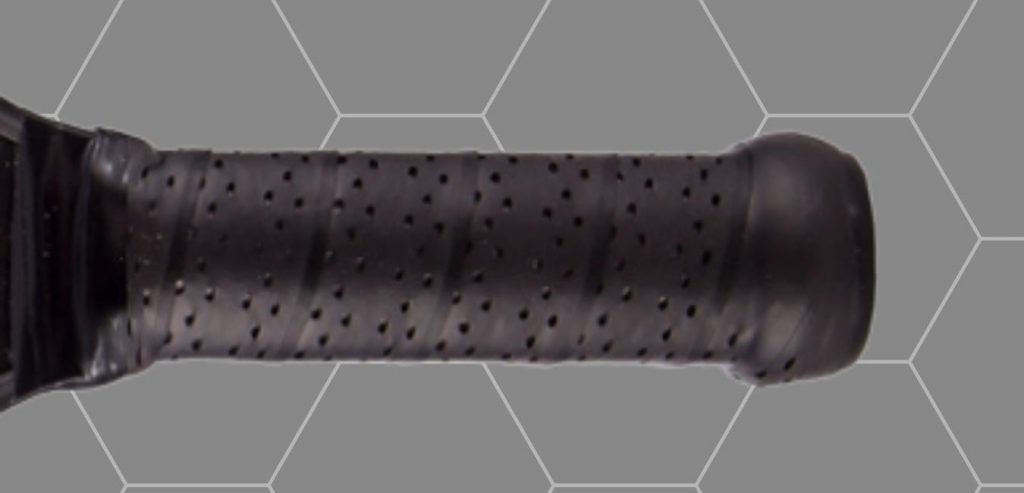 Paddletek Tempest Wave Pro Pickleball Paddle has a similar handle to‌ ‌a‌ ‌tennis‌ ‌racket. Hence, former experience tennis players will not face any issue at all.
The paddle met the expectations of most users. The grip feels great and it is comfortable to hold. So, when you play with it, it is convenient to hold.
Due to the 5.25-inches handle, it ‌allows you to set the weight of the object with greater responsiveness. Simply put, you have more control over the weight of the paddle because of its length.
It provides a variety of grip options, so it is up to you to decide what works best for you. Currently, you have the scope to choose between two options.
The high-tack, ultra-cushioned performance grip has a 4 3/8-inch diameter.
The high-tack, thin performance grip has a 4 1/8-inch diameter.
Perforations on the grip are excellent for absorbing moisture. The paddle is made comfortable to hold because of the cushioning built into them.
Like many high-quality paddles, this paddle has a well-built paddle and each shot feels like it is under your control. You can more easily perform overhead smashes due to the paddle's lightweight. Besides being handy for overhead smashes, this feature is also helpful for quick hits.
Smart Response Technology
The ‌smart‌ ‌response‌ ‌technology making this pickleball paddle more innovative and advanced to play a pickleball game more efficiently. Because of this technology, it becomes more rigid. With it, you're able to swing harder and more powerfully.
Weight
Heavy paddles don't give you a lot of flexibility to maneuver from backhand a forehand or to get that punch volley to get the paddle moving in the direction. As the Paddletek Tempest Wave Pro Pickleball Paddle comes with a mid-range weight, you can expect a decent level of maneuverability from this unit.
The weight distribution of the paddle makes switching from backhand to forehand easy. Simply put, the paddle has the perfect balance between not being too light nor‌ ‌too‌ ‌heavy. With simple hand movements, you can move to control the ball easily. Despite this, you're still able to utilize more power.
Due to its advanced design and weight, this paddle creates a powerful force. It has ample power and pops to put the ball away.
Impressive Control
Ball control is not about hitting the ball as hard as you can. It should be about consistency hitting, unattackable Dinks, and not making unforced errors.
You can obtain unparalleled control and accuracy when placing the ball by using this pickleball paddle. A strategic player will find this paddle especially useful since it prioritizes precision and speed.
It has a superior feel and control and especially the doubles game. Also, beginners will be happy to play with this paddle because of the superior feel in control.
USAPA Authorization
Unless a paddle is approved by the USAPA, you can't use the paddle to play any professional tournament. Thankfully, Paddletek Tempest Wave Pro Pickleball Paddle has been approved for tournament play by the USAPA.
Warranty
The Paddletek Company offers a limited lifetime warranty for defects in manufacturing, workmanship, and ‌dead‌ ‌spots.
What To Expect
With this paddle, you're guaranteed ample power. Due to the paddle's mid-weight and graphite face, you can play aggressively while using it comfortably. A graphite face gives you a solid feeling when you hit it hard. It's awesome!
Thought About Paddletek Tempest Wave Pro
Pickleball paddles do not get any better than Paddletek Tempest Wave Pro Pickleball paddles.
The surface is more textured. The surface of it consists of graphite and‌ ‌‌ ‌softer‌ ‌material. The third time you make the shot, you can curl the ball over the net.
By taking the power out of the other team's ball, you can win. Unlike other paddles, this one lets you spin more.
Occasionally, this masterpiece is unavailable in its blue color because of its immense popularity. Do not be discouraged. From the array of brilliant colors, you can pick the one you prefer.
Overall Impressions
Paddletek has produced many high-end paddles but definitely, the Paddletek Tempest Wave Pro is one of the best paddles out there. You will merely think anything missing out for this pickleball paddle. It's definitely a paddle worth your consideration if you're looking for a high-performance paddle at an affordable price.
Who Are The Best Users For Tempest Waves?
Almost all groups, classes, and all types of people can use this paddle. As we mentioned earlier, there's no doubt that the Tempest Wave is among the best paddles available. It is difficult to beat this paddle. Because of this, Tempest Wave is absolutely recommended for all users. Here are some details.
Beginners
In general, most experts recommend beginners buy inexpensive pickleball paddles. Buying expensive paddles might be risky for beginners because they don't get as hooked as others. That's why more affordable paddles are usually preferred for beginners. ‌As an exception, we are making some reservations in this case.
Though the paddle is somewhat‌ ‌pricey for beginners, the investment is worth it. If you are looking for a pickleball paddle as a long time investment, your pickleball experience will be enhanced by this paddle.
Taking care of it will ensure that the Tempest Wave lasts‌ ‌for‌ ‌years. Due to its unmatched quality, you may own this paddle for the rest of your life.
Intermediate Players
In our opinion, this paddle is most appropriate for a player who is intermediate in skill. Many intermediate players use paddles that are both insufficiently fitted and poorly constructed.
If you're serious about picking up your game, the pickleball paddle is a fantastic upgrade. ‌You should definitely check out the Tempest Wave if you have trouble controlling your shots at the net or hitting your shots too hard.
Advanced Players
You might be thinking advanced players will not get much benefit from this paddle. No! You are wrong! If you have long experience in the pickleball field, you will able to take more advantage of this paddle.
Wondering how? As you're already used to dinking and control, this paddle adds to your control. However, remember you may take a few days or weeks to get used to the paddle if you have been using a fully different paddle for a long time.
Paddletek Tempest Wave Pro Review Summary
Several important aspects of the Paddletek Tempest Wave Pro stand out.
First of all, the paddle is specifically designed for players who want to exercise strategic control. Polymer cores are highly responsive, with superior shock-absorption abilities.
Especially fast, responsive, and outstanding at applying spin, the textured-graphite paddle faces are ideal for ‌pickleball.
What's more, the paddle handle is a bit longer than most, making it comfortable to use. An easy-grip is facilitated by a thinner circumference.
The‌ ‌edge guard on Paddletek's paddles protects the face of the paddle. In addition, you get much less shock from your paddle on off-center shots due to the edge guard.
Pros
Long handles for extra comfort
Solid build throughout
Two grip choices
An extensive paddle face
Plenty of power and pop
Superior comfort and control
Smart Response Technology Core
Soft graphite surface
Ideal for all level players
Cons
A little bit pricey
The‌ ‌top quarter is stiff
Prices pulled from the Amazon Product Advertising API on:
Product prices and availability are accurate as of the date/time indicated and are subject to change. Any price and availability information displayed on [relevant Amazon Site(s), as applicable] at the time of purchase will apply to the purchase of this product.
Final Thought
Whether you are a complete beginner, intermediate player, or advanced user, the Paddletek Tempest Wave Pro Pickleball Paddle provides an exceptional gameplay experience. ‌Ensure a smooth pickleball life with no hassles.
Researchers and developers dedicate a lot of resources to creating‌ ‌perfect‌ ‌paddles like this one. Every part of this paddle synergizes beautifully with each other, which is one of the reasons for its success. Combining these features makes this paddle all the more powerful for the most intense gaming situation.
Playing soft games requires the right kind of finesse and control — this paddle can provide you everything you need. Combined with its ease of maneuverability, these points make it one of the highest-rated paddles available today.
It ensures fast, accurate, and powerful power shots every time. Hopefully, you have learned all the precise small details of this paddle from this Paddletek Tempest Wave Pro paddle review session. Happy pickleballing!