Here we come with another pickleball paddle. In this write-up, we will review Paddletek Tempest Wave 2.
Those who need to have control and touch on the court and want quality at a reasonable price should choose the Paddletek Tempest Wave 2.
In other words, a good choice for players who prefer controlling the trajectory of their attacks and the precise landing point of their hits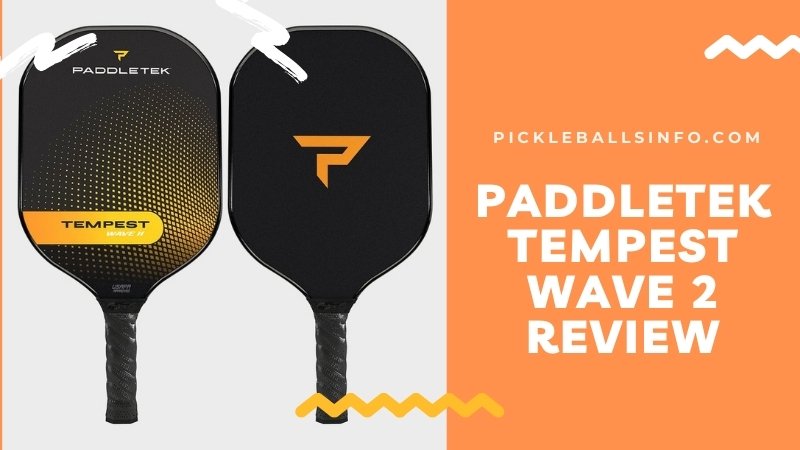 Control and power are well balanced with this paddle. It is one of the top choices among different levels of players. What makes this particular paddle so unique to us? Let's jump into Paddletek Tempest Wave 2 review!
Paddletek Tempest Wave 2 Review
Several Paddletek paddles have garnered highly high sales, but Tempest stands out among them. Before buying a quality paddle, we think about many things.
Ideally, it should match‌ ‌our‌ ‌playability. Here we are breaking each vital feature of this pickleball paddle. So, you can fully understand whether you should choose the paddle for your gameplay or not.
Graphite Face
Graphite pickleball paddles are phenomenal when it comes to reactiveness, and they are great when it comes to controlling.
Graphite is used to make the paddle's face. It is aimed at helping players to play every shot confidently with balanced power and control.
Read more "graphite vs composite pickleball paddles"
This material makes up the so-called "sweet spot," an area on the, particularly responsive paddle. When a hit comes off the paddle, it is the most optimal spot. The sweet spot of this paddle is larger compared to other typical pickleball paddles.
In addition, this paddle has no dead spots. You can hit the ball on purpose or hit it with part of your paddle you did not intend to.
Your spin is also improved due to the graphite face. Because when the paddle makes contact with the ball, the surface adds a slight "grab." As a result, playing with a paddle allows users to figure out the perfect sweet spot to hit the optimally. You will have more control or spin over the ball.
The Surface Area
Along with the grip, this paddle measures 15 7/8 inches long and 8 inches wide. A 1/8-inch edge guard is also included in this.
A pickleball paddle with these dimensions is known as "wide," which is well-known for its size.
With its wide surface area and ample space, the paddle allows you to spin the ball as you desire easily.
The Weight
Paddles with good touch and control are available on the market. However, focusing on paddle weight is also essential.
The weight of this paddle ranges between 7.4-7.8 ounces. You can categorize it in a mid-range weight paddle. It's lightweight enough for maneuverability but heavy enough to provide sufficient‌ ‌power.
Spinning paddles tend to be heavier than standard paddles. However,‌ ‌if‌ ‌you‌ ‌are‌ ‌looking‌ ‌for‌ ‌a‌ ‌paddle that spins well as well as being lightweight, you want to think about‌ ‌this.
Tennis elbow is not a problem for you if you use‌ ‌this‌ ‌paddle, but a heavier option might be even more satisfying.
Read more "5 pickleball paddles for tennis elbow issue"
The Grip Size and Feel
The Paddletek Tempest Wave 2 comes with a standard grip, measuring 5 ¼ inches in length. Additionally, the grip circumference is 4 ¼ inches. However, if your hands are small, you may want‌ ‌a‌ ‌smaller‌ ‌grip.
On the other hand, pickleball paddle overgrips are available if you have too large hands. Like tennis rackets, having a comfortable grip is crucial to achieving control and spin.
The Paddletek Tempest Wave 2 comes with the "Ultra Cushion High Tack Performance Grip," similar to other Tempest models. You'll recognize how well they feel in your hands if you have already played with the older paddles in that range.
It is a rectangle-shaped handle rather than a rounded one, very tacky to handle. You will really like the feel of holding the grip.
Edge Guard
An edged shock guard is built into the paddle face of Paddletek. Due to the edge guard, shocks and vibrations are distributed evenly throughout the paddle face so that the paddle can be controlled even better.
Paddle Core
The Paddletek Tempest Wave 2 comes with a unique paddle core. It is a purposely intended top-quality Graphite Polymer Composite Honeycomb Core that is ultra-responsive.
The PolyCore is outstanding for dispersing vibrations and shock from shots at the net. As a result, you can return the ball more accurately.
The PolyCore is excellent at putting away winning shots in abusive situations because it provides the paddle with major 'pop.'
Nothing beats the combination of textured graphite paddle face and the Tempest PolyCore. Wondering why? You can implement strategic play to control the ball more efficiently because of these two materials.
Apart from being super-responsive, noise restrictions can be met at facilities with this PolyCore.
Additional Spin
Do you know many customers named this paddle a "spin-creating paddle?" Due to its sizeable smooth surface, it allows players to spin more compared to other typical paddles.
Hence, if you are looking for a paddle with extra spin, The Paddletek Tempest Wave 2 is undoubtedly a brilliant pick.
Enhanced Flexibility
Maneuverability is one of the main for any pickleball player, whether you play a tournament game or just for a time-pass. Due to the graphite construction on this paddle, you are free to bend the ball wherever you like with this pickleball paddle. In addition, power is created in the ball, which increases speed, pace, and control to a great degree.
A Perfectly Balanced Paddle
Pickleball paddles made from this material feature a sturdy structural design that makes them the ultimate choice. Made of supreme materials, it is durable and stable layer by layer. This pickleball paddle delivers power and performance and is designed for the highest level of play.
Unexampled‌ ‌Control
Precision and speed are the hallmarks of the Tempest series. Players who wish to be more strategic should consider this paddle.
With added spin and speed made from premium quality material, this is the most accurate, and stable shot you'll ever take. It has a supportive and comfortable high rack ‌grip to make you feel comfortable while holding the paddle.
Construction & Durability
Paddletek patented a new material for the inside of their paddles, called PolyCore. These paddles have a dampening effect of reducing noise, making them suitable for areas that need to remain quiet.
Durability is also a strong point with the Paddletek Tempest Wave 2. Despite being beaten, its performance remains unaffected. As well as a lifetime warranty, it comes with a‌ ‌guarantee‌ ‌against‌ ‌dead‌ ‌spots.
Power
As soon as you start playing with the paddle, you will feel how powerful and solid the paddle actually is. Though it is pretty lightweight, it doesn't compromise the power. The top-spin power serves can sometimes prove to challenge to handle for many players. This paddle is better than my normal one.
Balance
Good balance is the hallmark of the paddle. At the NVZ line, your hands will feel fast and relaxed. Weight and balance probably make a good combination. Blocking opponents' hard shots will be easy for you using this paddle.
If you prefer a lighter paddle with a fairly conventional shape that fits most hands, then this paddle would be perfect for you.
Who can play with this paddle?
Beginners and amateur players are best suited to use this pickleball paddle. However, practicing with this paddle is easy for advanced players.
Concerns
There are merely any things you can complain about this pickleball paddle. However, after reviewing many customers' feedbacks, we have found only two minor issues about this pickleball paddle.
Firstly, the pickleball paddle has a slightly sticky surface, making it a little bit complicated to clean the surface. Hence, you should clean it regularly to avoid stickiness. It will be best to clean it after every heavy gameplay to ensure perfectness for the next gameplay.
Secondly, some customers complained their pickleball paddles got some scratches after playing it within a few months. Though it is normal to have scratches, it is also normal to have too many scratches.
Another minor thing (Not actually one) is its price. Though the price is excessively high, it has a little bit high price compared to other models.
Pros
Mid-range weight
Generous sweet spot
Standard grip with maximum comfort
Decreased vibration and shocks
Responsive surface
Easy to handle
Advanced craftsmanship
Improves playability
More control over the ball
Cons
Sticky surface
May get some stains
A slightly high price than similar models
Conclusion
This paddle has many features that make it a unique paddle. Beginners and intermediates alike will enjoy playing with this Paddletek Tempest Wave 2. The paddle will provide you with reasonable control over shots, excellent performance, and high-quality results. Hopefully, we got you covered everything about this pickleball paddle from our Paddletek Tempest Wave 2 review. Enjoy playing pickleball!