Bottomless options are available in the market, and a lot of players are curious about which paddle is going to be the best for them.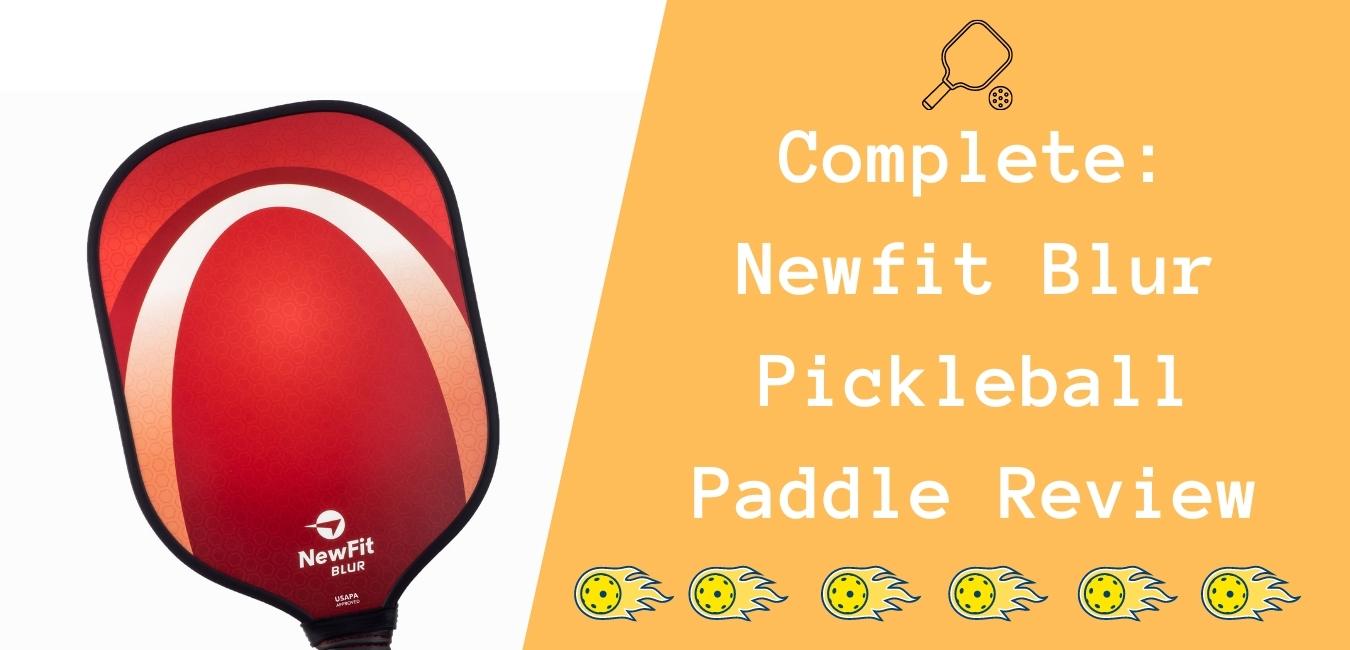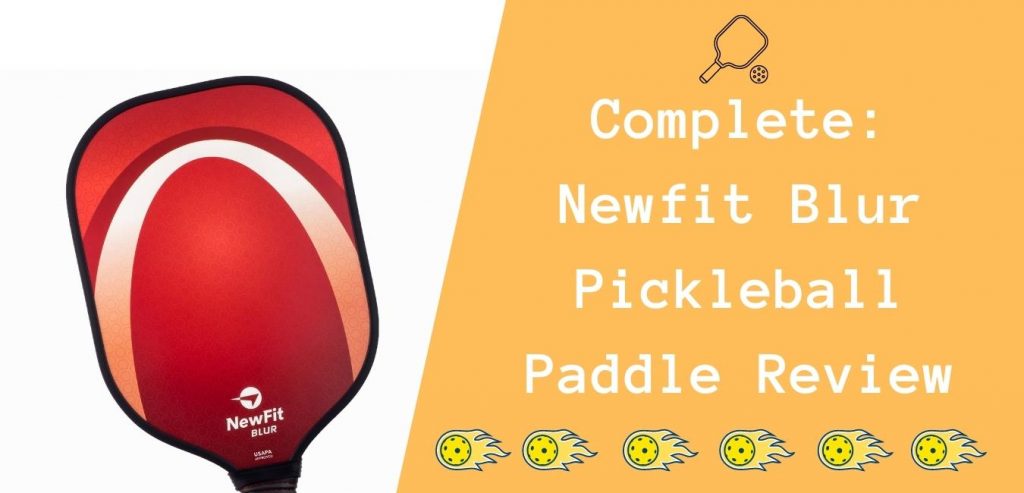 If you're looking for an all-around paddle, a paddle like Newfit Blur with a graphite face and a polymer core can be a good choice you can consider. It will give you playability of touch and power and all-around performance for whatever level player you are.
After testing and going through a lot of Newfit Blur pickleball paddle review, we are going to share a depth review of this paddle. Let's dive in!
Newfit Blur Pickleball Paddle Review
NewFit Blur Pickleball Paddles
QUIET POWER AND CONTROL - Feel that perfect pop - The graphite face reacts to the ball, delivering the best feel and control and the advanced honeycomb core is optimized for striking power and large sweet spot while reducing sound.

FAST AND DURABLE - Be quick at the net - BLUR is the most popular weight (7.8-8.2oz), which gives you just the right balance of power and control; And it's engineered to last, with carbon fiber and polymer honeycomb core extending throughout the pickleball racket

PREMIUM GRIP - Play longer - The ergonomic grip is inlaid with specially formulated cushioning to dampen vibration and reduce fatigue; Perfect playability with grip long enough for mens and womens hands and ideal 4.25 inch circumference.

100% SATISFACTION GUARANTEE - Buy with confidence
Prices pulled from the Amazon Product Advertising API on:
Product prices and availability are accurate as of the date/time indicated and are subject to change. Any price and availability information displayed on [relevant Amazon Site(s), as applicable] at the time of purchase will apply to the purchase of this product.
Polymer Honeycomb Core
Polymer core means a perfect combination of power, control, and feel. The paddle core is mainly made from plastic materials. It does well to absorb the impact of the ball hitting.
This decent paddle neither makes you feel uncomfortable on the ears nor the arm. Due to its unique core, it can absorb both vibrations and sounds exceptionally well.
The paddle has a larger honeycomb compared to other material-based core, which means you will get more power. Its innovative honeycomb core design allows players to play for a prolonged time without being tired fast.
Graphite Face
Graphite materials are well known for being a lightweight yet powerful hitter. If you hit the ball properly, you can accomplish satisfactory results every time. Due to its shock-absorbent core, you will merely hear any sound while hitting powerful shots. More powerful shots! Less sound!
The surface is pretty smooth, but it can still impart a lot of spin on the ball. In addition, it is robust all the way to the edges while having an edge guard. However, you may not get adequate hitting power due to the edge guard. Because it may sometimes deflect off when you hit the ball.
Some players faced this issue while hitting the ball to the kitchen area. Hence you may not get a solid feel while the ball is going sideways.
But you can still control the ball efficiently based on your paddling skills. Additionally, it doesn't make excessive sounds when you hit the ball.
A Maneuverable Paddle
Do you know why maneuverability is required for a paddle? When a paddle has excellent maneuverability, it gives you a solid feel to hold it for a long time. It allows you to hit the ball in your desired direction.
Besides, it is pretty quick at the net. If you have a quick hand, it will make them even quicker. Even if you are slow-handed, it will still give enough help to hit the ball appropriately in the right direction.
This light and whippy pickleball paddle is an ideal pick for beginners and experienced players. Newcomers will able to hit more shots with great power. Contrarily, advanced players can get the racket around a lot faster. It will help them create a little more flexibility, a little more spin, and a little bit more pace on the ball. Plus, when you hit groundstrokes off the baseline at the net, the volleys are very clean and solid.
Powerful Sweet Spot
As it is a traditionally shaped paddle, it has a great size sweet spot. You can really hear the pop when the ball comes up the magical space on the paddle face. When the ball comes contacted on the sweet spot, you can hit the ball powerfully and consistently.
A Balanced Weight
Neither a too heavy nor too light paddle is good. A heavy paddle gives more power but less control. Conversely, too lightweight paddle gives you more control but less power. That's why a proper balance between them is essential. Thankfully the Newfit Blur pickleball paddle weighs between 7.8-8.2 ounces to give you a perfect balance between power and control.
Long-Lasting Durability
With high-quality materials and low profile edge guard, it ensures long-lasting durability. Apart from that, it comes with a protective cover to keep the racket safe from external conditions. Hence, it is undoubtedly a long-lasting investment.
Comfortable Grip
No matter how robust your pickleball paddle is, everything seems irreverent if you can't hold it comfortably. The overall grip length is 5 inches, while grip circumference is 4.25 inches.
What grip size is best depends on your playability, hand size, paddling skills, and personal preference. Since it comes with a standard size grip, you can keep your hands a little bit more relaxed. It fits most hands pretty well, and you will feel nice in your hand. Moreover, you can expect consistent shots. Its perfect handle allows you to get close to your groundstrokes.
Read More "How to Choose a Pickleball Paddle Grip Size"
A USAPA Approved Pickleball Paddle
You can't play any professional game and tournament when your paddle is illegal or doesn't have USPA approval. The surface, size, weight, materials, and other things of a pickleball paddle needed to pass the curtain standard set by the United States Polo Association. As the Newfit Blur pickleball paddle got the USPA approval, you can use this pickleball paddle to play different professional games and tournaments.
Performance
Power
You may underestimate this pickleball paddle power while holding it for the first time. But you will be wronged when you start playing on the court. It feels pretty solid and lighter to have the paddle than other pickleball paddles.
However, the weight distribution makes it seem lighter, according to many users. You can expect to play a wide array of shots with this paddle. You will receive your desired power without compromising anything in your touch game. But, it is not the most powerful pickleball paddle on the market.
Control
According to many reviewers, the Newfit Blur pickleball paddle is a worthwhile investment. It is perfect for players who are interested in playing a control, soft feeling game. More importantly, it is a thin paddle to offer your more control. This thinner paddle can transmit the feeling into your hand and to your fingertips.
Plus, it is pretty aerodynamic. So you will not get any drag while swinging it. It just cut right through the air like a sword.
Apart from that, the rebound of this paddle is pretty good. You can play shots in different angles to improve your skills.
This paddle has received high ratings by many users as one of the best pickleball paddles under $50. They liked its user-friendliness in terms of control as users can do far or close control. Many expensive paddles even don't have this type of control as much as this paddle has.
But it is not the best pickleball paddle regarding control ability. There are many first-class paddles available in the market. It may not be anywhere near them. But, it still stands one step ahead of similarly priced pickleball paddles.
Forgiveness
A player can have confidence in hitting shots with this paddle, thanks to the great forgiveness. In fact, it is something special about this product; cheap paddles tend to miss this point. Instead of worrying about where the ball goes, players can play at their full potential and boost their confidence for the gameplay. With a budget price tag, this paddle is one of the forgiving models.
Pros
Excellent value for the price
A light paddle
A great blend of power and control
Pretty smooth face
A great paddle for beginners
Feels good on the hands
Soft handle cover
Cons
Some customers complained the edge guard has spilled
Few users experienced their handles' base separated from the handle
Prices pulled from the Amazon Product Advertising API on:
Product prices and availability are accurate as of the date/time indicated and are subject to change. Any price and availability information displayed on [relevant Amazon Site(s), as applicable] at the time of purchase will apply to the purchase of this product.
Wrapping Up
As a beginner, we also want to invest in budget-friendly products without compromising the quality. That's where the Newfit Blur pickleball paddle comes to play. You can expect a satisfactory improvement in most aspects of your gameplay.
Most importantly, if you are bothered about the sound a paddle makes while hitting a ball, this paddle is a perfect choice. It is one of the quietest paddles, according to many experts.
Hopefully, after reading the Newfit Blur pickleball paddle review, you have learned everything about the products, from its quality, materials, weight, shape, grips to overall performance. Thanks for reading!