A prominent brand like Engage has already gained immense popularity in the pickleball world. Both professional and recreational players use these paddles in their games. A player can expect decent power, spin, and balance from most of their paddle.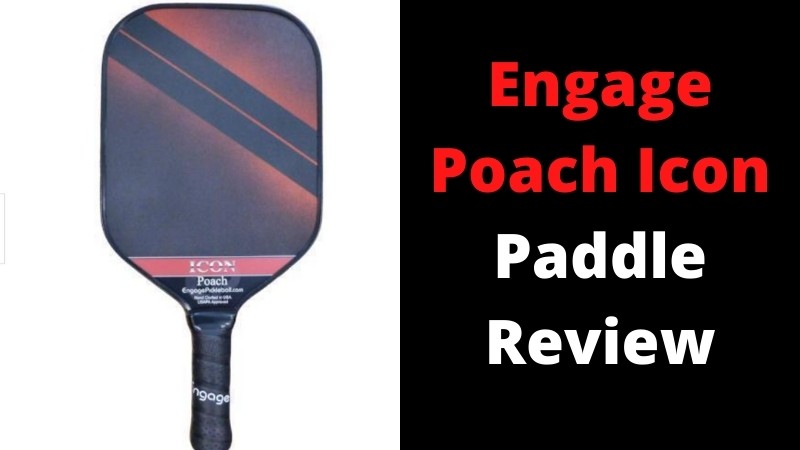 They are not famous for their gaudy design. Instead, they mostly famous because they can show reliable performance to make out the most from your paddling skills. In this post, we are going to review the Engage Poach Icon Paddle.
From this Engage Poach Icon Paddle review, you will learn every tiny detail about the product. Let's dive in!
Engage Poach Icon Pickleball Paddle
Specifications

Core: Proprietary Polymer Composite (Control Pro Black Technology)

Skin: Cutting-Edge Chemical Bond

Weight: 7.5 - 8.3 oz

Size: 16 long x 8 wide
Prices pulled from the Amazon Product Advertising API on:
Product prices and availability are accurate as of the date/time indicated and are subject to change. Any price and availability information displayed on [relevant Amazon Site(s), as applicable] at the time of purchase will apply to the purchase of this product.
Engage Poach Icon Paddle Review
Like other Engage Poach paddle, this paddle is also purposely designed to provide a particular advantage for your play style. There is a similarity between Elite Pro paddles and Engage Poach Icon Paddles skin, but they have a different core.
Do you know who uses this paddle to professional tournaments? Well, it is Corrine Carr who is one of the best pro women players currently. The pickleball champ won three pro-level gold awards during the 2017 pickleball tournament.
You can put your trust in these paddles when professional players are using them in their gameplay.
New Control Pro Black Core
A unique chemical process is used to make the core of the Engage Poach Icon Paddle. Due to this type of paddle construction technology, it gives several benefits.
For example, unlike other cores, New Control Pro Black Cores are slightly less prone to change the direction of the ball after hitting it. It gives you the additional advantage to control the ball more precisely as you can manipulate the ball for having a split-second longer.
Another impressive thing about this core is that it is becoming popular as one of the quietest core in the market. Hence, you can focus more on your game.
Fiberglass Face
The pickleball paddle has a fiberglass face, which is robust and slightly heavier than graphite paddles. But it is lightweight to play a wide array of shots with enhanced control. The inclusion of a fiberglass face makes it an excellent choice for both beginners and pro players. These paddles can help you to improve your game.
Body Dimension
The length of the pickleball paddle is 16 inches. It is a standard size that fits for most people. On the other hand, it has 8 inches width that gives lots of advantages to hitting most shots. The wider the body, the less chance you have to miss the shot. But of course, you need to have decent paddling skills to hit the ball. Otherwise, it will be no use.
Weight
If you are a professorial player, you know how important it is to pick the right weighted pickleball paddle. Sometimes an expensive paddle might not fit you as you may too light or too heavy to play with the paddle.
The weight of the Engage Poach Icon Pickleball Paddle ranges between 7.5 to 8.3 ounces. According to most users, this paddle has the right weight to feel solid and powered to play different types of shots.
As it is mainly a mid-weight paddle, you can expect a better combination between power and control. It is one of the best choices when you want both of them at the same time.
Grip Size
Correct grip size is a must to play the pickleball game the way you want. The unit has 5 inches grip length and 4 ¼ grip circumference. It is easily fit for any average size hands. However, if you have big hands, you can add an additional layer of overgrip to increase it.
Vibration Control Technology
It is common to experience vibration while playing solid and powerful shots. When you play several strong shots continuously, your hands may feel tense. Thankfully this paddle has vibration control technology that strenuously reacts to incoming vibrations. As a result, your hands feel relaxed even playing continuous hard shots.
USAPA Approved
USAPA approval is a must if you want to play any professional game or tournament. Thankfully, the pickleball paddle passed the standard set by USAPA, and it is suitable to play any professional games. More importantly, as many experienced players are using this pickleball paddle, you can pick it blindly.
Adequate Power
According to many experts, Engage Poach Icon Paddle has slightly less power than its previous models. However, it is not stopping you from taking shots quickly. You can also jostle the paddle too. Its decent construction gives your enough support to hit some massive power.
But like other expensive pickleball paddles, you will not get that save level support for non-sweetspot power and back-of-the-court power.
On the other hand, playing soft shots is arguably easy and fun with this pickleball paddle. You can focus more on playing smart shots instead of depending on power shots. So you get some top-spin on the ball, but it also has a really nice soft feel.
Decent Control
One of the biggest strengths of this Engage pickleball paddle is the handling of the ball. Its fiberglass face and polymer composite core make an excellent combination for enhanced control.
On top of that, you will feel more confident to play solid and free-style shots as you will gain more spin ability. Better control is essential when you want to play toward the net game or some trick pickleball game. Because top-level games are often solely dependent on your controlling power. Just aggressively hitting the ball will not make you win the game.
Even if you don't always play toward the net game, you can still feel the control at the back of the court. This pickleball paddle can help you play different back-spin or top-spin shots from the back line.
Plus, its new Control Pro Black polymer core responds distinctly based on the contact speed. That's why you will get more control than regular polymer cores for swinging slow or low—all you need to swing quickly to get more power for the gameplay. However, you may need to compromise the accuracy of your swing when you move faster.
Forgiveness
The definition of forgiving for a paddle varies from player to player. But there is one point everyone should consider. When you hit the ball incorrectly, but it is still going in your desired direction, it is a positive point you should count on. But if it happens only very rarely, it doesn't count on forgiveness. The more time it goes in the same direction, the more forgiving a paddle will be. We found this pickleball paddle performs impressively well on this point.
Another thing impressive thing about this product is that though we sometimes failed to contact the ball at the sweetspot, the ball still went where we wanted it to go. It supports the ball with decent power and control.
When a ball comes to you at high speed and risky angles, it becomes difficult to control it. But we found this pickleball paddle perform decently to return the serve at the accurate speed, angle, and direction.
Read More: Best Budget pickleball paddles for beginners.
Prices pulled from the Amazon Product Advertising API on:
Product prices and availability are accurate as of the date/time indicated and are subject to change. Any price and availability information displayed on [relevant Amazon Site(s), as applicable] at the time of purchase will apply to the purchase of this product.
Customer Reviews
It is essential to know about customer feedbacks about the product before buying it.
One long-time tennis ball player commented that she liked this pickleball paddle as it fits perfectly on her hand and gave her optimal comfortable while holding it. She loved its stability for volleys and easy spins generation. It helped her to hit the ball consistently with the good sweet spot.
Another customer shared that this mid-weight pickle paddle helped her to improve gameplay, especially for powerful shots. Also, she liked its well-made construction that has New Control Pro Black Core for efficient control and a good surface for better spin. He wished to have a little more accuracy to play the shot in a better way.
Pros
Comes with Control Pro Black polymer core
Has the approval of USAPA
Includes Vibration Control Technology
A winning combination of power and control
Doesn't make much sound while hitting the ball
Available in different colors
Used by many professional players
Perfect handle length
Cons
Not the most powerful pickleball paddle in the market
Narrow sweet spot compared other expensive paddles
Wrapping Up
As a regular pickleball player, the Engage Poach Icon Paddle is a decent option you can consider. Though it is not the most potent pickleball paddle in the market, it is an excellent all-around paddle with an incredible amalgamation of control, power, and forgiveness.
Both professional players and casual players will enjoy playing pickleball games using this paddle. One of the nice points of this unit is that it allows players to hit the ball consistently in their desired direction. The more time you use this paddle to play, the more confident you will become.
It is undoubtedly a premium pickleball paddle you can add to your paddle list. You will be infinitely happier to own this product. Hopefully, you have gotten a clear view of this pickleball paddle after reading the Engage Poach Icon Paddle review. Thanks for reading!