Are you looking for any entry-level pickleball paddle? When it comes to picking a pickleball paddle for beginners, special considerations must be taken into account like affordability, right shape, comfortability, right weight, etc. That's why we write this jp winlook pickleball paddle review.
To find such a pickleball paddle, you don't need to look any further than the JP WinLook Pickleball Paddle. After playing thousands of games with JP Winlook pickleball paddle, we can say it worth the price you pay.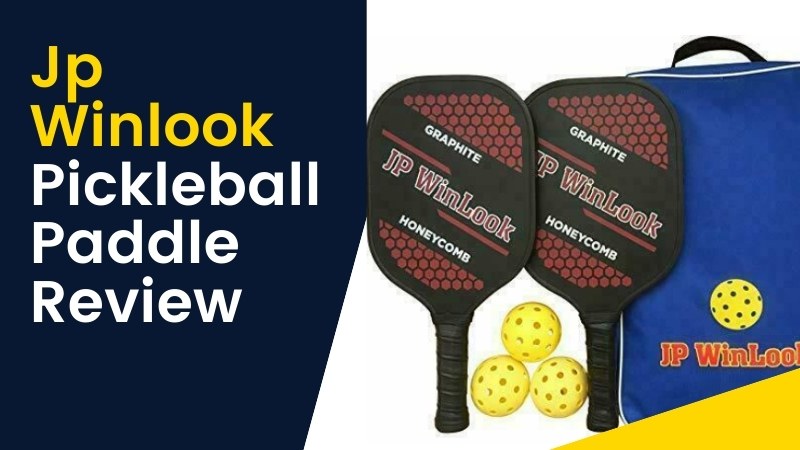 After reading the overview of this pickleball paddle, you will able to know every small detail about it. We also will share unbiased opinions on whether you should purchase this pickleball paddle or not, depending upon your playability. Let's move on!
A Complete Package
The JP WinLook Pickleball Paddle set comes with a complete package that includes all the necessary things you need to play the game. It includes:
Two paddles
Three pickleball balls
One protective cover
JP Winlook Pickleball Paddle Review
Polymer Honeycomb Core
Both pickleball paddles have a polymer honeycomb core that is the most widely used core in paddles. Users can expect powerful performance while playing different types of shots. However, it will still provide soft control for the touch shots to control the ball more precisely.
Most importantly, this core type is the best choice for absorbing noise and shock to provide a comfortable paddling experience. Hence, you will face no problem even playing in a professional tournament as it is compatible with most noise regulations.
Graphite Face
Both paddles include a graphite face to ensure powerfulness. This type of face makes the whole paddle lighter than other types of paddles. According to many players, they feel solid and lightweight while playing with this paddle.
Great power brings a long lifespan. You won't have to look for another pickleball paddle, at least for a while. Additionally, with the protective edgeguard around the face, it takes the product's durability to the next level. No accidental damage!
Wide Surface Area
With 7.75 inches width and 15.4 inches tallness, you can categories the paddle as a wide paddle. Its impressive surface design makes it suitable for both younger and adults. Hitting the ball with flexibility and stability is easy-going for this racket.
Furthermore, as it comes with a wider surface area, juniors or adults are less likely to miss most shots. With the right balance and reliability, you can return most shots perfectly. This is why it is a great pick for beginners due to the mix of control and dependability.
Right Weight
Weight balance is necessary to control the ball efficiently. Both paddles have a weight of 7.8 ounces —this lightweight design makes it a great choice for beginners and for people who are used to only play with light paddles.
However, it is not so lightweight that it won't allow you to play powerful shots. Instead, this medium-sized paddle will aid you in playing strong shots without sacrificing the power.
Comfortable Grip
Whenever we try a new pickleball paddle, we first want to experience how it feels while holding it. That's where the JP Winlook pickleball paddle to play.
Most users said that the handle grip is well padded and comfortable to hold for a long time. Its grip length is 4-1/4 inch and its overall handle length 5.27 inches.
This top-notch grip can easily fit small hands. Users who have large hands can also use it by elevating the grip size with grip tape.
Apart from that, the grip is crafted from a perforated, cushioned material that has sweat-resistant properties to hold the grip, especially in summer weather comfortably.
Protective Blue Cover
The bonus point is the carrying case. The pickleball paddle comes with a nice blue color zipped cover to carry around and travel easily. Plus, the carrying bag allows you to keep the paddles and balls together, and you are always ready to go. It is mainly made from canvas-type material, which is a high-quality material to ensure long-lasting durability.
JP WinLook Pickleball Paddles Set
We use cutting-edge technology to make superior quality pickleball paddles, approved by USAPA. Rackets are light-weight for only 7.8 oz. Durable materials with honeycomb core makes racquets feel great for balanced control and powerful hitting.

JP WinLook rackets with wide large sweet spot for perfect ball impact. Shots are more accurate. Resilient graphite surface offers great ball spin. Slim edge guard for protection of paddle head on ground hits.

Super soft ultra-cushion non-slippery handle with elite wraps (overgrip) for comfortable grip and precise maneuverability. Handles are designed well for both mens and ladies for recreational or professional indoor and outdoor play. Handle (holder) grip circumference: 4-1/4 inch. Handle length 5.27.

Blue protective carrying duffel / storage cover case with nice gift bag design. Racquets are for all age (elders, teens, young kids, and whole family), female & male, different skill levels including beginner / starters, intermediate, to all-round advanced top players.

Precisely drilled holes make the JP WinLook pickle balls deliver perfect flight path. Balls can be used for the most aggressive pro play and minimize wind interference. Perfect bounce and remarkable durability make these pickle balls the best top choice for any level to champion game. High visibility orange / yellow color. Balls are good for both indoor and outdoor play.
Prices pulled from the Amazon Product Advertising API on:
Product prices and availability are accurate as of the date/time indicated and are subject to change. Any price and availability information displayed on [relevant Amazon Site(s), as applicable] at the time of purchase will apply to the purchase of this product.
Performance
Power
According to the manufacturer, it is ideal for entry-level, mid-level, and pro-level players. But it is mainly suitable for entry-level or junior players or maximum mid-level players. Not for advanced players.
As you already knew, the paddle has a lightweight design. No doubt it gives incredible maneuverability to play a wide range of shots. However, you can't hit extremely powerful shots unless your paddle has a decent weight to ensure it. When you play excessively strong shots with a lightweight paddle, it will start to show wear very soon. That's why you need to compromise excessively strong shots.
However, we can't deny you can still play powerful shots occasionally. Playing occasional hitting strokes won't do any harm to the racket. Fortunately, you can expect a sizable sweetspot from this pickleball paddle. Therefore, you have no reason always to hit the ball on the edges.
Control
Whether you are standing at the front of the net or back of the court, you can quickly swing and take the racket back into the perfect position. Though it doesn't help you hit the ball extraordinarily, it surely helps you hit the ball consistently. Besides, you will feel nice to swing the paddle once you get used to using the padded factor.
Forgiveness
According to many users, hitting the right area is a little bit tricky for them. Though the pickleball paddle doesn't have a little sweetspot, the sweetspot is relatively small compared to other pickleball paddles. However, if you compare its price with other expensive paddles, you will surely keep this paddle one step ahead.
Pros
Made from high-quality materials
Easy to play
A perfect option for beginners and juniors
Provides solid feel while hitting the ball
includes a protective cover that makes storage and transportation simple
Affordable price
High maneuverability and easy to swing
Comfortable and cushioned grip
Cons
Not suitable for extremely powerful shots
Few customers expressed dissatisfaction with the balls' quality
A relatively thinner design compared to more expensive paddles
Wrapping Up
You have reached the conclusion part of JP Winlook pickleball paddle reviews. What do you think about this pickleball paddle after going through the review session? We've discussed all of the model's significant features, as well as its performance.
Read More: Head Radical Elite Paddle review.
We believe it is one of the best pickleball paddles for those new to the sport. When you consider its price and value, it is undoubtedly a perfect option for any beginner. You start with this paddle, play for a while, and eventually shift for a pickleball paddle that matches your paddling skills in the future.
Have you seen someone play with this paddle? What is their feedback? Hopefully, you found the JP Winlook pickleball paddle review to be informative.