Are you struggling in finding well-fitted shoes for your narrow feet? Playing pickleball sports requires a lot of back and forth movements. Plus, it involves side to side motions.
Choosing a decent pair of shoes is crucial to support your feet alignment while providing immense comfort. For narrow feet, pickleball players must focus on snug-fitting features to contour their feet.
We'll share some best pickleball shoes for narrow feet for men and women separately in this post. Our review session will also cover in-depth details for each product we pick to help our readers choose the most suitable one.
4 Best Women Pickleball Shoes For Narrow Feet
Women feet are narrower and shorter than men, so they need special shoes to play pickleball comfortably.
1. New Balance Women's 806 V1 Tennis Shoe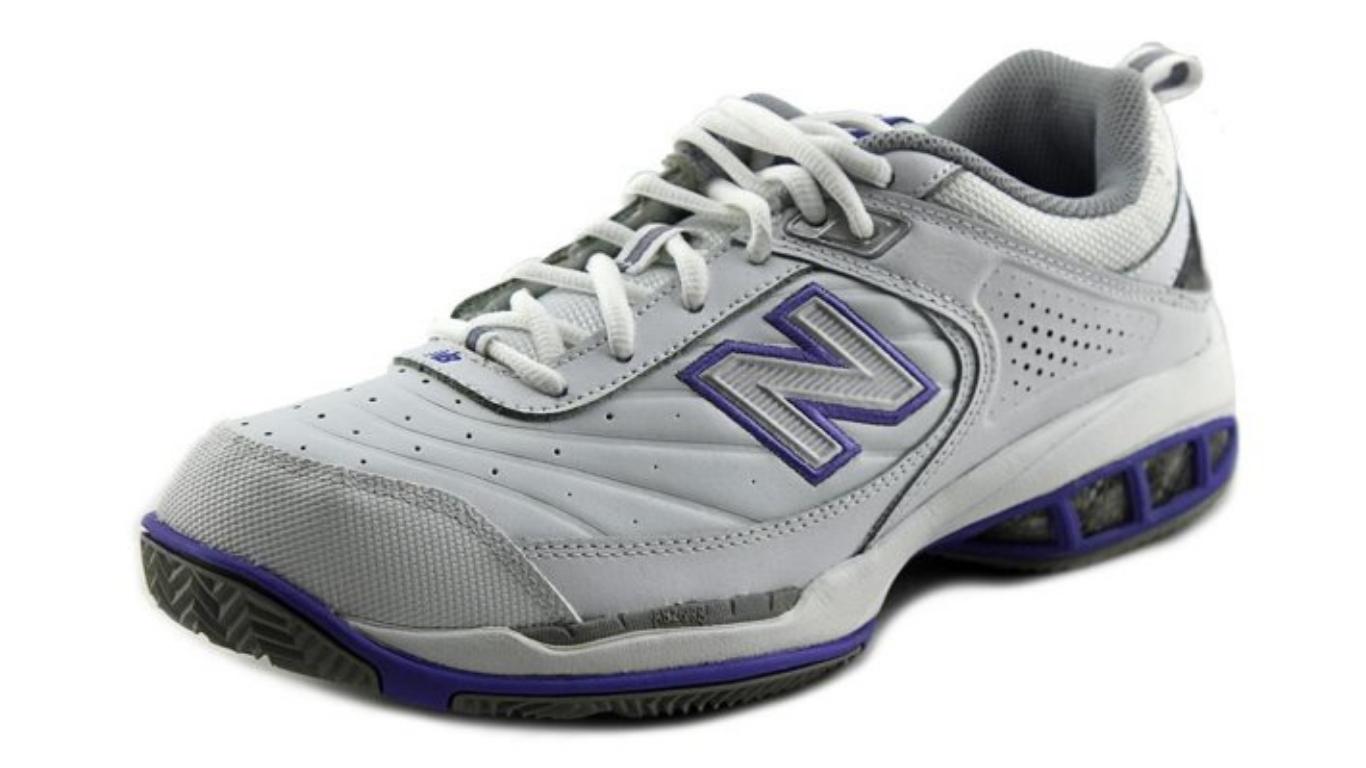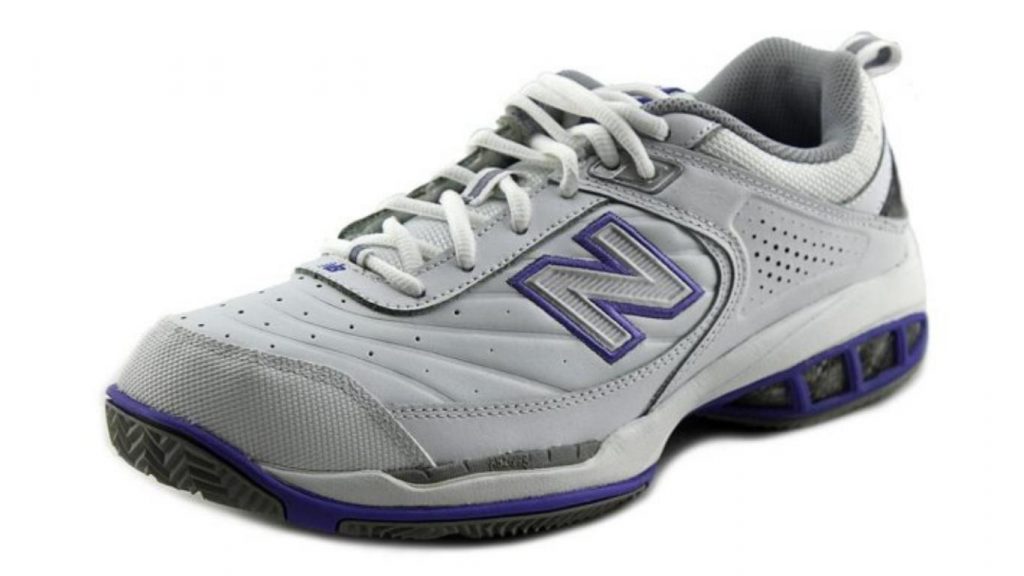 This high-quality women shoe is made of synthetic leather to ensure higher durability and abrasion resistance. People with narrow feet won't face any issues as there're special sizes for them from 5 to 13.
Since the footwear features a rubber sole, it'll provide enough protection against slipping and falling. It offers an excellent grip to stay firmly on treacherous surfaces.
Additionally, the unit has a C-CAP midsole to provide immense flexibility and comfortable cushioning. More importantly, they're 24% lighter than standard midsoles. C-CAP midsoles make the footwear highly durable too.
The sneaker features New Balance's Fresh Foam technology to deliver highly-soft cushioning and unmatched stability. Even after high-engaging pickleball games, you don't have to worry about foot injuries.
Aside from that, it comes with "Lightning Dry Liner" fabric, which can effectively dry the moisture off while you're playing on the court.
Women with diabetics can also wear this footwear since it has an A5500 HCPCS code. This ensures optimal safety for diabetic patients.
Besides, they can help with surefooted traction and decrease pronation. Since the toe box is narrow-type and the arch has a flatter construction, your narrow feet will feel comfortable even after wearing it for a long time.
Pros
Snug-fitting
Slip-resistant rubber sole
Lightweight and flexible
Impressive stability and support
Great traction
Cons
The bottoms quality could be better
2. K-Swiss Women's Express Light Pickleball Shoe
Looking for an affordable option? This may be your best option. The unit has an EVA sole that makes the footwear lightweight, flexible, and durable.
The midsole will provide maximum cushioning to absorb the force of impacts and compress under the foot. This is especially helpful to reduce stiffness for the lower limb since it takes more body load during pickleball playing.
You'll appreciate the moisture management system of the sock liner. It keeps your feet cool and reduces stress. Also, your feet will be less affected by sweating.
In order to provide additional grip and support, the footwear features heel grip lining. The lining is made of interlocking fibres to reduce slippery heel issues.
This feature comes handier for narrow feet since you can achieve a slightly snugger feel.
Apart from that, the pickleball shoe has a 180-degree thermal plastic plantar support chassis to achieve excellent stability for the mid-foot region. Plus, it keeps a great connection between the forefoot and the hindfoot.
Overall, it's a great shoe, perfect to wear on the pickleball court. You won't experience any foot pain even when wearing it for the first time.
Pros
Flexible and rugged EVA sole
Impressive moisture management system
Extra grip and support
Excellent stability
Easy to wear
Cons
May cause blister issues for a few people
3. ASICS Women's Gel-Dedicate 6 Tennis Shoes
Pickleball players who want good support and no stiffness from shoes, this model might be the right option to consider. It's true to size and can snuggly fit for most narrow feet.
A synthetic and mesh material is used to construct the unit. The synthetic will provide a higher level of breathability and flexibility, while the mesh material will efficiently repel fluid or sweat from your feet.
It'll keep your feet cool, especially during hot summer days and prevent stinky foot odour. Both materials make the sneaker lighter too. Not only this, they provide outstanding arch support with plenty of toe room.
What's more, the pickleball shoes have a rubber sole. They've excellent shock absorption properties to prevent the hardness feeling on the pickleball court.
Moreover, rubber soles make the footwear highly rugged and long-lasting. Walking thousands of miles won't cause wear out issues for this sneaker.
A perfect level of chunkiness is added to this shoe to provide a more casual feel with an elegant appearance.
Finding the ideal size for your narrow feet won't be a hassle since they're true to their size and available in several sizes. Moreover, they're available in 6 different color options to suit your preference.
Pros
Snuggly fit for narrow feet
Higher level of breathability
Outstanding arch support
No hardness feeling
Elegant appearance
Cons
Few complained about slipping issues
4. ASICS Women's Gel-Resolution 8 Tennis Shoes
If you're a fashion-conscious woman, you'll surely love this stylish sneaker. The pink cameo/white color makes it an ideal choice to suit various outfits. Moreover, the product is available in 10 colors. Picky people will like it too.
Like many other shoes of ASICS, it's also made from EVA sole. The sneaker features a PGuard toe protector to provide protection and cushion your sore toes.
The midsole of this unit is made from Solyte material, which is 50% lighter than regular midsoles. In addition, you can fulfil your high-performance demand while playing competitive sports.
ASICS uses impact guidance system technology for this women footwear to provide more natural foot motions as per your pickleball gameplay.
Apart from that, it helps you place your feet at a moderate stance in a neutral position. It can reduce the impact of heel strike running or walking significantly.
The pickleball shoes feature a personal heel fit collar lining with two layers of memory foam to ensure a snuggly customized fitting for any narrow feet.
You'll like its proprietary upper that ensures a comfortable fitting along with good support. Playing with this pair of reliable shoes means you keep yourself almost injury-free. Optimum protection will be provided.
Pros
Enhanced cushioning and durability
50% lighter midsoles
PGuard Toe Protector
Comfortable fitting with good support
More natural foot motions
Cons
Overall shoes' weight is higher
4 Best Men Pickleball Shoes For Narrow Feet
The shape of men feet is different from women. That's why we've chosen 4 of the best men pickleball shoes for narrow feet.
1. New Balance Men's 806 V1 Tennis Shoe
This pickleball shoe comes with many exclusive features and a trendy design to stand out. It is made of 90% leather and 10% synthetic. So, the product's durability won't be easily compromised. They can stay strong in harsh conditions.
In order to provide extreme stability and support, the unit includes C-CAP midsole and ABZORB material.
Furthermore, it features ROLLBAR technology to ensure free movements while running in the pickleball court.
Both the inner and outer edge of the footwear contains a moulded plate. Your feet won't roll outward or inward easily. Thus, pronation will be effectively controlled. You'll have enjoyable and risk-free traction.
Though it's a little bit on the heavier side, it's still lighter than other leather-based sneakers. Additionally, the full-grain leather upper makes the footwear more flexible. The more you wear the shoes, the personal patina it'll develop.
Lateral movement will be smooth and easy-going due to the inclusion of the Herringbone-pattern outsole. You'll receive a better and improved grip on various pickleball surfaces such as plain concrete, grass, or clay.
Keeping your feet moisture-free and comfortable won't be a challenging task as long as you wear this sneaker. Its LIGHTNING DRY® technology absorbs sweats easily.
Pros
Smooth movements
Easy to control pronation
Flexible to wear
Risk-free Lateral movement
Effective Moisture absorption
2. ASICS Men's Court FF 2 Tennis Shoes
This pickleball shoe can be rated as one of the most highly anticipated shoes released by ASICS. A combination of mesh and TPU materials are utilized to craft this super-stylish footwear.
The TPU material makes the shoes lightweight and highly resistant to high temperatures. Also, it can take a heavy load of cracking, abrasion, or splitting but will show only minimal wear.
Worry about playing on uneven and slippery surfaces? This male shoe features Premium slip resistance properties to protect your feet in various slippery conditions. Players will have improved control when sliding.
Other than these, the pickleball shoes offer supportive comfort while its underfoot cushioning appears incredibly soft. Flexibility for the chassis of the footwear is so satisfying to feel. They are pretty responsive too, on various court surfaces.
Its Mono-Sock construction ensures impressive stability and top-notch support. In addition, it's equipped with PGuard technology to control lateral movement efficiently when sliding.
As for the durability, the unit can last for a decent period if you're tough on your outsoles. It can offer an outstanding combination of speed and toughness. Both the outsole and toes can hold up well for a considerable time.
Pros
Perfect blend of mesh and TPU materials
Highly resistant to increased temperature
Premium slip resistance properties
Pretty responsive on various surfaces
Easy to control lateral movement
Cons
Rough stitching on the mono sock
3. Babolat Men's Jet Mach 3 Tennis Shoes
This slightly narrow-type shoe comes with a sleek design and deserves compliments for its outstanding appearance.
The pickleball shoe has jacquard-woven Matryx upper fabric, making it stronger and more stretchable.
Additionally, it's also equipped with Aramid and Polyamide fibres that make the overall construction lightweight, high-temperature resistance, and super sturdy. This type of material is a high modulus to withstand a lot of force.
Getting unmatched traction and elite-level stability will be easy-going due to the inclusion of Matryx EVO technology. You'll have outstanding support too.
A softer, shock-absorbing EVA foam pad is included for the midsole to ensure an impressive level of cushioning. With its heel rocker, players can control their ankle and mid-foot motion more conveniently.
In order to take the sole performance to the next level, the unit features active flexion technology. Regardless of your pickleball court surfaces, the sole is ultra-grippy and provides maximum responsiveness.
When you change your lateral movements in various directions, the outer sole will response quickly to support your feet. This flexible footwear has improved ventilation too. It'll keep your feet in cool conditions, even in hot weather.
Overall, it's a great pair of shoes if you're looking for heavily durable and ultra-responsive footwear.
Pros
Super sturdy construction
High-temperature resistance
Elite-level stability
Optimal responsive
Improved ventilation
Cons
Underfoot cushioning could be better
4. Adidas Men's Solematch Bounce M Sneaker
There's nothing to new tell about the Adidas brand. After all, their world-class shoes are popular among all levels of people. The shaft is a fabric-type material, ideal for sensitive or painful feet.
Providing immense heel support along with enough comfort and feel is what this footwear is known for. It can offer low and high arch support due to its excellent shaft construction.
The sneaker is incredibly responsive, and your cushioning experience will be surely plush. Pickleball players will get a soft and pliable feeling from the upper part without causing any blistering issues.
The shoe can give a spacious padded feel for the underneath of a user heel. Since the upper part is fabric-based, it provides sufficient ventilation to keep your feet cool.
Apart from that, the Adidas shoes will provide a good amount of stability when you're running around the court. Since it's specially made for narrow feet, cinching it won't cause any problem.
For picky players, the sneaker is available in 9 vibrant colors too. Its numerous advantages make it an attractive purchase.
Pros
Good amount of stability
Responsive and plush cushioning
Plenty of breathabilities
Solid durability
A great blend of grip and slip
Cons
Lacing system could be better
Pickleball Shoes for Narrow Feet Buying Guide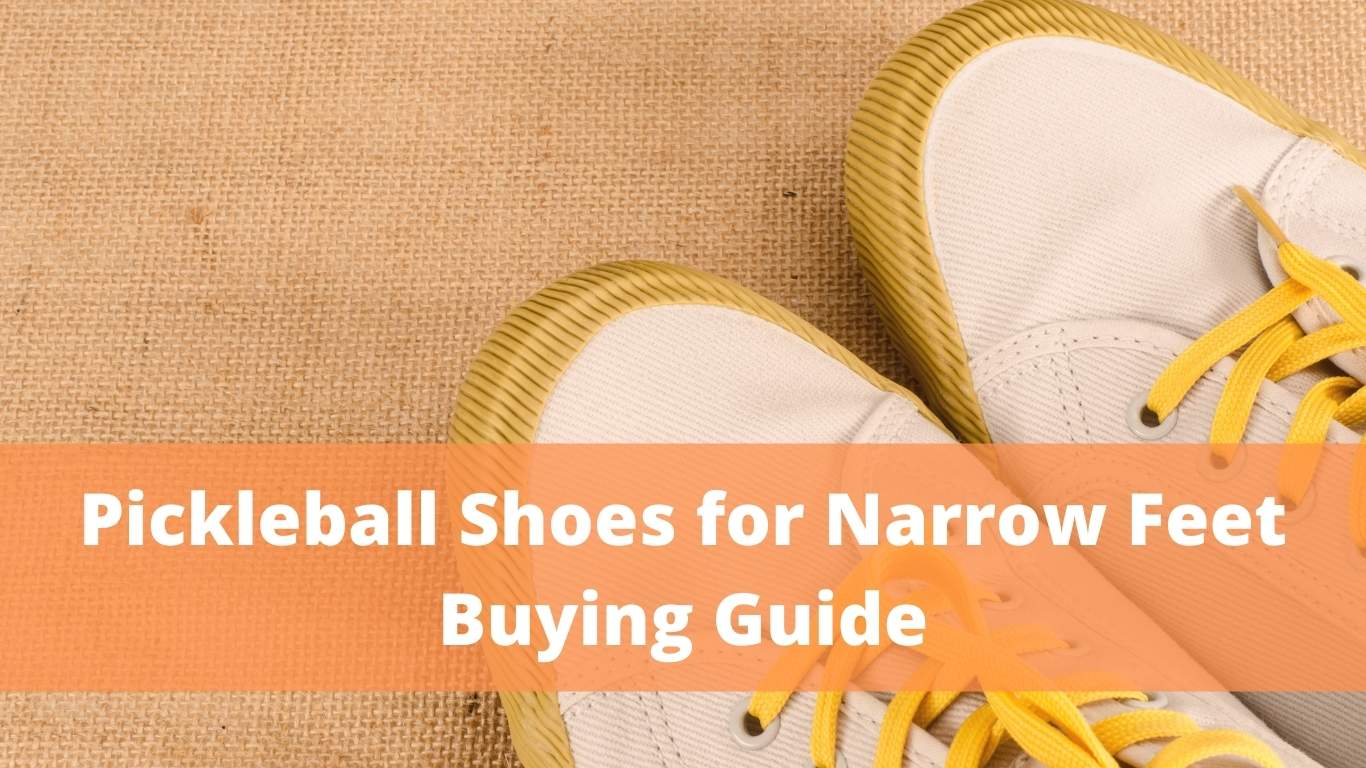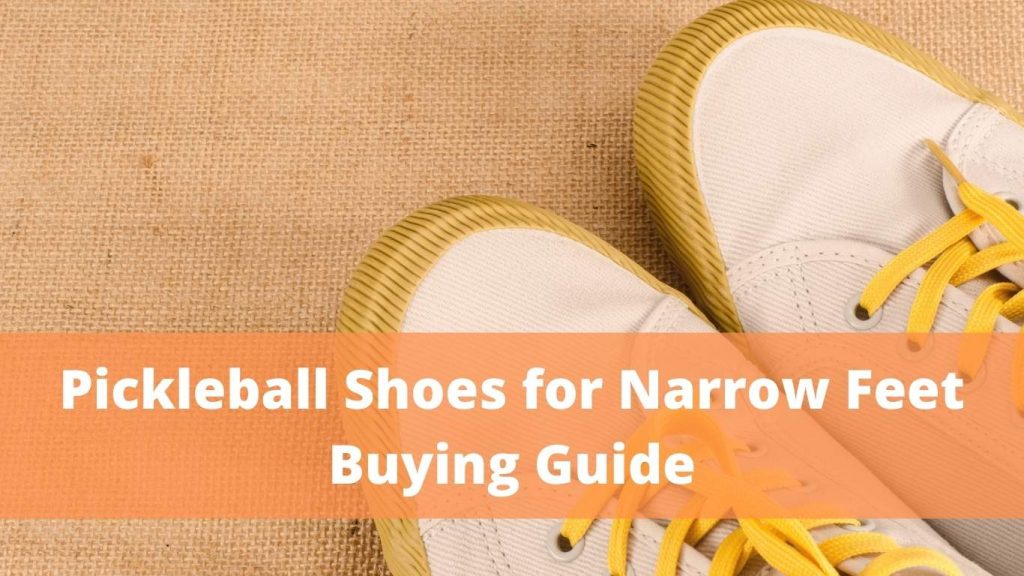 Some crucial factors get the most attention while choosing the best pickleball shoes for narrow feet.
Snug Fitting
The first important thing is considering snug fitting. Since you've narrow feet, the side spaces should be fully covered.
However, they're supposed to feel comfortable while wearing — not too tight or too loose.
Rugged Overlay
Make sure your pickleball footwear has a rugged overlay regardless of its textile fibres or 100% synthetic materials.
Midsole
A midsole of shoes plays a significant role in perfect feet alignment. According to most experts, an Eva midsole is better than PU since it's lightweight and bouncy. This allows pickleball players to move around the pickleball court quickly.
Many midsoles feature TRUSSTIC technology, ensuring stable movements and preventing twisting issues.
Outer Sole
An outer sole for pickleball shoes should be enough support so you can rebound smoothly on the pickleball court.
The outer sole should offer ample traction, whether you're playing on the asphalt or concrete surface.
Slip-resistant
You may slip and fall when you play on a grass court or any slippery court. Footwear with slip-resistant properties for the under sole will help you stay stable in the position.
Shock Absorption
If you've already experienced foot pain, shock absorption is another essential feature to look at. This type of shoe will reduce impact for both forefoot and backfoot by transferring energy between your foot and the court surface.
Read more "How To Clean Pickleball Shoes"
Medical Problems That Arise From Wearing A Wrong Fitting Shoe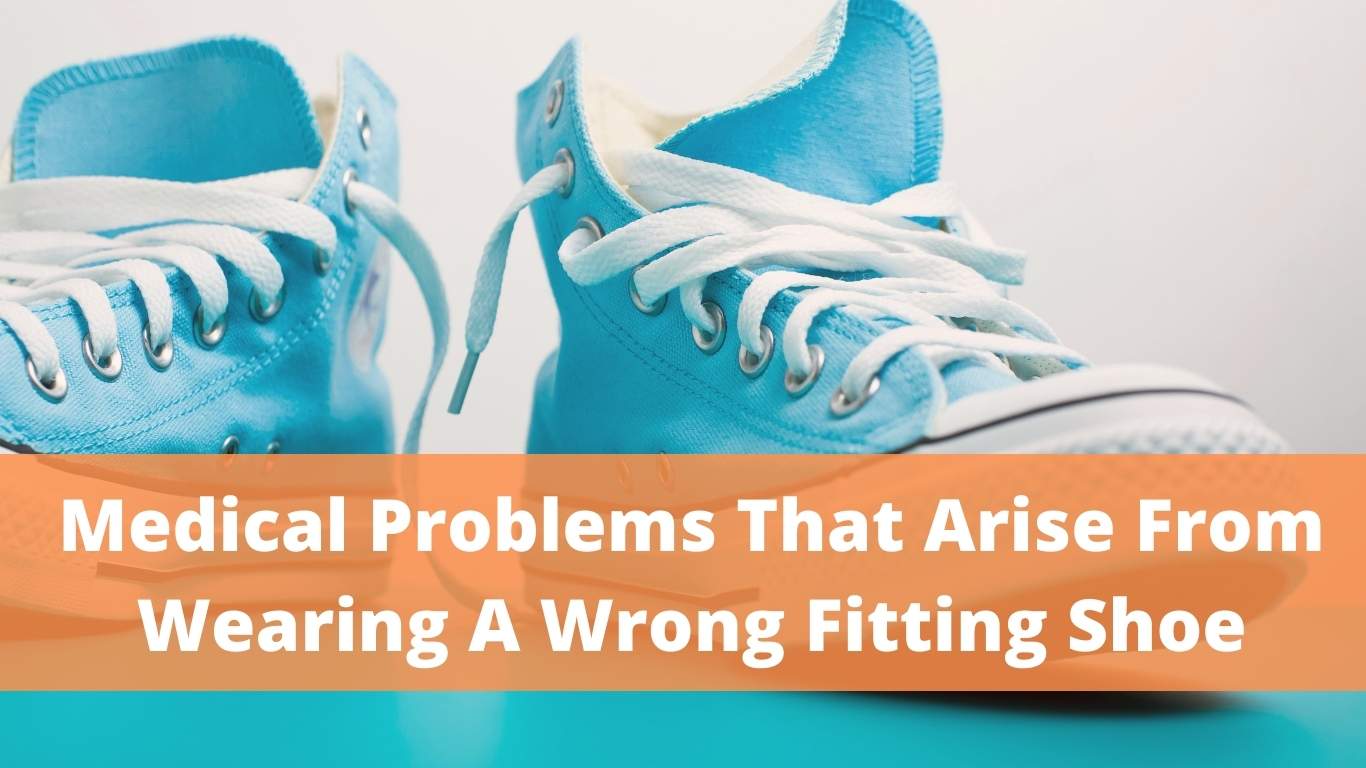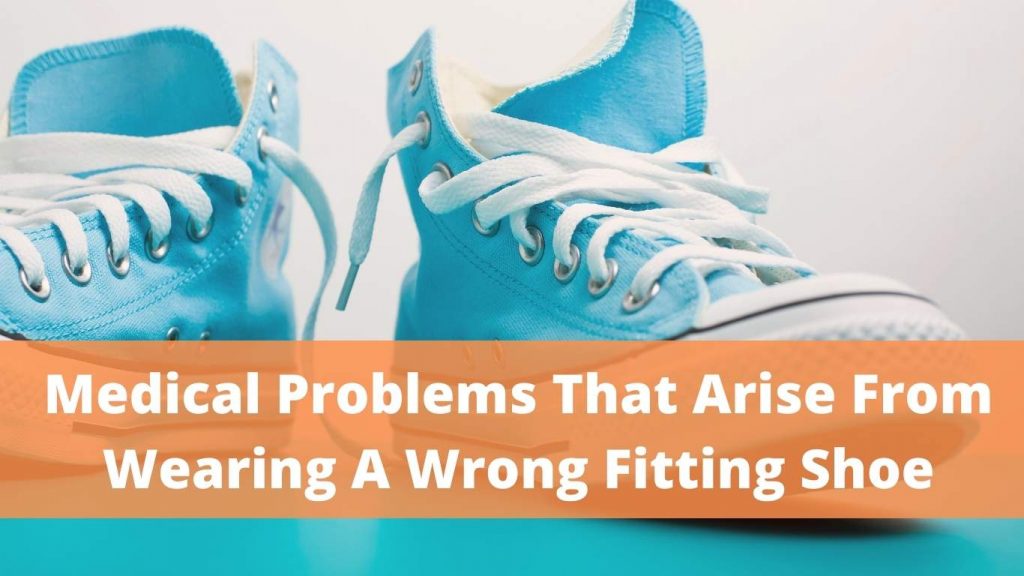 The majority of the pickleball players may have faced foot injuries at least once in their life. Though you've already recovered, you may again experience the injury of wearing the wrong fitted shoes.
You may face plantar fasciitis, Achilles tendonitis, painful blisters, stress fractures, and so forth from wearing ill-fitting shoes.
Wearing wrong-fitting footwear may not show a severe effect for a short time. But you'll suffer in the long run. After all, well-fitting shoes are developed to support your joints and bones area. The soft tissues will be protected from developing pain.
In addition, shock absorption is another essential thing to keep your feet stress-free. Wrong-fitting shoes can't do that.
If you've already faced foot or ankle issues, make sure the footwear you choose doesn't worsen the condition.
When feeling confused about picking the correct shoes, taking suggestions from a Podiatrist or Physiotherapist is a good rule of thumb.
FAQs
What brand of pickleball shoes runs narrow?
Mizuno, Babolat, Asics, etc., are the top famous brands that offer special shoes for narrow feet.
Are Asics and New Balance good for narrow feet?
Asics brand is preferable to New Balance when looking for narrow feet shoes. New Balance footwear are mainly standard type, suitable for kinds of feet.
Conclusion
As a dedicated pickleball player, you should focus on wearing well-fitting shoes for your narrow feet. It'll not only give you comfort but also optimize your performance.
For both men and women, we've discussed some best pickleball shoes for narrow feet. Hopefully, you'll pick the best option among them.