Thinking of choosing the best pickleball paddle for small hands? Just because you've small hands doesn't mean you won't find the right pickleball paddle for playing. Not only have you, but many professional players also have small hands.
So, why choosing the appropriate paddle size is vital for pickleball paddle? Unless the pickleball paddle you select matches with your hand size, you'll struggle to play naturally and efficiently.
To make your finding task more manageable, we've chosen some top-quality pickleball paddles for small hands. Let's get into the review session to help you choose your ultimate option.
| Image | Title | Grip Size | Weight | Price | Buy |
| --- | --- | --- | --- | --- | --- |
| Top | Rally Graphite Power 5.0 | 4 inches | 7.9 – 8.3 oz | | View on Amazon |
| | Rally Tyro 2 Pickleball Paddle | 4 inches | 6.9 -7.2 oz | | View on Amazon |
| | Champion Eclipse Graphite Pickleball Paddle | 4 inches | 7.3-7.8 oz | | View on Amazon |
| | Rally Flare Graphite Pickleball Paddle | 4 inches | 7.3-7.8 oz | | View on Amazon |
| | Niupipo Pickleball Paddle | 4.5 inches | 8 oz | | View on Amazon |
| | Amazin' Aces Signature Pickleball Paddle | 4.5 inches | 7.8 - 8.2 oz | | View on Amazon |
| | Gamma Sports 2.0 Pickleball Paddle | 4 inches | 7.0 oz | | View on Amazon |
Product prices and availability are accurate as of the date/time indicated and are subject to change. Any price and availability information displayed on [relevant Amazon Site(s), as applicable] at the time of purchase will apply to the purchase of this product.
Prices pulled from the Amazon Product Advertising API on: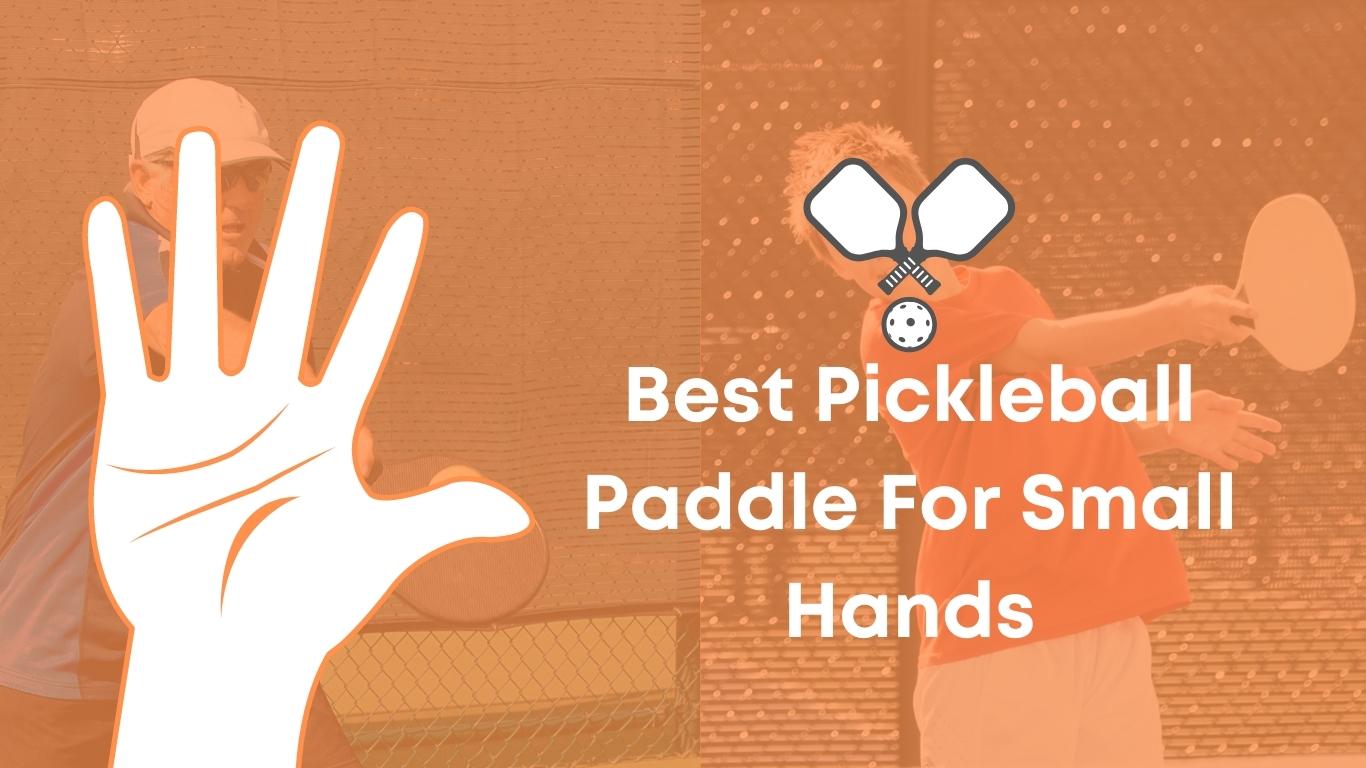 7 Best Pickleball Paddles for Small Hands
1. Rally Graphite Power 5.0 Pickleball Paddle
With its enormous sweet spot and enough power, this pickleball paddle can more effectively help you control the ball.
The unit has an 8.2 ounces weight, which is a midweight paddle. People with small hands should not face any issues since the weight isn't too much to strain their hands.
You can utilize this pickleball paddle for placement shots more effectively. The accuracy you will get from it is something worth mentioning.
It features a polymer honeycomb core and graphite polymer hybrid face to great spin control and ample power. Though the paddle isn't excessively heavy, its core is pretty thick and large. This gives an extended sweet spot.
You'll appreciate its Vertigrab Wave technology. It allows you to grab the ball to spin efficiently. The thicker core can reduce vibration drastically, giving you a soft feeling for each shot.
Since the paddle is available in a thin (4 inch) grip size option, players with small hands won't face any problems playing comfortably.
You'll feel more control due to the square grip. Plus, the manufacturer has molecularly bonded the face and core to make it more solid. With this paddle, you'll get a smooth feeling for each shot you play.
Pros
Short handle for small hands
Vertigrab Wave technology to give less vibration
A large core to provide an enormous sweet spot
Solid feeling from molecularly bonded face and core
Midweight paddle to get both power and control
Cons
Not suitable for professionals
2. Rally Tyro 2 Pickleball Paddle
If you're just starting your pickleball game for the first time, this paddle is a great option to consider. Its weight is only 7.2 ounces, so you won't have to worry about tiring your arm.
Its affordable price gives you an example that you don't have to always a lot of money to get a quality and lightweight paddle.
The unit features a thicker polymer core to give the softest and quietest feel. Shot placements and controlling the ball will be easygoing with its massive sweet spot.
The pickleball paddle also has a solid composite face to ensure long-lasting durability. Apart from that, its edge guard grip technology makes the paddle well-balanced.
Your small hands will be surely benefitted from its 4.0″ grip circumference. Implementing fast wrist action appears simple too.
Besides, the paddle's head has an optimum weight —not too much nor too little. This allows you to control the ball more conveniently with better agility.
Whether you want to play driving shots or overhead shots, it can show reliable performance in a wide range of shots.
Your small hands will feel comfortable and easy to hold their versatile thin grip. You won't experience slippery problems because it features flared end cap.
Pros
Lightweight design for powerful and fast swings
Edgeguard grip technology to make it well-balanced
4.0″ grip circumference to fit on small hands
Optimum weight distribution on the head
Flared end cap to prevent slipperily
Cons
The included balls are only for outdoor use
3. Champion Eclipse Graphite Pickleball Paddle
If you're looking for a handy paddle to upgrade your pickleball performance on the court, this graphite paddle is worth including in your list. The way you'll get accuracy and consistency in every shot will surely exceed your expectation.
Love to get more pops? Its graphite face can ensure it. Returning every shot with enough power will be easygoing due to its polymer core. Getting a smooth feeling won't be a challenging task, even for hard drives.
What's more, the paddle features a small 4″ grip, perfect for most small hands. The grip is equipped with adhesive, moisture-absorbent material, allowing you to hold the handle comfortably with no slipper issues.
Its vibration damping ability will amaze you while ensuring minimal arm and wrist fatigue. Plus, handling the paddle appears uncomplicated since it has a light-middleweight construction.
The smoothness of this paddle is another notable paddle thing to mention due to its velvet-textured face. You can defense the ball with adequate power, apart from hitting balls powerfully. Its lightweight design allows you to react ball instantly. This makes you more balanced and focused.
Pros
Can provide impressive accuracy and consistency in shots
Amazing vibration damping ability
Velvet textured face to defense ball with sufficient power
Lightweight design for fast ball reaction
Gives a solid feeling to contact the ball
Cons
A little bit more power for professionals would be better
4. Rally Flare Graphite Pickleball Paddle
This pickleball paddle has a solid and well-balanced light-middleweight construction. If you have faced tennis elbow issues in the past, the paddle is the right option.
Your small hands will feel comfortable to hold for a long time. Its 4-inch grip ensures no fatigue issues. After all, you don't want to use a bulky grip that doesn't allow you to play naturally.
The pickleball paddle features a carbon-graphite face that is highly responsive. Every shot you play will give you a solid, satisfying "thwack" feeling.
Whether you want to play swift strokes or defense the ball technically, the lightweight paddle lets you react quickly based on the gaming condition.
This pickleball racquet has a standard head, so you've to worry about missing the ball when it's coming close to the paddle. Additionally, its high-end polymer honeycomb core has vibration-reducing technology to give you a relaxed and soft feeling while playing various shots.
You won't have to concert about its durability because the high-quality core and paddle face will make it go a long way. Plus, the whole paddle is protected with ultra-durable edging. It comes with a zipper bag too that zips easily and securely.
Pros
Well balanced light-middleweight paddle
Perfect for people with tennis elbow issues
Gives a natural and comfortable feeling with a 4-inch grip
A 7.75 Inches standard head to play all shots
Comes with a zipper bag too that zips easily
Cons
Some 'chip' marks might be seen on the surface over time
5. Niupipo Pickleball Paddle
If you're hunting down a pickleball paddle at a reasonable price for a lightening deal, overlooking this option will be hard. Using this paddle in various tournaments shouldn't be a problem since it's equipped with the latest technology and has USAPA approval.
The Niupipo pickleball paddle features a graphite honeycomb core that has increased strength. This core type makes the unit lightweight with proper weight distribution throughout the paddle body.
It won't be a concerning point to get enough energy to spin the ball effectively due to its graphite carbon fiber surface. Also, you can set your mind at rest regarding its capability to withstand the ball impact.
Whether you want light or groundstroke shots, this all-around paddle can help you in different styles. Concerning stressing your arm and shoulder? Its lightweight design lets you play an extended period on the court.
Aside from that, its wide and large paddle face gives you enough room to control the ball conveniently. You can hit the ball in your preferred direction with less difficulty.
Moreover, the pickleball paddle has a perforated, sweat-absorbent, and cushioned grip to comfort you throughout your gameplay. You don't be troubled about breaking the paddle since a protective edge guard is used to ensure durability.
Pros
USAPA approved to play professional tournaments
Proper weight distribution throughout the paddle body to increase strength
Graphite carbon fiber surface to ensure great spin
An all-around paddle to play light or groundstroke shots
Wide and large paddle face to provide enough to control the ball
6. Amazin' Aces Signature Pickleball Paddle
This beginner-friendly pickleball paddle can exceed your expectation in several ways. You'll get both the optimal power and control from this racquet since it has a midweight construction, weighing only 7.8 oz -8.2 oz.
One notable thing about this paddle is its classic shape, making it stand out from other standard paddles. On top of that, the racket has a massive sweet spot, allowing you to get in touch with the running ball faster.
The Amazin' Aces paddle has a hand-stitched contour grip with a unique shape and several lines. This gives an in-hand feeling to play the game naturally. Most importantly, the grip won't start unraveling even after playing for several hours.
Beginners will love this unit more since it has a low-profile edge guard. To ensure the reliability of this product, the manufacturer offers one year warranty too.
The pickleball paddle doesn't have a minimal grip size, so it'll be a more appropriate option for people with slightly large hands. But once you get the hang of it, handling the ball will be easygoing with good pops.
Pros
Midweight construction to get optimal power and control
Classic shape to make it simple to use for newbies
A massive sweet spot to get in touch with the running ball quickly
Hand-stitched contour grip to give an in-hand feeling
Low-profile edge guard to provide better playability
7. Gamma Sports 2.0 Pickleball Paddles
Fan of Gamma paddles? This unit might be your ultimate choice since many users rated it one of the best Gamma paddles. Uplifting your game performance won't be complex when you use this paddle.
Its sophisticated construction and tough-facing materials give you several reasons to purchase this top-rated pickleball racquet. Playing exemplary shots seems simple. You won't miss as many shots as you miss with other pickleball paddles.
You'll appreciate its unique texture that allows you to hit the ball in your preferred direction. So, no shot will go in vain! In addition, an advanced honeycomb core technology is equipped with the paddle to easily reduce shocks and extra vibrations.
You can play more potent strikes using this paddle since it's made out of excellent materials. Not only this, getting incredible spin is what you'll love more about this beast. Its high-grade graphite face includes a flush-fit bumper that allows you to react to your opponent's spin balls efficiently like a pro.
Want to play more fair games? This durable paddle has an exclusive construction and timeless design to make every game enjoyable and satisfying. You'll get extra balance throughout the gameplay due to its lightweight construction.
Since it's certified by USAPA, you can play with it in various international pickleball tournament matches. Overall, it's a great paddle that will give an experience of minimal uncertain drops and harsh strikes.
Pros
Suitable to use in both indoor and outdoor pickleball courts
Made from tough-facing materials to ensure extreme durability
Solid contraction to reduce uncertain drops and harsh strikes
Offers incredible spin due to its flush-fit bumper
Reliable and certified by USAPA to play professional tournament
Cons
The core may show wear issues after prolonged usage
What to Consider Before Choosing a Pickleball Paddle for Small Hands
Both males and females may have small hands. Generally, shorter people have small hands. Let's look into the important factors to consider from a pickleball paddle for small hands.
Grip Size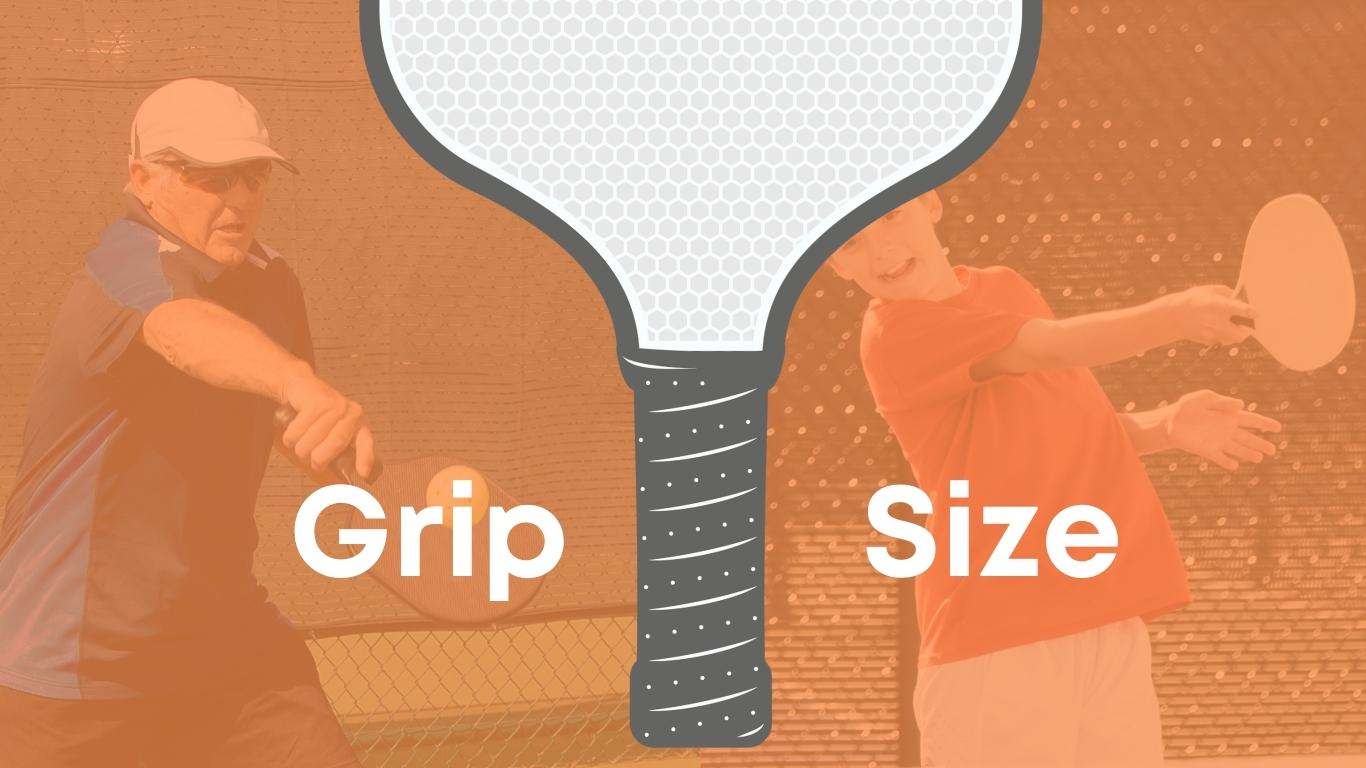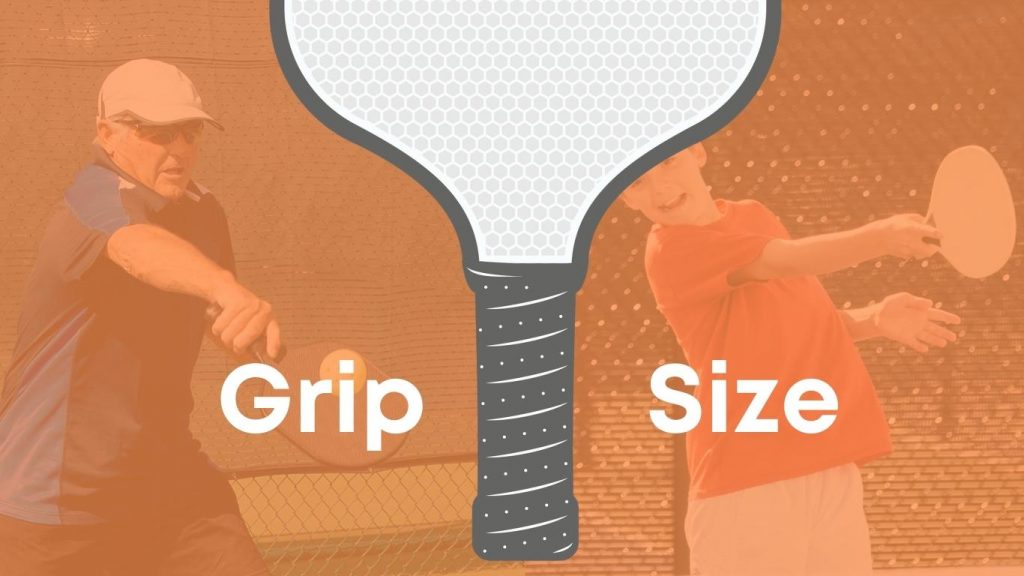 Grip size is the first and foremost thing. Unless the grip size matches your hands perfectly, you'll feel uncomfortable and unnatural to play freely. Your swinging ability may be slightly or heavily compromised with the wrong grip size.
Look at the chart carefully. Here we've mentioned the ideal grip size based on your height.
| | |
| --- | --- |
| Pickleball Players' Height | Ideal Grip Size |
| 5'3″ or Less | 4″ Grip |
| From 5'4″ to 5'8″ | 4 1/8″ to 4 1/4″ Grip |
| 5'9″ or More | 4 1/2″ Grip |
Paddle Weight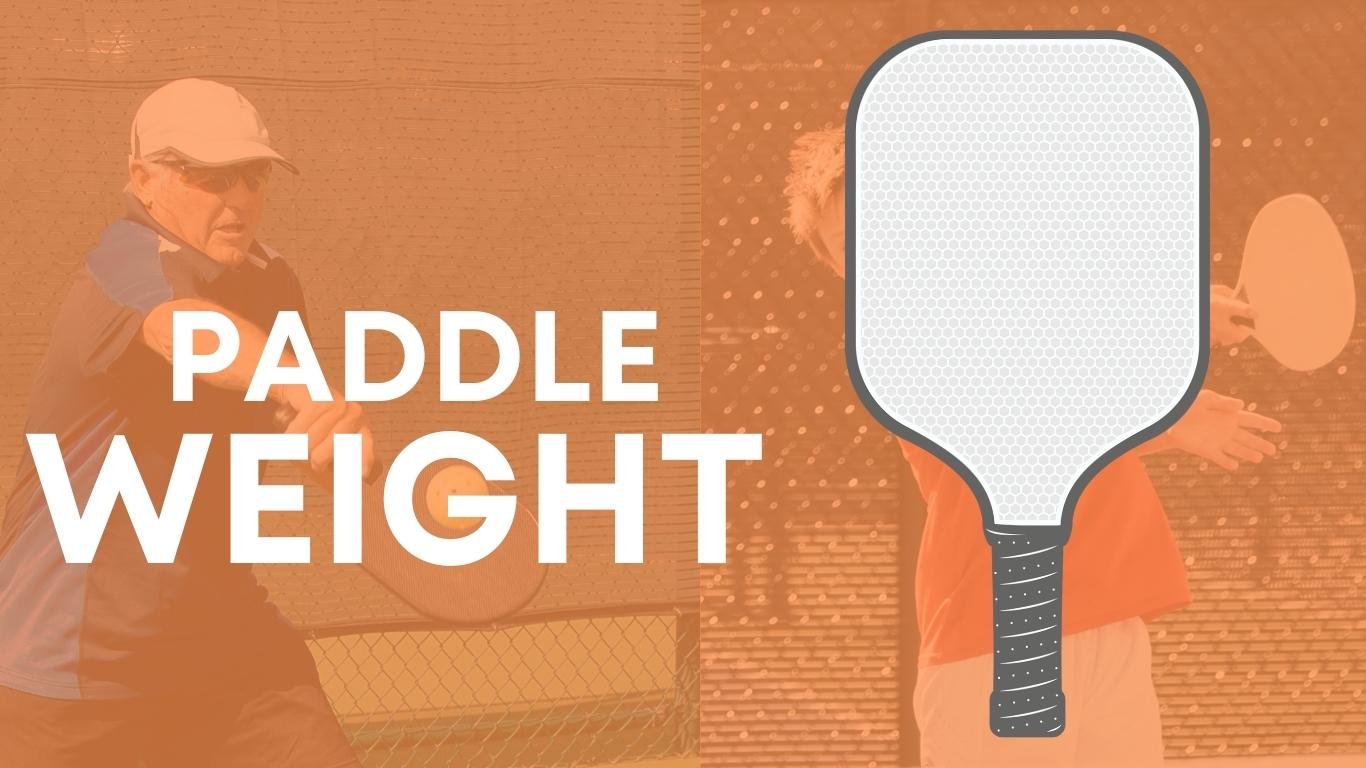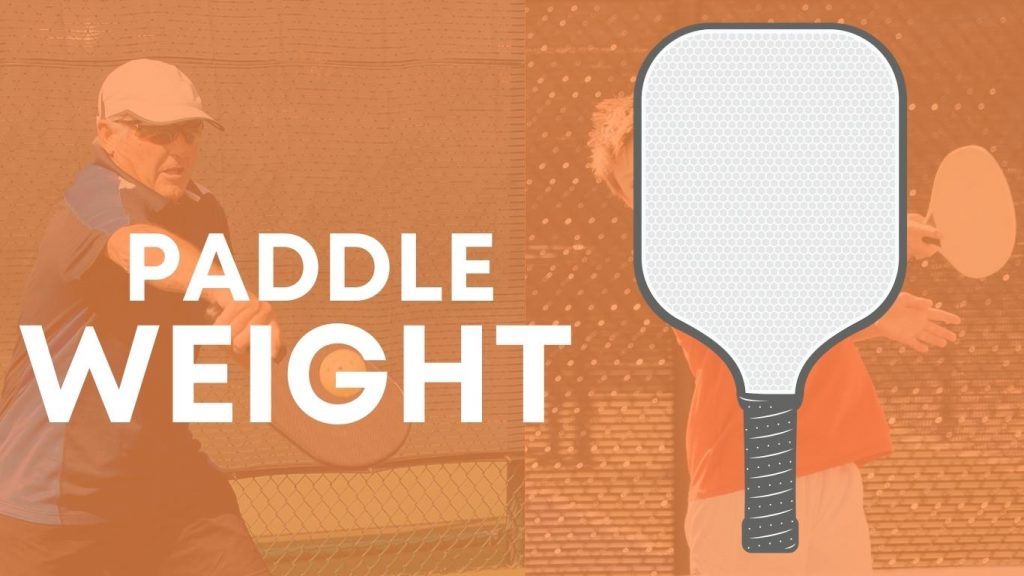 The second most important thing is considering pickleball weight. A pickleball weight can be as low as 6 ounces and as high as 14 ounces.
Initially, you may not feel the difference. But after playing with them for a couple of hours, you can surely make the difference.
People with small hands don't need heavier paddles. In fact, it'll cause extra strain for their arm. A lightweight or midweight paddle can be a perfect choice for them.
Generally, paddles with less than 7.3 ounces are known as lightweight paddles. These paddles offer quick and powerful swings. But quickly generating more power will be a bit challenging task.
Also, you can play with midweight paddles. Their weight range is around 7.3 to 8.4 ounces. These paddles are especially helpful when you need a great blend of power and control.
Grip Thickness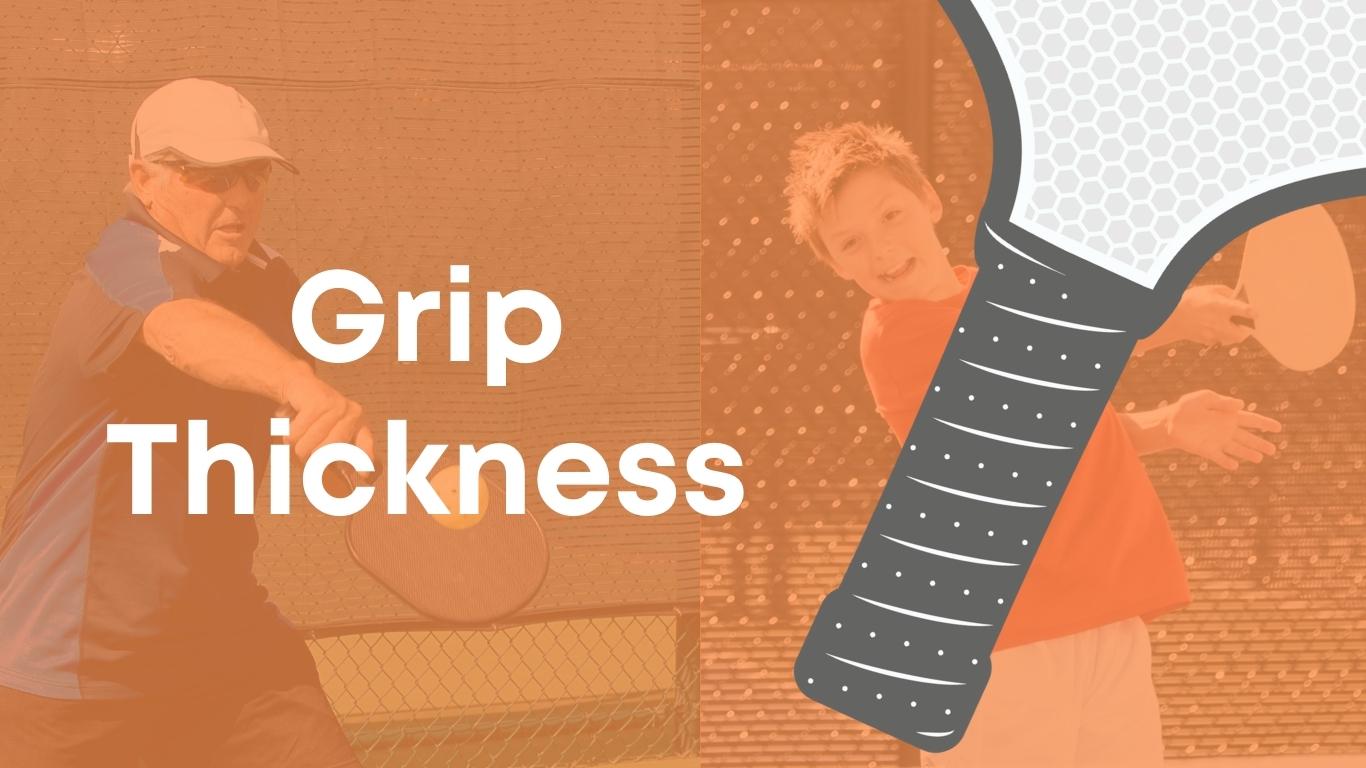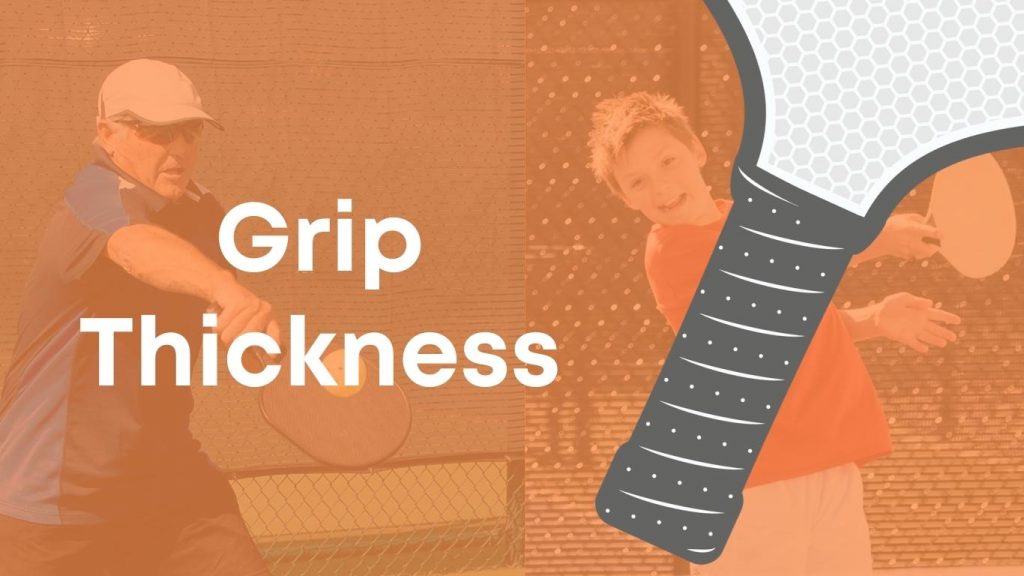 Aside from grip size, grip thickness is another crucial factor to consider. Pickleball paddles mainly have two grip options: thin grip and standard grip.
Thin grips are better for small hands because they don't cover as much space as standard grips on the paddle handle. So, you'll be able to hold the pickleball paddle more comfortably and firmly. This'll prevent slippery issues too.
But if you choose a standard grip for your small hands, it'll appear too big to hold. You'll strain your hands for holding it for several hours continuously.
Paddle Material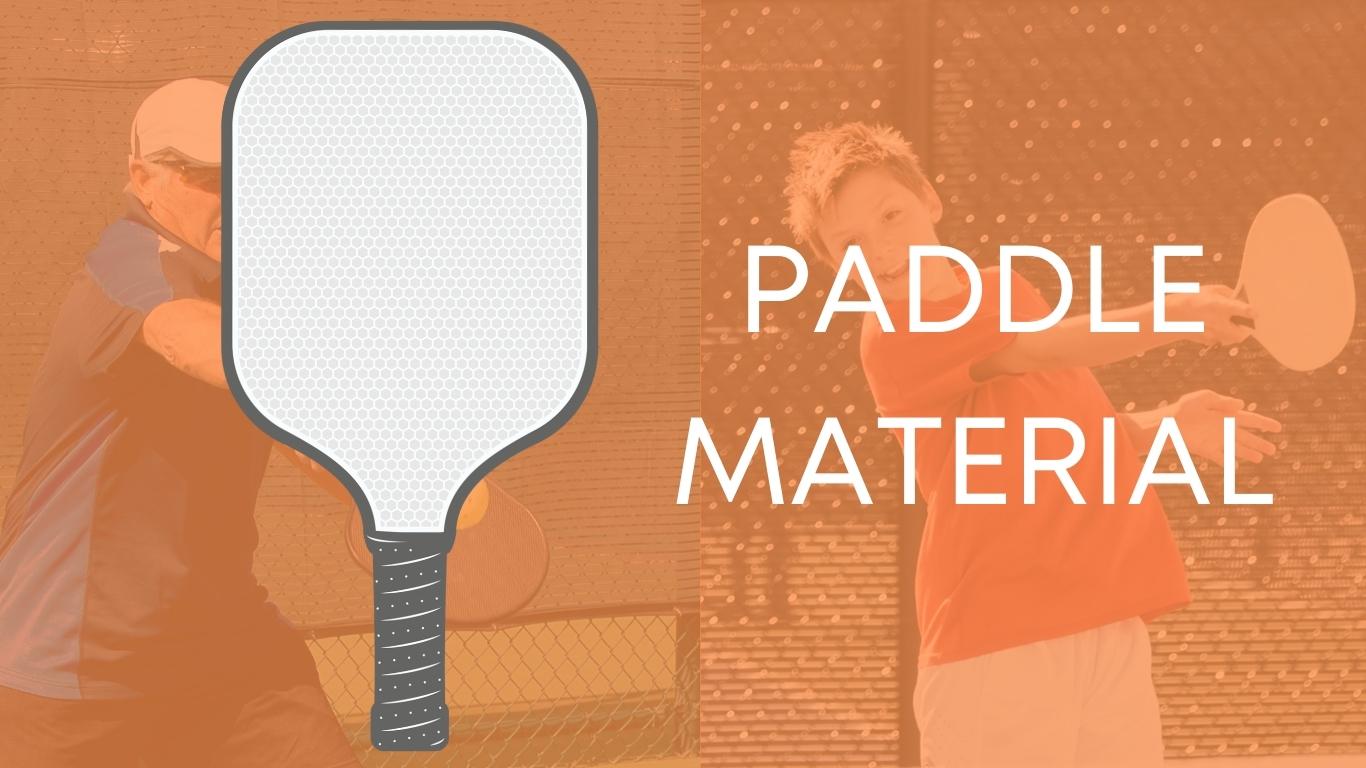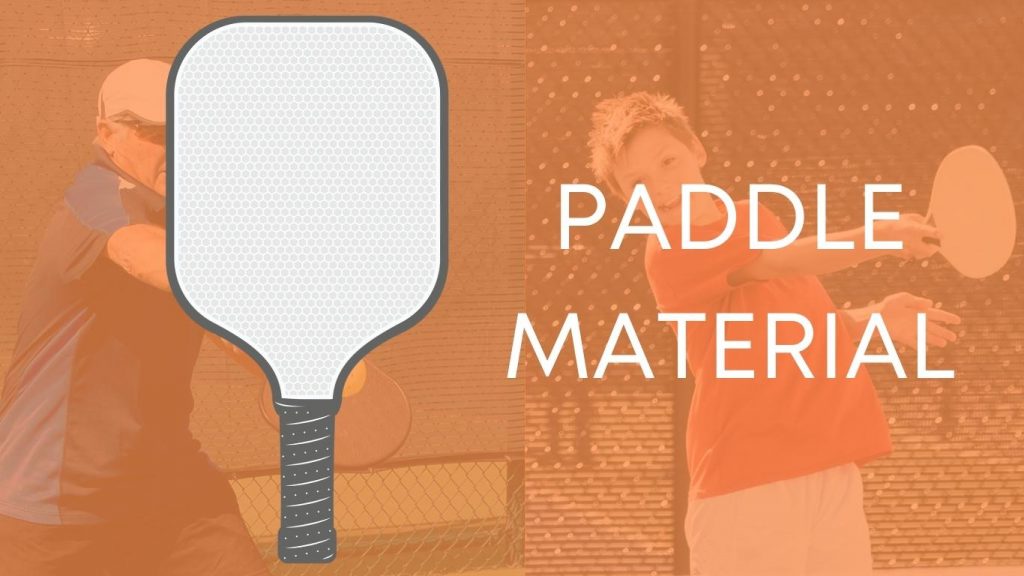 Pickleball paddles are made from various materials such as wooden, composite, graphite, etc.
Wooden pickleball paddles are mainly suitable for learning the pickleball game initially. You shouldn't use them after learning enough pickleball techniques.
Graphite pickleball paddles have a weight range of 6 to 9 ounces. Their core is crafted from polymer or aluminum materials. They're simple to play with for an extended period.
On the other hand, composite pickleball paddles are made from a blend of materials. But their core is made of either aluminum or polymer. People who love to spin a ball will love this paddle due to its outside texture.
Conclusion
Not all pickleball paddles are suitable for your small hands. Choosing an appropriate grip size is essential to make the most out of the gameplay. Most importantly, the best pickleball paddle for small hands will help you improve your game performance.
We've included several top-quality pickleball paddles with leading quality construction and advanced gripping functionality to play various pickleball shots.
Most of them have a lightweight but balanced construction with enough power-hitting to play tough shots smoothly. Hopefully, you'll pick the perfect option based on your preference.