Pickleball paddles from Gearbox are excellent choice when looking for a paddle from the powerful side. In this post, we are going to review the Gearbox Gx6 Pickleball Paddle. It tends to a more power swinger. No matter how hard you swing, you have never the issue to break this paddle.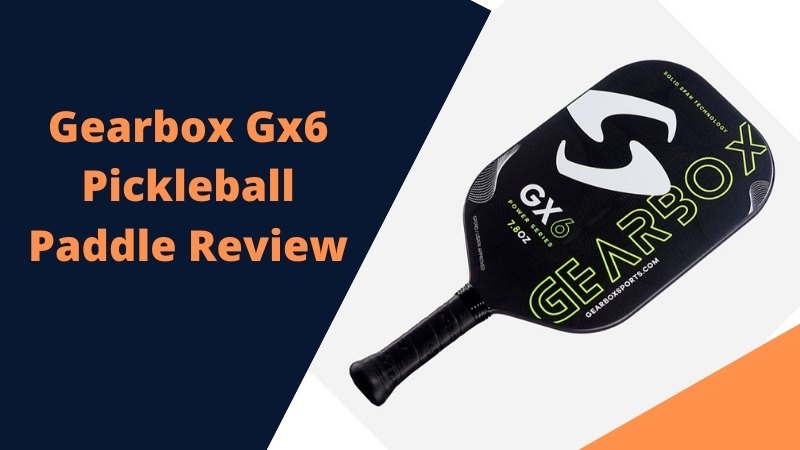 The unit has a smooth surface, perfect for spins and curving the ball off the paddle. Whether you want power and control, you have options to fulfill your demand. Because of the streamlined edgeless design, it allows you to pick up balls quickly at the net.
So, there are many unique features to learn from this paddle. Just read this Gearbox Gx6 Pickleball Paddle review to know everything about it. Let's move on.
Gearbox GX6 Pickleball Paddle
SLIM AERODYNAMIC FRAME - Maximized maneuverability, fast and responsive.

CARBON FIBER EDGELESS FRAME - Larger hitting surface area, reduced mishits.

MASSIVE SWEET SPOT - Optimized ball response from center of paddle to edgeless rim.

DAMPENER SYSTEM - Perfect vibration control, amazing feel.

HYPER BITE SPIN TECHNOLOGY - Offers more ball bite for max spin on demand.
Prices pulled from the Amazon Product Advertising API on:
Product prices and availability are accurate as of the date/time indicated and are subject to change. Any price and availability information displayed on [relevant Amazon Site(s), as applicable] at the time of purchase will apply to the purchase of this product.
Gearbox Gx6 Pickleball Paddle Review — why should you buy it?
Paddles by Gearbox stand out in comparison to other pickleball paddles due to the exceptional formula they are created with. It is possible that some paddles look similar, but they perform differently.
As for the Gearbox Gx6 Pickleball Paddle, it is incredibly one of the best models from the Gearbox brand.
Carbon fiber
With the addition of carbon fiber to this paddle, Gearbox has improved its performance. The manufacturer has leveled the surface flawlessly by getting rid of the honeycomb core and giving it a smooth surface.
Because of this construction, the actual lifespan of the pickleball paddle is extended. Additionally, unlike most honeycomb core paddles, you won't see any dead spots on this type of paddle.
Dampener System
The GX6 can give you the feel of perfect vibration control. The core of the paddle is contracted externally. The paddle is equipped with an embedded damping system to keep vibrations to a minimum and play smooth shots comfortably.
Slim Aerodynamic Frame
Because the paddle frame is slim, maneuverability is enhanced, resulting in a faster ball speed. As it has less air drag, it ensures comfortable playability.
Hyper-Bite Spin Technology
The Gearbox Gx6 Pickleball Paddle is engineered with hyper-bite spin technology if you want extra spins on the ball. It allows the ball to feel more biting on the paddle, ensuring maximum spin.
Generous sweet spot
Due to the larger hitting surface area, it has a massive sweet spot, which will make the gameplay more enjoyable. The unit has the sweet spot closer to your hand to control the unit more efficiently.
In comparison to other traditional pickleball paddles, it is much larger. Hence, playing with the paddle will help you hit the ball consistently and easily without missing the ball. You will surely get top spins on your shots.
If you are buying a pickleball paddle for the first time, you may need some days to get used to it for a good serve. However, after passing few days playing with it, you will be impressed and happy to see how easy it is to play with it around.
More control with the 7.8 ounces option
Alternatively, you can choose the lighter option too if you want to improve your pickleball game. It is mainly suitable for players who don't need to hit play powerful shots continuously.
However, you can still play a wide array of powerful shots. With its balanced lightweight, you can achieve the ultimate degree of control and finesse.
Paddles lighter in weight are well suited to players with previous soft tissue injuries. Because this light paddle will not exacerbate previous damage.
Furthermore, the 7.8-ounces paddle helps you maximize your swing speed. You will love swinging it fast and feel great the way it cuts through the air, which is mostly noticeable when you are playing singles.
On top of that, your shots will be unpredictable due to increased agility and spectacular maneuverability.
If you always love to play hit drop or dink shots, the light version is more appropriate for you. Another benefit of this unit it reacts quickly when the ball contacts with it.
However, unlike the 8.5-ounces paddle, you need to give more effort to play powerful shots when you use this paddle. Plus, it causes your elbow to experience increased vibration and stress while hitting the ball.
More power with the 8.5 ounces option
Some people prefer more power, while some prefer more control. Thankfully, Gearbox introduced two options to satisfy both groups of people.
If you want to own a power-version pickle paddle, I suggest you pick the 8.5 ounces of pickleball paddle.
So why should you use heavy power paddles? Paddles with heavier power render the ball faster and more explosive, requiring less effort from the player.
Their heavyweight gives them better protection against slams because it defuses their power. Plus, it yields a smoother response since it vibrates and churns less in hand.
Outdoor players will find their heavy paddle helps counteract the wind when they play tricky serves or returns.
Some players complained they had experienced sore wrists or arms for using lightweight paddles. That's why you can try this heavier option, which might be worth trying to reduce some tension.
Almost Noise-free!
A vast amount of effort was spent on Gearbox's research for sound and feel in a paddle. Its soft feel and soft sound are two things you will love about this pickleball.
Plus, the unit doesn't have that traditional pop sound that most paddles. It is definitely more muted.
So if you are in an area where sound may be an issue, this is a plus point for you. Considering this point, it stands out from many typical paddles.
Less Air drag
It is made from solid materials, including the handle, which is pretty cool. It has a slim frame, which means it has less air drag. So you will able to move the paddle quickly and conveniently through the air when hitting the ball.
Edgeless
Lastly and probably, the most noticeable feature is that it doesn't have any edge guard. The Gearbox paddle line is famous among players because of its convenience and fun.
Hundreds of players have an issue with plastic edge guards. Because plastic edge guards don't allow players to play as much freedom as edgeless guards do. This is why the company created the edgeless design for this GX6 unit.
We players often hit the ball with edges knowingly or unknowingly. But if our paddles have an edge-guard, they prevent us from hitting the ball accurately in a particular direction. Due to its position above the paddle surface, it will cause the ball to go in a different direction.
Prices pulled from the Amazon Product Advertising API on:
Product prices and availability are accurate as of the date/time indicated and are subject to change. Any price and availability information displayed on [relevant Amazon Site(s), as applicable] at the time of purchase will apply to the purchase of this product.
That's where the unit comes to play. Due to its edgeless design, the ball still goes where you want it to, even if you hit it on edge.
USAPA approved
In choosing a paddle, nonprofessional players are most concerned with USAPA approval. USAPA, who regulates the sport, has specified the dimensions of paddles that are allowed for tournament play.
Thankfully the Gearbox Gx6 Pickleball Paddle has gotten the approval of USAPA. Hence, you can engage in playing any professional or major tournament gameplays without worrying about anything.
Long handle
The GX6 isn't an elongated version with a longer handle in about three-quarters of an inch longer handle than the GX5.
You will get more reach and more torque on the ball. Though you have to work a little harder to swing the longer paddle, it's pretty well balanced honestly.
It fits conveniently for large hands. Plus, you don't need to overlap the grip and then put the finger on the paddle to get that second hand. Because it is long enough to prevent touching the paddle surface.
Endless Gameplay!
The Patented Solid Span Core is constructed with a carbon fiber chamber that has high strength. It will not crack over time, so it gives users infinite play.
Additionally, Gearbox paddle transitions are seamless. You will not face any issue shifting between your current paddle and backup paddle. With all of your paddle collections, you'll get reliable play and weight consistency from this brand.
Pros
Smooth surface
Latest and innovative design
Fast swinging speed
Available in two versions
Super powerful
Longer paddle
Quick and responsive surface
Minimizes vibration
Offers more ball bites
Generous sweet spot
Cons
Could be a little bit decent on the net
Puts stress on hands while playing with the heavier version
Users require time to get used to it
Final Thought
So, what have you finally decided from our Gearbox Gx6 Pickleball Paddle review? Are you considering purchasing the paddle?
We can't deny that there are few flaws in this unit. But when you focus on all its valuable features and the benefits you have playing with this unit, those minor flaws merely matter.
If you are a beginner pickleball player, I suggest you pick the lighter one. It will help you improve your pickleball gameplay. But if you prefer to play powerful shots consistently and conveniently, feel free to grab the heavier one.
Hopefully, this review session helped you to learn every nut and bolt about the Gearbox Gx6 Pickleball Paddle. Thanks for reading!