When it comes to choosing a pickleball paddle for intermediate players, it is not a simple task. You have already improved your pickleball skills enough but want to uplift them more. Only choosing the right paddle can help you achieve this objective.
Pickleball paddles come in different weights, shapes, designs, materials, and other things. Selecting the best pickleball paddle for intermediate players requires considering your playstyle.
After considering some authentic users reviews and in-depth research, we have chosen the top 8 pickleball paddles for mid-level players. You just need to determine your gaming preference and pick one based on it. Let's dive in!
Image
Title
Surface
Grip
Weight
Price
Buy

Top

Top

ONIX Z5 pickleball paddle
Graphite
4 1/4"
7.5 to 8.2 ounces
View on Amazon

Top

Selkirk Sport SLK Latitude Pickleball Paddle
Graphite
4.25"
6.9 to 7.9 ounces
View on Amazon

Top

GAMMA Sports Needle Pickleball Paddle
Graphite
4 1/8"
7.6 ounces
View on Amazon

Top

HEAD Radical Elite Pickleball Paddle
Fiberglass
4 1/4″
8.1 ounces
View on Amazon

Top

Niupipo Explorer Pickleball Paddle
Fiberglass
4.4"
8 ounces
View on Amazon

Top

Gamma Sports 2.0 Pickleball Paddles
Graphite
4"
7.0 ounces
View on Amazon

Top

SLK Evo Hybrid & Soft 2022 Pickleball Paddles
Carbon Fiber
4.25"
7.6 ounces
View on Amazon

Top

Prince Response Pro Pickleball Paddle
Honeycomb
4 1/8" and 4 3/8"
Light 7.1-7.7 ounces and Standard 7.8-8.3 ounces
View on Amazon
Product prices and availability are accurate as of the date/time indicated and are subject to change. Any price and availability information displayed on [relevant Amazon Site(s), as applicable] at the time of purchase will apply to the purchase of this product.
Prices pulled from the Amazon Product Advertising API on: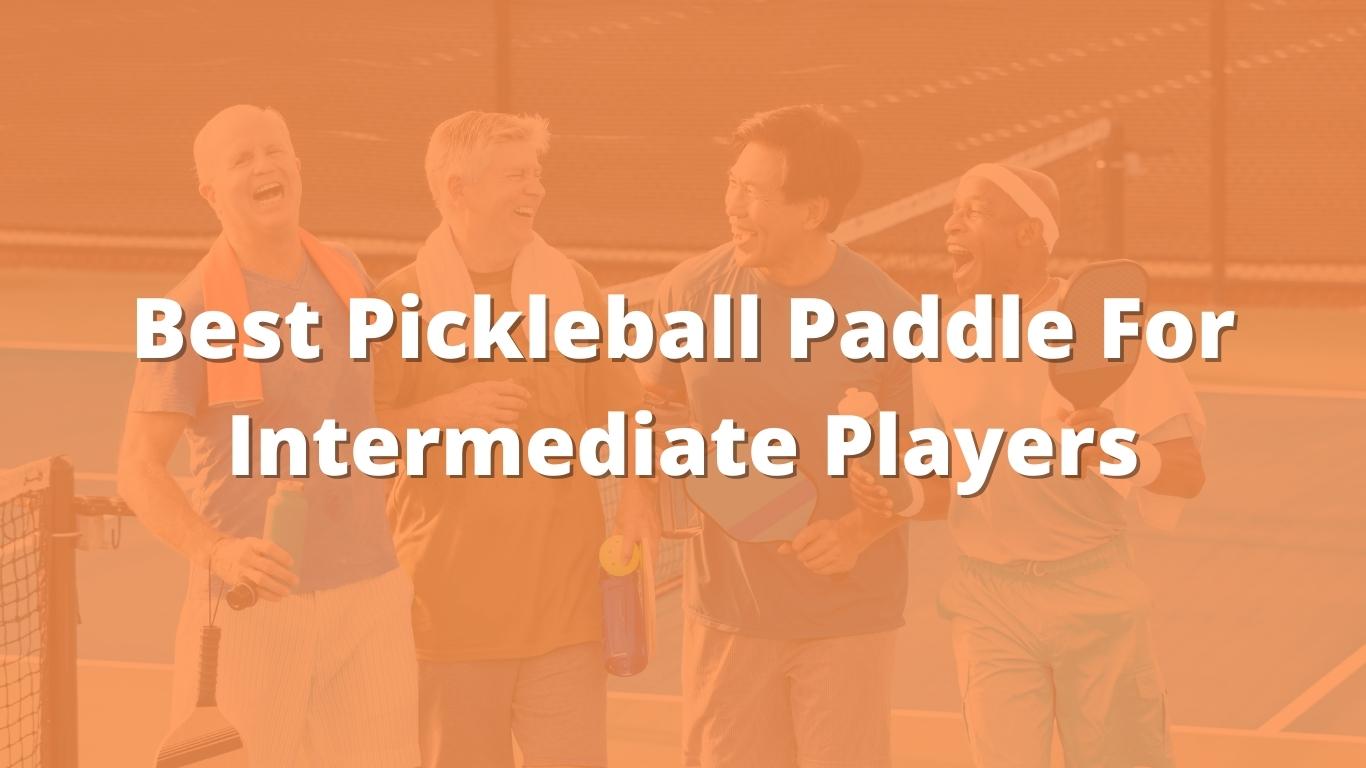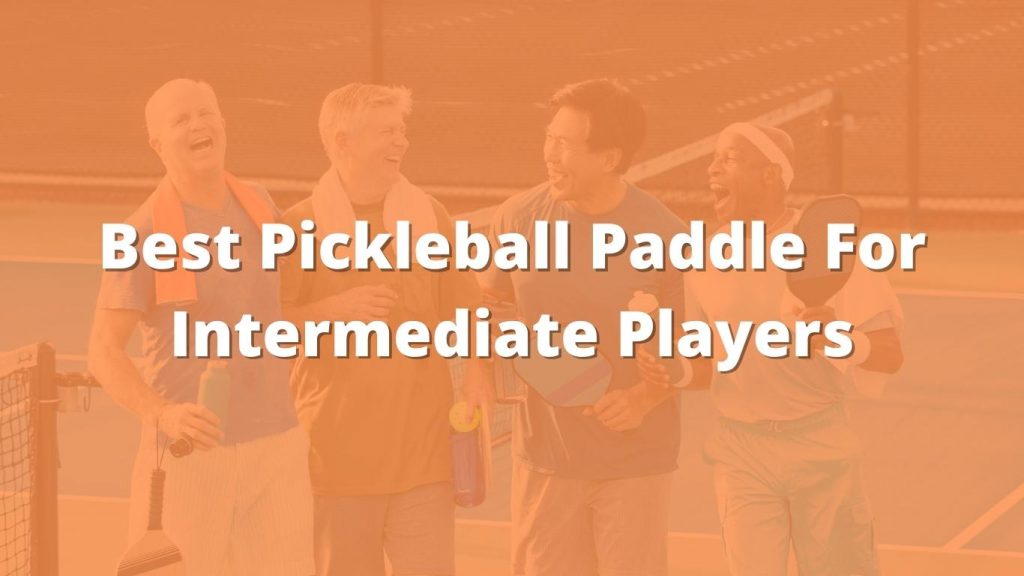 Best Pickleball Paddles for Intermediate Players
1. ONIX Z5 Pickleball Paddle
If you regularly play pickleball games, you may have already seen ONIX Z5 on the court. After all, it is one of the most popular paddles in the marketplace.
Intermediate players who want generous control and power from their shots will love this racquet. Additionally, it can help you generate additional spins on playing stroke shots.
This medium-weight paddle weighs from 7.5 ounces to 8.2 ounces, making it ideal for all intermediate players. It is not a heavy paddle to stress your hands while playing hard-hitting shots for a long time.
This versatile paddle has a regular yet classic wide-body shape, making it works like a workhorse. Playing with a high-performance paddle means you miss fewer balls for hitting.
Also, its conventional sweet spot makes the paddle highly functional, allowing you to hit the ball from the right spot at a correct speed. Love to spin the ball? This paddle features some texture to offer a decent spin on the ball.
What's more, the unit is available in two versions: graphite and composite. This option appears better if you want increased power from your pickleball paddle.
On the other hand, the composite version is the right choice when you prefer more spin. You can precisely spin the ball while hitting a lob, which will result in bouncing the ball hard toward the rival player.
Pros
Quiet paddle
Available in ten colors
Classic wide-body shape
Offers impressive spin
Conventional sweet spot
Cons
The grip construction could be better.
2. Selkirk Sport SLK Latitude Pickleball Paddle
This precisely handcrafted paddle has an impressive construction from each corner and angle. Since it comes with a low-profile design, intermediate players can easily execute a wide range of shots.
Want to uplift your pickleball skills? The feel and control you will get from this graphite face are worth mentioning. Any mid-level player will feel secure playing with this supportive paddle.
In addition, its polymer rev-core is a reliable and proven technology that is highly compatible with the Graphite face. Hence, you can hit the ball consistently with a solid feeling. This improves your playability too.
Fan of lightweight paddles? The pickleball racquet has a weight range of 6.9 to 7.9 ounces, making it ideal for intermediate players with elbow tennis and other hand/arm injuries. You can go for quick hands. Quickly hitting the ball will be simple.
You will appreciate the ultra-comfortable grip material, which can offer the highest level of comfort. The way it absorbs the impacts and perspiration keeps your hands relaxed and free from hand fatigue issues. You can play for an extended period.
Other than these, the pickleball paddle features edge guarding, which effectively handles various types of impacts. Overall, it is a great balanced and exalted paddle to become a pro player.
Pros
Great control and feel
Compatible polymer rev-core
Highly lightweight paddle
Super comfortable grip materials
Durable edge guard technology
Cons
Grip size could be a little longer
3. Gamma Needle Poly Core Pickleball Paddle
If you are looking for supernatural stability from a pickleball paddle, this mid-weight paddle is a great option to consider. The unit is equipped with the latest Sensa poly core technology to offer impressive touch and consistent control.
The pickleball paddle has 7.6 ounces of weight, offering you increased control over the paddle. Thus, playing any tournament-level game will be easygoing with this pickleball racquet. You will improve yourself continuously.
You don't have to worry about precise swing control in various shots due to the poly-core technology. Love to own an attractive paddle? This eye-catchy paddle has a beautiful design and shade with many color combinations.
Want to boost your pickleball performance? Graphite paddles have greater strength and spin that allows you to dominate in every match you play. Compared to other materials-based paddles, the graphite exterior has increased durability too.
Since it is a mid-weight paddle, you will receive a well-balanced power and feel. Hitting the ball with a powerful boost and fast action will be simple without compromising control. Hence, it is light yet strong!
Moreover, the unit features a Honeycomb Cushion Grip handle, which can offer a smooth and comfortable touch on the grip. No harsh feeling! It is so cozy and enjoyable to hold for a long time. Your hands won't have any stress issues.
Pros
Impressive touch and consistent control
Perfect for tournament-level games
Precise swing control
Easy to implement quick hand motions
Smooth and comfy grip
Cons
Not the best option for hardball strikes
4. HEAD Radical Elite Pickleball Paddle
When it comes to the HEAD brand, people have a higher expectation from this particular brand. And we believe the HEAD Radical Elite Pickleball Paddle is something worthy to try for any mid-level pickleball player.
This pickleball paddle comes with a fiberglass hitting surface, allowing you to hit the ball with ample power and a solid feel. According to the HEAD official statement, this paddle is specially made for intermediate-level players.
In addition, HEAD has utilized a polypropylene honeycomb core for this paddle, which makes a perfect combination with the fiberglass paddle. Plus, it features a new ergo grip to offer reduced vibration and precise touch.
The pickleball paddle weighs around 8.1 ounces, which is slightly weighty than lightweight paddles. It is a great option if you prefer increased power from a pickleball racquet. This appears perfect if you used to play with mid-weight paddles.
However, a weighty little paddle gives more convenience to hit the ball since you don't need extra swing and energy to hit the ball with force. So, no worry about any pain or injury issues! You can play naturally. It won't disrupt your gameplay.
Whether you want to play drop shot, baseline drives, volleys, angles, or even overhead smashes, this pickleball paddle allows you to dominate over the opponent player without any obvious limitations. Getting strong, light, and solid hits will be easygoing for this pickleball paddle.
Pros
Ample power and improved feel
Reduced vibration and precise touch
No need for additional swing and energy
Strong, light, and solid hits
Easy to play
Cons
A little bit of heavy paddle
5. Niupipo Explorer Pro Graphite Pickleball Paddle
Many pickleball players believe USA-approved pickleball paddles are more reliable to choose from. This USA- approved niupipo paddle has a great construction regarding size, core material, surface, design, weight, and many other things.
Since pros develop the pickleball paddle, it is not hard to see why intermediate players will be greatly benefitted from this pickleball paddle. Both mid-level and pro players can use this racquet to play various tournaments games.
Love to get unmatched pop and spin? Its graphite carbon fiber can offer impressive pops and spins in different gameplay situations. You just need to know the perfect way to execute your desired shot, and it will handle the rest.
Besides, this niupipo paddle features a grit face, which effectively keeps the ball on the racquet for a longer time. Hence, you will have more control over the ball in addition to spin or ball "rolls. Mid-level players will love this feature.
Apart from that, this pickleball paddle comes with a polypropylene honeycomb core to provide extreme power, control, and durability. The super-sturdy core can take a lot of heavy beating without even slightly deteriorating its quality.
Holding the paddle seems immensely comfortable with ultra perforated cushion grip. You have no reason to feel bad to hold this mid-weight for a paddle even a long time. Whether you want to implement spin-base tactics or fast-paced play, this impressively well-constructed paddle won't let you down at all.
Pros
Highly functional paddle
Ideal for professional games
Best for pops and spins
Cushioned grip

Can take a lot of heavy beating
Cons
Too fat grip for small hands
6. Gamma Sports 2.0 Pickleball Paddle
Fan of super lightweight paddles? If yes, the Gamma Sports 2.0 Pickleball Paddle might be the right ticket for you. The unit weighs only 7 ounces, offering faster hand motion and great maneuverability.
Another noteworthy feature of this pickleball paddle is its Aramid honeycomb core. Getting a perfect combination of power and control from this super lightweight paddle is not hard. Whether it's beginners, mid-level or experienced players, all players will be benefitted from it.
Moreover, the pickleball racquet comes with a 4-inches honeycomb cushion grip, which is soft and has excellent sweat absorbing properties. Hence, your hands will always remain dry, and you can hit the ball confidently.
Though some pickleball paddles have decent construction and offer monumental playability, they often are not perfect for playing for professional tournaments. Since Gamma Sports 2.0 has met USAPA specifications, you can definitely play all sorts of professional tournaments using this highly-functional racquet.
You will love the nice, textured surface of this paddle that can offer really good spin shots and decent control. Also, many users rated this unit higher for redirecting the ball efficiently; tackling opponents appears easier.
Since it is a lighter paddle, you should not have the same level of power as a heavier paddle. However, if you use a little bit more energy and effort, you will get a decent amount of power for sure. But make sure you don't injure yourself.
Pros
Great and fun to use
Solid construction
Lightweight and well-balanced weight
Easy to get used to
USAPA approved
Cons
Takes more effort to swing to get enough power
7. SLK Evo Hybrid XL Pickleball Paddles
If you are looking for a paddle with a super-soft feel and ultimate control, this pickleball paddle won't disappoint you. Users rated this paddle as "more power in a lightweight paddle." This is what intermediate players want from a paddle.
Like other SLK paddles, it comes with a polymer rev-soft core with a huge sweet spot. Precisely hitting the ball won't be a problem for mid-level players at all. Plus, the core is pretty thick that can absorb a lot of impacts from hard-hitting shots.
The core doesn't only endure deep shots but also offers the necessary power that you need to hit the ball in your desired spot with a perfect speed. Make sure you know you don't take too much to get used to paddle for better utilization of situation.
Controlling the ball will merely any issues with this 7.6-ounce paddle because you can quickly react to the ball and return it with great speeds. Whether you want to upgrade your shot control or improve your spin ability, its 5.75″ handle can assist you in many ways. It is really a worthy deal to make!
Even people who are used to playing soft games can improve their gameplay with better accuracy. You can create more spin with the ball without taking extra time. This gives you chances to utilize opportunities whenever it comes.
Another glaring feature of this unit is the XL shape, allowing you have extra reach and power. Also, it has a generous sweet spot due to its extended length, so you can consistently hit the ball in your desired approach.
Pros
Thick core to absorb impacts
Easy to upgrade shot control
Better accuracy for soft games
Generous sweet spot
Extra reach with XL shape
Cons
Takes a little time to adjust
8. Prince Response Pro Pickleball Paddle
If you are used to playing with roundly-shaped pickleball paddles, this option might be the right choice for you. The pickleball paddle features an extra thick honeycomb core, which can effectively disperse the impacts throughout the paddle.
Due to its revolutionary shape, it creates a fantastic hit zone, allowing you to have more control over the ball. Since the paddle face is 8-1/4 inches wide, having a generous amount of sweet spot seems easygoing.
Because of its thick polymer core, you can play each swing conveniently with a decent amount of strength. Controlling and hitting the ball in the right direction with sufficient speed won't cause any problem. This opens up the path of being a successful pro in the future. You just stick to uplifting your pickleball skills.
You will like its shiny black appearance that is available in 10 different designs, making it simple for picky people. Also, the prince brand offers two 2 Weight Options and 2 Grip Circumference Options. This provides more convenience in choosing the right-sized paddle without compromising the quality.
Fan of playing hard strokes? The inclusion of progressive core technology eases the path of getting enough power for hard-hitting shots. Regardless of your playstyle, the core will offer will a solid and accurate response for every shot you play.
In addition, getting your desired reach to return a ball won't be any problem due to its 5-1/2 inches grip. Overall, it is a great paddle that any pickleball player will love who wants great control as well as boosting pickleball performance.
Pros
Extra-wide paddle surface
A decent amount of sweet spot
Accentuate strength to hit balls
Solid and accurate responses
Cons
Prone to develop dead spot over time
Choosing Paddles For Intermediate Players
Some crucial factors get the most attention when it comes to picking precisely-made pickleball paddles for mid-level players. Give a glance at these points.
Read more "10 Common Mistakes Intermediate Pickleball Players Make"
What weight pickleball paddle should I use as an intermediate player?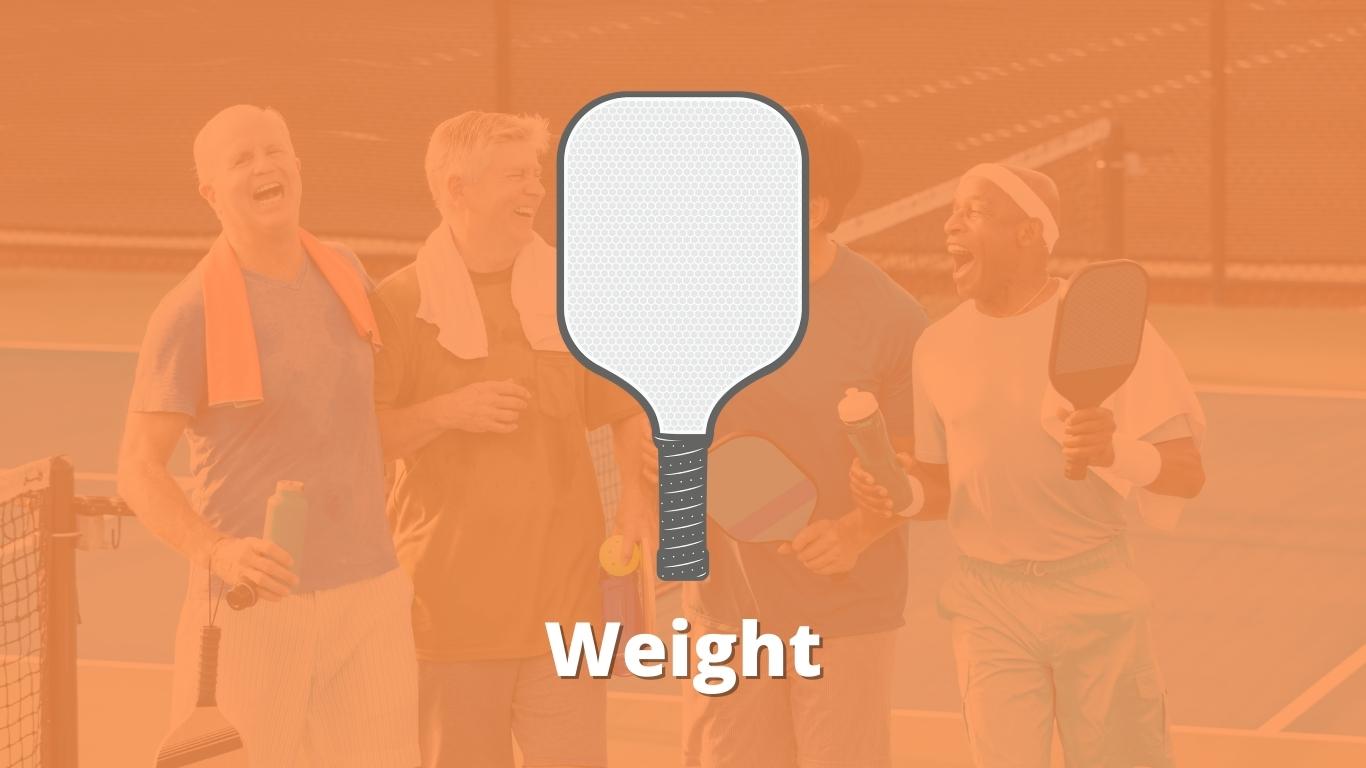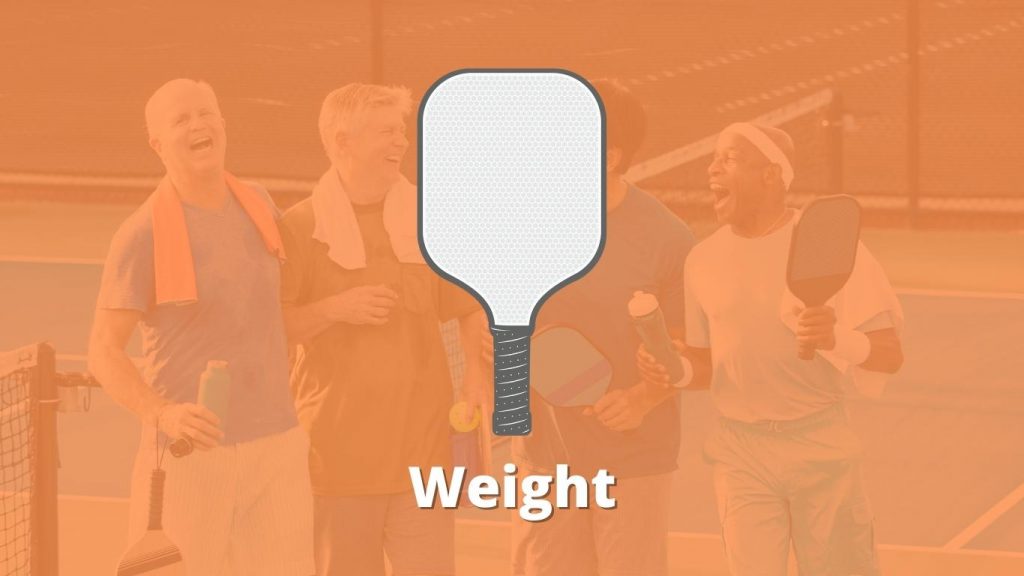 Whether beginners, intermediate, or pro players, weight is an important factor for all pickleball players.
Though some players believe mid-weight paddles are better for intermediate players, they can vary from person to person.
The specific weight of a pickleball paddle gives you a feeling when you hold the paddle in your hands. Plus, your playing action will be slightly or moderately affected due to the particular pickleball weight.
Hence, there is no hard and fast rule about the ideal weight of pickleball paddle for intermediate players. It mainly relies on your personal preference.
However, it is better to choose a particular weighted pickleball paddle based on your playstyle and physical fitness level.
Playing with heavy pickleball paddles will put extra stress on your hands for holding it for a long time. Also, you may experience fatigue issues on your hands if you are not used to playing with heavy paddles.
It is a good rule of thumb not to shift from extremely light paddles to highly heavy paddles. Playing with too heavy paddles suddenly will result in poor contact and technique with the ball.
Instead, practice playing with slightly heavier paddles and gradually moving to more heavy paddles.
This will ensure a proper balance, and you will become more used to it. Once you get used to it, you can play faster and more powerful shots with fewer efforts
Grip is the key!
Using a perfect grip for a pickleball paddle is essential to avoid tennis elbow or sore arm issues. With an ideal size grip, you can hold it comfortably, improve your stroke stability, and stress-free your elbow and arm.
Core Materials
Pickleball paddles are available in various cores such as polymer, Nomex, Aluminum, and wood.
A Polymer core can provide a decent level of power and control and is known as the quietest paddle. If you want to hit balls with a lot of power, you can consider a Nomex core.
Instead of power, when you are looking for a paddle with lightweight construction and forgiveness, Aluminum core paddles are a better choice. Wood paddles are suitable for people who want the most inexpensive paddle and durable option, but they are not suitable for people with tennis elbow or another type of injury.
Surface Materials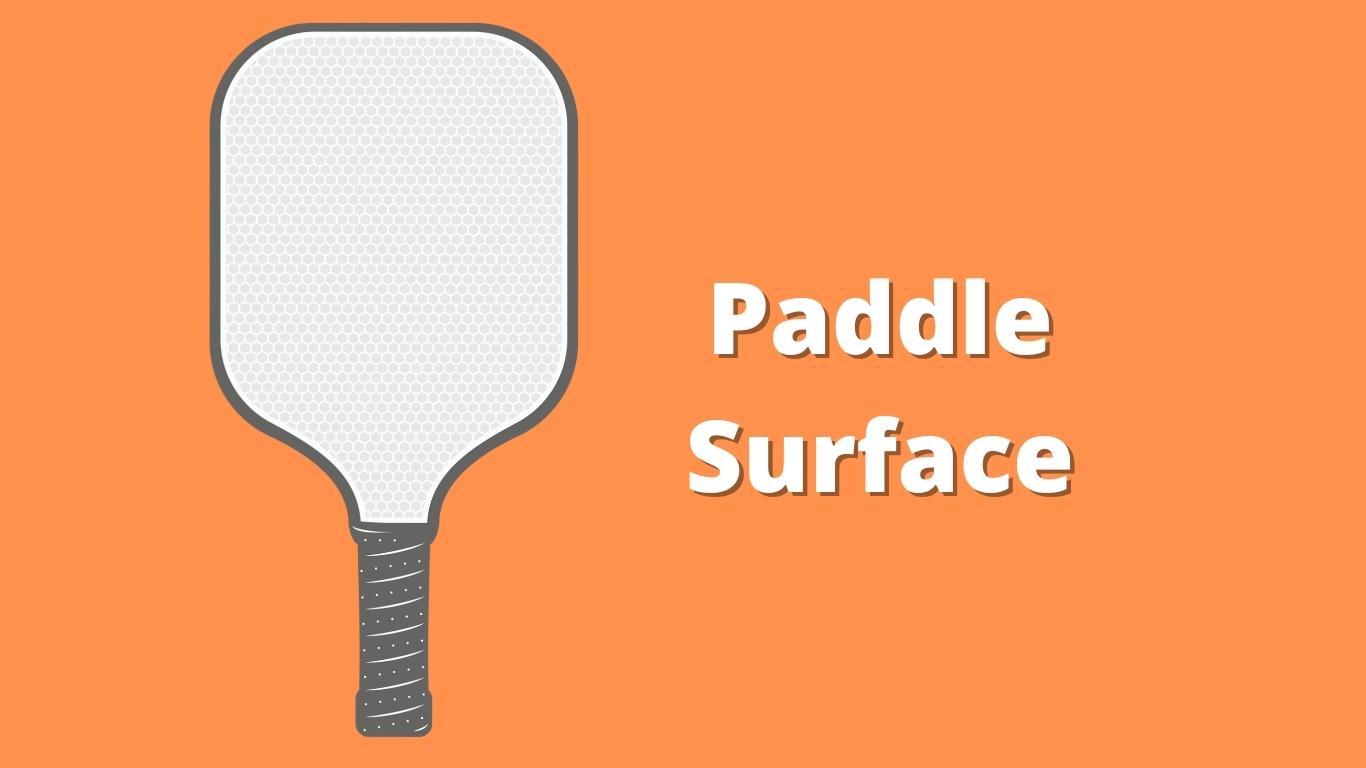 A wide range of surface or face materials is used for pickleball paddle paddles, such as polymer, fiberglass, graphite, and hybrid.
Graphite Pickleball Paddles are a better option if you want a better feel & touch and a highly lightweight paddle with excellent maneuverability.
If you want to get a lot of pop and impressive ball control, fiberglass pickleball paddles appear better.
Choosing polymer-faced paddles means you get a highly durable and lightweight paddle. They have beautiful printing designs too.
Frequently Asked Questions(FAQ's)
Is a composite or graphite pickleball paddle better for an intermediate player?
Experts suggest composite pickleball paddles over graphite paddles because they provide a better amount of power and balanced weight.
In addition, composite pickleball paddles offer widespread ball control for players and have proven to be more durable than graphite paddles.
How much does an intermediate pickleball paddle cost?
The price of pickleball paddles for intermediate players will vary based on the surface and core materials, product quality, and the particular brand you pick.
For example, a graphite paddle will cost around $60 – $145, while a composite paddle has a price tag of $45-$145.
Wrapping Up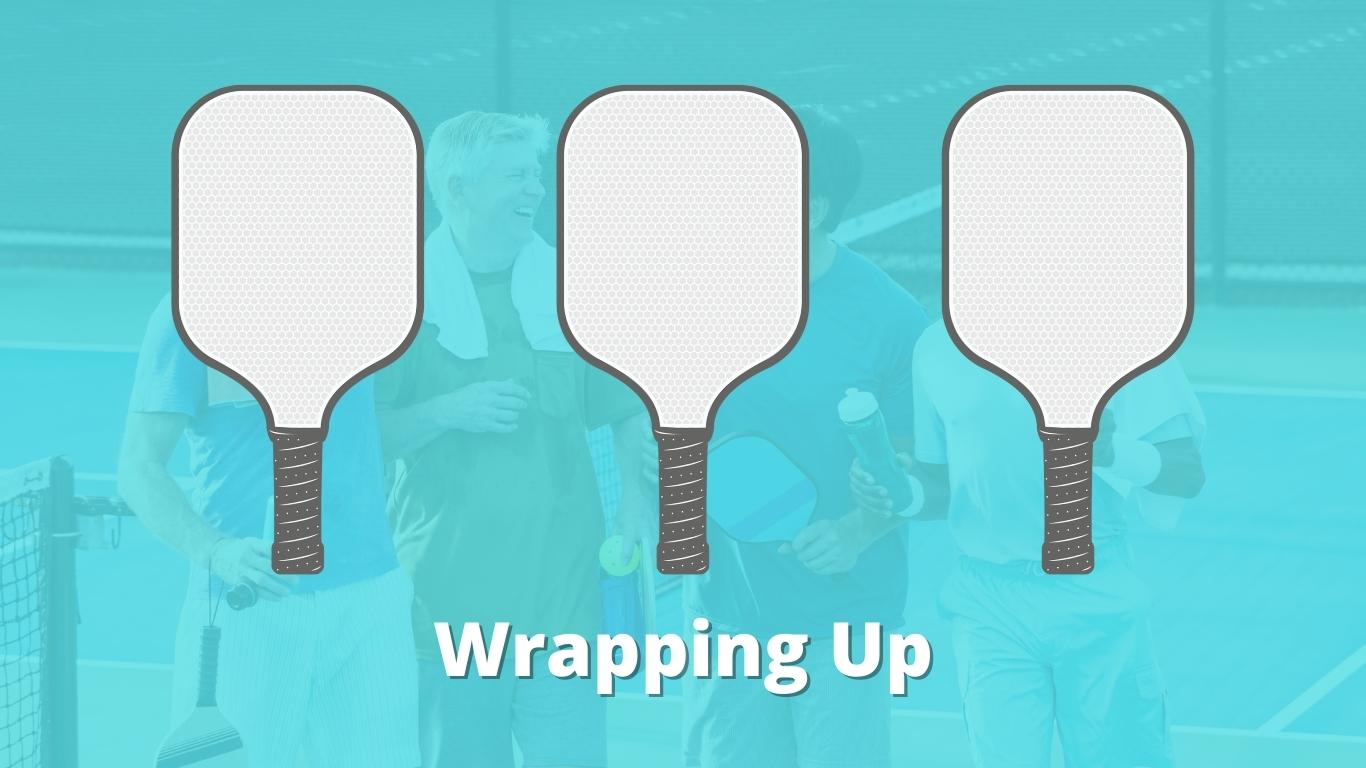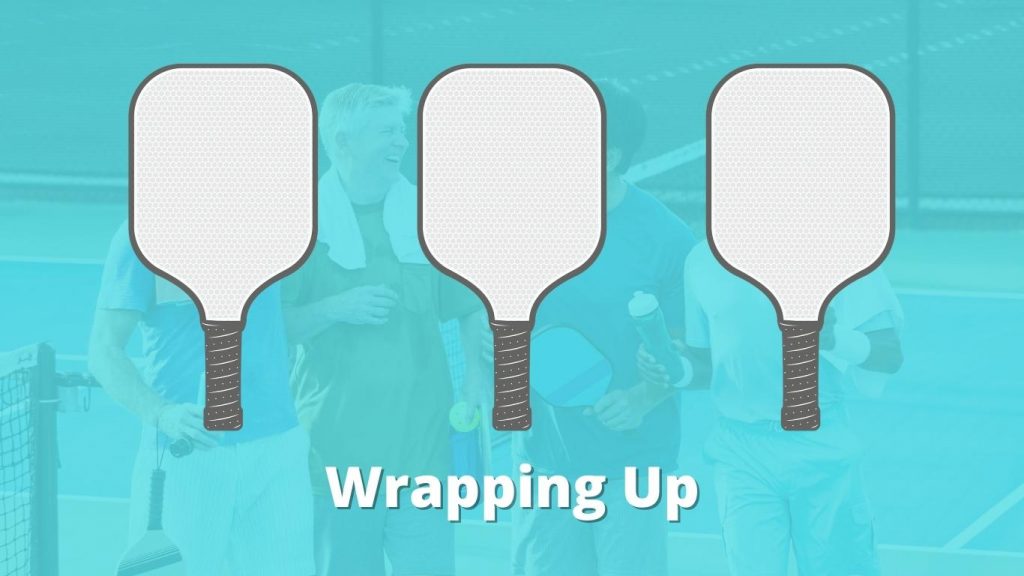 Selecting the right paddle is important, regardless of your pickleball skills. Since it is not so easy to become a pro in pickleball from a mid-level player, you must have the best gear to ease the path of being an expert pickleball player.
Make sure you choose the best pickleball paddle for intermediate players, so you can make out the most from yourself. Hopefully, this review session has helped you select a dedicated pickleball paddle to play conveniently and smoothly.